SNP Independent Scotland Sterling Sharing Trojan Horse to Plunder British Pound
Politics
/
UK Politics
Feb 14, 2014 - 01:52 AM GMT

UK politicians of all three major parties surprised everyone by unequivocally rejecting the SNP's cunning plan to effectively permanently park a Trojan Horse outside the Bank of England on Scottish Independence day that would effectively allow Scotland to go on an spending binge on a sterling credit card by printing debt without the consequences of currency panic that normally would result in very high if not hyperinflation, but instead like a cancer seek to consume its English host over a number of years as the policy of sterling sharing sucks the financial life blood out of the British Pound.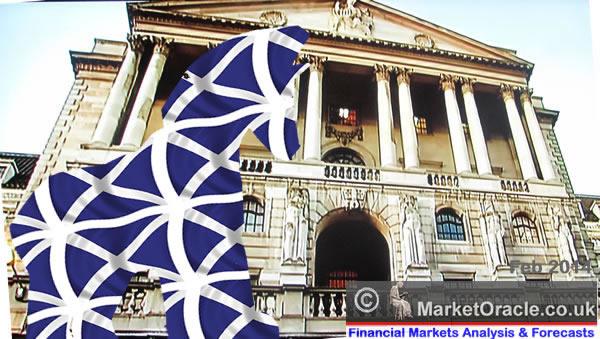 Whilst the UK can be divided, the currency cannot. A foreign country cannot have any say in monetary policy of the UK, nor would ever be allowed to print sterling debt.
George Osbourne's (Conservative) "I could not as Chancellor recommend that we could share the pound with an Independent Scotland, it wouldn't work, it would cost jobs, and cost money, and it wouldn't provide economic security for Scotland or the rest of the United Kingdom, I don't think any other Chancellor would come to a different view"
Edd Balls (Labour) "Scotland cannot keep the pound and the Bank of England if it chooses independence. It would be bad for Scotland, it would place an unacceptable burden on the UK tax payer, it would repeat the mistakes of the Euro area, in fact worse, you would be trying to negotiate a monetary union as Scotland is pulling away from the UK."
Danny Alexander (Lib Dems) "It is clear to me that a currency union wouldn't work for Scotland if it was Independent, and wouldn't work with the rest of europe".
Sir Nicholas Mcpherson (UK Treasury) " And so to sum up, I would advise you against entering into a currency union with an Independent Scotland. There is no evidence that adequate proposals or policy changes to enable the formation of a currency union could be devised, agreed and implemented by both governments in the foreseeable future".
The response of the SNP's professional politicians was to put up a barrage of smoke and mirrors as they remain fanatically obsessed with gaining total power over the Scottish people at ANY COST.
Alex Salmond responded - "This is a concerted bid by a Tory-led Westminster establishment to bully and intimidate - but their efforts to claim ownership of sterling will backfire spectacularly in terms of reaction from the people of Scotland, who know that the pound is as much theirs as it is George Osborne's".
Meanwhile the Yes Scotland campaign website in a state of denial continues to state that the UK will share the British Pound with an Independent Scotland.
Q. What currency will an independent Scotland have?

A: The Scottish Government has decided that an independent Scotland will continue to use the pound and enter into a formal currency agreement with the government of the United Kingdom – as explained in this article.
In adopting this policy, the Scottish Government has accepted the recommendations of a group of independent and internationally renowned economists (who sit on the Fiscal Commission) that a formal currency union is the best way ahead.
This would provide the right balance of autonomy for government and stability for business, as well as straightforward access to markets in the remainder of the UK.
It is beyond any reasonable doubt that a formal currency agreement will be in the interests of both an independent Scotland and the rest of the UK (rUK).

Even Mark Carney, the Bank of England Governor had earlier chimed in in a subdued tone, though expect a far tougher tone following Independence -
"The existing banking union between Scotland and the rest of the United Kingdom has proved durable and efficient.
"Its foundations include a single prudential supervisor maintaining consistent standards of resilience, a single deposit guarantee scheme backed by the central government, and a common central bank, able to act as lender of last resort across the union, and also backed by the central government.
"These arrangements help ensure that Scotland can sustain a banking system whose collective balance sheet is substantially larger than its GDP.
"The euro area has shown the dangers of not having such arrangements, as well as the difficulties of the necessary pooling of sovereignty to build them.
"An independent Scotland would need to consider carefully how to develop arrangements with the continuing United Kingdom that are both consistent with its sovereignty and sufficient to maintain financial stability."

Today's statements resulted in sterling spiking to a new multi-year high of £/$1.67 on relief that the ominous cloud hanging over the currency of the implications of Scottish independence fracturing sterling, ultimately resulting in a catastrophic loss of confidence just as is taking place right now in Argentina, which has seen its fiat monopoly currency collapse, resulting in capital controls and real inflation soaring to more than 50% per annum!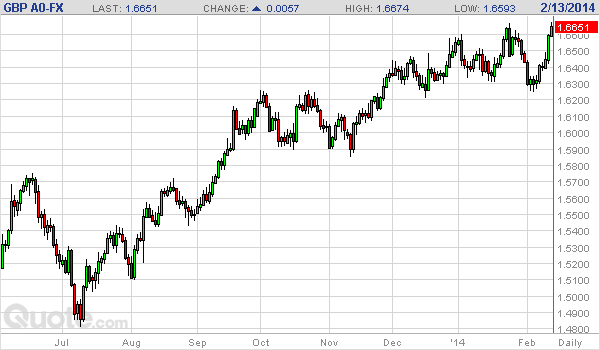 Independant Scotland Disaster Zone
The SNP argument that an Independent Scotland would not have gone bankrupt like Iceland, Greece, Ireland or even Cyprus , in a way is correct as an Independent Scotland would not have gone bankrupt like any of those countries who in-effect in large part have been controlled from Germany for the past 4 years, rather that an Independent Scotland would have been in FAR WORSE SHAPE as a consequence of having a banking system that was near twice the size of the likes of Greece in terms of % of GDP.
Therefore an Independent Scotland would NOT have survived! An Independent Scotland in the euro-zone would be controlled by Germany. Whilst an Independent Scotland outside of the euro-zone would have collapsed in spectacular style worse even than Iceland where bank savings and the economy were all but wiped out.
Alex Salmond realises that most of the people of Scotland understand this fundamental truth which is why the SNP are trying to put up a dense fog of smoke and mirrors to imply that Scotland could retain the British Pound whilst gaining independence. The best word to describe this is delusional, the SNP expects Scotland to have more monetary power than it has today whilst having NO representation in Westminister and thus NO influence over Bank of England and UK government monetary policy.
The people of Scotland are being hood winked by the likes of Alex Salmond into a delusion that suggests that Scotland would literally be able to PRINT sterling to death by means of debt as a consequence of rampant out of control socialist SNP government spending that the delusion suggests the burden of which would continue to be born by the rest of the UK, the effect of which would be for the ratcheting higher of UK inflation all the way towards a Fiat currency panic event when the general population would lose faith in holding currency resulting in an hyperinflationary collapse.
For some reason the SNP imagines that England would commit financial suicide, for that is what is implied by the SNP's cunning plan.
Scottish Independence Impact on the UK Economy
An Independent Scotland would be a twin edged sword because on the one hand the UK would no longer be burdened by having to to bribe the Scots with ever larger amounts of net subsidy, where the annual block grant currently stands at £30 billion per year that helps bridge the gap between socialist government deficit spending and tax revenues. Against the loss of North Sea oil revenues that currently generate about £7 billion in tax revenue per year and therefore a net subsidy (bribe) to Scotland to stay in the Union of £23 billion per year, though in reality most of this gap would be filled by income and other taxes. But it would still mean Scotland would be a net £8 billion a year worse off than being within the Union.
Whilst it is true that 90% of North Sea oil revenues are gained come from Scottish waters, however North Sea oil peaked in 1999, since which daily output has fallen by 2/3rds and there is no sign that the trend in falling output is going to end any time soon as new oil fields are unable to make up for the declining output from existing fields.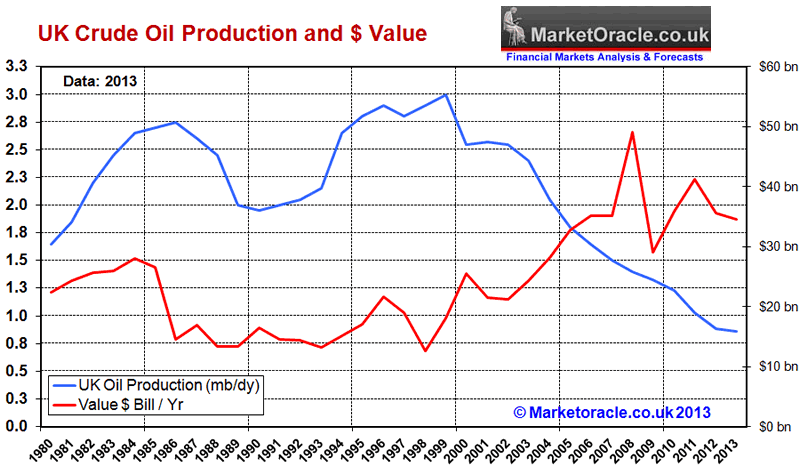 The revenue to the UK government from North Sea oil has now fallen to £7 billion, of which £6 billions is attributable to Scottish oil fields set against the block grant Scotland receives of £30 billion from the central government of which £8 billion is the value of the net subsidy after all tax revenues are taken into account.
There are also huge hidden costs to the oil industry that are not being factored in, and that is for the decommissioning of old oil rigs, where in an age of environmental awareness dumping of the oil platforms in deep waters is no longer an option, therefore just as the costs of decommissioning nuclear power plants was never factored into their building similarly the costs of decommissioning oil platforms could result in a sharp drop off in revenues as the costs of which would ultimately be born by the Scottish Government either in less revenue or direct costs of decommissioning.
Therefore the rest of the UK would be a net £8 billion per year better off if Scotland left the Union.
Scottish Budget Deficit
The Scottish economy runs at a huge deficit that is only maintainable due to being heavily subsidised by England. The country's total income for 2011-12 was £47.2 billion against expenditure of £58 billion, therefore a net deficit of more than £10 billion (Source: Scotland.gov.uk), therefore taking into account extra oil revenue of £6 billion this puts an Independent Scotland short by an additional near 5 billion per year, but this is BEFORE Scotland's share of the national debt of £115 billion and resulting annual interest payments of at least £4 billion are taken into account as well as its banks liabilities.
Debt and Bankrupt Bank Liabilities
What the Scottish Nationalists conveniently tend to forget is the debt burden that would be transferred over to Scotland as a proportion of the population, i.e. approx 8.5% of the current £1.35 trillion of public debt of approx £115 billion, which would demand interest costs of at least £4 billion per year.
Also the financial crisis has resulted in predominately scottish banks in the forms of RBS and HBOS, resulting in liabilities of more than £1 trillion, that and transference of 8.5% of public debt would greatly improve the remaining United Kingdoms balance sheet as the costs of bank capital injections and interest payments far exceeds the revenues of North Sea Oil and if the Scottish subsidy is taken into account there is a large net cost to maintaining the Union.
Therefore the net benefit to England from an independent Scotland would be estimated to be far more than the revenues lost from North Sea Oil, an estimated net annual saving of at least £20 billion per year with the added bonus of eventually having transferred liability for bankrupt Scottish banks permanently away from UK tax payers.
For many years the SNP have argued that an Independent Scotland could be just as prosperous as Ireland or Iceland, which is true, an Independent Scotland would instantly become another Iceland as debt liabilities levels would be approximately10X GDP, so that much of the revenues from North Sea Oil revenues would need to be utilised to service this debt, none of which is heard in SNP Independence propaganda.
Furthermore, whenever Alex Salmond is faced with the debt realities of sharing 8.5% burden of the UK's national debt, he can be seen to revert to the mantra of "no liabilities without share of UK assets" such as an Independent Scotland having a 8.5% stake of the Bank of England, and perhaps Buckingham Palace too, what about 8.5% of the whole of London ?
In which respect the UK would expect to gain a 90% of Scotland in return! 91.5% of North Sea Oil!
Alex Salmond's comments imply that an Independent Scotland would not honour its approx £115 billion share of the UK national debt. However what Alex Salmond has failed to realise is the price that the UK would exact on an Independent Scotland to counter this, such as that a newly Independent Scotland may find that instead of gaining 90% of North Sea Oil it instead ends up with as little as 10% of North Sea Oil. That is what happens when divorces get messy.
The truth is that it would be financially impossible for Scotland to function as an Independent state without taking on its fair share of UK national debt as agreed with the UK.
In conclusion, the rest of the UK has nothing to fear from an Independent Scotland, far from it, the more one delves into the financial and economic consequences of Scottish Independence the more appealing are the prospects for the rest of the UK. So perhaps rather than Scotland gaining its Independence, it could be seen as England that will be gaining its Independence as England would exert itself far more politically and economically and thus drift further away from socialism towards free market capitalism.
Scotland Referendum Forecast
Whilst the polls may put the outcome of the next referendum as too close to call as illustrated by head lines such as
The Scotsman - 1st Feb 2014 - Scottish independence: Vote is too close to call
However, what the polls lack is foreknowledge of the probable outcome of the next UK generation election which my extensive UK housing market analysis implies that it is highly probable that the Conservatives will win the next general election as excerpted below:
30 Dec 2013 - UK House Prices Forecast 2014 to 2018, Inflation, Trend Trajectory and General Election 2015
In conclusion a May 2015 general election at an average house price inflation rate of 8.5% would result in a Conservative overall majority of at least 30 seats. Therefore this is my minimum expectation as I expect UK house prices to start to average 10% per annum from early 2014 with my actual forecast converging towards average UK house prices breaking to a new all time high just prior to the May 2015 general election which would be a significant boost for housing market sentiment and thus the Conservative's election prospects.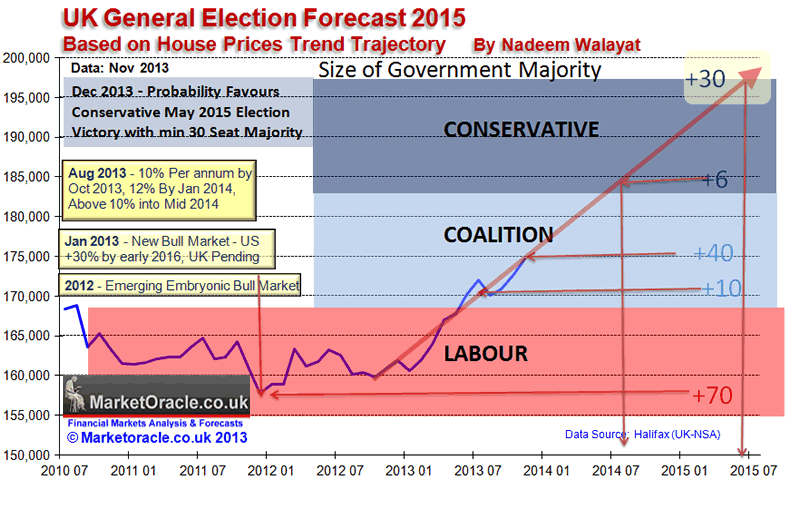 In terms of the Scottish referendum which is scheduled for September 18th is that by that time the probability of a Conservative outright election victory will becoming increasingly recognised by mainstream media as being the most probable outcome of the next UK general election.
Which given with the fact that Scotland does not have a Conservative bone in its collective body means this will play right into the hands of the SNP and thus prompt many more Scottish people to vote with their hearts rather than their heads and despite all of the negative economic ramifications of such a decision, choose to like lemmings vote to leap over the cliff into Independence.
Therefore whilst the referendum is still along way,away at this point in time it does seem highly probable that the Scottish people will make the mistake of voting for Scottish Independence on 18th September 2014, a decision that they may seek to reverse at a later date when the whole exercise starts to unravel as the reality of no longer being subsidised by England starts to bite and result in deep cuts in public services, or soaring inflation rates, let alone the fact that the SNP has NO PLAN B for what currency an Independent Scotland would actually use. A 2014 YES vote may result in a 2019 NO return to the Union.
Scottish Independence Implications for England
Whilst Scots have been most vocal in expressing the fact that the Scottish identity has been suppressed as a consequence of being part of the United Kingdom. However, the same could be said for not only Wales and Northern Ireland but also England that despite comprising 85% of the population has endured far greater suppression of national identity which following Scottish Independence will encourage many English politicians to far freer to express the cause for English Independent and therefore loosen the ties of the remaining United Kingdom.
In terms of Westminister politics, Labour will effectively have permanently lost 50 of its most socialist MP's that will be a huge advantage to the Conservatives that would for many decades become the natural party of power which means that Labour will once more have to reinvent itself by sliding further to the right.
Whilst a smaller UK's international presence will be significantly diminished. On the other hand this will make a more inwardly looking UK far less likely to engage in costly illegal wars such as Iraq.
A UK Referendum on Scottish Independence
Following a Scottish Independence Yes vote, a UK referendum should also be held to lay down the law on what our usually spineless politicians can and cannot negotiate away with an Independent Scotland, as at the top of the list of red lines would be that for sharing sovereignty over the British Pound and Bank of England would as being off the table. Which would blow away the SNP's smoke and mirrors, and reveal the truth of the deep hole that the SNP had plunged Scotland into, an Independent Scotland with less power and stability over its monetary affairs than it has today.
An Independent Scotland could if it chooses to continue to use the British Pound, much as Argentineans use the U.S. Dollar, but without any monetary influence over the UK, just as Argentina has no influence over U.S. monetary policy.
British Pound Trend Forecast 2014
GBP's trend of the past 6 months has confounded the bears as sterling continues to grind its way higher as it LEADS ever stronger economic data that continues to surprise academic economists as they scramble following virtually every economic data release to revise their growth expectations ever higher that I have covered in-depth in my new UK Housing Market Ebook (FREE DOWNLOAD later this month) and as excerpted below:
30 Dec 2013 - UK House Prices Forecast 2014 to 2018, The Debt Fuelled Election Boom
Therefore in terms of my economic growth conclusion, I expect the UK economy to at least attain a growth rate of 3.6% for 2014 and target 3.8% for Q1 2015 with a strong possibility of achieving the holy grail for election victories of announcing during the election campaign of 2015 that the UK economy at that time was growing at 4% per annum. Furthermore post election I expect that an over heating UK economy to slow as it dips back towards 3% over subsequent quarters of 2015.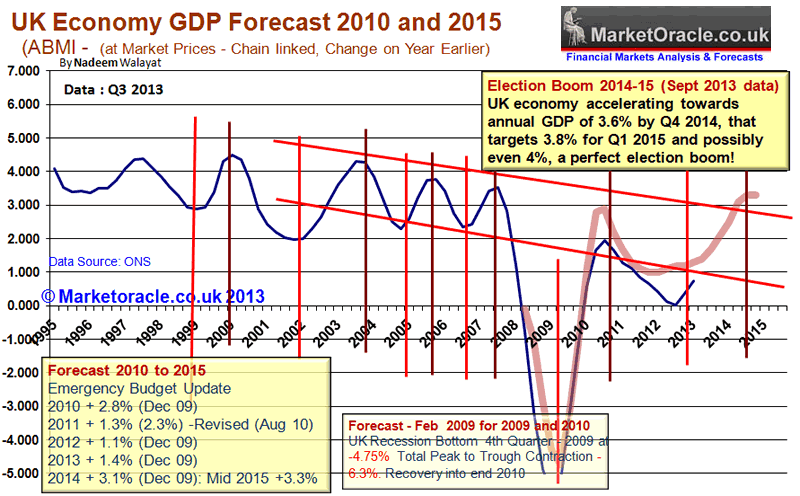 A quick look at the long-term GBP chart clearly shows a market that is breaking out of a multi-year trading range of between GBP 1.63 and 1.49. Therefore despite the Scottish Independence vote looking set to introduce much volatility during 2014, the over riding strength is such that GBP breaking above £/$1.80 before the end of 2014 appears highly probable.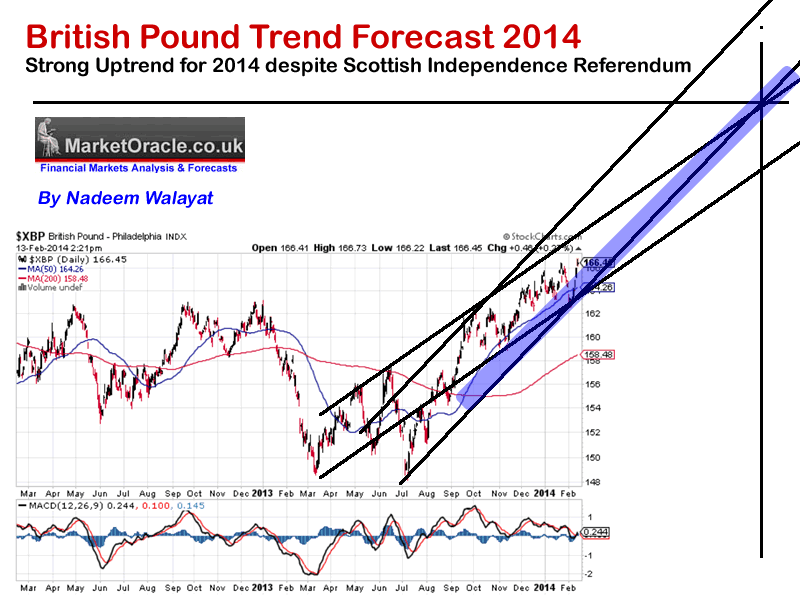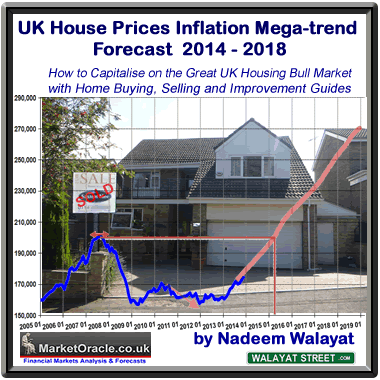 Therefore sterling traders and investors need to immunise themselves against the bearish rhetoric that they will be subject to during 2014 in the run up to the Scottish Referendum, its aftermath and then the frenzy surrounding the General Election, all of which will be taken as cues for a weaker sterling when instead the reality will be one of sterling grinding its way ever higher to at least £/$ 1.80 this year as it continues to discount a strong UK economy and and outright Conservative election victory in May 2015 as illustrated below -
Elliott Wave International have made available its own extensive daily forex forecasts to our readers for free for a limited time covering 11 currency pairs Learn more and get free, instant access to EWI's FOREX analysis and forecasts now >>
In terms of the British Pound forecast for the Scottish Referendum, it implies that -
1. A Scots No vote will dissipate Independence / UK breakup uncertainty for several decades.
2. A Scots Yes vote will result in an Independent Scotland having far LESS influence over Sterling than Scotland has today.
Both of these outcomes will tend to reinforce Sterling in terms of discounting a long-term trend for a more robust sterling economy.
The bottom line is this - An Independent Scotland will be to England what Greece is to Germany. That is the reality of what a YES vote will deliver for Scotland.
Source and Comments: http://www.marketoracle.co.uk/Article44424.html
Nadeem Walayat
Copyright © 2005-2014 Marketoracle.co.uk (Market Oracle Ltd). All rights reserved.
Nadeem Walayat has over 25 years experience of trading derivatives, portfolio management and analysing the financial markets, including one of few who both anticipated and Beat the 1987 Crash. Nadeem's forward looking analysis focuses on UK inflation, economy, interest rates and housing market. He is the author of five ebook's in the The Inflation Mega-Trend and Stocks Stealth Bull Market series.that can be downloaded for Free.

Nadeem is the Editor of The Market Oracle, a FREE Daily Financial Markets Analysis & Forecasting online publication that presents in-depth analysis from over 600 experienced analysts on a range of views of the probable direction of the financial markets, thus enabling our readers to arrive at an informed opinion on future market direction. http://www.marketoracle.co.uk
Disclaimer: The above is a matter of opinion provided for general information purposes only and is not intended as investment advice. Information and analysis above are derived from sources and utilising methods believed to be reliable, but we cannot accept responsibility for any trading losses you may incur as a result of this analysis. Individuals should consult with their personal financial advisors before engaging in any trading activities.
© 2005-2022 http://www.MarketOracle.co.uk - The Market Oracle is a FREE Daily Financial Markets Analysis & Forecasting online publication.
Comments
Sedov
14 Feb 14, 08:42
Nationalists


Well you got to have a sense of proportion and a sense of humour about all this . My experience over the past few years is that the nationalists have neither, probably because of their obsession with the policy seperating Scotland from England and Wales and NI and their blind loyalty to their leader. The posts this morning on the ridiculous position that the SNP have found themselves on currency have confirmed this view and I have been very entertained by most of the posts of those apparently opposed to seperation. The serious side is that although people in Scotland are entirely entitled to go for independence the obsession by the seperatists as described above has led to deep divisions in Scotland and that saddens me very much. Whatever the result in September we must all try to have a sense of proportion and sense of humour or else my beloved country will lose its reputation as being a friendly tolerant country that can honestly, and without bitterness, agree to disagree with each other.



CJL
14 Feb 14, 10:13
Independence


Mr Salmond needs to look up the definition of 'independence'. You're either with us, or you're not. If you choose independence you go it alone. You can't have our currency, you can't have our passports, you can't have our subsidies, you can't have our head of state. You start from scratch as an independent nation and you apply for membership of things like the EU, the Commonwealth, NATO etc. Oh, the sea bed is Crown Estate so you might want to ask really nicely if the Queen would consent to being your head of state if you want the oil.



NicNac
14 Feb 14, 10:45
Alex Salmond


I hope all my fellow scots vote NO the man leading us to independence is a halfwit and cant just cherry pick what he wants to keep from the united kingdom. If he wants independence and is so confident with it......why does he want to hold on to parts of the union??



Tex
14 Feb 14, 11:31
English Referrandum


Enough of this; it's time to ask the English and Welsh if they still want Scotland in the union.



4caster
14 Feb 14, 14:02
The Pound Stirling


Scotland would not be independent if she were to tie herself into any currency union, as the Euroland nations have discovered. She is already half way towards her own currency, because Scottish banks issue their own notes. Why not go the whole hog and create The Pound Stirling!



Nadeem_Walayat
14 Feb 14, 14:47
RBS Scotlands Central Bank?


Yes, I am sure the Royal Bank of Scotland is salvating at the prospect of having free reign to enslave a whole nation in debt in perpetuity. Scotland independence would be a very short lived.

Scotland would soon be ruled not from Holyrood but from RBS headquarters at Gogarburn.



Billy
15 Feb 14, 12:04
Subsidy?


Quite an amusing and factually inaccurate article

Question

If Scotland is so substantially subs advised as your article implies why is Westminster so determined to hang on to Scotland?

Billy



Nadeem_Walayat
15 Feb 14, 12:36
The Union


Britain, the Union matters more than money.

Same reason why Westminister wants to hang on to Wales and poorer parts of England because the sum of the whole is greater than its parts.

Imagine a United States if the states weren't united, it would be another South America. not forgetting what happened the last time states attempted to secede from the United States.

NW



Richard J-B
15 Feb 14, 16:37
ENGLAND'S WAR ON SCOTLAND?


That's what people must be wondering after reading a Post piece reporting Chancellor of the Exchequer George Osborne's threat that an independent Scotland would not be able to use the pound. The Post quotes Osborne as saying that the pound is not something that you can divide like a CD collection.

It is difficult to understand the possible meaning of this threat. It could mean that England would not negotiate the terms of a monetary union with an independent Scotland, however it is hard to see why an independent Scotland would want to have a monetary union with an England run by the conservatives. Their policies have helped to give the UK a downturn that is worse than what it experienced in the Great Depression. Presumably breaking free from these policies is one of the main motivations for seeking independence.

Of course if Scotland chose to use the pound as its national currency, as countries like Panama and Ecuador have adopted the dollar as their currencies, it is difficult to see what England could do to stop them, short of going to war. In other words, it's not clear what Osborne was threatening.

In terms of trade Scotland is,by the way, the second biggest buyer of English products after America,so imagine the transaction taxes Scotland could impose on English businesses.Additionally Scotland exports fabulous products and has numerous world class industries,including whiskey,financial services and electronics.Tourism accounts for 5% of GDP and 8% of employment.If Scotland became independent it would hold 95% of the UK's current oil and gas reserves on a geographical basis.

When Osborne,Balls and Alexander Kennedy all agree to bully Scotland about its future then its quite clear what Bonny Scotland should do.It must be hoped that"the settled will of the Scottish people" is to ensure the continuation of Scottish culture and national identity outside the increasingly powerless and narrow confines of the English political establishment.Scotland's legal,educational and religious institutions have always been distinct from those of the remainder of the UK,and are all the better for it.To argue that Scotland needs to be governed by an Old Etonian elite that are as thick as planks is wonderfully absurd.



Nadeem_Walayat
15 Feb 14, 16:49
Scotland Wants to Print Sterling Debt


Hi

You misunderstand, the SNP wants Scotland to have the Pound in terms of ability to print DEBT denominated in sterling, and not as you imply countries such as Panama and Ecudar use of the Dollar.

None of those countries can print dollar debts because they cannot print dollars! Whilst today England subsidises Scotland with sterling debt i.e. prints £8 billion of extra sterling debt that is sent to the Scottish parliament to spend.

An Independant Scotland would have to either have its own country that it can print or be forced to balance its annual budget beause that is the only way Scotland could effectively use the pound.

Best

NW



R.E.B
17 Feb 14, 15:41
Currency ignorence


Listening and reading the comments and commentary it is clear that many Scots are voting on something they do not understand. This is worrying. They do not understand the distinction between simply using a currency and having that country's central bank backing any debt you may issue, acting as lender of last resort and backing up their banks. The SNP position is to pretend it is a bluff. Far from marching into socialist utopia, if they do attain independence it will take a generation to dig themselves out of the hole they will find themselves in, and only then if they adopt Adam Smith instead of Karl Marx as their poster child.




Only logged in users are allowed to post comments.
Register/ Log in