Geopolitics in Asia with Marc Faber & Understanding GDP Like Never Before
Economics
/
Economic Statistics
Jun 09, 2014 - 05:26 PM GMT


In our latest Squawkonomics interview with Marc Faber, we were told a story of a petulant and wincing state carrying a heavy burden and unwilling to release its full spectrum dominance view on its administration of the world in light of a recent economic fallback, a declining economic share of the global economy, and the very stewardship of the global reserve currency being in flux. The story did not have a clear ending, nor did the reign of the world come effortlessly into the hands of newly important states. Nor did it portend the future of frontier markets and developing countries that could very well benefit from a US with a declining share of global GDP. Perhaps overlooking a wide expanse of undeveloped frontier markets, a quote from Dune author Frank Herbert would be best. "There is no real ending. It's just the place where you stop the story." Indeed, that however the reserve currency question is answered, and however US economic hegemony looks in 10 or 20 years, there is one inevitable variable that stays constant throughout the geopolitical and economic King of the Hill tug of war between global powers. As two or more tigers duel on a mountain for global financial supremacy, the continued development of the rest of the developing world goes on unabated. That is a guarantee.
Marc told Squawkonomics that the Western imposition of its its administrative view of the world was being met with Nation States with quite different ideas of how the world should be run. From border demarcations and enforcement, to administration of the global reserve currency and global commodity exchange hub shifting, these positions of power and privilege have been thrown up in the air due to hasty decisions and management. In doing so, there are the makings of a multipolar world created from the current schism of US economic hegemony- a process the US is looking to halt- or at least manage- so that the outcome is still favorable to US interests. Faber also calls out the US pivot to Asia as a "China's backyard" geopolitical move headed by the neocons of Washington as a misguided policy. He wonders aloud what they must be thinking to contemplate such a move, knowing the US would be equally feeling threatened if China set up a military base just outside Toronto or Tijuana.
And Faber is quite clear on his stance regarding America's pivot to Asia :
FABER: "I am not God, I am not here to judge who is right and who is wrong, but if I were China, if you look at geopolitics in Asia from a Chinese perspective, its completely unacceptable in the long run to have American military presence in Asia".
FABER: As a large power like France and Britain and America, you might be able to push around small countries, but you can't push around a country that has twice the population of Europe and the United States, and has become a relatively modern state with military that is very powerful.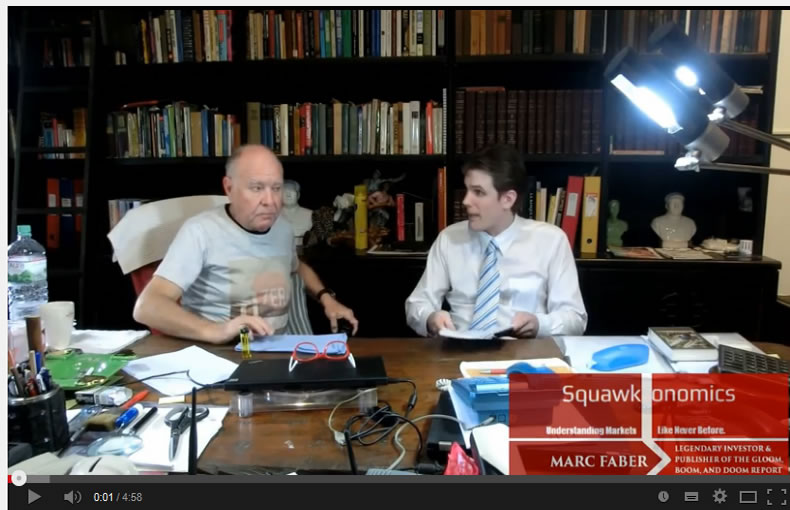 We felt the most prescient big picture comment Dr. Faber brought up was regarding declining US economic hegemony in the form of the US economy comprising a lower share of the global economy as a whole. This sparked a bone of contention with us, as we find domestic GDP posts in their current context to be less and less of a reliable indicator of real economic activity. In the meantime, however, we will use this increasingly outdated metric to demonstrate Dr. Faber's idea of ever declining share of US GDP to global markets. This is a trend that has been going on for at least 15 years, shown in the eye-popping decline of US contribution to global GDP over a decade's time.
GDP: Racing Against Yourself
Traditional economics through standard GDP prints every quarter always presents countries as horses on a never ending racetrack. Sometimes, a country's horse runs a bit slower to the finish line, but they all get there in the end right? Sounds like a nice way to end a fairy tale or a Hollywood movie where the underdog protagonist gets beat up only to rise up again, but that's not how real economies work. A far clearer picture of what is going on is a country's contribution to the world economy, and that's when numbers get potentially ugly and beyond what is considered polite discourse at a dinner party. No American wants to envision the US economy declining against the world 32% over a 10 year period of 2001-2011 but that's precisely what has been happening. Noticed a bit of dilapidation around suburbs in Chicago, Detroit, and other cities of previously pulsing economic activity? That's what a 32% decline in your economic performance against other countries gets you. That money you were going to earn, or spend? That's gone off to Sao Paolo or Shanghai, where someone has outcompeted you. Perhaps on cost, perhaps on currency manipulation, perhaps on just plain get up and go spirit, but you've been had, and your future income has been extricated from you and given to someone who performs better than you.
This results in American output being about 32% less desirable or productive compared to the rest of the world. Call it the Hunger Games, or call it just a slap across the face. The reality of the situation is that the rest of the world has been held back for far too long, and through endless Sally Struthers feed the children infomercials, and calls to fight global poverty, we have done it. We have also entered these people into the same job and business pools that we previously had for ourselves, and we are somehow surprised that now these people are competing for the same goods and resources we had for ourselves for so many years. Deal with it, these people never had a chance for anything but a dirt blanket and oily water and malnutrition, and now they are eating at Applebee's in Nairobi. As soon as they handle the copyright infringement with the American restaurant chain that the local, ahem, gentlemen's club there has seen so fit to call themselves, otherwise they just might have a bit of an awkward market entry strategy execution in Kenya.
The point is that these people are now living or striving to live the same life as you. The source of competition from billions of wayward souls without a means to get anything beyond a pair of second hand clothes now are empowered with technology, global communications, and ability to compete and work in other nations. This process has been going on in fits and starts, as pockets of the world are opened up to the same opportunities that Americans have enjoyed region by region, investment by investment, consumer by consumer. Is it any wonder that the iron burger plate, the version of the Chinese iron rice bowl, is now a concept of the past? But this does not mean that we are automatically the victims of a global system turned against us. By the contrary, it means that we have the opportunity to take part, and profit in, the creation of developed markets around the world.
We as Americans should have a headstart on this, as we have already seen the process of how our country was transformed from a dirty, cholera infested rough frontier to the sparkling cities of Las Vegas and Los Angeles, so we should know how to transform places like Addis Ababa, Tashkent, and Phnom Penh. We as Americans frankly choose not to participate in the frontier market development of these lands to our own financial peril. But first we have to look in the mirror, realize we are an underperforming nation, and get to solutions on how to improve our condition. Looking at our own house from the outside-in is the first step.
If we want to clean our own house, we have to look in the mirror, and that means we have to get away from polite euphemisms that mask the issue. Domestic GDP as a standalone metric is far too polite of an economic figure, because it insinuates an inward-looking, competing against oneselves' mindset, completely ignoring the world frenetically sprinting and occasionally stumbling around this spinning blue and green disco ball we call Earth. Even comparing one's GDP to another country's doesn't sound so bad; after all, at least we're all growing, right? Everyone wins, and everyone gets a medal for participation at the end of the race, don't we?
Um, no. Countries are competitive entities that want to win. Singapore may take it to the extreme, wanting to be #1 in everything, but the point is that no country is satisfied with being bottom of the barrel in the global order. Putting up with it yes, but certainly not satisfied with it. It is therefore the job of global capital to see these gaps in development as opportunity for investment, and bring these unprivileged souls into the land of fresh water, clean air, and first-hand clothes. Global capital therefore should be able to generate a return that is worth the risk of developing frontier regions of the planet, and to profit while bringing a higher quality of life for everyone involved. This is the number one reason why I believe the best returns are yet to come from frontier markets. Russia's MICEX may be one of the best performing equity markets right now, but this is due to a rally from a very low level, artificially suppressed by NATO politics against the country. Frontier markets on the other hand are a wide open door of opportunity, with endless growth if you believe eventually these people in developing countries will sufficiently feed, bathe, and clothe themselves at a higher standard of living than they currently do now. Then you have these people rising up the Maslow's hierarchy of needs, and it is your prerogative as an investor to position yourself to profit when these people require new things as they climb up the Maslow ladder. To me, its a no brainer bet, and that is why I see attractive returns in frontier markets for the long term.
Best Regards,
Keith Hilden
Keith Hilden is the founder of Squawkonomics. He holds a degree in Economic Crime Investigation and has CFE training, and is fluent in Mandarin. He also researches Asia Pacific markets and Cyber Security for geopolitical consultancy Wikistrat.
By Keith Hilden
Keith Hilden holds a degree in Economic Crime Investigation and has CFE training. He is an Asia Pacific markets and Cyber Security Researcher for geopolitical consultancy Wikistrat, and researches frontier markets in developing countries and digital currencies on Squawkonomics.

Squawkonomics is focused on delivering multi-dimensional media and business intelligence products on emerging and frontier markets, to assist companies with their market entry strategy and market research needs. Employing a team of capable analysts, Squawkonomics provides first-hand business insights from the best sources and synthesizes them into perspectives that understand markets like never before. Currently based out of Taipei, Taiwan, and with operations in Thailand, China and Canada, Squawkonomics offers an unparalleled glimpse into a whole new economy. Contact us on Twitter, Facebook, or info@squawkonomics.com.
© 2014 Copyright Squawkonomics - All Rights Reserved
Disclaimer: The above is a matter of opinion provided for general information purposes only and is not intended as investment advice. Information and analysis above are derived from sources and utilising methods believed to be reliable, but we cannot accept responsibility for any losses you may incur as a result of this analysis. Individuals should consult with their personal financial advisors.
© 2005-2019 http://www.MarketOracle.co.uk - The Market Oracle is a FREE Daily Financial Markets Analysis & Forecasting online publication.

Only logged in users are allowed to post comments.
Register/ Log in