Birmingham Trojan Horse Islamic State Schools - Britain's Multiculturalism Catastrophe in Action
Politics
/
Educating Children
Jun 10, 2014 - 06:54 AM GMT


Britain's deceitful politicians are apparently waking up to the consequences of decades of the default position in furtherance of the policy of multiculturalism namely that of all imported population's cultures being of equal value and should equally be fostered, supported and sponsored with tax payer monies the consequences of which has been to dilute and corrupt British culture putting Britain on the path towards resembling the third world backward religious 'flat earth' based cultures from whence the immigrant populations originally came.
Operation Trojan Horse
The mainstream media reports Islamic extremists have apparently taken control of as many as 20 of Birmingham's state schools by ousting head teachers and staff that did not follow programme for Islamification. Ofsted investigated the schools and has subsequently rated several as inadequate and placed them in special measures triggering several more investigations into allegations of Islamic extremism in Birmingham state schools by the Department of Education.
Manifestations of the programme for Islamification involved for example tax payer funded pilgrimages to Mecca for muslim pupils, tax payer funded madrases (religious schools), banning of singing and music during Ramadan, raffles banned, non muslim teachers in fear of losing their jobs, teaching subjects contrary to Islam discouraged such as evolution.....
Apparently the politicians have come to the realisation that devout muslims in cities across Britain are doing what before them the Jews, Hindu's, Sikhs and Eastern Orthodox amongst many other 'flat earth' and 'man in the sky' cult cultures have done, is completely unacceptable, a series of subversive trojan horses planted in the midst of many of Britain's state schools.
The path towards oblivion has been underway for many decades, and all that Birmingham 'muslim' indoctrinated state schools represent is the tip of the ice-berg, for the cancer of 'flat earth' faith based education has been underway since at least the 1970's, it is just that at the present the mainstream media glare is focused on Islamic extremism, hence all things muslim be it halal meat in the super markets or state schools being Islamified that results in completely biased media coverage when the same is true right across Britain's MULTI-CULTURAL communities, be it sikhs, hindu's, jews, orthodox christians or the flavour of pentecostal christianity out of many African nations such as Nigeria that are heavily doused in witchcraft practices amongst other tribal superstitions.
The bottom line is as I have often written (see below) that whilst all humans are the same (Homo Sapien Sapien) as significant evolutionary differences emerge over many tens if not hundreds of thousands of years, however not all cultures are equal, instead of allowing the cultural evolutionary dead ends to go extinct as they naturally would instead the policy of multiculturalism corrupts successful cultures (British) that instead of being reinforced are being diluted towards coming to resemble those blinkered, oppressive, chaotic cultures that the same people who escaped from their consequences in the first place now seek to replicate in the Britain, albeit at tax payer expense (state schools).
17 Jan 2014 - Sheffield Roma Riots 2014 Warns Labour MP David Blunkett - Immigration Cultural Catastrophe
Cultural Catastrophe
Rather than a clash of cultures what lies at the heart of the building flash points is more of a cultural catastrophe, something that I have written on many times over the years, as over several decades many communities have settled in areas of Sheffield amongst other large cities, with most failing to integrate whilst wholly retaining their cultural identities and practices from their home countries that sows the seeds for future conflict in the ghettoised communities such as those referred to by David Blunkett.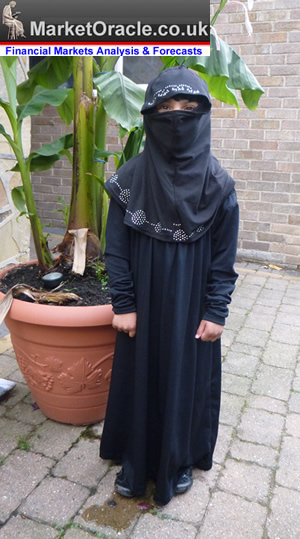 For instance muslim communities such as Bangladeshi's, Pakistanis' Indians, and North African's tend to attempt to follow the example of the times of the Prophet as an idealised way of how one should live in this life to gain access to paradise in the next life. Invariably this involves a high degree of control of the women in the families at least right up to the point of marriage, as women are forbidden to talk to those outside of the immediate family and therefore like low category prisoners are only let out on licence which should they break any of the terms of their families license will be treated as virtual house slaves to be imprisoned within the homes four walls that could result in the most extreme punishment of all which is to be forced into an arranged or more accurately deranged marriage with a relative from the parents country of origin.
Whilst the act of taking ones daughter or in even some cases son's under duress to ones country of origin to marry a relative is rare occurrence i.e. probably less than 8% of arranged marriages are forced marriages, however it is the prevalent over hanging threat of what could befall any daughter who should step out of line is that which encourages manifestation of far greater religious observance amongst the second generation muslim immigrants (born in Britain) than that which the parents generation had themselves observed as they had in large part enjoyed freedom away from their parents and family when they first settled in Britain, however a freedom that they have subsequently chosen not to afford to their own children. This is illustrated by the emergence of the burka or full veil that was virtually unknown to Britain 20 years ago but is now increasingly becoming commonplace across Britain, as younger and younger children are being indoctrinated towards strict religious adherence as a mechanism for total control of the next generation.
The flash points that are occurring today in places such as Sheffield are as a consequence of the Roma mass immigration as they tend to settle in high immigrant population areas which are predominately populated by muslims such as Pakistani's, Indians, Bangladeshi's and North Africans (Arab and Somali peoples), where such cultures including that of Sikh and hindus seek strict control over interaction between the sexes which is diametrically opposed to the behaviour of incoming Roma communities who have been conditioned through near 1000 years of being persecuted in countries such as Czechoslovakia, Romania, Bulgaria and elsewhere, constantly facing persecution and prejudice, denied equal rights and in fact slaves for much of their time in europe, no education and thus forced to live an meager existence on the margins of society in squalid make shift camps that are always at the risk of demolition, and having been long forced into a life of crime to survive, skills and practices that have been honed over many generations such as the passing down of the skills for pick pocketing from one generation to the next or worse still many Roma women are expected by their families to engage in prostitution as an acceptable means of putting food on the table therefore women are perceived in a completely opposite manner to that which most muslims perceive women. Therefore the vast majority of Roma communities in-effect operate as crime families which is why crime has and will continue to soar in the areas where the Roma are settling. Again after 1000 years of conditioning, crime is natural to the Roma communities that will take many generations to overcome and only then if they chose to associate themselves with the wider community.
03 Jun 2013 - UK Housing Bull Market Opportunities In Britain's Multiculturalism Immigration Crisis
Extremist Ideology of Multiculturalism is Why 90% of Immigrants Fail to Integrate
Many of the mainstream politicians actively promote the policy of multiculturalism as the primary way for immigrants to integrate / assimilate themselves with diverse cultures into British society, whereas the facts spanning several decades suggest the complete opposite takes place as the policy of multiculturalism (all cultures being equal) results in immigrants tending to congregate in ghettos that over time displace the indigenous populations, which are further reinforced by subsequent generations most of whom remain within their expanding boundaries of ghetto's which we see in ALL immigrant population groups, which is reinforced by state schools teaching of multiculturalism and by religious schools. The only change that happens over the time is that ghettos can become wealthy i.e. the Jewish immigrants of the 1930's to 1940's now live in rich ghettos such as Gants Hill, Golder's Green, Hampstead and Hendon, similar changes occurred with Hindu and Sikh migrations of the 1950's to 1970's and then for Pakistani's of the 1960's to 1980's and likely for a whole host of more recent influx of migrants from Africa, East Asia (China) and off course Eastern Europe.
The main reason for the lack of integration is religion which is used to justify separation between population groups, we see this with ALL immigrant population groups, Jews, Non CoE Christian's, Hindu's, Muslims, Sikhs and most recently Chinese. In which respect over time the reasons for separation become further exaggerated that is illustrated for instance by the Muslim community where many of the children of immigrants tend to become far more religious than their parents as illustrated by the wearing of the burka (full veil), something that their parents would never have worn and nor do their counterparts in most of the originating countries such as Pakistan, India and North Africa.
Furthermore the trend of separation also increasing risks of contempt for the country that has given them a home due to exaggerated religious doctrines that justify breaking the laws of the land because they are deemed to take second place to religious doctrine, again we see this IN ALL religions, Jews, Hindus, Sikhs, Confucianism as well as Islam.
As an example most muslims in line with the general population tend to see themselves as law abiding and would never entertain crimes such as the recent acts of terror, but many of the same people are more than happy to actively defraud the state in terms of perceiving themselves to have been given the green light by their respective religion such as in fraudulently claiming benefits whilst working in the black economy.
Such justification for fraud against the state is illustrated by the pick and mix attitude towards religious sermons such as finding justification in the utterances of self professed preachers / leaders as illustrated recently by the Daily Telegraph -
Daily Telegraph - Muslim preacher urges followers to claim 'Jihad Seeker's Allowance' A Muslim preacher is secretly filmed urging followers to take benefits from the state to fund a holy war.
Anjem Choudary was secretly filmed mocking non-Muslims for working in 9-5 jobs their whole lives, and told followers that some revered Islamic figures had only ever worked one or two days a year.
"The rest of the year they were busy with jihad [holy war] and things like that," he said. "People will say, 'Ah, but you are not working'.
"But the normal situation is for you to take money from the kuffar [non-believers].
"So we take Jihad Seeker's Allowance. You need to get support."
He went on to tell a 30-strong crowd: "We are going to take England — the Muslims are coming."
Ridiculing the daily lives of UK workers, Choudary said: "You find people are busy working the whole of their life. They wake up at 7 o'clock. They go to work at 9 o'clock.
"They work for eight, nine hours a day. They come home at 7 o'clock, watch EastEnders, sleep, and they do that for 40 years of their life. That is called slavery."
Choudary, a father-of-four, claims more than £25,000 a year in benefits, £8,000 more than the take-home pay of some soldiers fighting the Taliban in Afghanistan, according to the Sun, which covertly filmed the preacher at three meetings.
Such subversion of religious scripture in the pursuit of self interest results in outright criminal fraud against the state which is prevalent amongst ALL of Britain's ghettoed immigrant communities that amounts to undermining of the state from within which over time is contributing towards the social and economic decay of Britain. Religion is used by Jews, Orthodox Christians, Hindu's, Sikhs, and Muslims to justify what amount to crimes against the state that range from claiming benefits that they are not entitled to far worse acts of subversion.
The bottom line is that multiculturalism DOES NOT WORK, it PERMANENTLY fragments society into ever expanding Ghettos where over time the populations have LESS in common with one another, not more! The only answer is to scrap the mainstream policies that support multiculturalism such as the state funding for religious schools of ALL faiths. For the brainwashing for separation of the population starts in faith schools. Next the state must seek to exert secularism by banning the use of ALL religious symbols in public places such as schools, hospitals, and in all government services and seek to extract multiculturalism from state school education in favour of a policy of Britishness.
If Britain does not get a grip on the current situation and put multiculturalism into reverse gear then ultimately the British state will see itself fragment during future economic crisis as populations that have very little in common with on another will choose to go their separate ways, which as Northern Ireland illustrates would result in catastrophic consequences.
Religion breeds separation, where isolated separated people tend to over time see those of other religions that they have little interaction with as inferior to themselves, and it is this that which is at the root of the current mainstream press reporting.
The policy of multiculturalism is as consequences of politicians seeking to create pools of vested interest voters. Multiculturalism are the policies that reinforce cultural differences amongst the population under the premise that all cultures are equal when the truth is the exact opposite as illustrated by the fact that the only reason countries such as China are prospering is because they are busy WESTERNISNG. So British politicians instead of reinforcing the strengths of British culture seek to exaggerate cultural differences between peoples in pursuit of creating and maintaining pools of vested interest voters.
British Government Bribing Islamic Extremists Not to Blow Themselves Up
The recent events out of Woolwich reinforce my view that multiculturalism is an extremist policy that promotes inter communal conflict rather than integration and is as a consequence of successive government objectives for the fragmenting of society into creating pools of vested interest voters.
Whatever the Government of the day, there has always ever only been one solution for EVERY problem that confronts it and that is one of printing money to bribe the recipients so as to create vested interests. With regards to Islamic extremism news topic of the day, it amounts to effectively bribing extremists to not blow themselves up, i.e. for extremists to go onto the Home Office, Communities Department and even the MI5's payroll, the estimated amount that Britain spends per year to bribe extremists to not blow themselves totals approx £700million, which given the ongoing news story out of Woolwich is likely to increase further.
Mainstream Press Focus on the Extremists
The mainstream press in near totality has this past week been focusing on either current or former extremists that rarely represent a fraction of 1% of the population's from within which they emerge (as is nearly always the case). The bribed former extremists have been busy these past weeks earning their bribes on the news channels as they are presented to explain what is happening and why and what needs to be done, whilst conveniently not mentioning that they are on the payroll of government funded agencies. Furthermore the solutions put forward invariably involve more tax payer funding towards anti-extremism projects as the various groups seek to personally capitalise on the Woolwich murder.
This tends to send out the message to the wider population that there are generally only two types of muslim, current or former extremists, whereas the truth is that the number of extremists is a fraction of 1%, though both the media AND muslim agencies purporting to represent muslims will tend to exaggerate the number, where the media does it for readership and advertising and the muslim organisations for an increase government funding and other financial support.
This further illustrates the government policy of bribing everyone and everything with printed money be it called QE or Government debt that will never be repaid but is rolled over in perpetuity. This is why Scotland is unlikely to go independant because the Government of the day effectively bribes the Scottish electorate to stay in within Union to the tune of an extra £1600 per capita of state spending over England, and the same is true for Northern ireland and Wales. - This IS what drives the Inflation mega-trend and why there will never be Deflation because ALL governments default setting is to PRINT to BUY Votes, be they terrorists, nationalists, socialists, or even capitalists.
We are ALL being bribed ALL of the time to become vested interests.
So the word has long since gone out amongst deprived communities that there is funding to be claimed and profits to be made as a gullible government seeks to throw hundreds of millions a year in their direction. Thus Islamic radicalism in Britain can be a career choice for many young people because just like their benefits claming for life children producing white brethren, they too can skip the hard work route and land themselves onto the governments money for nothing payroll just as the Government has done in places such as Northern Ireland.
The more the observed problem of extremism in any particular community then the more tax payer money will be flooded into such areas to fund anti-extremism projects and related social projects for which many Imam's and bogus scholars will step forward to profit from. If the mainstream press wants to earn any credibility then they need to state that virtually EVERY former radicalised person they have put on the likes of Newsnight this past week is in some manner on the governments payroll.
Instead the real solution is to end multiculturalism (all cultures are equal) and instead promote INTEGRATION. So politicians instead of expand the cultural differences between peoples in pursuit of creating and maintaining pools of vested interest voters should reinforce the strengths of British culture.
Source and comments: http://www.marketoracle.co.uk/Article45990.html
By Nadeem Walayat
Copyright © 2005-2014 Marketoracle.co.uk (Market Oracle Ltd). All rights reserved.
Nadeem Walayat has over 25 years experience of trading derivatives, portfolio management and analysing the financial markets, including one of few who both anticipated and Beat the 1987 Crash. Nadeem's forward looking analysis focuses on UK inflation, economy, interest rates and housing market. He is the author of five ebook's in the The Inflation Mega-Trend and Stocks Stealth Bull Market series that can be downloaded for Free.

Nadeem is the Editor of The Market Oracle, a FREE Daily Financial Markets Analysis & Forecasting online publication that presents in-depth analysis from over 1000 experienced analysts on a range of views of the probable direction of the financial markets, thus enabling our readers to arrive at an informed opinion on future market direction. http://www.marketoracle.co.uk
Disclaimer: The above is a matter of opinion provided for general information purposes only and is not intended as investment advice. Information and analysis above are derived from sources and utilising methods believed to be reliable, but we cannot accept responsibility for any trading losses you may incur as a result of this analysis. Individuals should consult with their personal financial advisors before engaging in any trading activities.
© 2005-2022 http://www.MarketOracle.co.uk - The Market Oracle is a FREE Daily Financial Markets Analysis & Forecasting online publication.

Only logged in users are allowed to post comments.
Register/ Log in