The Jewish Selfish Gene, People Chosen by God, Everyone Else is Goyim to Kill
Politics
/
Israel
Jul 20, 2014 - 08:04 PM GMT


My recent article on the genetics of european Jewish people who claim to be the racial descendants of Jewish people who populated Palestine 2000 years ago pointed out that genetically they are no closely related to the indigenous Jewish populations of Israel / Palestine than any other european peoples are i.e. pointing out what is obvious to most that they look no different to any other european people because they in fact ARE European.
The importance of this being two fold in that:
Firstly the whole basis of Zionist claim to Palestine is on the basis of racial origins from those who lived in Palestine 2000 years ago which is contrary to the genetic evidence (as excerpted below).
Secondly this means that the actual closest descendants of the Jewish people of 2000 years ago, most of whom were forced to convert to first Christianity and then to Islam are the Palestinian people that the european Jews continue to persecute as illustrated by the blood bath taking place in Gaza as Israel unleashes its armed forces against defenseless men, women and children.
10 Jul 2014 - Persecution of the Jewish Race Continues, Israel's Dark DNA Secret Revealed
Out of Khazaria—Evidence for "Jewish Genome" Lacking
By Dr. Eran Elhaik - University of Sheffield
Eran Elhaik, a geneticist at the Johns Hopkins School of Public Health, thinks so. In a recently published study in Genome Biology Evolution (Elhaik 2012), he is calling for a rewrite of commonly held assumptions about Jewish ancestry. Instead of being primarily the descendants of the 12 tribes of Israel, present-day Jewish populations are, finds Elhaik, primarily the children of a Turkish people who lived in what is now Russia, north of Georgia, east of Ukraine. This civilization, the Khazars, converted from tribal religions to Judaism between the 7th and 9th centuries.
The controversy cut into by Elhaik's work runs deep, far past the lab bench. Among some circles, his conclusions are bound to be unpopular. "This is the first scientific paper to prove the Khazarian Hypothesis and reject the Rhineland Hypothesis," he says, "and with it about 40 years of research." Although his findings will not be welcome in all circles, Elhaik's interest is more medical than political.
"All I want is to help my colleagues who are studying genetic disorders," he says. "I hope this work will open up a new era in genetic studies where population stratification will be used more correctly."
Jewish populations are used in many disease studies because of their presumed genetic homogeny. Some conditions, such as Tay–Sachs disease, are more common among select Jewish populations than other populations. However, Elhaik says, the acceptance of a flawed origin narrative is hampering the best science.
For several decades, two hypothetical backgrounds of present-day European Jews have seemed plausible to historians and geneticists. In the favored "Rhineland Hypothesis," Jews descended from Israelite–Canaanite tribes who left the Holy Land for Europe in the seventh century, following the Muslim conquest of Palestine. Then, in the beginning of the 15th century, a group of approximately 50,000 left Germany, the Rhineland, for the east. There they reproduced rapidly, in a kind of "hyper–baby boom." Their breeding outpaced their non-Jewish neighbors by an order of magnitude—despite disease, persecutions, wars, and economic hardship—ballooning to approximately 8 million strong by the 20th century. Under this history, European Jews would be very similar to each other and would have Middle Eastern ancestry.
Several scholars prefer the "Khazarian Hypothesis," Elhaik included. This suggests the Jewish-convert Khazars, with reinforcements from Mesopotamian and Greco-Roman Jews, formed the basis of Eastern Europe's Jewish population when they fled northeast, following the collapse of their empire at the 13th century.
Elhaik first became fascinated by this idea 10 years ago when reading Arthur Koestler best-selling book The Thirteenth Tribe, published in 1976. Koestler calculated that Jews could not have numbered 8 million in Eastern Europe without the Khazar contribution. Upon reading his ideas, "I couldn't wait for genetic data that would allow someone to publish an evaluation of this hypothesis," says Elhaik.
When Behar et al. published "The genome-wide structure of the Jewish people" in 2010, Elhaik decided to investigate the question that had intrigued him for so long. Using data published by Behar, he calculated seven measures of ancestry, relatedness, and geographical origin. Though he used some of the same statistical tests as prior studies, he chose different comparisons.
"Results in the current literature are tangled," Elhaik says. "Everyone is basically following the same assumption: Ashkenazi Jews are a population isolate, so they are all similar to one another, and this is completely incorrect."
Previous studies had, for example, combined the question of similarity among and between Jewish populations and the question of ancestry and relatedness to non-Jewish populations. Elhaik viewed these questions separately. Jewish communities are less homogeneous than is popularly thought, he says, with Jewish communities along the former Khazarian border showing the most heterogeneity.
His second question centered on ancestry: When comparing Jewish communities to their non-Jewish neighbors, Caucasus or Levant (Middle Eastern) populations—which is the closest to Jews? "All Eurasian Jewish communities are closer to Caucasus populations," he writes, with Central European Jews closer to Italian non-Jews as the exception. Not one of the eight evaluated Jewish populations were closer to Levant populations.
"I had the hardest time clearing myself from the mindset (of previous work)," Elhaik says. "I was on the train, thinking hard, when it came to me how to separate the questions. It was a great moment." However, it would be a mistake, Elhaik says, to conclude present-day Jews have nothing to do with the ancient Judeans. "I found a signature of the Middle East. I'm not certain whether it suggests Judean or Iranian ancestry, but it's there." Iranian, as well as Judean, Jews began joining the Khazarian empire as early as the 5th century B.C.E. "It might be strange given today's political situation, but it makes a lot of historical sense."
For Shlomo Sand, history professor at Tel Aviv University and author of the controversial book The Invention of the Jewish People, Elhaik's paper was a vindication of his long-held ideas.
"It's so obvious for me," says Sand. "Some people, historians and even scientists, turn a blind eye to the truth. Once to say Jews were a race was anti-Semitic, now to say they're not a race is anti-Semitic. It's crazy how history plays with us."
"There is no Jewish genome and certainly no Jewish gene," says the Israeli-born Elhaik. Instead, all humans are a mix of the same building blocks, built with slightly different architectures. "The confusion about European Jews results from their tragic history of persecutions and deportations, creating multiple links between ancestry and geography. By dismantling our notions of genetically distinct populations and understanding our kinship, we can better appreciate our common history, and more importantly, our shared future."
Source: http://gbe.oxfordjournals.org/content/5/1/75.full
The article prompted much email and comments from Jewish people that ranged from quoting scripture that to them as the Chosen People of God, so I would be punished for blaspheming against Gods chosen people, to references to a multitude of genetic studies of Jewish people showing that some populations of Jews were very genetically similar such as the Ashkenazi Jews to which I replied that being in-bred is not a good thing as it results in genetic damage with all of the associated genetic diseases such as Tay-Sachs Disease, Canavan, Niemann-Pick, Gaucher, Familial Dysautonomia, Bloom Syndrome, Fanconi anemia, Cystic Fibrosis and Mucolipidosis etc.. Which is not exactly what one would expect for a chosen people by God.
However, I pointed out that even the greatest genetic similarity between Jewish populations is still not going to differentiate a Jewish population from any non Jewish population by a greater percentage than about 0.01%. Therefore in need for DNA evidence to match ancient scriptural superiority master race, Jewish scientist in search of the Jewish 'Selfish Gene' (the Me, Me, Me, Special person, Chosen By God syndrome) ignore 99.99% of that which means to be human. In fact the search for a Jewish gene is even further removed from the general population than the German search for evidence of a Master Race in terms of blue eyes and blonde hair which DNA analysis proves the genes for which are widespread amongst european and Caucasian populations INCLUDING European Jews the mutation for which appeared approx 6,000 years ago and is related to having fair skin which further reinforces the fact that white european Jews are NOT indigenous to North Africa / the Levant.
The notion of genetic evidence for a Jewish race is even more crazy when one realises that all humans share 50% of there genes with banana's! So to conclude that a 0.01% difference identifies a race whilst 50% matches with a banana really is banana's! Which in effect reveals the REAL meaning of life, not Adam and Eve, talking snakes, magic apples and a jealous spiteful God who punishes everyone just for eating an apple, but as humans being mere carriers of near immortal genetic information not just across similar species but ALL LIFE Sharing the SAME genes towards the objective for the survival of the genetic information be it in man or banana or bacteria!
My article further went onto conclude that most of the people who claim to be Jewish by race so as to justify their claim to Palestine by origins must therefore be converts to Judaism. However, there is another answer which I had not considered at the time and that is that many most of the Jews of 2000 years ago were actually EUROPEAN, so in fact many of today's Jews ARE descendants of European Jews of 2,000 years ago who continued to inter marry and share genetic information with european non Jews hence why there is little genetic difference. This also means that on this basis Jewish people by origins could in effect lay claim to ANY former Roman european lands from Spain to France to Germany, even Britain, where a part of the Jewish population sees itself as originating from and thus being the real land of their distant racial origins.
So whilst in reality the Jewish "Selfish Gene" is a figment of the racist ideology of Zionism that today pervades Israel and has infected western politics and media to great extent which explains that whilst the West points a big finger at the Russian state for blasting an air liner out of the Ukrainian sky instead turns a collective blind eye to Israel's far, far worse war crimes on the defenseless people contained within the Gaza concentration camp the killing of whom in effect amounts to European Jews exterminating the actual closest descendants of the Jews of Palestine of 2000 years ago.
Channel 4 News has broken the mold by documenting the unfolding war crimes being visited upon the defenseless population of Gaza in a series of reports out of Gaza such as the latest below of apparently Israeli death squads entering civilian areas after shelling and missiles barrages killing many fleeing civilians.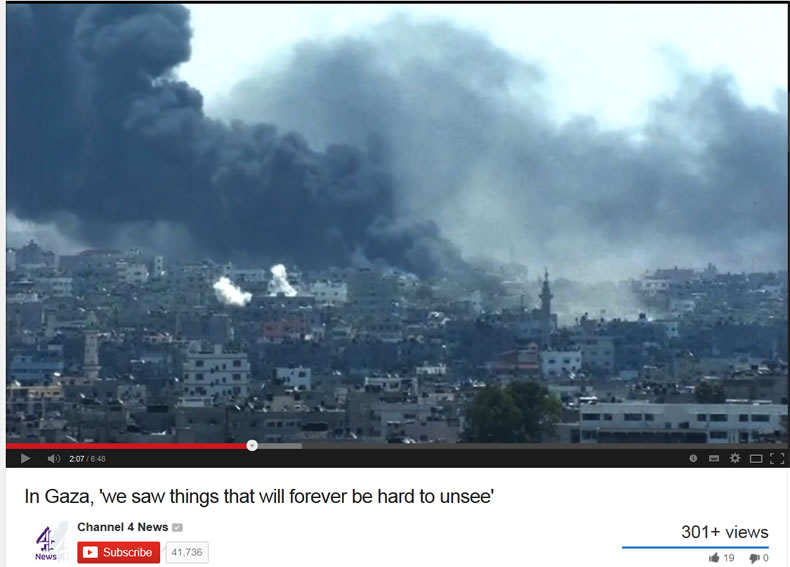 Earlier Channel 4 News gave air time to Israeli Prime Ministers spokesman happy to justify killing children playing on the beach (Channel 4 News).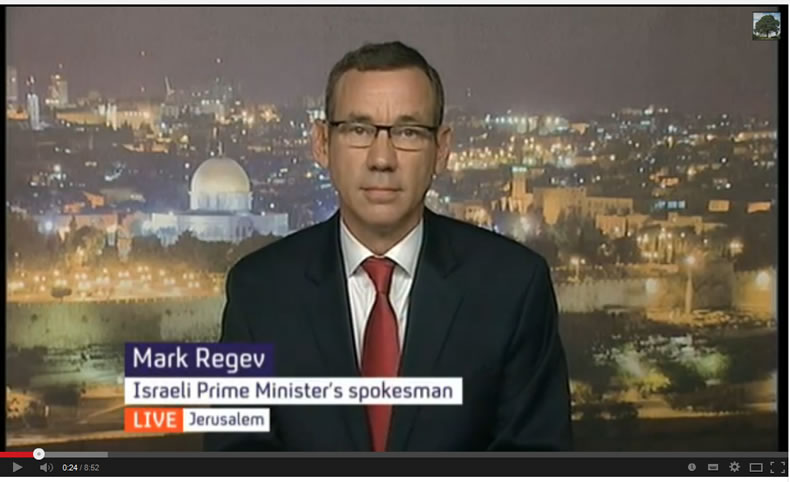 My next in-depth analysis will pull all of the threads together to reveal that the ISIS Islamic State is following the blueprints of the Israeli Zionist state and where this is all heading towards in my next in-depth analysis.
Fundamentalist ISIS Islamic State = Fundamentalist Jewish Zionist Israeli State = ?.... find out in my NEXT article.
Source and Comments: http://www.marketoracle.co.uk/Article46528.html
By Nadeem Walayat
Copyright © 2005-2014 Marketoracle.co.uk (Market Oracle Ltd). All rights reserved.
Nadeem Walayat has over 25 years experience of trading derivatives, portfolio management and analysing the financial markets, including one of few who both anticipated and Beat the 1987 Crash. Nadeem's forward looking analysis focuses on UK inflation, economy, interest rates and housing market. He is the author of five ebook's in the The Inflation Mega-Trend and Stocks Stealth Bull Market series that can be downloaded for Free.

Nadeem is the Editor of The Market Oracle, a FREE Daily Financial Markets Analysis & Forecasting online publication that presents in-depth analysis from over 1000 experienced analysts on a range of views of the probable direction of the financial markets, thus enabling our readers to arrive at an informed opinion on future market direction. http://www.marketoracle.co.uk
Disclaimer: The above is a matter of opinion provided for general information purposes only and is not intended as investment advice. Information and analysis above are derived from sources and utilising methods believed to be reliable, but we cannot accept responsibility for any trading losses you may incur as a result of this analysis. Individuals should consult with their personal financial advisors before engaging in any trading activities.
© 2005-2022 http://www.MarketOracle.co.uk - The Market Oracle is a FREE Daily Financial Markets Analysis & Forecasting online publication.
Comments
anon
21 Jul 14, 03:44
Israel Wants Gaza Natural Gas


Hamas, an obstacle to peace? Or an obstacle to a gas deal?

"Israel's defence minister is on record confirming that military plans to uproot Hamas' are about securing control of Gaza's gas reserves. Mark Turner founder of the Research Journalism Initiative, reported that the siege of Gaza and ensuing military pressure was designed to "eliminate" Hamas as "a viable political entity in Gaza" to generate a "political climate" conducive to a gas deal.

According to Anais Antreasyan in the University of California's Journal of Palestine Studies, the most respected English language journal devoted to the Arab-Israeli conflict. Israel's long-term goal "besides preventing the Palestinians from exploiting their own resources, is to integrate the gas fields off Gaza into the adjacent Israeli offshore installations."

http://www.theecologist.org/News/news_analysis/2482929/gaza_israels_4_billion_gas_grab.html

J Loftus



14842
21 Jul 14, 07:15
Zionists


this is just genocide the Zionist pigs don't want peace they want to murder molest harass Palestinian children



Fatima
21 Jul 14, 08:29
Israeli Narrative


Israel refused to vacate the land it conquered during the wars and built settlements there which are illegal according to international law.

The narrative that Israelis are entitled to all that they have captured because they developed it is the standard narrative of all colonizer and oppressors. The British colonized India because it was the white man's burden to civilize the natives and gave the locals modern roads and infrastructure for which the latter were supposed to praise their masters. The European settlers also committed a genocide against native Americans and created the USA as we know it today. I bet you expect the First Nation to get down on its knees to thank those who murdered their ancestors? What about African Americans? SHould they also thank the white man for bringing their ancestors from the dark continent and into 'civilization'??

Fatima



nextgen2013
21 Jul 14, 09:53
New Testament


Israel has never operated in good faith. their settlements are testaments to the israeli vision of their new testament for the Middle East. Have met many israelis..they are hardened and cocksure at the same time. must be hard to be israeli...i'm certainly beyond cautious in all business undertakings.




Only logged in users are allowed to post comments.
Register/ Log in