Ukraine MH17 Crisis - Best Remember Who Your Friends Are
Politics
/
GeoPolitics
Jul 24, 2014 - 10:37 AM GMT


A very impressive procession of hearses, containing the first 40 of the 298 caskets that will have to be 'processed', is going on as I speak in Holland, and has been for hours of slow driving, broadcast on live national TV. It's a 100 mile or so distance, with thousands upon thousands of people along the route paying respect, from the airport where they landed form Ukraine to the facilities where they'll be identified.
Which in the most 'fortunate' cases can be done in hours, in others may take weeks, and in yet others may never be conclusive. At least on the surface, the Dutch are doing everything right when it comes to honoring and respecting the people who died on MH17, and those who mourn them.
Still, when the bodies left Charkov earlier today, there were speeches by the Dutch and Australian ambassadors and other officials, all entirely in the spirit of what the moment and the victims deserve and are entitled to, but there was one noteworthy dissonant, which was even picked up by a Dutch reporter who wasn't there to give his own opinion, but nevertheless opined that he thought it was very out of line for Ukraine Vice PM Groysman to use the occasion, which was intended to honor the victims only, to once again start off on a bitter, and frankly shameless, rant against Russia and Putin.
Ugly. But not unexpected. It goes to show that we really no longer know who our friends are. And as I said the other day, that goes for the whole Russia and Ukraine situation as much as it goes for the economy and the crisis it's in. There are far too many Americans and Europeans who still think their governments are their friends. Which in Holland today is very tempting, because there's this whole display of 'correct mourning' going on that draws in just about everyone simply on the fact that emotions must go somewhere, and they are easily guided into a shared platform, because people are drawn to that.
But they are, in the slipstream of those shared emotions, just as easily drawn towards venting anger at a perceived common enemy; it is easy to manipulate – emotionally vulnerable – people's genuine grief into a blame game directed at a common enemy, even if you have no evidence that enemy did anything wrong, or even had anything to do with the acts that made them your enemy in the first place.
This is not something we had to wait for Sigmund Freud to discover for us; people have known since they were much more primitive primates how this works. Group – or mass- psychology works like a charm if you press the right buttons in a group. And it may have had benefits in the days of David vs Goliath, where a seemingly weaker party won the day against a stronger one. But it also has a dark side. When people are vulnerable, you can make them believe just about anything.
"We" follow the side that's been pre-chosen for us in the ongoing Ukraine battle by our governments, i.e. US and EU. Who started getting heavily involved in Ukraine a number of years ago, and began to put the pedal to the metal when then-President Yakunovych declined to sign a deal that would have delivered Ukraine into a perhaps not all that advantageous partnership with the EU.
That's when the West joined the Maidan protest in an aggressive way. By then, though, it had already spent a princely sum of $5 billion supporting all sorts of movements that had one thing in common: they were against Russia. Or more specifically: against Putin. Who refused to kowtow to Brussels and Washington.
With the help of a number of not-so-squeaky-clean groups in Ukraine, the Maidan side won: the elected president fled. US-handpicked guys – dare we say puppets – took over, and launched ferocious attacks against those amongst their own compatriots in the east of the country who didn't want to bow to American and European rule, if only because it was announced very transparently by the new rulers in Kiev that they would be considered second hand citizens, if they would be allowed to live.
The eastern, Russian-speaking population, chose to align with Russia. A choice that so far cost many thousands of them their lives. Killed by their own government's army, aided by US secret service agents and mercenaries, on their very own land they, and their ancestors, grew up on.
Blaming Putin for what has happened, not just to MH17 but to anything and everything in Ukraine over the past year and change, is way too easy. Putin, or let's say Russia, has not been the aggressor, the west, i.e. have. Putin was fine with the way things were before. He thought Yanukovych was a stupid clown, but at least his oil interests were safe with that clown.
He acted just like the US and EU did and do to this day in 100+ different countries: as long as the prevailing government do what you want, you leave them in place. In Yanukovych's case, it was gathering insane riches and bankrupting his nation, but at least never renditioning or mass murder. In many countries "we" support, wholesale slaughter is the order of the day, and has been for many decades. Whether it's Saudi Arabia or Iraq or Chili or the Congo, we have built our wealth of supporting regimes that are willing to kill their neighbors so our interests are served.
It's completely senseless to even try and deny that. But we are still led, in our justified grief and anger, towards hate for the very people we have set up to being killed by armies we ourselves finance. Call them devils, call them terrorists, proclaim they have no souls or they eat firstborn children. It's as old as the first primates. It's politics.
But it's also the epitomy of disrespect. For those of you who have died, and who deserve for you to put in your best effort to find out who killed them. Not point fingers and not deliver any evidence. And disrespect for those who are being killed on your name – yes, that would be you -, so a political power game can be played over your heads and theirs. And down the line, your kids can be sent to go and murder the kids of those who were never your enemy other than in your politicians' chants and games.
Your politicians are not your friends. But they are very good at pretending they are, especially in circumstances where you are – and they always know when that is – most vulnerable. The fact that all you've heard and read so far, a week after MH17 came down, is insinuations, and not a single shred of proof, should tell you all you need to know as far as your leaders' credibility is concerned. They have nothing.
The most damning, or should I really say most entertaining, showcase is that is this conversation between Associated Press reporter Matt Lee and US State Department Deputy Spokesperson Marie Harf. What Harf is saying, for the good listener, is that the entire State Department assessment of the MH17 situation is based on social media posts from the Ukraine government.
Which just happens to have issued more lies and fabricated videos and and and than anyone else involved. BUK rocket movements Kiev said were 'rebel rockets', but which proved to be on Kiev controlled territory, black boxes they said were tampered with that were not, etc etc. Not one thing I can think of Kiev said has proven to be true. But they're our governments' installed puppets, so we listen to them.
If there's no other way to find out who your friends are, at least this conversation should make it abundantly obvious to you who is not. Marie Harf may have lost her job on this, but she still said it. This is the kind of thing I find hard to believe when I see it, but I think maybe most people fail to see what's actually being said. Then again, in an emotionally laden environment, it's perhaps easy to miss out on essentials.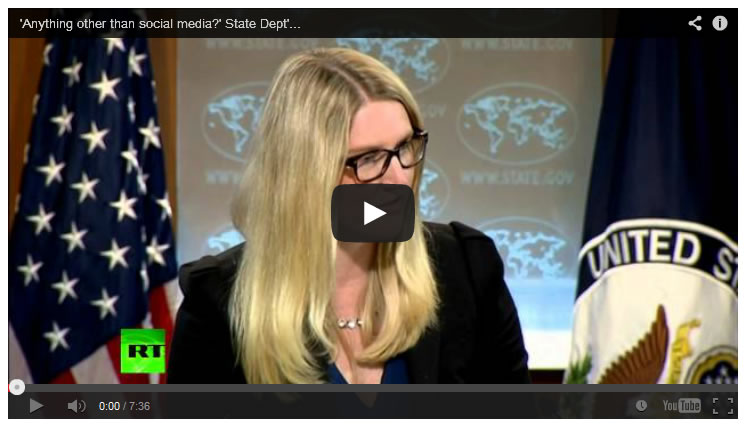 My uncle's at the evenin' table, makes his living runnin' hot cars
Slips me a hundred dollar bill, says
"Charlie you best remember who your friends are."
Straight Time, Springsteen
By Raul Ilargi Meijer
Website: http://theautomaticearth.com (provides unique analysis of economics, finance, politics and social dynamics in the context of Complexity Theory)
© 2014 Copyright Raul I Meijer - All Rights Reserved Disclaimer: The above is a matter of opinion provided for general information purposes only and is not intended as investment advice. Information and analysis above are derived from sources and utilising methods believed to be reliable, but we cannot accept responsibility for any losses you may incur as a result of this analysis. Individuals should consult with their personal financial advisors.
© 2005-2019 http://www.MarketOracle.co.uk - The Market Oracle is a FREE Daily Financial Markets Analysis & Forecasting online publication.

Only logged in users are allowed to post comments.
Register/ Log in