Second Quarter Corporate Earnings: Marching Toward a Strong Economic Recovery
Economics
/
US Economy
Jul 28, 2014 - 06:32 PM GMT


It's earnings season once again, and though only a quarter of the Russell 1000 has reported so far, the news is just north of positive. All signs indicate that the market has dusted itself off and is back to its cheerful self after a ho-hum first quarter, which was negatively affected by harsh winter weather.
In the chart below, you can see that 73 percent of the companies that have reported as of this writing exceed their earnings per share (EPS) beat rate. The beat rate, as you might know, is the rate at which companies surpass market analysts' published estimates. The revenue beat rate, meanwhile, sits at 67 percent, a positive surprise above the long-term median of 63 percent.
Included in these figures are a few of the top-performing companies that we own in our All American Equity (GBTFX) and Holmes Macro Trends Funds (MEGAX), such as Facebook, Apple and Biogen Idec. We'll discuss these companies later.
So to what do we attribute these welcome tidings?
Two notable indicators are the significant drop in initial unemployment claims and the jump in U.S. and global consumer confidence.
Americans are heading back to work
According to last week's data reports, initial unemployment claims fell to their lowest level since 2006, before the Great Recession brought the country to its knees.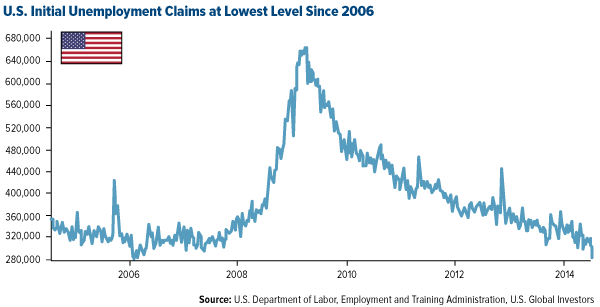 Couple this news with the constructive U.S. jobs report, and we're looking at a return to pre-recession labor-market strength. The U.S. Bureau of Labor Statistics reported that 288,000 nonfarm payroll positions were added in June alone, bringing the country's unemployment rate to a five-year low of 6.1 percent. Data for July is expected next Friday.
Feeling good about letting go of their dough
Another sign that the economy promises a strong continued recovery is the modest boost in domestic and global consumer confidence levels.
Information and insights company Nielsen announced that its global confidence index has inched up an overall 1 point to close at 97, the highest it's been since 2007. A 100 mark indicates exceptionally strong consumer optimism.
According to Nielsen, the U.S jumped 4 points from the previous year to close at 104 points, making it come in at 8th place worldwide. India leads all other nations at 128 points, possibly attributable to the recent election of its new prime minister Narendra Modi. At 48 points, Portugal trails the pack.
As you can see in the chart below, there's a 17 percent increase from the same time a year ago in American respondents who feel that now is a good time to spend their money on necessary and discretionary goods and services.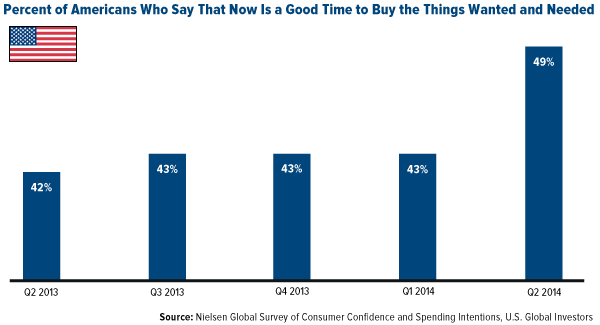 The results of the Michigan Consumer Sentiment Index echoes the buoyancy of the domestic economy. At 81.3, the index is finally stabilizing at pre-recession levels.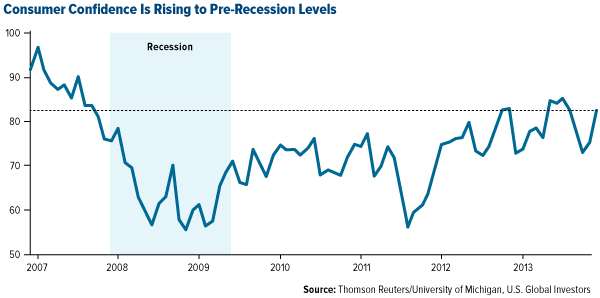 Following are some of the top-performing holdings in our funds.
Facebook

Facebook continues to defy expectations. The social media titan had a robust second quarter, reporting revenue of $2.91 billion, an increase of 61 percent from the same time last year. More than $2.6 billion was derived from advertising alone. Mobile ads specifically represented about 62 percent of advertising revenue, indicating that an increasingly greater number of users are moving away from traditional portals such as desktops and laptops.
The second quarter, in fact, has seen a 7.3 percent increase from the first quarter of mobile daily Facebook users, from 609 million to 654 million.
"We had a good second quarter," founder and CEO Mark Zuckerberg said. "Our community has continued to grow, and we see a lot of opportunity ahead as we connect the rest of the world."
Apple
The tech giant reported that its quarterly profits rose 12 percent to $7.75 billion, bolstered by its iPhone and Mac sales. Anticipation of a next-generation iPhone, expected to arrive in late September, as well as the tentatively-named iTime smart watch, have also excited consumers both domestically and internationally.
In China, the world's largest mobile market, Apple products unexpectedly outperformed Samsung Electronics, the popular South Korean smartphone maker.
"China, honestly, was surprising to us," Apple CEO Tim Cook said. "We thought it would be strong, but it went well past what we thought. The unit growth was really off the charts across the board."
Apple's exceptional performance contrasts dramatically with Amazon.com's report that it lost $126 million in the second quarter. The retail leader has sunk a staggering pile of cash into developing its Fire Phone, made available for purchase last Friday, which has so far received mixed reviews from tech experts, analysts and bloggers.
Partially as a result of the Fire Phone's dubious receipt, Amazon has posted its most disappointing quarterly loss since 2012. The company, in fact, forecast that its operating losses this quarter will fall within the $410 to $810 million range.
Biogen Idec
The Cambridge, Massachusetts-based biotechnology company Biogen, a leader in developing treatments for neurological and autoimmune disorders such as multiple sclerosis (MS), reported revenue of $2.4 billion, a 40 percent increase from this time a year ago.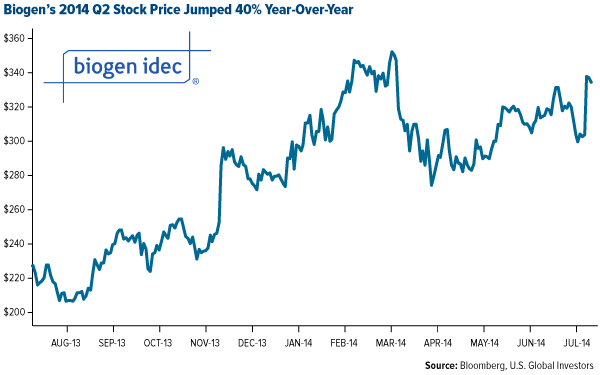 Its blockbuster medication Tecifidera, used to defend against relapsing MS, has generated a jaw-dropping $700 million in 2014 alone--$585 million domestically, $115 overseas.
Other runaway Biogen products include Avonex and Tysabri.
Looking forward to a stronger third quarter
Good news such as this has been a long time coming.
Although many economic experts and pundits hesitate to admit that the U.S. economy has recovered to pre-recession levels, the second quarter has presented the most convincing signals thus far that we're closer than ever. A greater number of Americans are finding quality employment. Initial unemployment claims are tapering off. Consumer confidence is growing year after year. And with powerful American companies such as Facebook, Apple and Biogen leading the charge, the U.S. has a bright future in store.
Want to receive more commentaries like this one? Sign up to receive email updates from Frank Holmes and the rest of the U.S. Global Investors team, follow us on Twitter or like us on Facebook.
By Frank Holmes

CEO and Chief Investment Officer
U.S. Global Investors
U.S. Global Investors, Inc. is an investment management firm specializing in gold, natural resources, emerging markets and global infrastructure opportunities around the world. The company, headquartered in San Antonio, Texas, manages 13 no-load mutual funds in the U.S. Global Investors fund family, as well as funds for international clients.
All opinions expressed and data provided are subject to change without notice. Some of these opinions may not be appropriate to every investor.Standard deviation is a measure of the dispersion of a set of data from its mean. The more spread apart the data, the higher the deviation. Standard deviation is also known as historical volatility. All opinions expressed and data provided are subject to change without notice. Some of these opinions may not be appropriate to every investor. The S&P 500 Stock Index is a widely recognized capitalization-weighted index of 500 common stock prices in U.S. companies. The NYSE Arca Gold BUGS (Basket of Unhedged Gold Stocks) Index (HUI) is a modified equal dollar weighted index of companies involved in gold mining. The HUI Index was designed to provide significant exposure to near term movements in gold prices by including companies that do not hedge their gold production beyond 1.5 years. The MSCI Emerging Markets Index is a free float-adjusted market capitalization index that is designed to measure equity market performance in the global emerging markets. The U.S. Trade Weighted Dollar Index provides a general indication of the international value of the U.S. dollar.
© 2005-2019 http://www.MarketOracle.co.uk - The Market Oracle is a FREE Daily Financial Markets Analysis & Forecasting online publication.

Only logged in users are allowed to post comments.
Register/ Log in