U.S. Housing Bull Market Over? House Prices Trend Forecast Current State
Housing-Market
/
US Housing
Aug 23, 2014 - 05:20 PM GMT

Despite U.S. house prices surging higher in July by 1.1% (May data) after near flat lining for several months, the mainstream pundits continue to issue warnings of its unsustainability for as is always the case there are ample snippets of data out there to take either a positive or negative point of view and since fear tends to sell more copy, so that is where approx 80% of the mainstream media's focus lies.
Rather than listing a series of pronouncements from who in large part will be unknown market commentators, I will just list the utterance from from the widely recognised King of U.S. Housing market data, Prof. Robert Shiller who recently warned not just against high housing market valuations but also for bonds and stocks, a bull market which he neither saw coming and has been caught on the wrong side of for many years.
"How can it be that people think we can't get a riskless return in real terms for 30 years? There's something bizarre. That looks a little bit like a bubble as well. So the whole thing might correct—both bonds and stocks," Shiller said.
Shiller said he's also been "kind of surprised" by the housing market, which is up around 25% since the 2009 low (and even more in some cities).

"We're seeing a sort of boom in the housing market," he said. "We've got stocks and bonds highly priced and now we're starting to see maybe housing going in the same direction. It's like everything is pricey."

Shiller looped back to his weekend article, which laid some but not all of the blame on the idea that anxiety can actually spur investors to grab on to any available asset, pushing up prices.

"Worries about the future can actually cause asset markets to be priced highly … When the Titanic was going down, people would pay a fortune for anything that floats. I'm exaggerating, of course, but that might be the situation we're in now," he said.
So what do academics such as Robert Shiller repeatedly miss ? They miss the significance of MOMENTUM and SENTIMENT on TREND which is ACCUMULATIVE as I have covered several times over the years.
19 Aug 2013 - UK House Prices Bull Market Soaring Momentum
What Academics and Journalists Will Never Understand About Markets
In having immersed by myself in the markets for 30 years now, I know that what many academics tend to take for granted rarely matches reality. Whilst I covered many aspects of trading markets in my last ebook (Stocks Stealth Bull Market 2013 and Beyond - Free Download). However in terms of economic trends what academics will always fail to grasp is that markets are NOT driven by fundamentals but by SENTIMENT and it is SENTIMENT that CREATES the fundamentals! Which is why the academic economists rarely have any real clue as to what is going in the markets because they are nearly always looking in the WRONG direction i.e. they are looking at the CAUSE rather than the EFFECT, as in reality it is the EFFECT that makes itself manifest in the price charts long before the CAUSE appears in the economic data that academics focus upon, which is why the SAME economic data can and is used by economists and pseudo-economist (journalists) such as that which we see on TV news shows to explain EITHER price rises OR falls.
You can only know the markets IF you TRADE the markets! The pseudo and academics economists will never get you on the right side of trends years ahead of the herd, in fact most press media commentators will be some of the LAST people to jump onboard trends, usually just before they end!
Momentum Drives Housing Market Sentiment and Economic Growth
As house price rises continue to accelerate, many people sat on the sidelines waiting for prices to fall or even crash will realise that it is just not going to happen, and in their despair at the relentless accelerating trend of rising prices, in increasing numbers will feel no choice but to jump onboard the housing bull market as a they see the houses they have been viewing sold and asking prices trending ever higher.
As house prices rise, home owners see the value of their houses rise £x thousands per month, in many cases by more than their salaries, this will encourage many to borrow and spend more, and save less which will meet the governments primary objective for inflating the economy by means of the housing market. Everyone will be playing the game of how much has my house value increased by, a quick analysis of my own housing portfolio (based in Zoopla estimates) shows a 5.5% increase in housing wealth over just the past 6 months! Does this make me feel richer, more willing to spend? Well, being only human, YES it does!
So enough of the noise from ivory tower professors and pseudo-economists (journalists) who regurgitate academic theories and sales pitches from the financial industry, instead here is my real take on the current state of the U.S. housing market in terms of PRICE, for at the end of the day all that matters is what the PRICE is doing.
U.S. House Prices 3 Year Trend Forecast
The U.S. house prices trend has now passed the mid-way point of my long standing 3 year forecast of January 2013 as excerpted below:
12 Jan 2013 - U.S. Housing Real Estate Market House Prices Trend Forecast 2013 to 2016)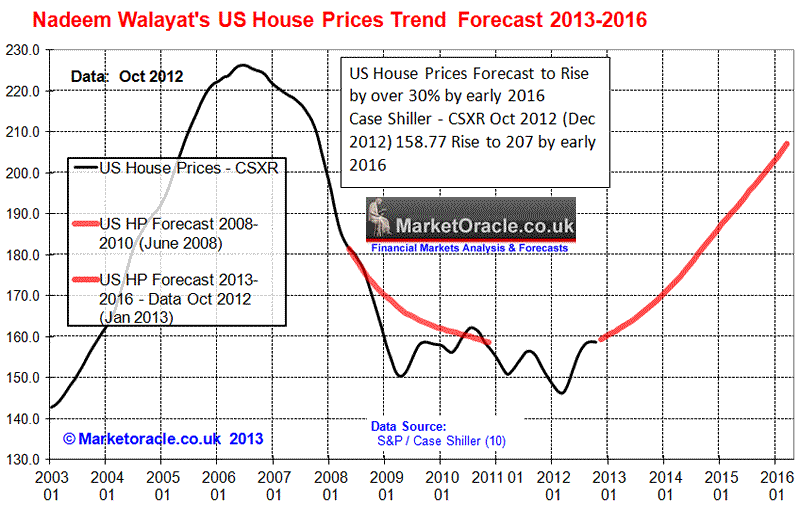 US House Prices Forecast Conclusion - As you read this, the embryonic nominal bull market of 2012 is morphing into a real terms bull market of 2013, with each subsequent year expected to result in an accelerating multi-year trend that will likely see average prices rise by over 30% by early 2016, which translates into a precise house prices forecast based on the most recent Case-Shiller House Price Index (CSXR) of 158.8 (Oct 2012 - released 26th Dec 2012) targeting a rise to 207 by early 2016 (+30.4%).
At the same time highly vocal commentators such as Peter Schiff where strongly bearish on the prospects for U.S. Housing market, see his Jan 2013 video.
"Prices have to fall, they are still much too high, and I think any body who is clinging to the hope that the real estate market has bottomed really should rethink those assumptions" - Peter Schiff - Jan 2013.
"You don't want to buy anything related to real estate...., a lot of shorting opportunities there...., housing is not going to recover its going to fall for years" - Peter Schiff - Jan 2013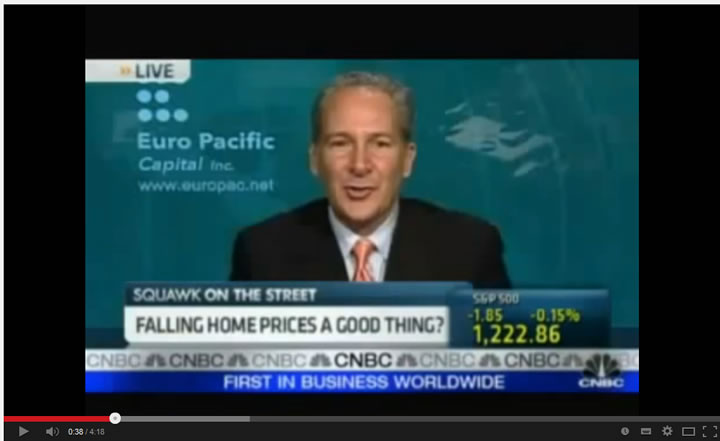 And as far I can see has remained bearish for the duration of the U.S. housing bull market since. Now don't take this as me picking on Peter Schiff for he just represents the prevalent consistent consensus view that has been regurgitated at length on the likes of CNBC that most retail investors have been exposed to, so it is no wonder that most tend to miss whole bull markets only finally joining in when its actually time to get out.
My in-depth analysis and concluding trend forecast was shortly followed by a video version in Mid Jan 2013.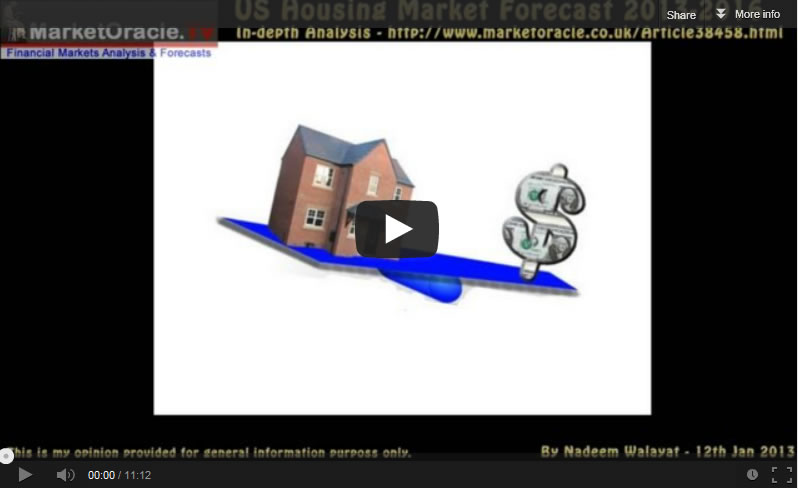 U.S. Housing Market 2014
My U.S. housing market outlook for 2014 was updated in early January ahead of inclusion in my new housing markets ebook (FREE DOWNLOAD) that expected a sharp slowdown in U.S. house price inflation during 2014 as I expected U.S. house prices to converge towards my forecast trend trajectory.
05 Jan 2014 - U.S. House Prices Forecast 2014
The latest data for October 2013 confirms my view that the U.S. housing market is going to be experiencing a severe slowdown in momentum during 2014 as the inflation rate drops from about 15% early 2014 to probably under 7% towards its end. This is in the context of my over-riding 3 year forecast of Jan 2013 to early 2016 as U.S. house prices look set to converge towards the forecast trend trajectory during 2014.
By mid 2014 the sharp slowdown in price rises will prompt many commentators in the mainstream press to proclaim that the bull market has ended, when in reality it would just represent the market laying the ground work for the next leg higher during 2015 as prices oscillate around the forecast trend.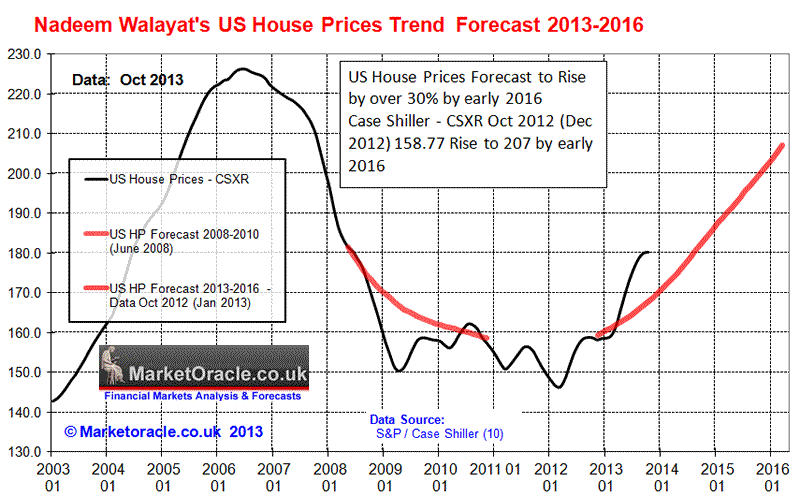 Summary for 2014 - Sharp slowdown in U.S. house prices inflation to under 7% coupled with sharp acceleration in U.S. economy to GDP 4% to 4.25%.
Your analyst warning you not to pay any attention to the bubble talking fools during 2014, all of whom never saw this bull market coming and thus will continue to remain in a permanent state of denial just as they have been towards the stocks stealth bull market of the past 6 years. Understand this - we won't see a bubble peak in U.S. house prices for many more years.
U.S. House Prices Forecast Current State
The latest U.S. house prices data released for May 2014 (185.3) shows that U.S. house prices are gradually converging towards trend forecast as I stated they would in January 2014, with prices now standing at forecast +5.3% (May data) deviation against +7.4% in January (Oct 13 data).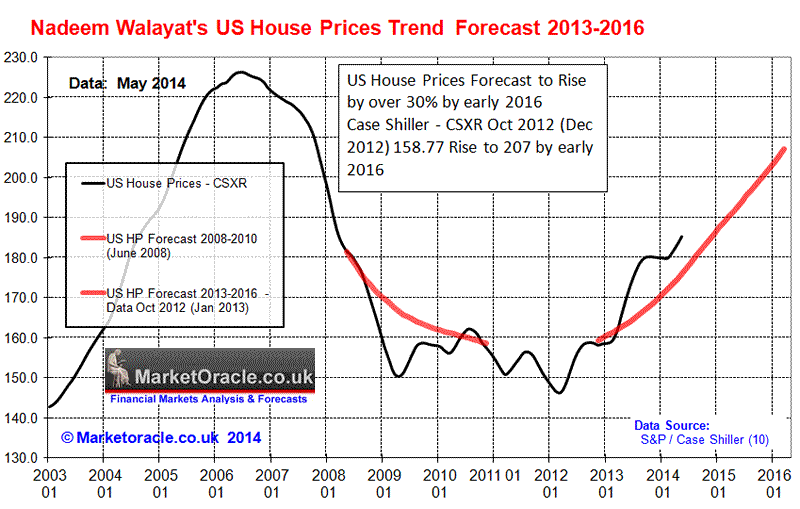 U.S. House prices momentum continues to slow from a peak of +13.9% for November 2013 data to now stand at +9.2% for May 2014 data which as I warned before has mistakenly prompted many to conclude that the U.S. housing bull market could be over when all that is taking place is that U.S. house prices are oscillating around a trend of 10% per annum, and as I indicated in January 2014, that I expected U.S. house price inflation to slow to UNDER 7% before the end of this year.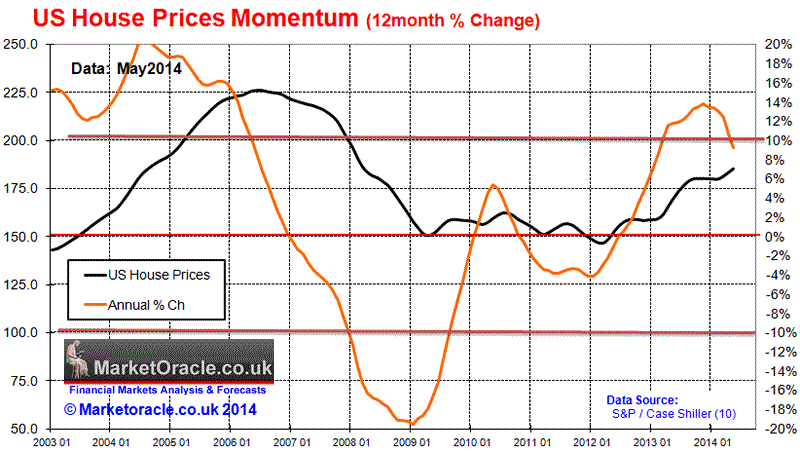 Furthermore US house price inflation looks set to continue to slow and could even slow to reach a trough of as low as 4% per annum house price inflation which whilst playing into the hands of the doom merchants, however in terms of the 3 year forecast will be of little significance.
Conclusion
Despite mainstream media persistent noise for an increasingly negative outlook for US house prices for a multitude of reasons, the perception of which will be backed up by a sharp drop in US house price inflation to as low as +4%, instead the reality is for US house prices just oscillating around the central trend forecast of 10% per annum as today's +5% resolves to -4% by the end of this year (2014). Whilst the long-term trend trajectory remains in tact for a rise of over 30% by early 2016.
Therefore I see no reason to undertake a more in-depth analysis at this point in time by delving into the fundamentals of the U.S. housing market such as looking at mortgage applications, housing starts, existing and new home sales data as I had been preparing to do, as the price has answered all of my questions in first trending towards convergence and then an under oscillation against my trend forecast that will sow the seeds for the next surge higher during 2015, thus U.S. home owners can look forward to at least another 18 months of a rising trend in house prices that I am sure will be accompanied by much gloom and doom commentary by clueless academics and salesmen, that I suspect will continue all the way towards NEW ALL TIME HIGHS for average U.S. house prices in a couple of years or so, which I am sure will trigger much end of the bull market double top commentary.
UK House Prices Brief
The updated halifax average house prices (NSA) graph to July 2014 of £189,726 is set against the forecast index level for July 2014 of £188,244 which illustrates that house prices over the past 7 months have shown <1% deviation from the forecast trend and therefore the long-term trend forecast remains on track to achieve a 55% rise in average house prices by the end of 2018.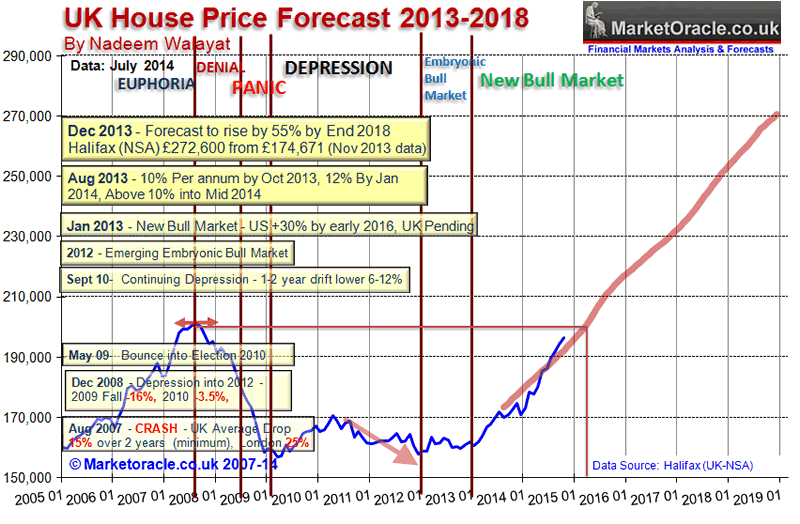 My article of June 2014 concluded that house prices momentum was expected to continue to accelerate over the summer months and therefore to result in a slightly above trend forecast trajectory which is coming to pass with UK house prices not expected to deviate much further beyond +1% from forecast before converging towards trend forecast as I continue to expect UK house prices to OSCILATE around the forecast trend, and implying a slowdown towards trend -1%.
The Islamic Capitalist Mafia State Brief
The western media propaganda remains largely perplexed as to how ISIS has apparently so quickly taken hold of such a large area of territory in first Syria and now Iraq. However, the reason why is no different then what would take place in any area of the globe where law and order has been extinguished because the Islamic State is not operated along ISLAMIC principles as understood by 99% of those why subscribe to Islam, but rather Mafia CAPITALIST principles that fills the void left by the extinction of law and order, because as the Islamic State maps tend to suggest that its attacks are CAPITALIST in nature for they seek revenue generating resources such as oil wells, energy production facilities, dams, agricultural land and concentrated pools of population to either TAX or LOOT. So rather than religious they are more a Mafia money making criminal enterprise, which ironically suggests that this is essentially what Islam was when it first began its initial explosive expansion, seizing territory and resources IS style.
When you realise the Islamic State is a Mafia money making crime syndicate you soon realise that its power and reach has been vastly over exaggerated by the West for its own geopolitical objectives as I elaborated upon in Mid June ( ISIS Crisis Only Tip of the Sunni Ice-berg in Iraq), because just as is the case with the real mafia, most of those who fight under the ISIS banner are just associate members who's allegiances are more of convenience for stealing wealth and gaining power than ideology.
In terms of Geopolitics, it was not so long ago that the likes of Senator John McCain was advocating arming the likes of Islamic (Mafia) State to fight Syria's Al-Assad, now the U.S. is flip flopping towards supporting Al-Assad against Islamic (Mafia) State.
"I believe there are ways to get weapons to the opposition without direct United States involvement.
"The Iranians and the Russians are providing Bashar Assad with weapons. People that are being massacred deserve to have the ability to defend themselves."
"So I am not only not opposed, but I am in favor of weapons being obtained by the opposition," - John McCain.

The truth for the media blitz focus on an over exaggerated Islamic State that it paints as being a state when it is nothing of the sort, all to distract the worlds eyes from Israel's war on Gaza, the jewish fundamentalist states slow burn genocide of the palestinian people which has now reached over 2,000 killed and remains on track to reach the 4,000 murders this year alone, as I warned of in early July.
In Britain the mainstream media has been obsessed with over exaggerating the number of young British muslims going over to fight for the Islamic (Mafia) State, in a future article I will explain the real reason why 99.9% of British muslims will never support the Islamic (Mafia) State, and you will be surprised at the reason why.
The Big Picture
Today the name of the enemy may be ISIS / Islamic State but the U.S. / Israel strategy has remained constant for decades which is for the breakup of nation states such as Iraq, Syria and Iran into warring mini states so that the U.S. and Israel can continue to dominate the region, we see that today with the U.S. using the ISIS back door into Syria and for sponsoring the break up of North Iraq, Iran and East Turkey into Kurdistan, THAT IS THE BIG PICTURE! ISIS is a temporary smoke screen for they will soon be replaced with a new bogeyman, just as Al-Assad was yesterdays and Saddam the day before.
So don't be surprised if a couple of months down the road we are watching U.S. armed Kurdistan waging war on parts of Turkey and Iran as it attempts to carve out greater Kurdistan.
EWI FREE Trader Week
Dear Trader,
EWI have made available to our readership their valuable learning resources for FREE enabling you to learn how to spot high-confidence trade setups in the charts you follow every day from now until Wednesday, August 27. How? By watching free video lessons from Jeffrey Kennedy, Chartered Market Technician and Senior Instructor at Elliott Wave International (EWI).
EWI is hosting free Trader Education access through August 27. Register now and get immediate access to the lessons that EWI have already posted, plus 3 introductory learning resources -- and you'll receive more lessons as they're unlocked each day of the event. Here's a lesson on trading psychology from Kennedy:
Why Emotional Discipline is Key to Success

By Jeffrey Kennedy, EWI

To be a consistently successful trader, the most important trait to learn is emotional discipline. I discovered this lesson the hard way trading full-time a few years ago. I remember one day in particular. My analysis told me the NASDAQ was going to start a sizable third-wave rally between 10:00-10:30 the next day ... and it did. When I reviewed my trade log later, I saw that several of my positions were profitable, yet I exited each of them at a loss.

My analysis was perfect -- it was like having tomorrow's newspaper today. Unfortunately, I wanted to hit a home run, so I ignored singles and doubles.

I now call this emotional pitfall the "Lottery Syndrome." People buy lottery tickets to win a jackpot, not five or 10 dollars. It is easy to pass up a small profit in hopes of scoring a larger one. Problem is, home runs are rare. My goal now is to hit a single or double, so I don't let my profits slip away.

Since then, I've identified other emotional pitfalls that I would like to share. See if any of these sound familiar.

Inability to Admit Failure Have you ever held on to a losing position because you "felt" that the market was going to come back in your favor? This is the Inability to Admit Failure. No one likes being wrong, and, for traders, being wrong usually costs money. What I find interesting is that many of us would rather lose money than admit failure. I know now that being wrong is much less expensive than being hopeful.

Fear of Missing the Party Another emotional pitfall that was especially tough to overcome is what I call the Fear of Missing the Party. This one is responsible for more losing trades than any other. Besides overtrading, this pitfall also causes you to get in too early. How many of us have gone short after a five-wave rally just to watch wave five extend?

The solution is to use a time filter, which is a fancy way of saying wait a few bars before you start to dance. If a trade is worth taking, waiting for prices to confirm your analysis will not affect your profit that much. Anyway, I would much rather miss an opportunity than suffer a loss, because there will always be another opportunity.

This emotional pitfall has yet another symptom that tons of people fall victim to: chasing one seemingly hot market after another. To avoid buying tops and selling bottoms, I have found that it's best to look for a potential trade where (and when) no one else is paying attention.

Systems Junkie My biggest emotional monster was being the Systems Junkie. Early in my career, I believed that I could make my millions if I had just the right system. I bought every newsletter, book and tape series that I could find. None of them worked. I even went as far as becoming a professional analyst -- guaranteed success, or so I thought. Well, it didn't guarantee anything, really. Analysis and trading are two separate skills; one is a skill of observation, while the other, of emotional control. Being an expert auto mechanic does not mean you can drive like an expert, much less win the Daytona 500.

I am not a psychologist or an expert in the psychology of trading. These are just a few lessons I've learned along the way ... at quite a cost most times. But if you are serious about trading, I strongly recommend that you spend as much time examining your emotions while you are in a trade as you do your charts before you place one. What you discover may surprise you.
Join Jeffrey Kennedy for Trader Education Week, a FREE trading event that will teach you how to spot trading opportunities in your charts. From now until August 27, you can view free video trading lessons that you can apply to your trading immediately -- from EWI's popular service, Trader's Classroom.
Here are some examples of what you will learn:
How to easily identify high-confidence trade setups
The 5 core Elliott wave patterns
How to incorporate momentum into your trading
How to use Fibonacci ratios to calculate price targets
Candlestick and bar patterns with proven reliability
How to apply Jeffrey Kennedy's proprietary channeling technique
Register now for your FREE trading lessons -- and get immediate access to the lessons that have already posted
About the Publisher, Elliott Wave International
Founded in 1979 by Robert R. Prechter Jr., Elliott Wave International (EWI) is the world's largest market forecasting firm. Its staff of full-time analysts provides 24-hour-a-day market analysis to institutional and private investors around the world.
Source and comments: http://www.marketoracle.co.uk/Article47023.html
By Nadeem Walayat
Copyright © 2005-2014 Marketoracle.co.uk (Market Oracle Ltd). All rights reserved.
Nadeem Walayat has over 25 years experience of trading derivatives, portfolio management and analysing the financial markets, including one of few who both anticipated and Beat the 1987 Crash. Nadeem's forward looking analysis focuses on UK inflation, economy, interest rates and housing market. He is the author of five ebook's in the The Inflation Mega-Trend and Stocks Stealth Bull Market series that can be downloaded for Free.

Nadeem is the Editor of The Market Oracle, a FREE Daily Financial Markets Analysis & Forecasting online publication that presents in-depth analysis from over 1000 experienced analysts on a range of views of the probable direction of the financial markets, thus enabling our readers to arrive at an informed opinion on future market direction. http://www.marketoracle.co.uk
Disclaimer: The above is a matter of opinion provided for general information purposes only and is not intended as investment advice. Information and analysis above are derived from sources and utilising methods believed to be reliable, but we cannot accept responsibility for any trading losses you may incur as a result of this analysis. Individuals should consult with their personal financial advisors before engaging in any trading activities.
© 2005-2022 http://www.MarketOracle.co.uk - The Market Oracle is a FREE Daily Financial Markets Analysis & Forecasting online publication.
Comments
4caster
24 Aug 14, 23:26
Kurdistan v. Turkey


Autonomous Iraqi Kurdistan would not be so stupid as to wage war in Turkey, because an attack on one NATO state is deemed to be an attack on all, and NATO would have to support Turkey. Both have recently preferred the gains in prosperity that come from peaceful coexistence.



4caster
24 Aug 14, 23:29
UK Muslims supporting IS


I think you are right that 99.9% of UK Muslims will never support IS.

That leaves 0.1% of 3,000,000 Muslims who might support IS, i.e. 3,000 of them. So far only about 750 have gone, but they are 750 too many.



Nadeem_Walayat
25 Aug 14, 01:26
West bank


Turkey - It will be a planned insurgency under the banner of self determination... Along the lines of what we see in east Ukraine.

0.1% - I think a greater % of british jews go on Jihad for Yahweh on west bank settlements.

Best

NW



exotic_007
25 Aug 14, 09:30
stock market corrections


Hello Nadeem,

All indices are continuing their rally up to new highs.

There is no sign of weakness (or at least reversal tendance);

Do you think that we will have a correction soon? Or the rally will continue till burst?

many thanks

Best regards



biju.joseph
25 Aug 14, 23:39
market updates - keep it up


Nadeem,

Keep it going with your updates on markets for us small fish. Thank you

This insight of a lull in US Housing market, I am already seeing it happening here in heart of silicon valley. Look at Pleasanton, CA, houses had appreciated about 30% from trough in May 2012. Houses used to go pending in less than 5 days till 4 months ago. Now it is slowly creeping up, inventory also going up. This will make everyone say that housing has topped, but it will keep creeping like your chart to the mean and then jump again.

I just closed on a investment property few months ago in this area. I hope to save some money and buy another by this time next year.

My 401K is also fully allotted to stocks and they have been doing great for many years. All my philosophy has been based on the simple logic - Govts all over will make loans whole when ever any of these debt go on default and print and give it to the Note holder". So assets will only have small blip as you keep repeating, that the 2008 fall will be just a blip in the long run.



ismail65
26 Aug 14, 10:02
British Pound


Hi Nadeeem, just wondering if you're still targeting 1.8 for GBP this year. Don't know how to interpret this decline??

Thanks



Parviz
04 Sep 14, 07:43
Oh really?


" .......... the Islamic State is not operated along ISLAMIC principles as understood by 99% of those why subscribe to Islam."

Sorry, but I have read the Koran and the Talmud cover to cover (with the Talmud being the most challenging task). The Koran actually encourages every atrocity perpetrated by ISIS, including the slaughter of the enemy, the taking of slaves and the raping of the wives of slaves.

The Talmud is equally atrocious, far worse than the Torat (Old Testament): Racist, vengeful and praising genocide.

Anyone trying to find or claim 'enlightenment' in either of these religions is dreaming. P.S., I am an Atheist.



Nadeem_Walayat
04 Sep 14, 09:31
Islam interpretation


Hi

As far as I am aware 99% of muslims do not -

"encourages every atrocity perpetrated by ISIS, including the slaughter of the enemy, the taking of slaves and the raping of the wives of slaves. "

Afterall I did say "as understood by 99% of those who subscribe to Islam". Who just want to work, raise a family and marry them off and have grand kids and then fantasize about an after life and so need the BOOK be it the Torah, Koran or Bibble.

Which means what they think their religion is is not necessarily what it actually is / was i.e. they are subscribing towards an excerpted version, when its original intention of the 1% elite was far more blood thirsty.

Best

NW



Parviz
06 Sep 14, 21:26
Religious Apologists


I'm sorry, Nadeem, but if a holy book is full of nonsense but most of its followers (Christian, Muslim or Jew) ignore the nonsense and practise their own enlightened version of the book, the religion itself is in no way excused, especially when religious fanatics consider themselves justified in pursuing the literal versions of the Bible, Talmud and Koran that condone torture, rape, theft and genocide.

People of conscience (even if, as you dubiously claim, they represent 99 % of Muslims) either defy or ignore the most radical verses, while the 1 % (actually it's far more) fashion their lives in accordance with the extreme verses (beating wives who disobey, despising other religions, etc.,.). The Shi'ites consider Sunnis as heathens, and vice versa, which forms the backdrop to ISIS which is actively armed by Saudi Arabia. Which Islam is anyone referring to?



Nadeem_Walayat
07 Sep 14, 05:49
Religion


Hi Parviz

Then you explain to me, if not 99% then how do most people who 'believe' reconcile religion ?

In my opinion it can only be if they play pick and mix with what their relgious book states.

And I am not apologising for religion I am trying to interpret how ordinary people (not the murderers) can believe in so called holy books when they clearly state dubious activities are permitted.

Best

NW



Parviz
09 Sep 14, 12:31
Religion


Hi Nadeem,

Exactly. Those who believe in a particular religion fall into 2 main categories:

1. Those who are brainwashed by schooling, parents, peer pressure or whatever into blindly believing in the superiority of their particular religion, the facts be damned;

2. Those who are intelligent enough to spot the massive discrepancies but 'pick and choose', claiming that the dubious passages were "added later" by people trying to destroy the religion (I'm serious, this is the reply I get from many Muslims when I highlight major contradictions in the Koran).

The first category above contains potential terrorists. The 2nd category contains the apologists.




Only logged in users are allowed to post comments.
Register/ Log in