Grain Markets Panic Buying, Export Controls, and Food Riots
Commodities
/
Agricultural Commodities
May 18, 2008 - 12:08 PM GMT


Long term global demand and supply trends in the agricultural sector remain very favorable for investors. New and expanding biofuel facilities, growing global population, and the upgrading of diets in many Asian countries continues to increase demand for grains at a rapid pace.
Supply growth is constrained by export controls recently implemented by many large grain producing countries, drought in several producing regions, and the lack of readily available acreage suitable for expanding farming operations. Western agriculture methods are also incredibly energy intensive, which increases the cost of expanding supplies. The following developments occurred in the sector last month:
The collapse of Australia 's rice production is one of several factors contributing to a doubling of rice prices in the last three months. Six long years of drought have taken a toll, reducing Australia 's rice crop by 98 percent. Price increases have led the world's largest exporters to restrict exports, spurred panicked hoarding in Hong Kong and the Philippines, and set off violent protests in countries including Cameroon, Egypt, Ethiopia, Haiti, Indonesia, Italy, Ivory Coast, Mauritania , the Philippines , Thailand , Uzbekistan and Yemen . (New York Times)
The International Rice Research Institute (IRRI) issued a forecast that rice prices will keep rising as demand for the staple is outstripping production. The Philippines-based body said that more research was needed in how to increase rice productivity. The price of rice has risen by as much as 70% during the past year, with increases accelerating in recent weeks. (BBC News)
U.S. restaurants and other large-scale customers are buying so much rice that Costco, Sam's Club and other wholesalers have put limits on the amounts they sell. This has resulted in some individual stores in places like California reportedly running out of rice. The supply problems with flour and rice are connected to dramatic price increases tied to global shifts in the commodity markets, where prices of corn, wheat, rice and soybeans have hit record levels. A rise in rice prices has led to restaurants and other big users stocking up to avoid future hikes, thus upsetting the supply chain. ( Chicago Tribune)
Some of the world's biggest grain exporters barred their farmers from selling in global markets last month, exacerbating the food price crisis. Rice and corn prices soared to records on U.S. markets and wheat jumped after Kazakhstan , the world's fifth-largest wheat exporter, and Indonesia , a major rice producer, became the latest nations to impose export bans.
China , Egypt , Vietnam and India , representing more than a third of global rice exports, curbed external sales this year. The price of rice, the staple food for half the world, is double the price a year ago and a fivefold increase from 2001. (Globe & Mail, Financial Times)
The cost of staple foods are at least 50% higher than they were this time last year. "We consider that the dramatic escalation in food prices worldwide has evolved into an unprecedented challenge of global proportions that has become a crisis for the world's most vulnerable, including the urban poor," the UN said in a statement. "The challenge is having multiple effects with its most serious impact unfolding as a crisis for the most vulnerable."
The price of some fertilizers has nearly tripled in price in the last year. A squeeze on fertilizer supply has been building for roughly five years. As demand has grown the fertilizer manufacturers of the world were unable to keep up. Some dealers in the Midwest ran out of fertilizer last fall, and they continue to restrict sales this spring because of a limited supply. "If you want 10,000 tons, they'll sell you 5,000 today, maybe 3,000," said W. Scott Tinsman Jr., a fertilizer dealer in Davenport , Iowa . "The rubber band is stretched really far." (New York Times)
Overall global consumption of fertilizer increased by an estimated 31 percent from 1996 to 2008, driven by a 56 percent increase in developing countries, according to the International Fertilizer Industry Association. Fertilizer is a combination of nutrients. The three most important are nitrogen, phosphorus and potassium. The latter two have long been available. But nitrogen in a form that plants can absorb is scarce, and the lack of it led to low crop yields for centuries.
That limitation ended in the early 20th century with the invention of a procedure, now primarily fueled by natural gas that draws chemically inert nitrogen from the air and converts it into a usable form. As the use of such fertilizer spread, it was accompanied by improved plant varieties and greater mechanization. (New York Times)
Prices at a terminal in Tampa , Fla. , for diammonium phosphate, a fertilizer component, jumped to $1,102 a ton from $393 a ton in the last year, according to JPMorgan Securities. Urea, a type of granular nitrogen fertilizer, jumped to $505 a ton from $273 a ton in the last year. Manufacturers are scrambling to increase supply. At least 50 plants to make nitrogen fertilizer are under construction, many in the Middle East where natural gas is abundant. Phosphorous and potassium mines are being expanded. But these projects are expensive and take time to ramp up. Supplies are expected to remain tight for years. (New York Times)
From 1900 to 2000, worldwide food production jumped by 600 percent. Scientists said that increase was the fundamental reason world population was able to rise to about 6.7 billion today from 1.7 billion in 1900. Vaclav Smil, a professor at the University of Manitoba , calculates that without nitrogen fertilizer, there would be insufficient food for 40 percent of the world's population (based on today's diets).
From 1965 to 1985, the heyday of the Green Revolution, world production of cereal grains — wheat, rice, corn, barley and sorghum — nearly doubled, from 1 billion to 1.8 billion metric tons. Cereal prices dropped by 40 percent. Today, wheat provides about 20 percent of the food calories for the world's people. (New York Times)
Stem rust is the most feared of all wheat diseases. It can turn a healthy crop of wheat into a tangled mass of stems that produce little or no grain. The fungus spores travel in the wind, causing the infection to spread quickly. It has caused major famines since the beginning of history. In North America , huge grain losses occurred in 1903 and 1905 and from 1950 to 1954.
The new strains of stem rust, called Ug99 because they were discovered in Uganda in 1999, are much more dangerous than those that, 50 years ago, destroyed the American wheat crop. Ug99 is devastatingly damaging to wheat.
So far agricultural scientists have not been able to find an effective defense against it. Ug99 has defeated the two main gene complexes which protect most wheat strains from stem rust. It appears to resist most fungicides. Of the 50 genes we know for resistance to stem rust, only 10 work even partially against Ug99. Less than 1 percent of the world's wheat crops contain these genes. After being restricted to East Africa , Ug99 has now been identified in Yemen . Today's lush, high-yielding wheat fields on vast irrigated tracts are ideal environments for the fungus to multiply, so the potential for crop loss is greater than ever. ( Middle East Times, Financial Times)
As he's done every spring for 20 years, agricultural meteorologist Elwynn Taylor spent the past week barricaded inside his office at Iowa State University , poring over weather patterns to answer a crucial question: Will a drought strike the Midwest 's corn and soybean crops?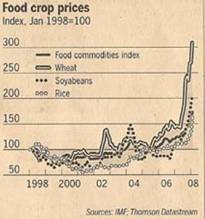 Last month Taylor delivered some bad news. He pegs the odds of a major drought at 1 in 3, about double the usual risk. "There is a significant chance of drought," he said. At Iowa State , Taylor seeks to put the reams of weather data into historical context. A major drought typically strikes the Midwest every 18 or 19 years, and the last one hit in 1988. Taylor noted the average length of time between major Midwest droughts is 18.6 years. "The longest gap between major droughts in 800 years is 23 years, so if we don't have one by 2011, we'll break an 800 year-old record," Taylor said "We're overdue," he noted.
In addition, the past 17 droughts were preceded a year earlier by dry conditions in the Southeastern U.S., just as occurred last year. "That gives a significant chance of drought," he said.
Those historical parallels go only so far. Droughts don't arrive by clockwork, and dryness in the Midwest doesn't always follow the lead of the Southeast. Still, the cumulative evidence is powerful enough to indicate a 72.6 percent chance of corn yields below the trend line at harvest time, Taylor said. "I only go with the data," he said. "This is a legitimate concern." ( Chicago Tribune, Brownfield Network)
In many areas of the Midwest the corn planting schedules are well behind schedule. Corn planting has fallen further behind last year and 5-yr average. As of April 27 th only 10% of the U.S. corn crop was in the ground vs. 20% this time last year, and a 5-yr. average of 35%. Planting was behind last year's pace in 15 of 18 states. Iowa , Illinois , and Missouri , remain well behind pace as wet weather has taken a toll, raising the potential for a shortfall. (Bank of America )
Commentators note that corn is not like wheat. Wheat can survive drought and cold quite well. Corn is more temperamental, needing dry conditions to get the crop planted in timely manner and consistent rain once it germinates. If planting is delayed several more weeks the expected yield will be impacted adversely in many farming areas.
At least 14 countries have been racked by food related violence in the last year. After hungry mobs and violent riots beset Port-au-Prince , Haitian Prime Minister Jacques-Edouard Alexis was forced to step down earlier this month.
In Malaysia , Prime Minister Abdullah Ahmad Badawi is struggling for political survival after a March rebuke from voters furious over food prices. In Bangladesh , more than 20,000 factory workers protesting food prices rampaged through the streets two weeks ago. ( Minneapolis Star Tribune.com)
By Joseph Dancy,
Adjunct Professor: Oil & Gas Law, SMU School of Law
Advisor, LSGI Market Letter
Email: jdancy@REMOVEsmu.edu
Copyright © 2008 Joseph Dancy - All Rights Reserved
Joseph R. Dancy, is manager of the LSGI Technology Venture Fund LP, a private mutual fund for SEC accredited investors formed to focus on the most inefficient part of the equity market. The goal of the LSGI Fund is to utilize applied financial theory to substantially outperform all the major market indexes over time.
He is a Trustee on the Michigan Tech Foundation, and is on the Finance Committee which oversees the management of that institutions endowment funds. He is also employed as an Adjunct Professor of Law by Southern Methodist University School of Law in Dallas, Texas, teaching Oil & Gas Law, Oil & Gas Environmental Law, and Environmental Law, and coaches ice hockey in the Junior Dallas Stars organization.
He has a B.S. in Metallurgical Engineering from Michigan Technological University, a MBA from the University of Michigan, and a J.D. from Oklahoma City University School of Law. Oklahoma City University named him and his wife as Distinguished Alumni.
© 2005-2019 http://www.MarketOracle.co.uk - The Market Oracle is a FREE Daily Financial Markets Analysis & Forecasting online publication.

Only logged in users are allowed to post comments.
Register/ Log in