Tesco Meltdown Debt Default Risk Could Trigger a Financial Crisis in Early 2015
Companies
/
Corporate News
Oct 24, 2014 - 01:26 PM GMT


The mainstream press is finally waking up the the catastrophe that is taking place at Britain's largest Supermarket that for well over a year has been in a state of collapse, whilst the mainstream press in large part swallowed Tesco's bogus financial numbers as its management in a complete state of denial 'of this cannot be happening' first bent and then broke umpteen accounting rules so as to hide the true state of the supermarket giant's financial picture, one of effectively fast disappearing down a financial black hole as a consequence of the fundamental factor that Tesco just CANNOT compete against the discount retailers such as Aldi and Lidl towards which Tesco has been exponentially haemorrhaging customers to the point where last week I wrote that it its customers had effectively vanished that risked the unthinkable that Tesco may not even make it to the end of the current financial year (March 2015).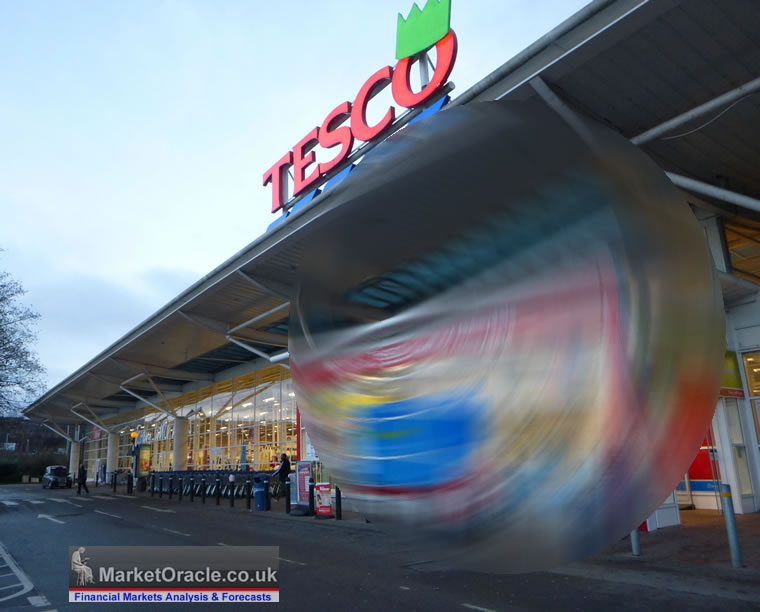 The latest news that the mainstream press has been running with (a year behind the curve) is Tesco reporting a 92% collapse in profits! Which puts the super market giant just a step away from snowballing towards declarations of ever expanding LOSSES! Especially as Tesco's spectacular collapse has effectively acted to put the supermarket giant into a state of not just panic, but sheer terror as to what could follow that is manifesting itself in what remains of the management pressing the panic button by attempting to bribe customers back into the stores with £5 off £40 shop offers to freezing construction of mega-stores across Britain that in real terms acts to wipe out as much of the amount invested, something that will only gradually filter through into mainstream press reporting.

So Could Tesco Meltdown Trigger a Mini Financial Crisis 2015?
Back in 2008 few at the time could contemplate that just one relatively unknown Investment bank, Lehman's Brothers going bust could result in a chain reaction that soon reveled that virtually ALL of the worlds major banks were bankrupt, and so similarly the next financial crisis may be triggered by not the banks, or insurers but supermarket giants going bust. For whilst today's focus is on Tesco where a collapse would be bad enough given the fall out on the wider economy as its thousands of small suppliers would be put on the brink of collapse themselves, but that Tesco would not be alone, not just in this country but there are many bloated Tesco super market giants across the western world teetering on the edge of collapse in response to the march of the discount retailers against whom their bloated indebted businesses can not only not compete but that market supply far exceeds available demand.
Where this could impact on the Financials i.e. the banks is the debts and liabilities accrued by the likes of the Tesco's on the basis of profits at TEN times the current levels now, let lone what happens to the ability of the super market giant to service its debts when it starts announcing inevitable multi-billion pound losses!
The trigger for the point of no return will be around the time when Tesco is worth LESS than its debt mountain which give the most recent announcement and accompanying stock price slide now valuing Tesco at just £13 billion, down from about £30 billion a year ago which means that Tesco probably already is technically insolvent. Which means there is a real risk of an accelerating collapse as Tesco is deemed by investors and creditors as being unable to service its debts and liabilities. Therefore as I pointed out a week ago we really are fast reaching the point when Tesco may even cease to exist within a matter of months that will leave its creditors with a black hole in their own balance sheets.
A sign of panic will be where Tesco despite a depressed share price is forced to go to its shareholders for billions more in cash, which we have seen happen all before with the bankrupt banks that bled their investors and tax payers dry to try and keep the zombie banks alive. Though I doubt that the government would ever step in to bailout Tesco the Zombie supermarket. There are already signs of panic in the credit markets as ratings agencies Moody's and Fitch downgraded Tesco bonds to just above junk status.
If things weren't bad enough for Tesco, there is also another black hole in addition to its approx £14 billion debt mountain that is relentlessly devouring Tesco and that is its large pensions deficit which over the past 6 months has grown from £2.6 billion to over £3.4 billion. So how is Tesco going to finance another exponentially expanding black hole without multi-billion pound profits? Answer - It can't!
So whilst Tesco is no Lehman's , nevertheless it could still result in a perfect storm of a chain reaction of debt mountains far greater than the ability of supermarkets giants to service them, that would soon spill over into other sectors such as the financial sector resulting in a mini financial crisis during Q1 2015.
Following Tesco's spectacular collapse the spot light will begin to shine on other supermarkets such as Morrisons and Sainsbury as investors and bankster's pay closer attention to their debt mountains.
Here's a recap of my literally a year ahead of the curve analysis of the Tesco catastrophe.
24 Oct 2013 - Tesco Bubble Bursts - Profits Crash As Big Spending Customers Quit Shopping on Poor Service
The bottom line is that whilst Tesco management are busy conjuring up club card vouchers, tokens and sticker promotions to entice customers with, however these schemes are being actively undermined at store checkouts by badly motivated powerless staff who could not care less about Tesco's big picture and this is why Tesco's profits have collapsed and will likely continue their downwards spiral as Tesco stores are increasingly perceived as being places only good for a quick convenience shop rather than a place for the big weekly shops.
Tesco management need to go back to square one and realise that what customers want is value for money, not frustrating gimmicks that result in the waving of promotions in the faces of customers that they are frustrated out of capitalising upon. Tesco's demise seems certain as increasingly Tesco's wealthy customers will be found shopping at Waitrose whilst their poorer customers will be found at Lidl and Aldi (UK profits up 124%).
18 Apr 2014 - Tesco Profits Panic! Back to Back £5 Off £40 Shop Voucher Promotions
Tesco, Britain's giant supermarket chain is once more reeling following its latest trading results that reveal another bad year with profits slumping by 7% as the discount chains such as Aldi and Lidl continue to consume King Tesco's market share that fell to a 10 year low of 28.6% that sows the seeds for the market leader ultimately to join the ranks of has been's such as Morrisons that has been floundering in the supermarket wilderness for over a decade now.
Tesco's reaction to another set of bad results can best be described as panic! As firstly Tesco management ahead of the expected bad results revised the usual periodic promotion of spend £40 for a £5 off voucher on your next weeks £40 shop to spend £20 for a £5 voucher off next weeks £40 shop. However following the results this was followed by ANOTHER back to back £5 voucher for each £20 spend of your next £40 shop promotion, so shoppers get to TWO consecutive weeks of discount shopping.
For example this would translate into a £200 weekly shop generating £50 off next weeks £400 shop, which would again result in another £50 off the following weeks shop.
24 Jul 2014 - Tesco Supermarket Death Spiral Accelerates as Customers HATE the Mega Brand
The problem at the heart of Tesco is that shopping at Tesco does NOT represent good value for money! Tesco thinks it can charge the same prices as Asda and Waitrose whilst delivering Aldi and Lidl level of customer service. The bottom line is customers DO NOT LOVE shopping at Tesco's so are NOT going to PAY Waitrose prices! Which apparently has succeeded in seducing customers into LOVING shopping at their stores due to misguided impression of superiority over shopping at other super markets (toff's).
Therefore Tesco remains on the same trend trajectory as Morrisons that has remained lost in the super market wilderness for over a decade now, having lost most of its market share and fighting to survive. Tesco is not there yet but looks set to follow Morrisons example, which is a warning to those stock market investors anticipating a rebound. Those that read my article last October should have taken my warning more seriously as you would now be 25% better off. Ignore my warnings again and you will lose at least another quarter of your wealth by this time next year!
31 Aug 2014 - Tesco Supermarket Death Spiral Latest Profits Warning and Dividend Slashed
Tesco stock Investors in a state of denial if not shock who clung on in hopes for a recovery have now been dealt a cold hard reality as they see their dividend slashed by 75% to just 1.1p a share, so that Tesco can bolster its balance sheet by an extra £1 billion per annum that too ultimately will vanish down the expanding black hole that seeks to consume the super market giant.
22 Sep 2014 - Tesco Super Market Giant Fast Disappearing Down a Financial Black Hole
Tesco, Britain's giant supermarket chain continues in its death spiral trend towards eventually becoming a mere fraction of its former size as barely a few weeks after its latest profit warning of a 25% collapse, today we find out that its financial controllers (bankers) and accountants can't control or count anything as the management wakes up to find that £250 million of expected profits no longer exists the news of which wiped out £2 billion in market capitalisation as panicked stock holders belatedly start to jump ship as the mega-corp is literally disappearing down a financial black hole.
18 Oct 2014 - Tesco Supermarket Crisis Worse To Come as Customers Vanish!
Where Have All of Tesco's Customers Gone?
Pulling into my local Tesco mega-store Thursday at 7pm (Abbeydale Sheffield), puzzled as to why the car park was virtually empty, surely the stores not closed? No, it was open as usual, only one problem NO customers! Eerily quiet for a Thursday evening, one could literally play find the customer as aisle after aisle was devoid of shoppers. How are Tesco going to be able to cover their costs without any customers?

So where have all the customers disappeared to be ? Obviously the relentless Tesco bad news in the mainstream media that focuses in on Tesco's competition from Aldi and Lidl has finally prompted many of Tesco's loyal weekly shop customers to finally do the unthinkable which is to actually try out the competition to see what all the fuss is about. After having overcome the shock of less choice and therefore quicker shops, the greater shock would be at the checkout when the bill comes in approx 25% cheaper than a similar shop at Tesco's would, and there lies Tesco's crisis for the supermarket giant looks as though it has finally slipped over the event horizon of the black hole that has been slowly devouring it all year.
The bottom line is to expect far more bad corporate earnings news out of Tesco's as it grinds its way towards zero for the fundamental reason that it just CANNOT compete against the likes of Aldi and Lidl, it just cannot cut prices and stay alive! Furthermore, I would not be surprised if Tesco does not even make it to the end of this financial year (31st March 2015) as it effectively becomes a zombie supermarket awaiting takeover or breakup, so Warren Buffet, depending on how much stock he has left,could still end up looking like a genius for not losing everything.
Source & Comments: http://www.marketoracle.co.uk/Article47886.html
By Nadeem Walayat
Copyright © 2005-2014 Marketoracle.co.uk (Market Oracle Ltd). All rights reserved.
Nadeem Walayat has over 25 years experience of trading derivatives, portfolio management and analysing the financial markets, including one of few who both anticipated and Beat the 1987 Crash. Nadeem's forward looking analysis focuses on UK inflation, economy, interest rates and housing market. He is the author of five ebook's in the The Inflation Mega-Trend and Stocks Stealth Bull Market series that can be downloaded for Free.

Nadeem is the Editor of The Market Oracle, a FREE Daily Financial Markets Analysis & Forecasting online publication that presents in-depth analysis from over 1000 experienced analysts on a range of views of the probable direction of the financial markets, thus enabling our readers to arrive at an informed opinion on future market direction. http://www.marketoracle.co.uk
Disclaimer: The above is a matter of opinion provided for general information purposes only and is not intended as investment advice. Information and analysis above are derived from sources and utilising methods believed to be reliable, but we cannot accept responsibility for any trading losses you may incur as a result of this analysis. Individuals should consult with their personal financial advisors before engaging in any trading activities.
© 2005-2022 http://www.MarketOracle.co.uk - The Market Oracle is a FREE Daily Financial Markets Analysis & Forecasting online publication.
Comments
R.E.B
25 Oct 14, 13:23
Sentiment turn


More than anything this illustrates how sentiment can turn. Everything is OK until it isn't anymore. Tesco has gone from hero to zero in the blink of an eye and investors cannot get out quick enough. Time and again we see this is how collapses happen in real life. Likely as not, this is how the government bond market will go when the sovereign debt crisis chickens come home to roost.




Only logged in users are allowed to post comments.
Register/ Log in