Islamic World Transition From the 'Age of Religion' to the 'Age of Reason'
Politics
/
Religion
Jan 13, 2015 - 06:50 AM GMT


Whilst the worlds focus today is on the Islamic threat as a consequence of the terror attacks on Paris resulting in 17 innocents being killed that has prompted the world wide 'Je Suis Charlie' marches amongst many hash tags of solidarity of which I favoured the "I am not charlie, I am Ahmed the dead cop. Charlie ridiculed my faith and culture and I died defending his right to do so". #JesuisAhmed
The mainstream press as usual have run off at an tangent by trying to analyse why the three french muslims committed the atrocities by looking at their backgrounds, their lack of opportunity in France etc. However, the very simple answer is that these individuals perceived their actions as playing a part in the fulfillment of prophecy and that they expected that their real lives would only begin AFTER they completed this TEST in this world which is how all devout muslims perceive this world to be, as a test for worthiness to enter paradise for eternity at End Time.
However, this is not just true of Islam but of all major religions with their irrational ideologies that literally crave the end of the world so that they may live again for eternity where terrorist actions are just the mere tip of religious fanaticism as at the end of the day state military apparatus can commit far more carnage than a few suicidal individuals as illustrated by the murder of 600 children amongst 2400 killed by the Jewish fundamentalist state less than 6 months ago!
My following video from November 2013 illustrates the trend trajectories that the world is battling against as it continues to attempt to transition from the 'Age of Religion' to the 'Age of Reason' as exponential technological advancements are increasingly bringing the mechanisms to bring about Armageddon into the hands of states under the firm grip of religious ideologies.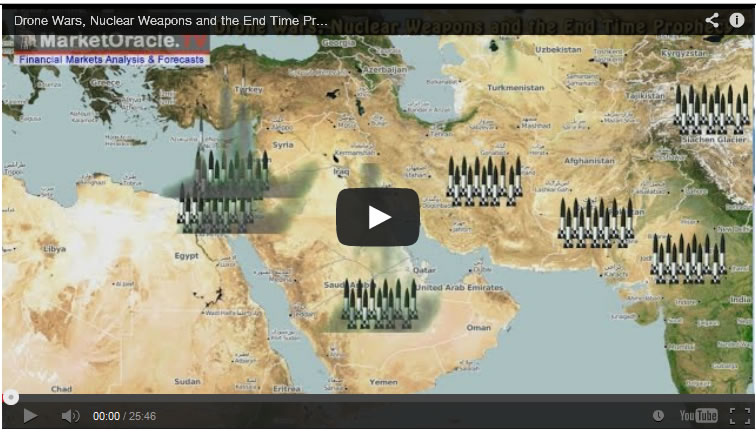 Multiculturalism Catastrophe
Furthermore I have covered at length the unfolding crisis of fundamentalism in western societies as having its root cause in the failed ideology if Multiculturalism which as I have often stated just does not work for the fundamental reason that all cultures are NOT EQUAL as they represent differing stages of enlightenment / progress along mankind's evolutionary path where those that are most heavily immersed in 'Man in the Sky' ideologies are those that are most distant from the true nature of reality where the real crisis occurs as a consequence of the policy of Multiculturalism coupled near out of control immigration of the past decade for political, economic and social reasons such as the civil wars right across the middle east and Africa that result in the buttressing of the supremacy of religious ideologies against discovered realities as is taking place right across Europe today.
03 Jun 2013 - UK Housing Bull Market Opportunities In Britain's Multiculturalism Immigration Crisis
Extremist Ideology of Multiculturalism is Why 90% of Immigrants Fail to Integrate
Many of the mainstream politicians actively promote the policy of multiculturalism as the primary way for immigrants to integrate / assimilate themselves with diverse cultures into British society, whereas the facts spanning several decades suggest the complete opposite takes place as the policy of multiculturalism (all cultures being equal) results in immigrants tending to congregate in ghettos that over time displace the indigenous populations, which are further reinforced by subsequent generations most of whom remain within their expanding boundaries of ghetto's which we see in ALL immigrant population groups, which is reinforced by state schools teaching of multiculturalism and by religious schools. The only change that happens over the time is that ghettos can become wealthy i.e. the Jewish immigrants of the 1930's to 1940's now live in rich ghettos such as Gants Hill, Golder's Green, Hampstead and Hendon, similar changes occurred with Hindu and Sikh migrations of the 1950's to 1970's and then for Pakistani's of the 1960's to 1980's and likely for a whole host of more recent influx of migrants from Africa, East Asia (China) and off course Eastern Europe.
The main reason for the lack of integration is religion which is used to justify separation between population groups, we see this with ALL immigrant population groups, Jews, Non CoE Christian's, Hindu's, Muslims, Sikhs and most recently Chinese. In which respect over time the reasons for separation become further exaggerated that is illustrated for instance by the Muslim community where many of the children of immigrants tend to become far more religious than their parents as illustrated by the wearing of the burka (full veil), something that their parents would never have worn and nor do their counterparts in most of the originating countries such as Pakistan, India and North Africa.
Furthermore the trend of separation also increasing risks of contempt for the country that has given them a home due to exaggerated religious doctrines that justify breaking the laws of the land because they are deemed to take second place to religious doctrine, again we see this IN ALL religions, Jews, Hindus, Sikhs, Confucianism as well as Islam.
As an example most muslims in line with the general population tend to see themselves as law abiding and would never entertain crimes such as the recent acts of terror, but many of the same people are more than happy to actively defraud the state in terms of perceiving themselves to have been given the green light by their respective religion such as in fraudulently claiming benefits whilst working in the black economy.
Such justification for fraud against the state is illustrated by the pick and mix attitude towards religious sermons such as finding justification in the utterances of self professed preachers / leaders as illustrated recently by the Daily Telegraph -
Daily Telegraph - Muslim preacher urges followers to claim 'Jihad Seeker's Allowance'
A Muslim preacher is secretly filmed urging followers to take benefits from the state to fund a holy war.

Anjem Choudary was secretly filmed mocking non-Muslims for working in 9-5 jobs their whole lives, and told followers that some revered Islamic figures had only ever worked one or two days a year.
"The rest of the year they were busy with jihad [holy war] and things like that," he said. "People will say, 'Ah, but you are not working'.
"But the normal situation is for you to take money from the kuffar [non-believers].
"So we take Jihad Seeker's Allowance. You need to get support."
He went on to tell a 30-strong crowd: "We are going to take England — the Muslims are coming."

Ridiculing the daily lives of UK workers, Choudary said: "You find people are busy working the whole of their life. They wake up at 7 o'clock. They go to work at 9 o'clock.
"They work for eight, nine hours a day. They come home at 7 o'clock, watch EastEnders, sleep, and they do that for 40 years of their life. That is called slavery."
Choudary, a father-of-four, claims more than £25,000 a year in benefits, £8,000 more than the take-home pay of some soldiers fighting the Taliban in Afghanistan, according to the Sun, which covertly filmed the preacher at three meetings.
Such subversion of religious scripture in the pursuit of self interest results in outright criminal fraud against the state which is prevalent amongst ALL of Britain's ghettoed immigrant communities that amounts to undermining of the state from within which over time is contributing towards the social and economic decay of Britain. Religion is used by Jews, Orthodox Christians, Hindu's, Sikhs, and Muslims to justify what amount to crimes against the state that range from claiming benefits that they are not entitled to far worse acts of subversion.
The bottom line is that multiculturalism DOES NOT WORK, it PERMANENTLY fragments society into ever expanding Ghettos where over time the populations have LESS in common with one another, not more! The only answer is to scrap the mainstream policies that support multiculturalism such as the state funding for religious schools of ALL faiths. For the brainwashing for separation of the population starts in faith schools. Next the state must seek to exert secularism by banning the use of ALL religious symbols in public places such as schools, hospitals, and in all government services and seek to extract multiculturalism from state school education in favour of a policy of Britishness.
If Britain does not get a grip on the current situation and put multiculturalism into reverse gear then ultimately the British state will see itself fragment during future economic crisis as populations that have very little in common with on another will choose to go their separate ways, which as Northern Ireland illustrates would result in catastrophic consequences.
Religion breeds separation, where isolated separated people tend to over time see those of other religions that they have little interaction with as inferior to themselves, and it is this that which is at the root of the current mainstream press reporting.
The policy of multiculturalism is as consequences of politicians seeking to create pools of vested interest voters. Multiculturalism are the policies that reinforce cultural differences amongst the population under the premise that all cultures are equal when the truth is the exact opposite as illustrated by the fact that the only reason countries such as China are prospering is because they are busy WESTERNISNG. So British politicians instead of reinforcing the strengths of British culture seek to exaggerate cultural differences between peoples in pursuit of creating and maintaining pools of vested interest voters.
Age of Reason World Map 2015
The following map illustrates the current state of the evolution of humanity from the 'Age of Religion' to the 'Age of Reason' as peoples and nations attempt to literally pull themselves out of the iron grip of ancient superstitions towards ENLIGHTENMENT where humanity really does start to understand the true nature of the universe, utilisation of which triggers exponential leaps in development as we have seen in China that has done in 30 years what took the West 300 years to achieve.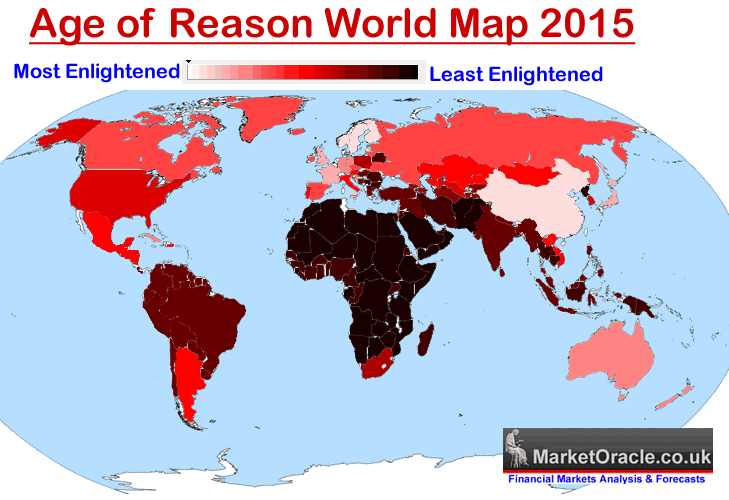 The key point that stands out from the world map is that the most religious countries also tend to be the poorest. However, the automatic western response of sending aid to poor countries just does not work for the fundamental reason that many aspects of civil society are skewed towards of veneration a deity such as in religious schools that continuously draws resources away from education based on the 'Age of Reason'.
Even western nations such as the United States are effectively crippling themselves by wallowing in exposure to the 'Age of Religion' whilst competitor nations such as China have far surpassed the likes of the United States in terms of Enlightenment. Though off course whilst important, Religiousness is only one factor as there are others such as Freedom, Human Rights, the Rule of Law and off course Democracy, for all of which China is found lacking, far behind the United States though again the trends are in OPPOSITE direction, where China is slowly liberalising whilst the United States is slowly turning into a totalitarianism state as its security apparatus seeks ultimately spy on virtually everyone on the planet. effectively seeking to turn all westerners into slaves as the thought police seeks to monitor every action.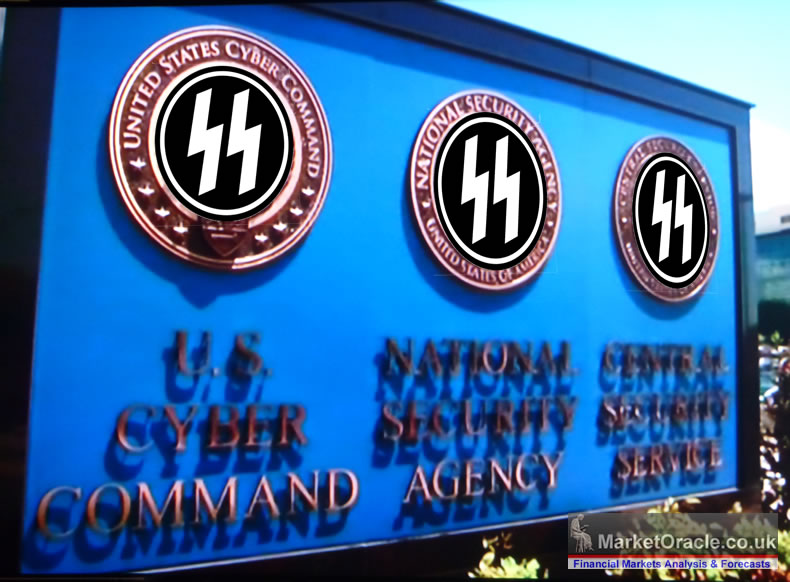 Where the Islamic world is concerned is primed for a reformation that the West should encourage as a matter of the utmost priority as the means of bringing about Armageddon will only become easier to obtain with each passing year which is why given the current trends I don't see the middle east region surviving beyond 2030, unless the Age of Reason starts to prevail in Islamic nations whilst also continuing its trend in all nations.
So instead of the mainstream media's obsession with the 'class of civilisations' nonsense or fearing Islamification instead it is Islam that fears the West for what it represents - ENLIGHTENMENT, and it is this that is resulting in schools being blown up across Afghanistan and Pakistan, hundreds of school girls being kidnapped in Nigeria. Islam, Muslims, even Christians, Jews and Hindus FEAR the truth of what Western Secular Education reveals. Whilst western civilisation has over 400 years painfully detached itself from the Christian death cult, other death cults across the middle east still crave the end of the world so that they may ascend into paradise for eternity for the Islamic world is literally living on borrowed time as Islamic nations are not just sinking but imploding into chaos and anarchy promoting huge waves of migration to Europe and North America.
The Islamic Reformation for most of the worlds muslims could happen far more quickly than the West's 400+ year long march towards secularism that firmly put the Christian death cult in its box. An Islamic Reformation within the next 30 years would result in a world where today's slogans of Islamification and Fundamentalism just would no longer be relevant, for Islam or Judaism or the many other 'religions' would not have to go through the painful process of discovery from Galileo to Darwin to Einstein to Planck to Watson and Crick, for the knowledge already exists! It would be totally unnecessary for Islam to be blind as the first century of the Christian Reformation was that was forced to open its eyes over several centuries.
The bottom line is that what we are witnessing with Islamic fundamentalism are violent reactions to the beginnings of the Islamic Reformation where despite being unimaginable today, the Islamic world could within a few short decades come to mirror western societies in terms of economy, secularism, freedom and democracy. The best thing that the West can do is to FOSTER the Islamic Reformation through SECULAR EDUCATION INITIATIVES. The West's universities are breeding grounds for enlightenment and western governments should stop supporting dictatorships such as that in Egypt or those states that ferment religious ideologies such as Israel and Saudi Arabia which through their actions are acting as a Resistor to the Islamic Reformation.
Those that think that the Islamic world (muslims) cannot change need to remember that all it can take is just one man to change, to open his mind to enlightenment and soon the rest will follow, for that is how Islam started with ONE MAN!
For more see my earlier articles -
Source and Comments: http://www.marketoracle.co.uk/Article48997.html
By Nadeem Walayat
Copyright © 2005-2015 Marketoracle.co.uk (Market Oracle Ltd). All rights reserved.
Nadeem Walayat has over 25 years experience of trading derivatives, portfolio management and analysing the financial markets, including one of few who both anticipated and Beat the 1987 Crash. Nadeem's forward looking analysis focuses on UK inflation, economy, interest rates and housing market. He is the author of five ebook's in the The Inflation Mega-Trend and Stocks Stealth Bull Market series that can be downloaded for Free.

Nadeem is the Editor of The Market Oracle, a FREE Daily Financial Markets Analysis & Forecasting online publication that presents in-depth analysis from over 1000 experienced analysts on a range of views of the probable direction of the financial markets, thus enabling our readers to arrive at an informed opinion on future market direction. http://www.marketoracle.co.uk
Disclaimer: The above is a matter of opinion provided for general information purposes only and is not intended as investment advice. Information and analysis above are derived from sources and utilising methods believed to be reliable, but we cannot accept responsibility for any trading losses you may incur as a result of this analysis. Individuals should consult with their personal financial advisors before engaging in any trading activities.
© 2005-2022 http://www.MarketOracle.co.uk - The Market Oracle is a FREE Daily Financial Markets Analysis & Forecasting online publication.

Only logged in users are allowed to post comments.
Register/ Log in