Why British Muslims Are Leaving Elysium Paradise for Syrian Hell
Politics
/
Religion
Jun 22, 2015 - 11:45 AM GMT

The 2014 movie Elysium depicts what in many respects has been taking place in Britain for over a decade as literally millions of economic migrants from across the world have descended upon Elysium (Britain) that erodes the social and economic fabric of the nation and ultimately risks an economic, social and cultural destruction of Britain.
This year (2015) continues the exponential mega-trend of an ever increasing flow of migrants as this year could see as many as 800,000 people attempt to make it to the promised land, to what many across the world as imagined to be the closest thing to paradise on earth, and to to get to paradise many hundreds of thousands of people are literally risking death as illustrated by the DAILY stories of the migrant ships drifting across the Mediterranean, that have cost several thousand lives this year.
To illustrate the exponential wave, the most recent immigration statistics show a 50% jump in net migration to 318,000 for 2014.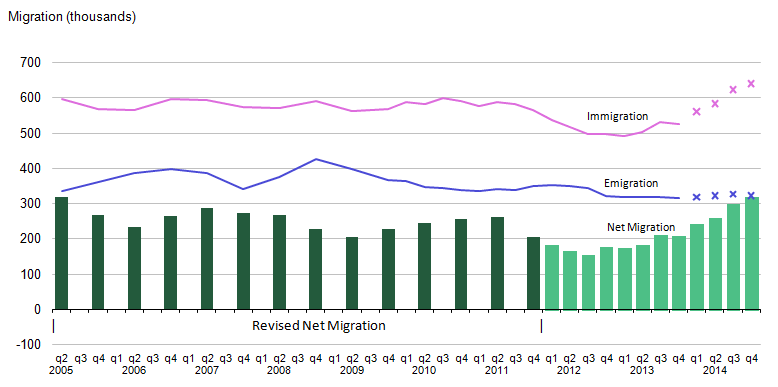 However the official statistics fail to reflect the true picture, for the do not take into account illegal immigration that totals at least 800,000.
So, if there are literally tidal waves of migrants washing onto Britain's shores then why have over 2,000 British muslims to not only leave the cradle to grave Elysium welfare state but to then seek to enter the killing fields of Syria and Iraq?
The near universal picture painted in the mainstream press is that British muslims are being radicalised through the internet by IS sophisticated use of social media. Whilst obviously communications are taking place online. However this is not the primary reason why British muslims are going to Syria as the real problem that Britain is facing is the tendency for many migrants many years after arrival in the British Elysium state, themselves and their families having been fully embraced by all of the facilities of an all encompassing cradle to grave welfare state, that many soon start to see the shit holes from whence they came through rose tinted gasses, a view that gets further reinforced in the 2nd and third generation of migrants who come to BELIEVE that they came from a much better place, an imagined fantasy that is the polar opposite of reality. This tends to feed into the psychosis of gratitude giving way to resentment as increasingly the migrant populations attempt to detach themselves from what they see as being an alien western culture that is completely detached from that which is written in their holy book. A western culture that seeks to corrupt and steal their children away from them in terms of ability to CONTROL and abeyance to religious scripture and cultural practices without which they will be unable to obtain entry into paradise.
And so begins the slow march towards embracing that which will most greatly differentiate themselves from British Culture, including their children whom they fear will become 'westernised'. And the most powerful source for differentiation is religion, be it Islam, Christianity, Judaism, Hinduism or other, for immersing oneself in religion not only detaches one from the influences of western culture, but detaches one from the present, and starting to perceive the world in terms of those who assembled the 'holy' books many, many centuries ago, that immigrants increasingly start to crave to replicate, the imagined reality of what was, i.e. the original Islamic Caliphate and the promise of an after life in paradise for eternity. Again this is not just limited to Islam, but all religions, as Christians expect the second coming and and Judaism promises the Messiah on fulfillment of prophecy when the Jews have killed or expelled all of the Palestinians in Palestine, despite the fact genetically the Palestinians ARE the original Jews of the region and most of today's Israeli's are white europeans.
Whilst the mainstream press focuses on British muslims who in their many hundreds have been going to life, fight and die in Syria, in truth they represent a mere fraction of the British Jews who have gone to Israel or worse expelled Palestinians off their land in the West Bank so as to take part in what amounts to a slow burn holocaust of the indigenous Palestinian population all in the pursuit of religious ideology that states "God gave them the land". Therefore the Palestinians have NO rights and are not even recognised by many Israeli's as even being human beings as illustrated by the following Channel 4 news clip of Jewish fundamentalists celebrating the death of innocent palestinian children as they are slaughtered by the Israeli war machine.
"there is no more school in Gaza because all of the children are dead" chant Jewish fundamentalists (Ch4 News).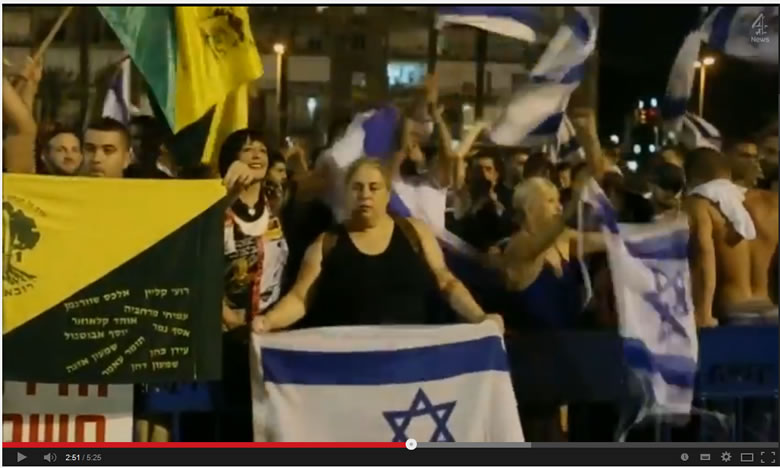 And a recent Channel 4 News video of fanatic Jewish seeking to fulfill prophecy through expelling EVERY Palestinian from Palestine.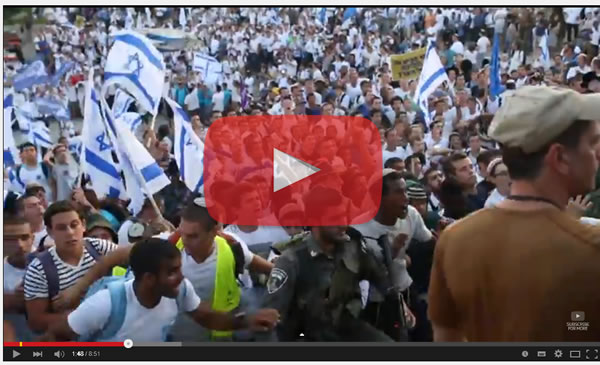 In fact Islamic State in many respects is following the blue print of the Israeli state i.e. a state that basis its existence on the premise that it seeks to full fill prophecy, which is latently clear in its actions from beheadings to military objectives. For instance the Free Syrian Army rebels were puzzled by why were ISIS launching a major offensive on a few un strategic villages in Aleppo, in August 2014.
However, the reason why soon became apparent that ISIS was targeting the village of Dabiq as sayings attributed to the Prophet state that this is where the End of Days would play itself out as a Muslim army defeats the forces of evil, and subsequently why it was here that many of the prisoners have been beheaded as referred to in the Jihadi videos -
Here we are, burning the first American crusader in Dabiq, eagerly waiting for the remainder of your armies to arrive,"
Why British Muslims Are Going to Syria
Therefore Islamic State propaganda reinforces in muslims around the world who understand the importance of the Dabiq prophecy and other events as signs that the Islamic State is actually succeeding in making prophecies written over 1300 years ago to become manifest, which acts as a huge recruiting sergeant for the "Call of Duty" newbs to find their way to Syria and play a rule with fulfilling prophecy with the promises of huge rewards in Paradise on martyrdom.
My recent article (20 Jun 2015 - David Cameron Warns British Muslims Not to Condone Islamic Extremist Ideology) focused on the current stories surrounding British muslims migrating to the Syrian war zone where mainstream press focus is upon a 17 year British suicide bomber from Dewsbury, and the other being 3 sisters taking their 9 children to Syria that prompted the muslim community to blame everyone but themselves for what is happening on a weekly basis.
The primary reason why the ISIS narrative is so enticing for those seeking to reaffirm their Islamic identity is that virtually all muslims eagerly anticipate the return of Jesus at the white Eastern Minaret of Damascus (Syria) gliding in on the wings of two angels and then through much blood and carnage will convert the whole world to Islam including killing all of the jews, break all of the crosses and live as a muslim for 40 years, before dieing and thus heralding the final countdown to judgement day when muslims expect to enter paradise for eternity. Christians and Jews anticipate similar but off course with outcomes in their favour.
My video of November 2013 explained at length the trend trajectory that the region was on towards fulfillment of the End Times fantasy, I mean prophecy, not just for Muslims but also Christians and Jews, who also eagerly seek the signs for End Times in the Syrian civil war.
Isaiah 17: 1 - "Behold, Damascus will cease to be a city and will become a heap of ruins."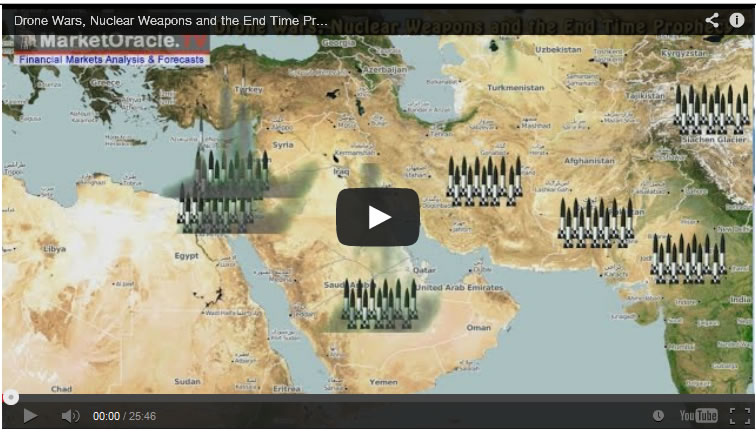 Paradise 101 - The Caliphate
The very first step towards the fulfillment of the End Time / entry into paradise for eternity prophecy is for the formation of the Islamic Caliphate centered in Bilad Al-Sham (Levant / Syria / Iraq) which is what the Islamic State purports to fulfill, which acts as a huge incentive for already semi delusional British Muslims who fantasise of foreign lands being far better than that which their parents escaped to several decades earlier, perhaps the children of migrants have a greater genetic propensity to migrate themselves.
Nevertheless, in traveling to the Islamic state the muslim migrants perceive themselves to be transformed from being ordinary people to becoming SPECIAL people, CHOSEN by God, who will be reward by immediately being lifted into paradise on martyrdom. And don't be fooled that the appeal of the Caliphate is limited to a tiny number of muslims, for the reality is that most muslims, perhaps as many as 80% believe in the unification of all Islamic nations / areas populated by muslims under a single Caliphate in preparation for the End of the World.
The Caliphates objective is through warfare to submit all peoples, all nations to the will of Allah so that prophecies can be fulfilled. Which does not just mean killing none muslims if they fail to convert but as the Islamic State repeatedly demonstrates are just as willing to kill fellow muslims who do not submit to the Caliphate's interpretation of Islam.
Furthermore the appeal of the caliphate to muslims right across the world is further reinforced by virtue of nearly every Islamic nation today being ruled by a tin pot dictator, i.e. a recent example of Al Sisi the new Pharaoh of Egypt.
The bottom line is that the muslim obsession with the global Caliphate and Jewish obsession with a Jewish Palestine for the Messiah can only end as did the Christian obsession with Christendom through rational secular EDUCATION against the irrational cravings for the world to end, which despite still being infected with the need for funding of faith schools that have played their role in corrupting young British muslims and Jews.
Nevertheless, unlike Israel and Islamic nations, the Christian sects have in large part lost access to most of the levers of power that they used to great bloody extent in the past. Unfortunately, it took Christians a good 400 years to come to their senses, and there is no sign that Islam or Judaism have even begun on that journey as they mostly remain blind to prophecies, throw in nukes and as I warned in the November 2013 video above, then the Middle East region may not make it past 2030.
Homo Sapien Sapien - The Human Slave Species
The reason why not just muslims but virtually all humans (99%) are just as susceptible to such like ideology is that humans are a slave species of man, where the younger someone is then the more easily malleable they are towards a slave masters agenda, be it religious, political or economic (wage slaves).
Therefore the reason why British muslims will ALWAYS be going to fight in places such as Syria, and Jews in Palestine supported by Evangelic Christians in the US so as to bring about their own rapture, has far older origins in time then even the most ancient of today's religions. For the truth is that what muslims are capable of doing in the name of Islam, so it is the capability of any faith, or even NON faith, for we are ALL ONE SPECIES.
We THINK THE SAME WAY. In our history there has only ever been ONE species of humans, so up until quite recently it has been impossible for most to IMAGINE that there was a time when there were humans who whilst physically would fit in with modern people i.e. in terms of appearance and even their skeletons being virtually identical to ours, but with whom it would be near impossible for modern man to communicate, i.e. just as today's humans find it impossible to communicate with any of the other Apes (ignoring scientists who spend decades for glimmers of understanding).
It is because their THOUGHT PROCESS WERE DIFFERENT TO OURS. And no, I am not referring to the other species of human that we cohabited the planet with but our immediate ancestors, Homo Sapiens that date back to as long ago as 400,000 years. Who anatomically would be no different to us as the change happened in the BRAIN!
The clue for when this happened is contained within the the homo sapien migration history, as anthropologists have been puzzled for many years as to why homo sapiens who date to well over 200,000 years were unable to successfully migrate out of Africa until about 70,000 years ago.
Well the obvious answer is that the homo sapiens that pre-date the first successful of many subsequent waves of migration out of Africa WERE DIFFERENT and thus that is approximately when the CHANGE happened.
So up until about 80,000 years ago homo sapiens were not capable of competing against the other human species that populated the earth at that time such as Homo Erectus and Neanderthals, which is why earlier migrations out of Africa FAILED. So it was only when the CHANGE in the BRAIN happened that homo sapiens became homo sapien, sapien.
And what's more that change probably started in a SINGLE INDIVIDUAL, a random gene mutation that resulted in thinking in a different way that set the whole ball rolling.
So what was this CHANGE, well it is that which allows humans to imagine / believe in that which does not exist, it is mans greatest evolutionary jump for it allowed humans to imagine what lies beyond the horizon, past, present and future, to plan ahead, without it mankind would not have built settlements, towns, cities and whole civilisations, never to imagine the written word, science and even concepts such as freedom.
To BELIEVE in that which does NOT exist!
This is how the elites started CONTROLLING and mobilising the 99.9% of people to their bidding in first the hundreds, then thousands, then tens of thousands, hundreds of thousands, millions, tens, hundreds of millions and today billions! All through perpetuating belief in that which does not exist.
The most obvious mechanism for control through imagined beliefs is religion i.e. for 99% of people to basically agree to live a shitty life in service of the elite because of their special knowledge, and then to be rewarded with eternal life in Paradise AFTER one dies! For that promise many billions have already lived and died as slaves to the elite who used the certainty of imagined beliefs of paradise as a reward and hell as a punishment that even to most humans alive today is REAL! Virtually every faith / myth promises an after life in one shape or another which illustrates that the belief is universal and therefore ancient and fundamental to our conquering of the planet as it allowed the Elite to control ever increasing populations towards their own agenda.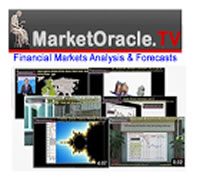 BELIEF in religions is only the tip of the IMAGINATION Ice-berg, for it effects are felt in every facet of human life as I will continue in my next in-depth analysis that will be focused on one of the greatest imagined beliefs of all, that of the VALUE of MONEY.... Ensure you are subscribed to my always free newsletter to get this analysis in your email in box on completion.
Also subscribe to my YouTube channel for special forthcoming productions such as "The Illusion of Democracy and Freedom", and "Did God Create the Universe", as well as ongoing market analysis and trend forecasts.
Source and Comments: http://www.marketoracle.co.uk/Article51168.html
By Nadeem Walayat
Copyright © 2005-2015 Marketoracle.co.uk (Market Oracle Ltd). All rights reserved.
Nadeem Walayat has over 25 years experience of trading derivatives, portfolio management and analysing the financial markets, including one of few who both anticipated and Beat the 1987 Crash. Nadeem's forward looking analysis focuses on UK inflation, economy, interest rates and housing market. He is the author of five ebook's in the The Inflation Mega-Trend and Stocks Stealth Bull Market series that can be downloaded for Free.

Nadeem is the Editor of The Market Oracle, a FREE Daily Financial Markets Analysis & Forecasting online publication that presents in-depth analysis from over 1000 experienced analysts on a range of views of the probable direction of the financial markets, thus enabling our readers to arrive at an informed opinion on future market direction. http://www.marketoracle.co.uk
Disclaimer: The above is a matter of opinion provided for general information purposes only and is not intended as investment advice. Information and analysis above are derived from sources and utilising methods believed to be reliable, but we cannot accept responsibility for any trading losses you may incur as a result of this analysis. Individuals should consult with their personal financial advisors before engaging in any trading activities.
© 2005-2022 http://www.MarketOracle.co.uk - The Market Oracle is a FREE Daily Financial Markets Analysis & Forecasting online publication.

Only logged in users are allowed to post comments.
Register/ Log in