Why This Feels Like an Economic Depression for Most People
Economics
/
Economic Depression
Oct 09, 2015 - 10:26 AM GMT


Everyone has seen the pictures of the unemployed waiting in soup lines during the Great Depression. When you try to tell a propaganda believing, willfully ignorant, mainstream media watching, math challenged consumer we are in the midst of a Greater Depression, they act as if you've lost your mind. They will immediately bluster about the 5.1% unemployment rate, record corporate profits, and stock market near all-time highs. The cognitive dissonance of these people is only exceeded by their inability to understand basic mathematical concepts.
The reason you don't see huge lines of people waiting in soup lines during this Greater Depression is because the government has figured out how to disguise suffering through modern technology. During the height of the Great Depression in 1933, there were 12.8 million Americans unemployed. These were the men pictured in the soup lines. Today, there are 46 million Americans in an electronic soup kitchen line, as their food is distributed through EBT cards (with that angel of mercy JP Morgan reaping billions in profits by processing the transactions).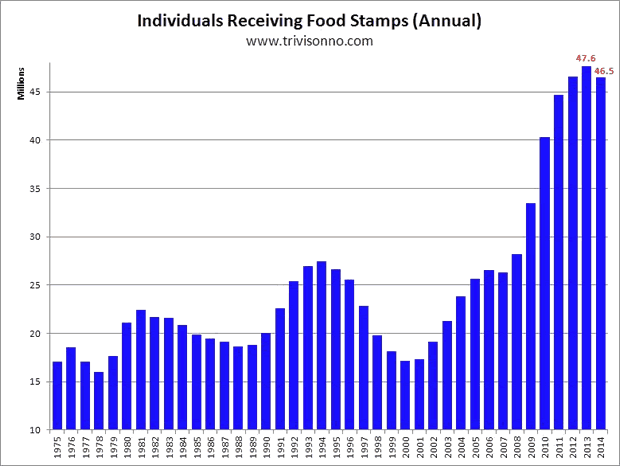 These 46 million people represent 14% of the U.S. population. There are 23 million households on food stamps in a nation of 123 million households. Therefore, 19% of all households in the U.S. are so poor, they require food assistance to survive. In 1933 there were approximately 126 million Americans living in 30 million households. The government didn't keep official unemployment records until 1940, but the Department of Labor estimated 12.8 million people were unemployed during the worst year of the Great Depression or 24.9% of the labor force. By 1937 it had fallen to 14.3% or approximately 8 million people.
The number of people unemployed during the 1930's is an excellent representation of the number of households on government assistance during the Great Depression because 79% of all households were occupied by married couples with 4 people per household versus 48% married couple households today with 2.5 people per household. The unemployment rate averaged 19% during the heart of the Great Depression. Therefore, approximately 19% of all the households in the U.S. needed government assistance to feed themselves. That happens to be the exact percentage of households currently needing food stamps to feed themselves.
We are now supposedly five years into an economic recovery. The unemployment rate, according to the government, has fallen from 10% to 5.1%. Maybe a comparison to the the Great Depression in 1937, five years after the worst of it, would reveal some truth. It is not easy to do an apples to apples comparison because very few women worked outside the home in 1937 and the average life expectancy in the 1930s was 60 years old. Today, the majority of women are theoretically in the work force and the average life expectancy is 78 years old. In 1937 only 5% of the population was over 65 years old versus 13% today.
There were approximately 55 million Americans in the labor force in 1937, according to the DOL, and approximately 47 million of them were employed. So 85% of the eligible work force was working. There was no BLS to massage, manipulate, seasonally adjust, or fake the data to make things appear better than they were in 1937. Edward Bernay's Propaganda techniques and methodologies weren't perfected for a few more years. According to Census information there were 52 million Americans between the ages of 18 and 44, along with another 21 million between the ages of 45 and 64 in 1937. So even considering that very few women worked and many people died by the age of 60, we had a workforce of 55 million out of an age eligible population of 73 million at a maximum. That yields a participation rate of 75%.
These facts reveal the utter falsity of the propaganda drenched duplicitous data dumped by the BLS on behalf of vested interests who have captured our government and have an agenda requiring the public to be kept in the dark regarding their own dire financial situation. No matter how you slice the data, it reveals an absolute parallel to the situation during the Great Depression. There are 251 million Americans of working age and only 149 million are employed, of which 20 million are part-time and 8 million are self employed. Only 59% of working age Americans actually work. The BLS has the cajones to declare that only 157 million of the 251 million working age Americans are actually in the labor force.
This outrageous assumption flies in the face of all reasonableness, facts, and truth. In 1937, even with women not working outside the home and very few people living past 65 years old, the participation rate was 75%. Today, with the majority of women capable and willing to work and older Americans working well into their 60s, the BLS actually expects a critical thinking person to believe the participation rate is only 62.4%, the lowest since 1977. It's a pure and simple despicable lie. The true participation rate should exceed the rate in 1937, based on the facts. Using the 75% participation rate today, yields a true unemployment rate of 21%, not the preposterous 5.1% shoveled by the bullshit artists at the BLS. The 21% rate ties very closely to the figure arrived at by John Williams at Shadowstats. An unbiased assessment of the facts reveals unemployment numbers and people on government assistance numbers that match or exceed those of the Great Depression.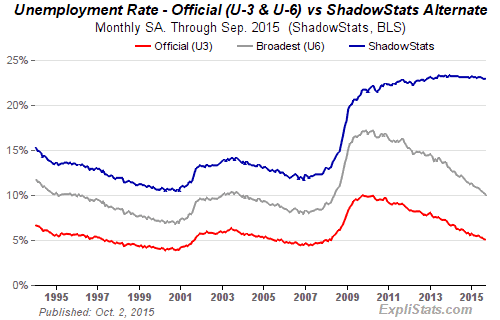 I also wonder whether the corporate mainstream media purposely chooses not to show pictures of the poor waiting in long lines to be fed because their function is not to report facts and truth, but to perpetuate the lie that all is well in America. I pass the Grace Lutheran church at 36th and Haverford Avenue in West Philly everyday on my way to work. Every Thursday is when the church, in partnership with the Philabundance food bank, distributes free food to the people of West Philly. The line stretches around the block at 7:30 am awaiting the Philabundance truck to arrive. There are old, young, black, white, Latino, and Asian in the line. It looks exactly like the line pictured in the Great Depression above. I'm sure there are similar scenes across every city in America on a daily basis. People dependent on food banks and living in homeless shelters are at record levels. Where are the mainstream media pictures? How does that jive with Ben Bernanke's self congratulatory book tour about how he saved America by secretly handing Wall Street and foreign bankers $16 trillion?
For the average American family, the US economy has been in recession since 2000, with the Greater Depression arriving in 2008. The working age population has grown by 40 million since 2000, with only 12 million jobs added over that time frame. Of those, 10 million were in the government controlled health, education, social services (HES) sectors, with millions of good paying manufacturing jobs destroyed, replaced by a couple million low paying services jobs. As David Stockman points out, Bernanke and the vested interests he serves continue to spew disingenuous propaganda to cover up the fact average American households continue to experience depression-like conditions. When your real household income is lower than it was in 1989, while your basic living costs for food, energy, transportation, rent, housing, healthcare, taxes, and education have skyrocketed, you just might be experiencing a depression.
"The Fed's balance sheet has grown from $500 billion to $4.5 trillion or 9X during that span, but job growth outside the HES Complex amounts to less than 2%. For crying out loud, that's a 12,000 per month rounding error in an economy which has 250 million adults. Virtually every job gained since December 2009 shown in the chart below was not a "new" job at all; it was just a "born-again" job that Greenspan had claimed credit for a few years earlier. Yet Bernanke has the nerve to boast about the Fed's success on jobs and claim that the "labor market is close to normal"!"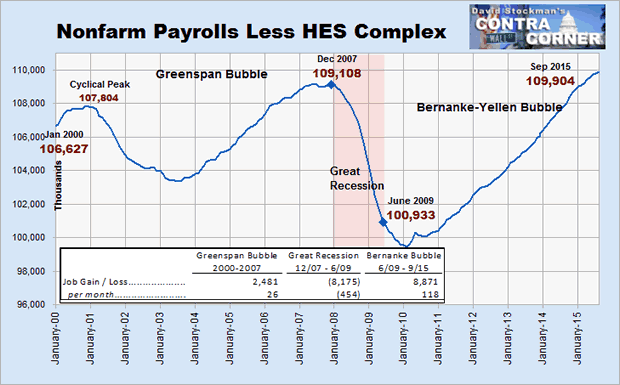 Edward Bernays wrote the book Propaganda in 1928. It was utilized quite well by Goebbels and Hitler over the next decade or so. But the corporate fascist oligarchy, disguised as American democracy, puts Goebbels efforts to shame. Bernays would be thrilled by the efficiency and professionalism with which the invisible Deep State governing power is able to utilize mass media, the internet, public schools, and academia to shape, mold, manipulate and alter the minds of the masses. The unholy alliance between shadowy billionaires, a private bank owned by Wall Street and controlling our currency, the military industrial complex, the sick care complex, mega-corporations peddling consumer goods, and politicians who are easily bought, has left a hollowed out rotting carcass of a nation, with the peasants experiencing a depression, while the lords of the manor feast like there is no tomorrow. But at least the 103 million peasants who aren't working believe only 5.1% of them are unemployed. It's a Bernaysian Miracle!!!
"The conscious and intelligent manipulation of the organized habits and opinions of the masses is an important element in democratic society. Those who manipulate this unseen mechanism of society constitute an invisible government which is the true ruling power of our country. ...We are governed, our minds are molded, our tastes formed, our ideas suggested, largely by men we have never heard of. This is a logical result of the way in which our democratic society is organized. Vast numbers of human beings must cooperate in this manner if they are to live together as a smoothly functioning society. ...In almost every act of our daily lives, whether in the sphere of politics or business, in our social conduct or our ethical thinking, we are dominated by the relatively small number of persons...who understand the mental processes and social patterns of the masses. It is they who pull the wires which control the public mind." - Edward Bernays - Propaganda
Join me at www.TheBurningPlatform.com to discuss truth and the future of our country.
By James Quinn
James Quinn is a senior director of strategic planning for a major university. James has held financial positions with a retailer, homebuilder and university in his 22-year career. Those positions included treasurer, controller, and head of strategic planning. He is married with three boys and is writing these articles because he cares about their future. He earned a BS in accounting from Drexel University and an MBA from Villanova University. He is a certified public accountant and a certified cash manager.
These articles reflect the personal views of James Quinn. They do not necessarily represent the views of his employer, and are not sponsored or endorsed by his employer.
© 2015 Copyright James Quinn - All Rights Reserved
Disclaimer: The above is a matter of opinion provided for general information purposes only and is not intended as investment advice. Information and analysis above are derived from sources and utilising methods believed to be reliable, but we cannot accept responsibility for any losses you may incur as a result of this analysis. Individuals should consult with their personal financial advisors.
© 2005-2019 http://www.MarketOracle.co.uk - The Market Oracle is a FREE Daily Financial Markets Analysis & Forecasting online publication.

Only logged in users are allowed to post comments.
Register/ Log in