UK BrExit Referendum as European Union Faces Migration Catastrophe
Politics
/
UK EU Referendum
Nov 12, 2015 - 09:30 AM GMT

This week David Cameron kick started his negotiations with the European Union to head off the risk of a Referendum vote to leave the European Union due to be held some time during 2017. The latest opinion polls put the LEAVE camp in the minority on 39%, however faced with continuing out of control immigration could by referendum day bring the vote closer to a 50/50 knife edge result.
By most accounts David Cameron's demands in his letter to to Donald Tusk (President of the European Council) are pretty weak, most of which are designed to be achieved in what amounts to a pantomime act for an gullible electorate to swallow.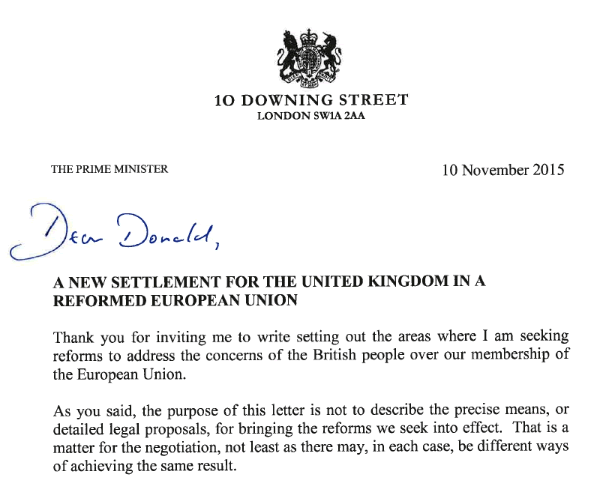 Nevertheless of the four requests for reform, the one that is most likely to result in a vote to leave the EU is likely to be met with the most resistance.
1. Economic Governance
2. Competitiveness
3. Sovereignty
4. Immigration
The UK believes in an open economy. But we have got to be able to cope with all the pressures that free movement can bring — on our schools, our hospitals and our public services. Right now, the pressures are too great. The issue is one of scale and speed. Unlike some other Member States, Britain's population is already expanding. Our population is set to reach over 70 million in the next decades and we are forecast to become the most populous country in the EU by 2050. At the same time, our net migration is running at over 300,000 a year. That is not sustainable. We have taken lots of steps to control immigration from outside the EU. But we need to be able to exert greater control on arrivals from inside the EU too.
Britain has always been an open, trading nation, and we do not want to change that. But we do want to find arrangements to allow a Member State like the UK to restore a sense of fairness to our immigration system and to reduce the current very high level of population flows from within the EU into the UK. These have been unplanned and are much higher than forecast — far higher than anything the EU's founding fathers ever envisaged. These very substantial flows of population have, of course, also had a significant impact on a number of Member states, many of whose most highly qualified citizens have departed en masse. So this is a shared challenge.
We need to ensure that when new countries are admitted to the EU in the future, free movement will not apply to those new members until their economies have converged much more closely with existing Member States. We also need to crack down on the abuse of free movement, an issue on which I have found wide support in my discussions with colleagues. This includes tougher and longer re-entry bans for fraudsters and people who collude in sham marriages. It means addressing the fact that it is easier for an EU citizen to bring a non-EU spouse to Britain than it is for a British citizen to do the same.
It means stronger powers to deport criminals and stop them coming back, as well as preventing entry in the first place. And it means addressing ECJ judgments that have widened the scope of free movement in a way that has made it more difficult to tackle this kind of abuse.
But we need to go further to reduce the numbers coming here. As I have said previously, we can reduce the flow of people coming from within the EU by reducing the draw that our welfare system can exert across Europe. So we have proposed that people coming to Britain from the EU must live here and contribute for four years before they qualify for in-work benefits or social housing. And that we should end the practice of sending child benefit overseas. I understand how difficult some of these issues are for other Member States and
I look forward to discussing these proposals further so we can find a solution that deals with this issue.
The full letter can be read here.
UK Immigration Led Population Crisis
The ONS recently illustrated the crisis trend by forecasting a 15% rise in the UK population from 64.6 million (mid 2014) to 74.3 million by 2039 (25 years time), approx 70% of which will be due to continuing out of control immigration from predominantly eastern europe as 7 million more economic migrants will seek to jump on board Britain's benefits gravy train (in work and out of work benefits) that typically can amount to more than X5 that receivable in eastern europe.
ONS Main Points:
• The UK population is projected to increase by 9.7 million over the next 25 years from an estimated 64.6 million in mid-2014 to 74.3 million in mid-2039.
• The UK population is projected to reach 70 million by mid-2027.
• Assumed net migration accounts for 51% of the projected increase over the next 25 years, with natural increase (more births than deaths) accounting for the remaining 49% of growth .
• Over the 10 year period to mid-2024, the UK population is projected to increase by 4.4 million to 69.0 million. This is 249,000 higher than the previous (2012-based) projection for that year.
• The population is projected to continue ageing, with the average (median) age rising from 40.0 years in 2014 to 40.9 years in mid-2024 and 42.9 by mid-2039.
• By mid-2039, more than 1 in 12 of the population is projected to be aged 80 or over.
As expected the bulk of the ONS population forecast increase is for England to absorb an additional 9 million people.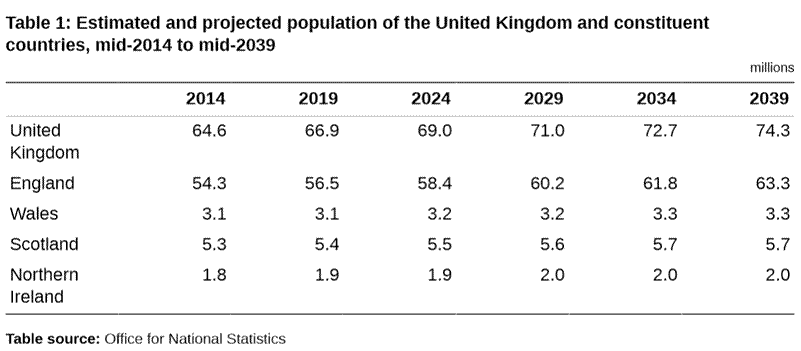 The following table also explains why 70% of the population increase will be due to immigration as it includes 1.7 million as a consequence of 25 years of children born to new immigrants.

Flaw in the ONS Population Forecast
The blatant flaw in the ONS population forecast is that they expect net migration of just 5 million over the next 25 years i.e. at the rate of 200,000 per year when the actual trend of the last decade is towards an exponentially increasing number that already stands 330k per annum i.e. reality is 65% higher than the number that the ONS are factoring into their forecast. Not only that but the trend is likely to continue onwards and upwards to 400,00 per annum, and to nudge above 500k within a decade that would convert into the UK population reaching 74.6 million not in 25 years but in just 15 years time!
To illustrate the point recent immigration statistics show net migration of 330,000 per annum against David Cameron's long standing election promise of net migration of in the 'tens of thousands'.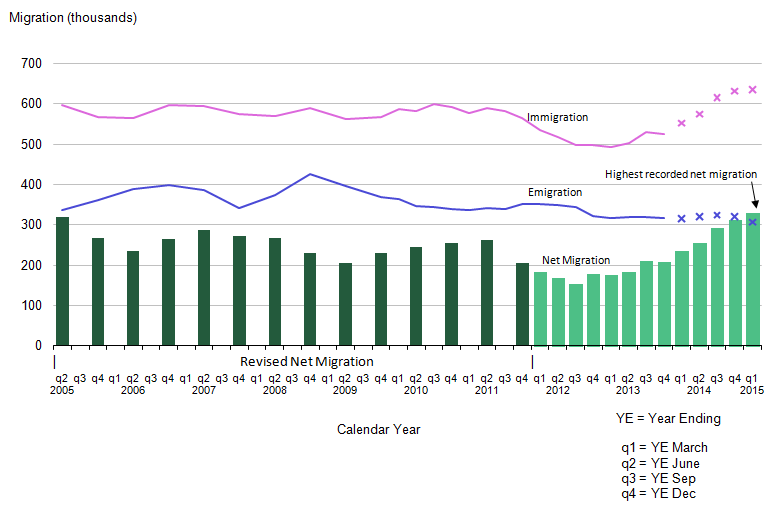 UK Population Growth Forecast
My long standing forecast is for the UK population to grow from 62.2 million as of Mid 2010 to at least 70.5 million by 2030 as illustrated below:
UK Population Growth and Immigration Trend Forecast 2010 to 2030)
The assumptions being factored into the UK population growth forecast are for a natural UK population growth rate of births exceeding deaths of 0.33% per year (current 200k), coupled with net average current immigration trend of 240k per year, supplemented with climate change refugees averaging 50k per year from 2015 onwards extrapolates into the following trend forecast over the next 10 years that targets a rise from 62.2 million as of mid 2010 to 67 million by mid 2020, and should the same trend be maintained beyond 2020 then the UK population could rise to above 72 million by mid 2030. However in all probability the country will not experience the post 2020 trend due to several converging factors including political pressures, capacity constraints and the UK's relegation in the economic prosperity leagues. Which implies a tapering off of net immigration in favour of natural growth which implies a lower total of nearer 70.5 million by 2030 as illustrated by the below graph.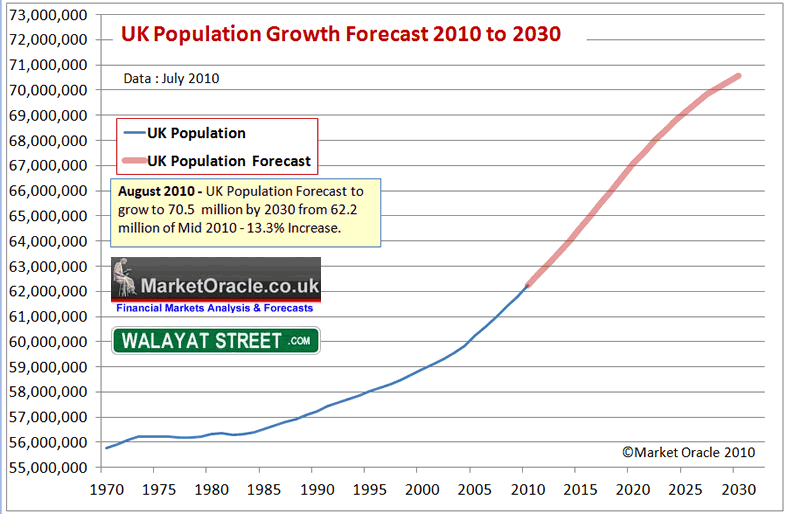 The updated UK population graph shows an actual trend trajectory as per the most recent ONS population data into Mid 2014 of 64.6 million, which suggests that the UK population could increase by an additional 4 million by 2030 to 74.5 million which is line with the earlier projection based on accelerating net migration and further confirms that the ONS forecast for 74.3 million will be reached a decade earlier by about 2030 as a consequence of what amounts to continuing out of control immigration and high birth rate that in total would translate into a population increase equivalent to 15 cities the size of Birmingham.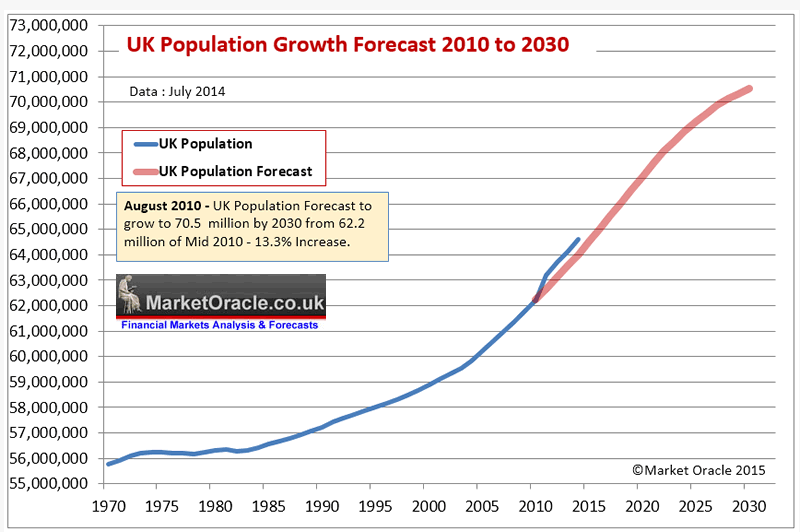 This has huge implications for Britain in terms of housing, services, wages, education, welfare and social cohesion that will make the crisis of the past decade look like a picnic. For in depth analysis see 15 Apr 2015 - UK House Prices, Immigration, Population Growth and Election Forecast 2015, and the following video -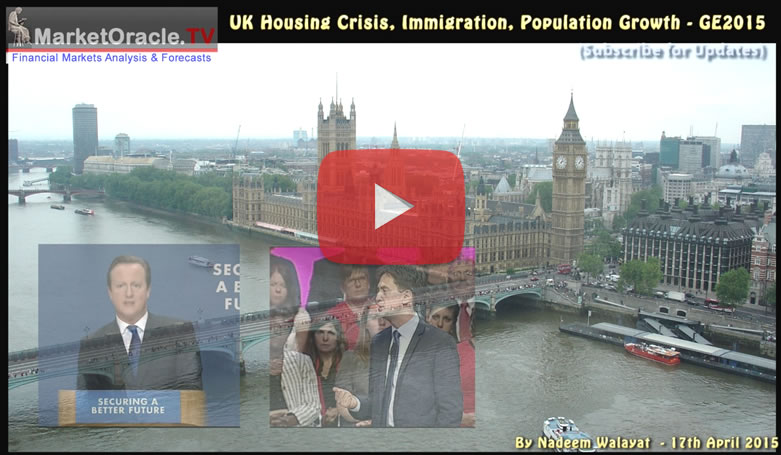 The bottom line is that out of control immigration ensures that the likes of the UK house prices bull market looks set to continue for at least another decade!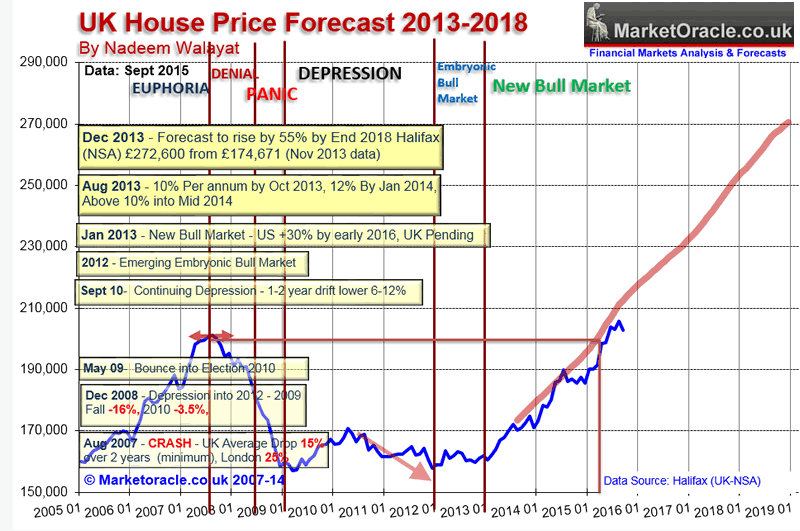 The key impact on the prevailing bullish trend in the house prices will be if the UK government is ever able to bring net migration down to under 100,000 per annum, which I imagine could only be achieved if Britain left the European Union.
The Real Magnitude of Europe's Migration Catastrophe
What's lost in the midst of this years migrant crisis of as many as 1 million migrants heading for Europe's shores, near five times the number for 2014, is the consequences of the REAL MEGA-TREND, and not just of the war in Syria but the fact that Africa (North and South) is undergoing an population explosion, that is literally manifesting in an exponential trend, one of MORE than doubling of Africa's population every 40 years that looks set to make today's migrant crisis look like a picnic when compared against several millions per year that will be heading for Europe's shores in the not too distant future as the following global population graph based on UN data illustrates.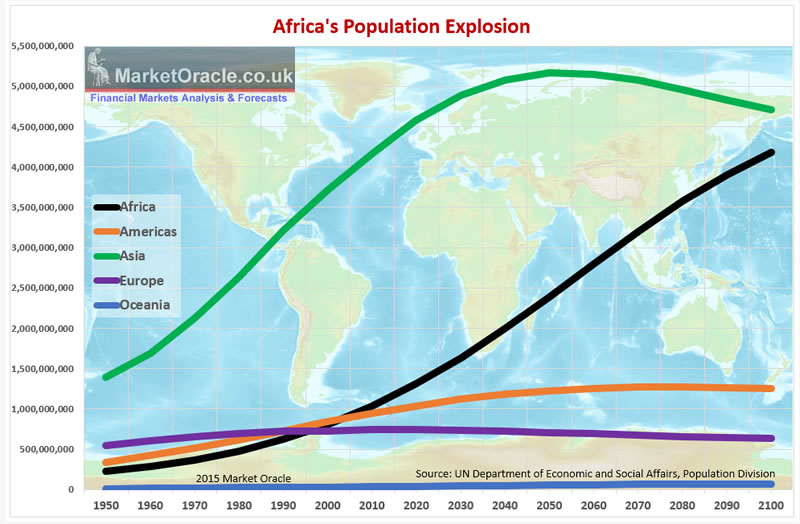 Key points are that the populations of all continents are in the process of stabilising and leveling off or be in decline by Mid century. All that is expect Africa that has already quadrupled in population over the past 60 years (1950 to 2010) from 228 million (1950) to 1,031 million (2010) and again looks set to quadruple by the end of the century to over 4.2 billion.
To imagine that a rate of population increase of approaching 30 million per year is not going to encourage migration in the millions to Europe is tantamount to sticking ones head in the sand, which is precisely where a blinkered European Union has firmly stuck its head for the past 2 decades, completely ignorant of the consequences of Africa's population explosion for if Europe cannot cope with today's 1 million per annum then what is going to happen when 2 million, 4 million, and then 8 million per annum flee the chaos of an over populated Africa that over 150 years will have gone from a population of 228 million to 4.2 billion!
In 1950 when Africa had a population of 228 million, Europe's population was 550 million, today Africa's population has soared to near 1.2 billion against Europe that is peaking at 740 million that given a quadrupling in Africa's population to 4.2 billion could in a worst case scenario be on the receiving end of as many as 500 million migrants over the next 85 years from Africa alone (5.8 mill average per year).
BrExit will be Surpassed by EU's Own Migration Panic
Today's debate surrounds whether Britain will vote to Leave the European Union or not, primarily so that the UK can control its borders in the wake of over 15 years of out of control immigration. However, given the time-frame for implementation of BrExit following an Referendum Vote to LEAVE the EU then such negotiations would likely continue for several years. That's possibly five more years of not only net migration into the UK ratcheting ever higher as net migration in the 300,000's gives way to the 400,000's, but rather even the likes of Germany and Sweden are already showing early signs of panic and it won't be too many years when they too attempt to slam their doors shut to ALL migrants, even those from within the EU.
So by the time the UK has finally exited the EU, say by 2021, then the Europe of that day would no longer resemble the open borders of the Europe of today as by then member states in large numbers will have awaken to the real magnitude of the potential for an exponential migration crisis that will worsen year by year, decade by decade.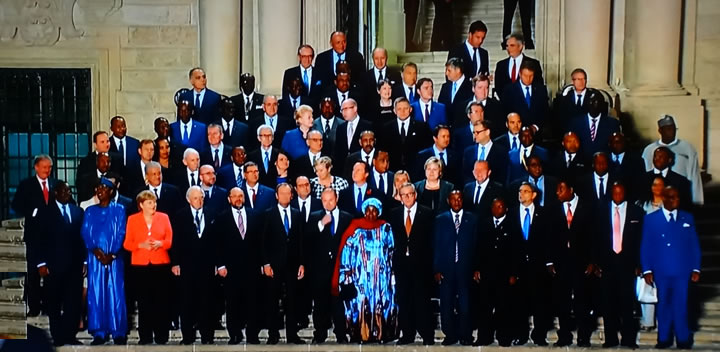 There are already signs of panic in the air, as at today's Malta Summit of 60 EU and African heads of state has the EU desperately attempting to bribe African nations to take some of their migrants back with 1.8 billion euros. Which is just not going to work, as probably most of the Euros will be funneled into the back pockets of corrupt African politicians.
UK Referendum Probable Result
The bottom line is that today's migration crisis is the mere tip of the Africa population explosion ice-berg that will make itself increasingly felt with each passing year, pushing Europe slowly in the direction of Britain's stance that I am sure will be claimed by David Cameron as a negotiation victory when the movement will likely have happened anyway. Therefore, this suggests a later referendum date is more favourable for a REMAIN in the EU vote as that is likely to see more EU member state border controls imposed, which coupled with recent opinion polls in favour of staying in the EU of 55% to 39%, then the most probable outcome appears to be that the UK will vote to remain within the EU. Though the UK may come to regret such a decision a decade on which may prompt a second referendum.
Ensure you are subscribed to my always free newsletter for ongoing in-depth analysis and concluding detailed trend forecasts that include the following planned newsletters -
US Dollar Trend Forecast Update 2015
US House Prices Forecast
Stock Market 2016
Islam 3.0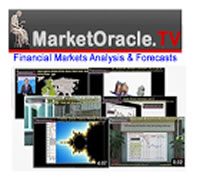 Also subscribe to our Youtube channel for notification of video releases and for our new series on the 'The Illusion of Democracy and Freedom', that seeks to answer questions such as 'Did God Create the Universe?' and how to 'Attain Freedom' as well as a stream of mega long term 'Future Trend Forecasts'.
By Nadeem Walayat
Copyright © 2005-2015 Marketoracle.co.uk (Market Oracle Ltd). All rights reserved.
Nadeem Walayat has over 25 years experience of trading derivatives, portfolio management and analysing the financial markets, including one of few who both anticipated and Beat the 1987 Crash. Nadeem's forward looking analysis focuses on UK inflation, economy, interest rates and housing market. He is the author of five ebook's in the The Inflation Mega-Trend and Stocks Stealth Bull Market series that can be downloaded for Free.

Nadeem is the Editor of The Market Oracle, a FREE Daily Financial Markets Analysis & Forecasting online publication that presents in-depth analysis from over 1000 experienced analysts on a range of views of the probable direction of the financial markets, thus enabling our readers to arrive at an informed opinion on future market direction. http://www.marketoracle.co.uk
Disclaimer: The above is a matter of opinion provided for general information purposes only and is not intended as investment advice. Information and analysis above are derived from sources and utilising methods believed to be reliable, but we cannot accept responsibility for any trading losses you may incur as a result of this analysis. Individuals should consult with their personal financial advisors before engaging in any trading activities.
© 2005-2022 http://www.MarketOracle.co.uk - The Market Oracle is a FREE Daily Financial Markets Analysis & Forecasting online publication.

Only logged in users are allowed to post comments.
Register/ Log in