UK Out of Control Immigration Crisis Continues, Tax Credits, EU Referendum and BrExit
Politics
/
Immigration
Feb 26, 2016 - 05:48 AM GMT


The latest ONS data released on 25th of Feb shows no let up in what amounts to a continuing 17 year long trend of out of control immigration with net migration of +323k in the year to Sept 2015, that follows the previous record busting ONS data release of net migration of 336k. Which literally translates into a DAILY flood of near 1000 people turning up on Britain's shores and demanding housing, education, school places, jobs and benefits such as tax credits, housing and child benefits, health & social services that have been buckling and breaking right across Britain as social housing in many cities has been in a state of paralysis for many years.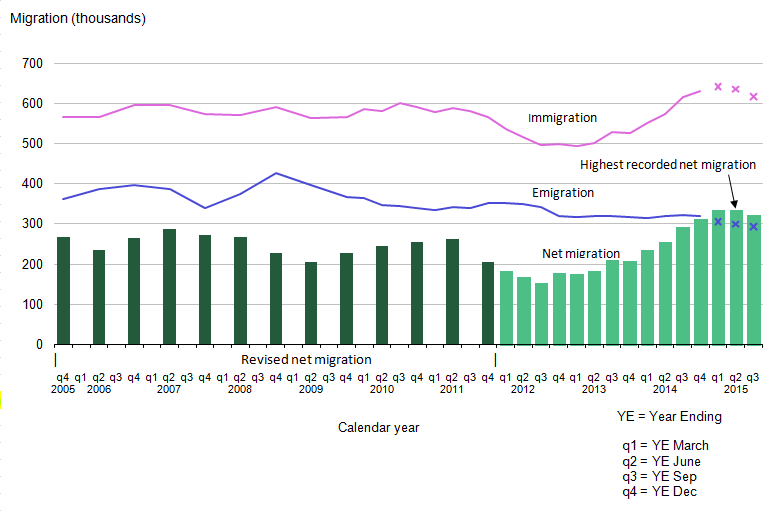 The Conservative governments failures to control immigration for the past 6 years is just a continuation of the Labour immigration catastrophe that set in motion a 17 year long immigration mega-trend for importation of over 8 million people (total immigration) where approx 90% of the adults were expected to vote Labour (at least 90% on benefits such as tax credits) as the following graph illustrates.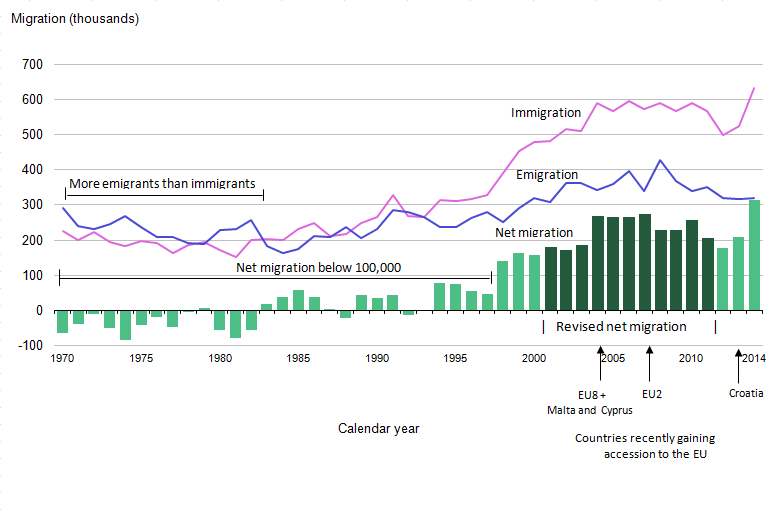 "Overall, net immigration would be kept in the tens of thousands, rather than the current rate of hundreds of thousands". - David Cameron 2010
When David Cameron took power in 2010 he promised that he would cut net immigration by 2015 to the tens of thousands from the then disastrous annual figure of 205,000, instead the latest data from the ONS shows that net immigration remains OUT OF CONTROL at levels far higher level than 2010 disastrous figure that today stands well above 300k and trending towards 400k per annum.
The bottom line is that the UK government demonstrably has NO CONTROL over Britain's borders which means that out of control immigration WILL CONTINUE TO PERSIST and the trend for which is EXPONENTIAL.
The immigration statistics break down into the following facts:
| | |
| --- | --- |
| Total immigration Year to Sept 2015 | 617k |
| Total emigration Year to Sept 2015 | 294k |
| Net immigration Year to March 2015 | 323k |
| | |
| Total Immigration since 2004 | 6.4 million |
| Total Emigration since 2004 | 3.8 million |
| Net Immigration since 2004 | 2.6 million |
| | |
A key point that the mainstream press has apparently missed is that the net figures mask the reality of what the gross immigration figure of 617k implies, which effectively means that the impact of immigration is DOUBLE to that which the headline figure of 323k suggests i.e. in terms of social cohesion and housing and services for those pockets of the UK most effected by immigration namely London, the South East and other inner cities. Immigration is also one of the driving forces for the buy to let sector as foreign born populations are three times more likely to rent than UK born people, which in large part is due to the benefits system i.e. migrants greater propensity to claim housing benefit.
Houston We Have Problem
It is highly probable that the official ONS immigration statistics grossly UNDER estimate REAL immigration into Britain. For instance the mainstream press is reporting a gross disparity between total immigration from eastern europe and the number of national insurance numbers issued which tends to be DOUBLE what they should be if the ONS data were accurate.
Ministers 'hiding full scale of EU immigration'
Hundreds of thousands more EU migrants may have come to Britain than disclosed in official records, experts have warned as ministers were accused of hiding the full scale of immigration.
Official figures published suggested that 257,000 migrants came to Britain last year, with a significant rise in the number of Bulgarians and Romanians.
However over the same period 630,000 EU citizens registered for a national insurance number, which would entitle them to work or claim benefits in Britain.
Why People are Migrating to the UK
Contrary to press stories of civil wars, most of the migration (90%) into the UK has been purely economic that includes to study, many of whom turn out to be bogus students who instead are here to work illegally and for permanent settlement.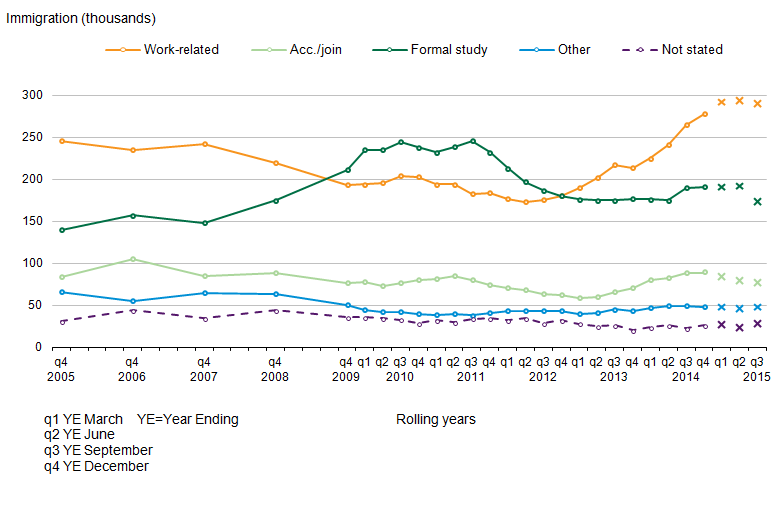 Furthermore, what's hidden in the small print is the fact that EU nationals took up 828,000 National Insurance numbers over the past 12 months, which illustrates the fact that over 50% of all new jobs created have gone to migrant workers, most of whom will be claiming in work benefits such as tax credits that amounts to fraud on the British tax payers, which typically means that for every pound a low income migrant family earns in income then they tend to receive an equal or greater amount in benefits as the following example illustrates:
Family of 6, with both parents working for minimum wage, each earning £8k per annum.
| | |
| --- | --- |
| Employment | £16,000 |
| Tax & NI Paid | £0 |
| Tax Credits Received | £12,448 |
| Child Benefit | £2,892 |
| Housing Benefit | £6,600 |
| Total Benefits | £21,940 |
| Total Income | £37,940 |
So a family of six with BOTH parents working will receive approx £22k in benefits ON TOP of their £16k earnings, a total income of £38k, and it is THIS which illustrates the magnitude of what to all intents and purposes is FRAUD perpetrated on British tax payers as most migrant workers not only CONTRIBUTE A NET NOTHING! But in fact tend to take MORE in benefits than they actually receive in wages. And this is BEFORE factoring in the costs of schooling, and health that could yet double the total amount of resources TAKEN in what amounts to at least a £50 billion migrant benefits and services economic noose around Britain's neck.
Whilst a 3 child family would receive approx £18.5k in in work benefits and a 2 child family £15k which makes a mockery of the claims of hard working migrant families contributing more than they take which is JUST NOT TRUE! And this does not include benefits taken by non working migrant families that are capped at £20k per annum.
Immigration Crisis Fast Becoming a Catastrophe
Britain, Europe are not just dealing with the likes of the Syrian civil war that has produced over 4 million refugees, most of whom are determined to find their way to the likes of Germany and Britain, but also the fact Africa continues to undergo a population explosion, where the continents population looks set to DOUBLE once more over the next 30 years from 1.1 billion to 2.2 billion that will result in a migration exodus that will be exponentially greater than that which is taking place today, which implies an trend for ever increasing number of economic migrants from Africa alone, let alone the continuing increasing flows from a more preposterous Asia (China) and elsewhere who can afford to pay people smugglers for transportation to a new life in the UK as I have covered in depth in the following video analysis -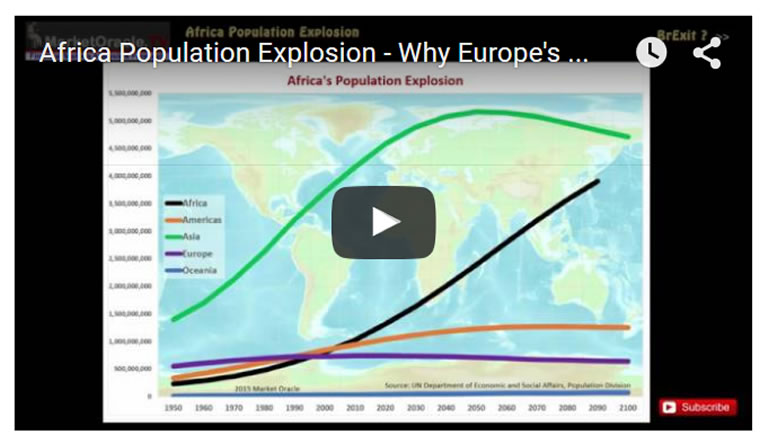 Therefore, whilst today the mainstream broadcast press crisis coverage of immigration is focused on the camps of tens of thousands of migrants on Europe's southern borders and even some 5,000 near the port of Calais. However, Britain should prepare itself for what the trend implies looks inevitable that within the next few years already buckling and highly stressed state services will break under the weight of numbers in response to which the government will be forced to introduce unprecedented measures such as cordoning off pockets of Southern England into self contained migrant camps of first in the tens of thousands and ultimately numbering in the hundreds of thousands in an attempt to contain the consequences of the immigration catastrophe that is the implied as a consequence of 10 million immigrants entering the UK (net 5 million) over the next 10 years that will be in addition to natural population growth of at approx 4 million.
EU Referendum
And where the EU Referendum is concerned then my opinion remains that this is Britain's VERY LAST chance to vote for FREEDOM from an emerging european superstate as the following two recent videos illustrate why-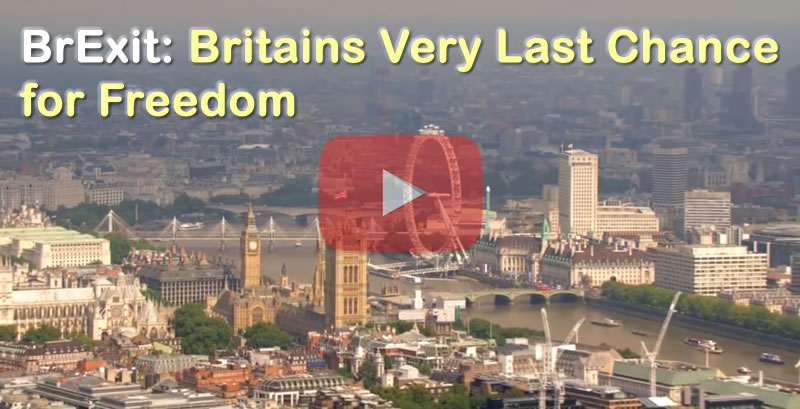 And this video covers the key points of David Cameron's failures to negotiate anything of value that in large part amounted to nothing more than a smoke and mirrors exercise.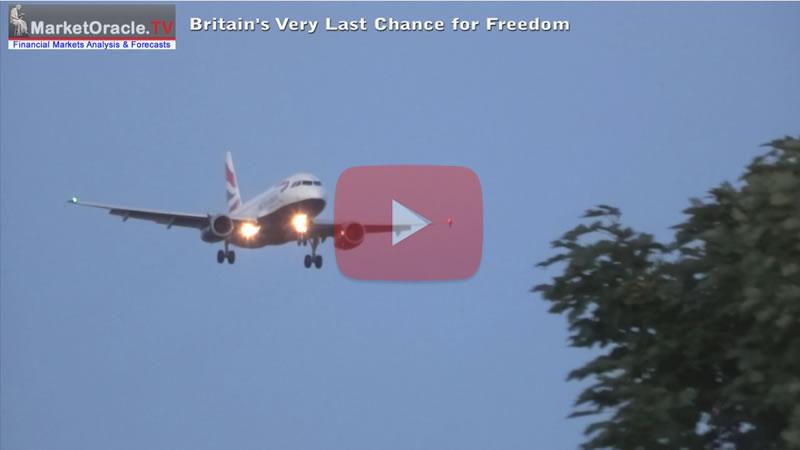 And why there always is a price to pay for freedom -
03 Feb 2016 - David Chamberlain Cameron, Britain's Last Chance for Freedom From Emerging European Super State
Britain's Last Chance to Gain Freedom from Emerging European Super State
What most pundits fail to recognise or lack experience of is trend and momentum both of which for the past 40 years have been moving in one direction that for the emergence of a highly centralised European super state that the financial crisis and subsequent economic depression of southern europe is accelerating the trend towards.
So whilst it is too late for the euro-zone members who for better or worse are locked into a death embrace that has all but nullified democracy for most of the euro-zone states as the elections in Greece, Spain and Italy have clearly demonstrated the lack for even radical governments such as Syriza to do anything other than obey their German paymasters who control the euro currency and can within a couple of weeks bring fellow euro-zone members to the brink of collapse as was repeatedly demonstrated by Greece last year.
Thus, for Britain the saving grace of not being in the euro-zone offers the UK a unique final opportunity to make the choice of either FREEDOM or become another satellite state revolving around a German centre that will increasingly dictate terms and conditions.
Therefore, given that there would probably not be another referendum for at least 20 years, then this really is Britain's VERY LAST CHANCE. There WON'T be another opportunity because with each passing year the price for a BREXIT increases, and we are not that far off from the point of no return when an exit would result in an economic collapse, much of the situation the euro-zone members have been since they signed up to scrap their currencies and join the Euro-zone.
Of course both the LEAVE and the REMAIN camps put out a lot of propaganda and spin on the others consequences. For LEAVE it's a case of everything smelling of roses in a Britain that has been freed from increasing European bureaucracy and interference, that would be in full control of Britain's borders. Whilst the REMAIN camp paints a picture of FEAR, of economic and financial catastrophe coupled with punitive terms for exit that would seek to punish Britain for daring to exit the euro-zone, so much for so-called european unity built on common purpose and friendship instead the European Union is increasingly a club of FEAR and PARALYSIS.
The Price for Freedom
The truth is that a BREXIT WILL BE ECONOMICALLY PAINFUL despite all of the benefits of being outside of the E.U. The cost of BrExit will be anywhere from 2% to as high as 5% of GDP if the euro-zone is determined to make an example of Britain to act as a warning to others by raising punitive tariffs on trade. However remember that attaining FREEDOM ALWAYS carry's a PRICE, in which respect even the worst case scenario for a 5% loss of GDP in the grand scheme of things does not compare against the infinitely greater price the people of Britain paid for their freedom in both past World Wars and so it is now THIS generations turn to pay a price for the freedom of future generations.
What the people of Britain need to fully understand is that this really is their VERY LAST CHANCE for Freedom!
The bottom line is that given the immigration crisis then the EU may implode even before Britain votes to LEAVE.
Ensure you are subscribed to my always free newsletter (only requirement is an email address) for the following forthcoming analysis -
US Interest Rates 2016
US Dollar Trend Forecast
Stock Market Trend Forecast 2016
US House Prices Forecast 2016 and Beyond
Gold and Silver Price Forecast 2016
By Nadeem Walayat
Copyright © 2005-2016 Marketoracle.co.uk (Market Oracle Ltd). All rights reserved.
Nadeem Walayat has over 25 years experience of trading derivatives, portfolio management and analysing the financial markets, including one of few who both anticipated and Beat the 1987 Crash. Nadeem's forward looking analysis focuses on UK inflation, economy, interest rates and housing market. He is the author of five ebook's in the The Inflation Mega-Trend and Stocks Stealth Bull Market series that can be downloaded for Free.

Nadeem is the Editor of The Market Oracle, a FREE Daily Financial Markets Analysis & Forecasting online publication that presents in-depth analysis from over 1000 experienced analysts on a range of views of the probable direction of the financial markets, thus enabling our readers to arrive at an informed opinion on future market direction. http://www.marketoracle.co.uk
Disclaimer: The above is a matter of opinion provided for general information purposes only and is not intended as investment advice. Information and analysis above are derived from sources and utilising methods believed to be reliable, but we cannot accept responsibility for any trading losses you may incur as a result of this analysis. Individuals should consult with their personal financial advisors before engaging in any trading activities.
© 2005-2022 http://www.MarketOracle.co.uk - The Market Oracle is a FREE Daily Financial Markets Analysis & Forecasting online publication.
Comments
R.E.B
26 Feb 16, 18:11
In work Benefit numbers.


Have you been able to find any substantive numbers for the number of migrants claiming in work benefits? The government seem either unable or unwilling to give accurate data, even though the DWP should have it surely, pointing to the possibility that the numbers are very bad and would add weight to the BREXIT case.



Nadeem_Walayat
26 Feb 16, 20:23
In work benefits


Hi

You can check out the tax credits calculator that illustrates the magnitude of the black hole the government is trying hard to hide.

IF they have kids then they GET TAX CREDITS on earnings upto about £40k!

Where evenif both are working on minimum wage and say £16k combined can with four kids get £22k in benefits !

Even an wage of £30k would yield about £16k in benefits !

Labour created a perfect storm of massive in work benefits voter bribes and then allowing out of control immigration




Only logged in users are allowed to post comments.
Register/ Log in