Why the Failed Coup in Turkey Will Bring Down the European Union
Politics
/
European Union
Aug 04, 2016 - 02:04 AM GMT


Dear Parade-Goer,
As I am still in Argentina running around like a llama chased by a puma, it's my great pleasure to turn the bulk of this week's missive to new team member Stephen McBride.
You may remember Stephen from his excellent work on our exposé on the machinations of George Soros.
Starting in a week or so, Stephen will begin writing The New Abnormal, a new free e-letter that will be posted every Wednesday on www.GarretGalland.com.
A laissez-faire economist and citizen of the world, Stephen originally hails from Ireland and is currently working in finance in New Zealand. Happily, he will soon be locating to my favorite place in the world—Cafayate, Argentina—to enjoy the amazing lifestyle and so that we might work more closely together.
I greatly look forward to our ongoing collaboration and hope you will, too.
In today's edition, Stephen takes a look at what may be the single most important implication from the recent Turkish coup attempt and why it may have sounded the death knell for the European Union.
Next week, I'll be back with my notes on a wide-ranging and illuminating conversation with an insider at the very top of the global banking system. Among other topics, we talked about the trillions of dollars of derivatives lurking on the balance sheets of some of the world's largest banks and the precarious state of Europe's banking system.
As the parade rounds the corner, I'll leave you with an absolutely incredible live performance of a singer from the nation of Georgia who does things with his voice that I guarantee will blow your mind. Here's the link.
Why the Failed Coup in Turkey Will Bring Down the European Union
By Stephen McBride
The New Abnormal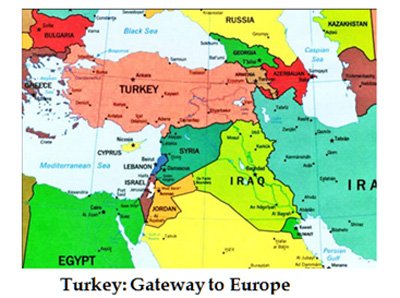 Since the attempted putsch on July 15, President Erdogan has purged 9,000 military personnel, 6,000 police members, 3,000 judges, and over 15,000 teachers.
Turkey's military has historically acted as a counterbalance to politicians who start to lean too heavily toward Islam. The military has directly intervened in Turkish politics three times since 1971. They see themselves as guardians of the secular state created by Mustafa Kemal Atatürk in 1923.
Since taking power in 2002, the AKP—Turkey's largest political party—has introduced measures that move Turkey away from its secular foundation. Although 97.8% of the Turkish population identifies as Muslim, many of them do not practice the faith. Under the AKP, the number of children in Islamic schools has swelled from 63,000 to over 1 million.
The purge of the military is seen as an attempt by Erdogan to get rid of the last of the secular resistance to a more Islamist state.
Turkey's Leverage on Europe
Turkey holds a very important card that is akin to a biological weapon. That card is the 3 million refugees Turkey currently houses.
Turkey and the EU made a deal where Turkey agreed to stem the flow of refugees leaving its shores for Greece. In return, the EU agreed to give Turkey €3 billion a year for its troubles and visa-free travel to mainland Europe for all Turkish citizens.
Since the agreement, the number of refugees entering Greece has dropped 90%. The EU has so far paid the first tranche of funds, but what about that visa-free travel promise?
Erdogan's purge has cast doubt over the deal. The EU has taken a hardline stance against his actions. Given the recent spate of Islamic terror attacks across Europe, the last thing the EU wants is more refugees streaming in its direction.
Europe's Options
An increasingly Islamic and authoritarian Turkey is a Turkey at odds with traditional European values. Turkey has the EU between a rock and a hard place regarding the refugee crisis, and something has to give.
If the EU elects to sever talks with Turkey, the Erdogan regime has said it will "unleash the refugees" on Europe. This will leave the 3 million migrants currently housed there free to cross the Aegean Sea to Greece. Scenes of last summer's wave of refugee-laden rafts are surely haunting EU bureaucrats.
If the EU decides to proceed with the deal, the outcome is not too different. It would give 70+ million Muslims visa-free travel throughout Europe. Turkey borders Iran, Iraq, and Syria—not exactly the countries I think of when I hear "Eurozone." This deal would mean easier access to mainland Europe for the citizens of such countries.
It is estimated that upward of 15 million Turks would emigrate to Europe within the first 10 years of the deal. This would greatly suppress wages in Europe. The per capita GDP of Turkey is €10,500, 65% lower than the Eurozone average.
Crisis Solutions
The EU is locked in a game of "Deal or No Deal." Either way, the EU loses. However, it can still save its citizens and heritage with one decision: reestablish borders.
Hungary made this decision in June 2015. Within one week, the number of migrants entering the country per day dropped from 6,353 to 29.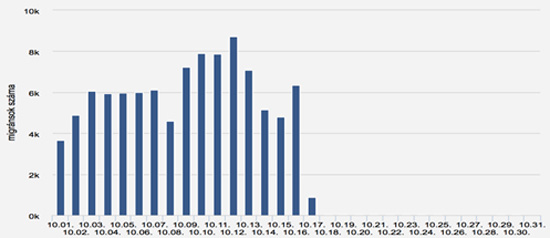 This decision would violate the Schengen Agreement and simultaneously end the EU as we know it. It would also mean an end to Europe's immigration crisis.
History does not repeat itself, but it often rhymes. Today, we have a situation that sounds like the 1683 Battle of Vienna. Will Europe choose to defend itself against the invaders as it did then?
The failed coup—cast as an act of terrorism by Erdogan—was in fact an attempt by the military to uphold the founding secular values of the Turkish Republic.
Ataturk will be turning in his grave.
Stay Tuned for The New Abnormal
Coming soon: Stephen McBride's weekly exposé of the mad scramble by governments and central bankers to maintain the status quo and keep the wheels on the global financial system.

The New Abnormal, a free e-letter from Garret/Galland Research will cover a broad spectrum of topics every investor needs to be aware of. Political machinations, monetary manipulations, geopolitical meddling, and much more.
Watch your inbox for more.
Here Come the Clowns
The Age of Terrorism Is Upon Us
Now that the Islamists have fully clamped onto the idea that a small crew of determined murderers, unafraid to give up their own lives, can be almost as effective as a larger coordinated attack in spreading fear in the West, you can expect the pace of the attacks to pick up.
When a simple truck can become a weapon of mass destruction, how can governments possibly respond? That some of the recent attacks, including the killing of a priest in France, have been committed by individuals already identified as jihadists—but whom were still allowed to roam free—tells you everything you need to know about how powerless governments are in this new age of terrorism.
Which brings us to German Chancellor Merkel. Despite the clear facts, she insists on maintaining her country's open-arms policy toward refugees.
One cannot help but wonder what her real agenda is.
This is not going to end well.
Will Bernie's Army Deliver Trump the White House?
In last week's edition I concluded that, based strictly on the demographics, the odds of Donald Trump winning are fairly long.
Since then, I have received a number of emails from dear readers.
A number made an intensely passionate case for the need to elect Trump lest America fall the rest of the way into the abyss. I can tell you that, come November, Trump's supporters are going to be up early and, rain, shine, or snow, are going to make their way to the voting booth and vote with gusto.
And Hillary's supporters? Not so much. Sure, there is a small cadre of fellow travelers who sincerely believe Hillary is the epitome of political leadership. But according to polls, it's not a large group—maybe 30% of the total. As for the rest, they are, at best, holding their nose while voting, or doing so only because they are anti-Trump.
Which brings us to Bernie's army. From purely anecdotal evidence, including loud and disruptive—some would say disrespectful—demonstrations at the DNC conference, it appears that his rather substantial following hate Hillary. So much so that they simply can't fathom voting for her and so will either sit on their hands in the election or throw their vote away on Jill Stein of the Green Party.
Underscoring the point, here's an excerpt from an email exchange I had just this morning.
"I was a Bernie fan, but hate Hitlary (sic) with a vengeance. I refuse to choose between Darth Vader and the Wicked Witch of the West."
"So, you're not going to vote for Hillary?" I responded.
"Hell no."
So, who knows, maybe Trump has a chance after all.
And with that, I must rush off.
Until next week, thanks for reading!
David Galland
Managing Editor, The Passing Parade
Garret/Galland Research provides private investors and financial service professionals with original research on compelling investments uncovered by our team. Sign up for one or both of our free weekly e-letters. The Passing Parade offers fast-paced, entertaining, and always interesting observations on the global economy, markets, and more. Sign up now… it's free!
© 2016 David Galland - All Rights Reserved

Disclaimer: The above is a matter of opinion provided for general information purposes only and is not intended as investment advice. Information and analysis above are derived from sources and utilising methods believed to be reliable, but we cannot accept responsibility for any losses you may incur as a result of this analysis. Individuals should consult with their personal financial advisors.
© 2005-2019 http://www.MarketOracle.co.uk - The Market Oracle is a FREE Daily Financial Markets Analysis & Forecasting online publication.

Only logged in users are allowed to post comments.
Register/ Log in