In 2017 Be the Bank
Stock-Markets
/
Financial Markets 2017
Dec 29, 2016 - 06:00 PM GMT


Dear Parader,
In our last edition before the New Year, I share an overview of an interesting and easy way to get a better return on your money. What's most important, it allows you to largely side-step the risk and volatility inherent in stock and bond markets.
We then conclude with an approach you might want to consider using for difficult people and negative relationships that crop up in your life.
As I write, sitting at the dining table at our family house in Vermont, the snow has kicked up. If I skied, I might want to head to the mountain. But as I don't, I am content to stay indoors and dream of returning to the sunnier climes of Cafayate, Argentina, which I will do tomorrow morning.
But first, it's on to the Parade!
Be the Bank
The only advice I remember from my grandfather is, "Get to know your banker."
I was in my teens at the time and had no real interest in financial matters, so I have no idea why the advice stuck. But it did.
As fate would have it, I did my grandfather one better by becoming a banker. In 1999, along with three partners, I helped found EverBank, one of the first pure online banks. While my role was more on the marketing and management side, helping to start a bank from scratch provided abundant insights into the fundamentals of banking.
Interpreting my grandfather's advice, the importance of befriending your banker mostly has to do with the availability of credit. Need a loan? It never hurts to be able to give good old Fred down at the bank a call, or to tap him over lunch. That sort of thing.
Today, however, the traditional functions of banking have been turned upside down, for both the bankers and the borrowing public.
One of the biggest changes came about post-2008 when, in response to the gross misrating of mortgage loans leading up to the financial crisis, the government rushed through the Dodd-Frank bill. At 2,300 pages, it was one of those bills that "you had to pass to understand."
As it turned out, the bill dropped a mountain of new and onerous regulation on bankers—some useful, but most of it sticky goop that only served to gum up the works.
Having recently tried to do a relatively small re-fi, which for me as an entrepreneur with direct interests in six businesses required a large phone book of forms, tax returns, and corporate balance sheets, I have first-hand experience in just how cumbersome the borrowing process can be. Even my friendly banker can only sigh and blame it on "compliance."
On the other side of the coin, thanks to the Fed's zero interest rate policy, the inflation-adjusted yields banks offer on FDIC-insured certificates of deposit and savings accounts have been close to negative for years.
Thus, being friends with your banker these days is unlikely to make getting a loan any easier, and it sure won't boost your yields.
Fortunately, behind the scenes a quiet revolution has been going on that has the potential to fundamentally change banking. Start now, and in just a few minutes you can effectively operate your own bank. And you can do so with no start-up costs and no employees. In fact, no hassles whatsoever.
It's Surprisingly Easy to Become a Marketplace Lender
The revolution that is upending the banking business is called Marketplace Lending, or MPL for short.
Using processes and algorithms finely honed over the past decade, the MPL platforms allow individuals to take the place of banks in making personal and even corporate loans. And to do so with a great deal of certainty on the risks versus the returns.
It is surprisingly easy to "be the bank." Here's what you need to know:
You start by deciding which MLP platform(s) you wish to work with. They all offer the same service, but with somewhat different business models. For my account, I chose Lending Club, the most popular. The entire process of applying to make loans through the platform took just a few minutes. As you'll need to link your bank account to your Lending Club account, you can save time by having your bank account number and the bank's routing number handy.
In the account-opening process, you'll be asked to fund your account. While you can add to your account at any time, you want to be sure to start off with a decent amount—probably a minimum of $2,500—as that allows you to diversify your lending across a large number of loans.
Establish a maximum loan size. Typically, you'll limit your loan size to $25. Thus, if your Lending Club portfolio is $5,000, you'll ultimately "be the bank" to 200 borrowers. That provides you with important diversification against the risk of potential loan defaults.
Establish whom you want to lend to. In the case of Lending Club, borrowers are screened based on credit rating and other criteria found effective over the years in identifying default risk. Once a borrower is screened, they are slotted into one of seven categories ranking from A, the highest quality, to G, the lowest. You then decide which categories you wish to lend to.
Most lenders spread their loans across a variety of rankings, with the bulk in the highest-quality ratings (lowest default risk) and some in the lower quality, where yields can top 20% to offset the higher risk. By blending your portfolio, you can achieve a very stable—and largely predictable—return well above what you will earn in other income investments.
You can see the returns net of defaults in the chart here, which is part of a new research report we have been working on, entitled, Welcome to the Bank of You.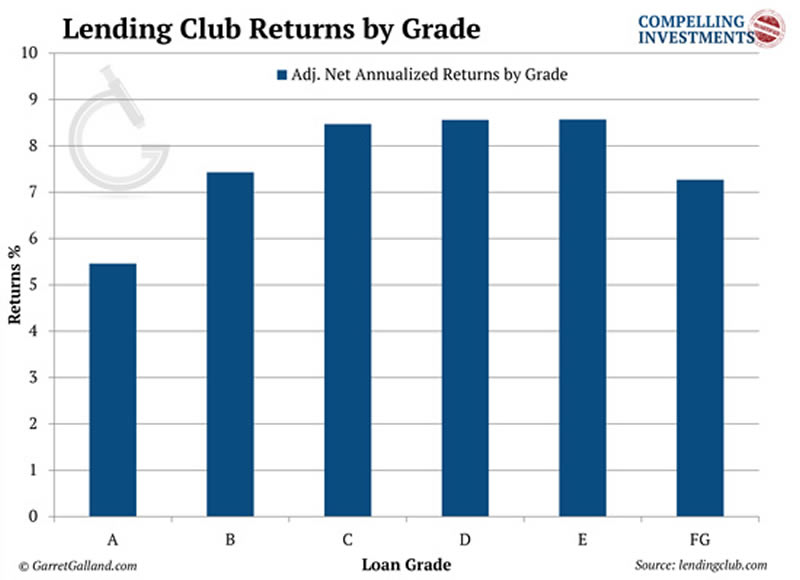 Thus, even taking the very conservative approach of investing in the highest-quality loans, you can still earn almost five times the 1.16% rate now available with the average one-year bank CD.
The Important Thing
As you can see in this next table, one of the big advantages of Marketplace Lending is the very low correlation these loans have to traditional stock and bond markets. An investment that is perfectly correlated with the S&P 500 is said to have a correlation of "1." If the S&P went up or down 5%, so would the perfectly correlated investment.
Due to the nature and number of the loans you'll make, the correlation to the stock market for an MPL portfolio is just 0.19. For US bonds, the correlation is even less, -0.13.
That provides a healthy buffer against possible market volatility in the months and years ahead. Though broad markets may rise or fall, soar or crash, you still collect the interest on your highly diversified portfolio of small loans.

There's a lot more to the topic of Marketplace Lending. As mentioned, the various platforms have somewhat different approaches to screening borrowers, automating loan generation, collecting from late payers, and more. There are also add-on services you can use to improve your overall returns while better managing your risk. One tool we analyzed in our report consistently provided a net annual return of over 14%.
Rather than sitting on the sidelines remembering the days when your bank CDs provided a solid return on your money, thanks to the revolutionary advances in Marketplace Lending, you can once again put your money to work.
And you no longer need to befriend your banker; you can just be the bank.
Note: As a subscriber to The Passing Parade, we'll send you a link to our new report, Welcome to the Bank of You, as soon as it is finished… which will be in a week or so. It's our gift as a way of thanking you for being part of the family.
Seven Billion
When I go to a restaurant or any other place of service and am disappointed, I always choose one of two options.
If I'm generally a fan of the place and plan on returning, I'll let management know where they dropped the ball. I don't do so to be churlish, but rather because I want them to succeed.
On the other hand, if I'm ambivalent about the place and have no intention of returning, when the waiter invariably inquires about my level of satisfaction about the meal, I will nod politely and mumble a platitude.
As I age, I have begun applying the same sort of filter to my fellow humans.
The first time I recall doing so occurred some years ago when a relatively well-known investment guru rubbed me the wrong way.
He was, and still is, known for being clueless in social interactions.
Case in point, he once worked a David Letterman-type list into his speech at a conference organized by another financial letter writer. Working through the list on stage, he came to "the newsletter writer most likely to cheat on his wife," then named his host, the organizer of the very conference he was speaking at. In a memorable moment, said conference host took to the stage and slapped the offender across the jowls.
In any event, while his offense against me—it wasn't actually against me, but a friend—was nowhere near quite so annoying as that, it was sufficient for me to conclude there was no need to spend any further time with him. Ever.
And so I informed him, without heat, that there were approximately seven billion people in the world, which provides each of us a wide selection to choose our friends and acquaintances from. Henceforth, he was being struck from my personal list.
I mention this because the other day, I ran across a neighbor who had previously taken offense at what I thought was a helpful suggestion I had made. We chatted briefly, but I could see the woman had developed a firm opinion she should remain mad at me, comradeship and community be damned.
My earlier self might have felt hurt, or disappointed, or even somehow guilty at my supposed transgression—which, you'll have to trust me on this one, was no transgression at all.
Instead, seeing that this individual had made up her mind to be unsociable, I politely bid her goodbye and hiked off to more congenial company, striking her off the rolls as I did. Sure, I could have tried to appease her or begged forgiveness for my imaginary offense, but why bother? The sort of person I like to hang out with is upbeat, optimistic, and generally happy. They are not the easily offended or petty-minded type.
Over the course of our lifetimes, we will encounter an almost countless number of individuals. Some of those individuals are forced upon us in the form of family. Others we just bump into as we meander down the stream of life.
Ultimately, whom we choose to associate with is entirely in our power, and I believe we are better off choosing to associate with mostly happy, positive, and well-meaning people, versus the sort who take quick offense and who kick over every rock looking for something to grouse about.
With seven billion options to choose from, finding a good-natured replacement for the unpleasant people in your life takes almost no effort at all.
And with that, and bidding you a Happy New Year, I will sign off for 2016!
David Galland
Managing Editor, The Passing Parade
Garret/Galland Research provides private investors and financial service professionals with original research on compelling investments uncovered by our team. Sign up for one or both of our free weekly e-letters. The Passing Parade offers fast-paced, entertaining, and always interesting observations on the global economy, markets, and more. Sign up now… it's free!
© 2016 David Galland - All Rights Reserved

Disclaimer: The above is a matter of opinion provided for general information purposes only and is not intended as investment advice. Information and analysis above are derived from sources and utilising methods believed to be reliable, but we cannot accept responsibility for any losses you may incur as a result of this analysis. Individuals should consult with their personal financial advisors.
© 2005-2019 http://www.MarketOracle.co.uk - The Market Oracle is a FREE Daily Financial Markets Analysis & Forecasting online publication.

Only logged in users are allowed to post comments.
Register/ Log in