Sheffield Local Elections Full Results - Labour Loses Seats to Tree Felling Protests
ElectionOracle
/
Sheffield
May 04, 2018 - 11:37 AM GMT


Labour paid the electoral price for their arrogance against the expressed wishes of tens of thousands of Sheffielders, increasingly angry at the felling of thousands of healthy street trees as the local elections saw the Labour ruling regime lose a net 3 councilors, 1 to the Liberal Democrats and 2 to the Green Party, whilst UKIP lost their only standing councillor at these elections to the Lib Dems.
Sheffield Council Seats
| | | | |
| --- | --- | --- | --- |
| | 2016 | 2018 Forecast | 2018 Results |
| Labour | 56 | 47 | 53 |
| Lib Dem | 20 | 28 | 22 |
| UKIP | 4 | 3 | 3 |
| Green | 4 | 8 | 6 |
| Con | 0 | 0 | 0 |
| Other | 0 | 0 | 0 |
As for why Sheffield Labour did so badly when this local election was supposed to result in a national Tory bloodbath with Labour expected to pick up hundreds of seats and dozens of councils, especially in London, none of which actually happened. Well, what the pollsters and pundits forgot was that these were LOCAL elections and where Sheffield is concerned the KEY ISSUE was the Labour councils tree felling rampage, one of 6,000 trees felled to date and ultimately to target the felling of HALF of Sheffield's street trees that galvanised thousands of Sheffielders to come out onto the streets and protest against the insane actions of the Labour council and it's contractor who remained in state of denial of what the people of Sheffield actually wanted to happen on their streets i.e. to FIX the POTHOLES! Rather than FELL healthy street TREE's was the protest cry echoed at Sheffield tree felling protests as my Sheffield local elections forecast video illustrates.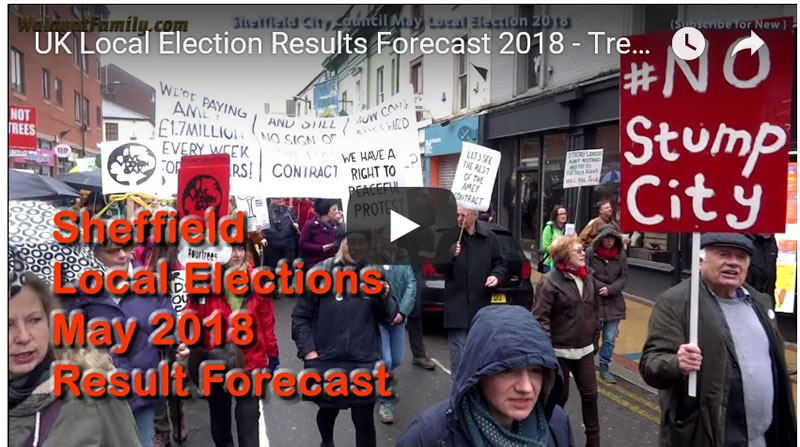 And so on Thursday Sheffield Labour paid the electoral price of ignoring the Sheffield people, which if it continues to do so will undoubtedly act as a stepping stone to further losses at the May 2019 local elections. And given that the Amey PFI contract has some 19 years left to run then there is plenty of scope for Labour to lose overall control of the Council within a few more short election steps.
Sheffield Local Elections Full Results
Park and Arbourthorne Ward
Jen Barnard (Green Party) 499
Richard Harry Blyth Conservative Party) 588
Liz Morton (Trade Unionist and Socialist Coalition) 140
Jack Scott (Labour Party) 1688
Shelley Lauren Walsh (Liberal Democrats) 333
LABOUR Hold
Beauchief and Greenhill Ward
Simon William Clement-Jones (Liberal Democrats) 2193
Julie Gledhill (Labour Party) 1622
Claire Lord (Conservative Party) 674
Graham Robert Marsden (Green Party) 476
LIB DEM Hold
Beighton Ward
Shirley Diane Clayton (Conservative Party) 763
Brian Grundill (UKiP) 213
Bob McCann (Liberal Democrats) 773
Anthony Richard Naylor (Green Party) 202
Chris Rosling-Joseph (Labour Party) 1544
LABOUR Hold
Birley Ward
Michael Barge (Conservative Party) 638
Anthony Cronshaw (Independent) 233
Karen Lesley McGowen (Labour Party) 1835
Ruth Frances Mersereau (Green Party) 393
Kevin Michael Oxley (Liberal Democrats) 225
LABOUR Hold
Broomhill and Sharrow Vale Ward
Barbara Wieslawa Masters (Liberal Democrats) 483
Janet Hilary Ridler (Labour Party) 1926
Kaltum Osman Rivers (Green Party) 2703
Laurence Douglas Smith (Conservative Party) 369
GREEN Win
Burngreave Ward
Shelley Cockayne (Liberal Democrats) 194
Mark Jones (Labour Party) 3434
Chris Sissons (Green Party) 398
Stephen Robert Toone (Conservative Party) 375
LABOUR Hold
City Ward
Hatau Mozayen (Conservative Party) 86
Martin John Phipps (Green Party) 826
Beverley Denise Thomas (Labour Party) 810
Julia Alexander Wright (Liberal Democrats) 118
GREEN Win
Crookes and Crosspool Ward
Alexandra Boman-Flavell (Conservative Party) 661
Craig Gamble Pugh (Labour and Cooperative Party) 2109
Mohammed Mahroof (Liberal Democrats) 2752
Theo Routh (Green Party) 936
LIB DEM Win
Darnall Ward
Joydu Al-Mahfuz (Green Party) 227
Kurtis Jenson Crossland (Liberal Democrats) 289
Zahira Naz (Labour Party) 3057
Dean O'Brien (Conservative Party) 534
LABOUR Hold
Dore and Totley Ward
David Applebaum (Green Party) 624
Lesley Nicola Blyth (Conservative Party) 1512
Lee Russell Rock (Labour Party) 974
Martin Richard Smith (Liberal Democrats) 3861
LIB DEM Hold
East Ecclesfield Ward
Adam James Allcroft (Conservative Party) 922
Victoria Margaret Bowden (Liberal Democrats) 916
Dennise Ann Dawson (UKiP) 343
Kaye Horsfield (Green Party) 387
Moya O'Rourke (Labour Party) 1534
LABOUR Win
Ecclesall Ward
Pat Barnsley (Conservative Party) 871
Jason Leman (Green Party) 1374
John Douglas Lowcock (Democrats and Veterans Party) 87
Shaffaq Mohammed (Liberal Democrats) 3614
Philip Bruce Wymer (Labour Party) 1874
LIB DEM Hold
Firth Park Ward
Samuel Robert Bray (Conservative Party) 577
Ann Patricia Kingdom (Liberal Democrats) 287
Amy Catherine Mack (Green Party) 478
Ablisam Mohamed (Labour Party) 1931
LABOUR Hold
Fulwood Ward
Judy Burkinshaw (Conservative Party) 870
Dominic Miles Ridler (Labour Party) 1488
Judith Fiona Rutnam (Green Party) 805
Cliff Woodcraft (Liberal Democrats) 3365
LIB DEM Hold
Gleadless Valley Ward
John Dryden (Liberal Democrats) 396
Keith Raymond Endean (Trade Unionist and Socialist Coalition) 78
Marv Hollingworth (UKiP) 263
Cate McDonand (Labour Party) 2126
Matthew Rowland (Conservative Party) 334
Paul Christopher Turpin (Green Party) 1715
LABOUR Hold
Graves Park Ward
Steve Ayris (Liberal Democrats) 2246
Angela Jayne Clemson (Green Party) 775
Mark Thomas Finney (Conservative Party) 559
Mark Seddon (Labour Party) 1747
John Gordon Thurley (Democrats and Veterans Party) 108
LIB DEM Hold
Hillsborough Ward
Christine Gilligan Kubo (Green Party) 967
Jonathan Graham Harston (Liberal Democrats) 610
Connor Innes (Conservative Party) 584
Roan Alexander James (Trade Unionist and Socialist Party) 51
Josie Paszek (Labour Party) 2191
Karen Margaret Waddicar (UKiP) 277
LABOUR Hold
Manor Castle Ward
Jack Carrington (Yorkshire Party) 268
Terry Fox (Labour Party) 1626
David Thomas Gregg (Liberal Democrats) 152
Malcolm David Liles (Green Party) 508
Thomas Jack Ridgway (Conservative Party) 332
Alistair Tice (Trade Unionist and Socialist Coalition) 64
LABOUR Hold
Mosborough Ward
Gail Smith (Liberal Democrats) 1788
Andrew David Taylor (Conservative Party) 499
Julie Anne White (Green Party) 153
Adam Wood (UKiP) 225
Sarah Louise Young (Labour Party) 1615
LIB DEM Hold
Nether Edge and Sharrow Ward
Joseph Matthew Busby (Conservative Party) 213
Kyle John Crossland (Liberal Democrats) 285
Nadia Jama (Labour Party) 2503
Jeffrey Stephen Shaw (UKiP) 52
Alison Clare Teal (Green Party) 3896
GREEN Hold
Richmond Ward
David Frederick Chapman (Liberal Democrats) 290
Benjamin Dugher (Conservative Party) 805
Catherine Sarah Hartley (Green Party) 511
Peter Rippon (Labour Party) 1819
LABOUR Hold
Shiregreen and Brightside Ward
Tracy Elizabeth Booker (UKiP) 405
Edward Peter Davey (Conservative Party) 401
Alex Eagle (Liberal Democrats) 176
Milton John Pennefather (Green Party) 194
Garry David Weatherall (Labour Party) 1879
LABOUR Hold
Southey Ward
Charles Blatt (Conservative Party) 377
Philip Brown (Liberal Democrats) 217
Jayne Patricia Dunn (Labour Party) 1601
Andrew Philip Hands (Green Party) 279
Shane Harper (UKiP) 322
Jeremy John Short (Trade Unionist and Socialist Coalition) 46
LABOUR Hold
Stannington Ward
Miriam Joy Cates (Conservative Party) 898
Stewart John Clifford Kemp (Green Party) 573
Vickie Priestley (Liberal Democrats) 2528
Joshua Joseph Wilson (Labour Party) 1222
LIB DEM Hold
Stocksbridge and Upper Don Ward
Andrew Stephen Brooker (Conservative Party) 1103
Francyne Edith Johnson (Labour Party) 1814
Tim Lewis (Liberal Democrats) 591
William Pitt (Yorkshire Party) 405
Graeme Boyd Waddicar (UKiP) 547
David Willington (Green Party) 409
LABOUR Hold
Walkley Ward
Rebecca Rachael Louise Atkinson (Liberal Democrats) 594
Jack Bannan (Yorkshire Party) 183
Ann Butler (Women's Equality Party) 162
Matthew Fender (Conservative Party) 418
Neale Gibson (Labour and Co-operative Party) 2316
Bernard James Little (Green Party) 1593
Victoria Judith Wainwright (Trade Unionist and Socialist Coalition) 56
LABOUR Hold
West Ecclesfield Ward
Mike Levery (Liberal Democrats) 1881
Kevin John Mahoney (Conservative Party) 505
Dave Ogle (Independent) 862
Jemima Alice Perry (Green Party) 175
Zoe Sykes (Labour Party) 1314
LIB DEM Win
Woodhouse Ward
William James Blyth (Conservative Party) 713
John Francis Grant (Green Party) 476
Chris Tosseano (Liberal Democrats) 202
Paul Wood (Labour) 1994
LABOUR Hold
By N Walayat
Copyright © 2005-2018 Marketoracle.co.uk (Market Oracle Ltd). All rights reserved.
Disclaimer: The above is a matter of opinion provided for general information purposes only and is not intended as investment advice. Information and analysis above are derived from sources and utilising methods believed to be reliable, but we cannot accept responsibility for any trading losses you may incur as a result of this analysis. Individuals should consult with their personal financial advisors before engaging in any trading activities.
© 2005-2019 http://www.MarketOracle.co.uk - The Market Oracle is a FREE Daily Financial Markets Analysis & Forecasting online publication.

Only logged in users are allowed to post comments.
Register/ Log in