SP500 Stock Market Sell Off Well Forecast by President Trump
Stock-Markets
/
Stock Markets 2018
Oct 11, 2018 - 05:48 PM GMT


TRUMP said 'we may have to take a hit!. No kidding, with stocks at extreme all time highs, add on the trade wars and you are surely to upset the worlds demand engine (i.e China). Of course you can not change anything with out breaking a few conventions, therefore investors can not be blind to changes in asset prices as president Trump made his intentions very clear. An investor must understand how the markets work, we know algo's work the intra-day market to the upside and after the SP500 95 pt sell off today it looks like they work to the down side. Plus Mr Market wants to find out the level of Powell 'fed put' is. Is it like Mrs Yellen at -10% ? Or is much lower. The things we are about to learn! Maybe the SP500 sell off is the Democrats move against the US president, as he has owned the 2018 rally? If it is President Trump warned all investors on June 4th 2018
.."I'm not saying there won't be a little pain so we might lose a little of it but we're going to have a much stronger country when we're finished, and that's what I'm all about."..
Knock on effects of a SP500 sell off greater than -12% are: 1) Pensions risk. 2) The debt on share buy backs risk. 3) US Govt tax receipts via capital gains risk. 4) Allows a transfer of funds from
stocks to bonds
. 5) Will quantitative tightening turn into quantitative easing? Now for those over 40 years of age, (like the author), you know this market is just 'Nuts' and exponential upwards markets always (not some, but all) end the same way.
Like the soldiers at Bastogne during WW2 the only way Mr Market can be rescued is by General 'Fed' Powell's QE4 (a maybe). A reminder, remember Bitcoins exponential rally: $5000, $10,000, $15,000 on its way to $100,000. It too succumbed to market laws and a +50% correction followed. Folks this is normal. Individual stocks may retrace +50%, but do not worry the central planners will do all they can to slow down and limit leading indexes corrections. Below we have Apple, Amazon and Bitcoin with Gann Angles applied. Gann angles show time and price performance: how many units of price and time represent trend action. Then you add Fibonacci arcs to measure future resistance levels, nice, know you have an excellent 'tell me no lies' indicator. A good market bet: Eventually Amazon and Apple will succumb to market laws and correct substantially. Is it today, who knows, we wait for more evidence to arrive on the chart to decide that!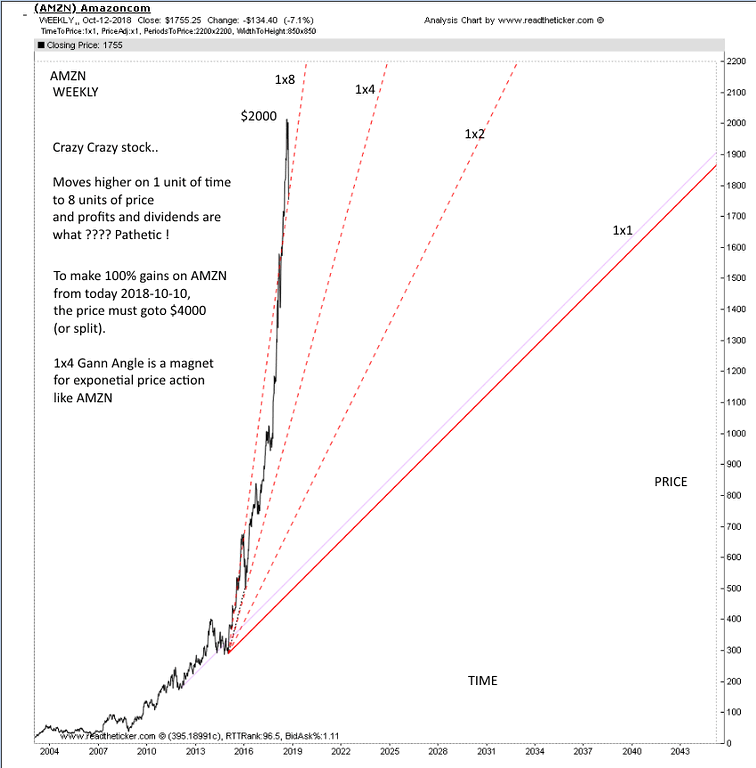 and ...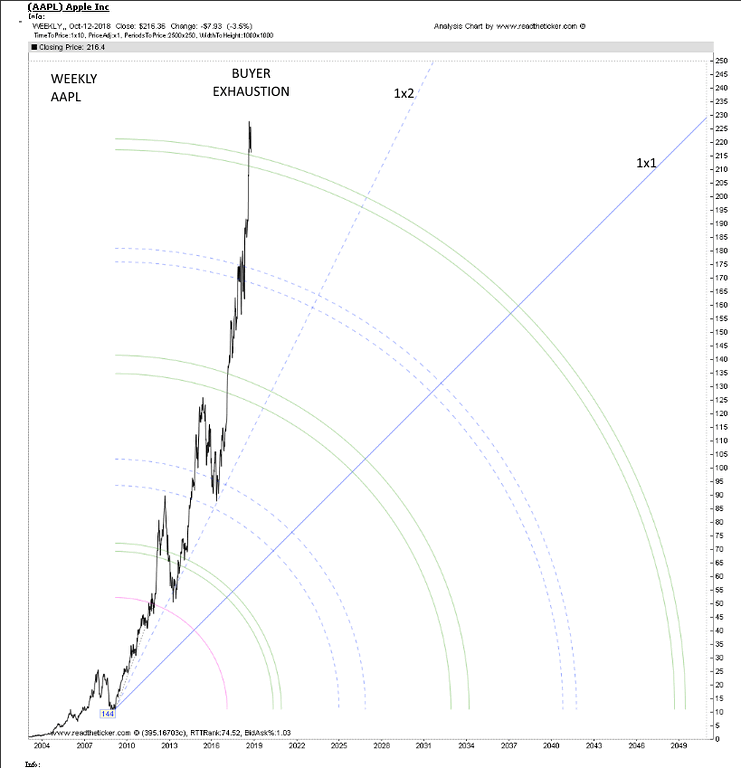 and ...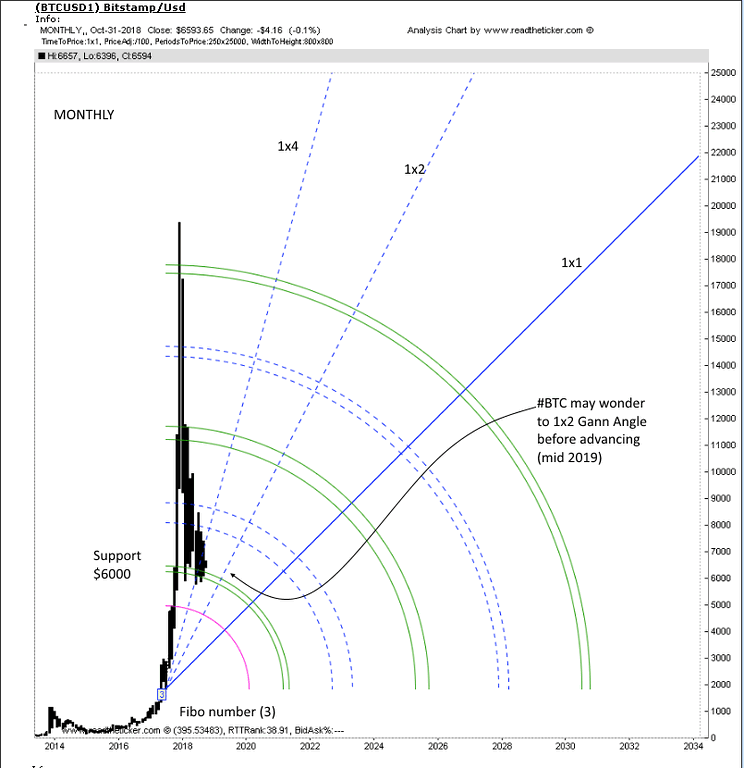 Fundamentals are important, and so is market timing, here at readtheticker.com we believe a combination of
Gann Angles
,
Cycles
,
Wyckoff
and
Ney
logic is the best way to secure better timing than most, after all these methods have been used successfully for 70+ years. To help you applying Richard Wyckoff and Richard Ney logic a wealth of knowledge is available via our
RTT Plus
membership.
NOTE: readtheticker.com does allow users to load objects and text on charts, however some annotations are by a free third party image tool named Paint.net
Investing Quote...
.."Without specific, clear, and tested rules, speculators do not have any real chance of success".. Jesse Livermore .."Money couldn't buy friends, but you got a better class of enemy".. Spike Milligan .."If you have trouble imagining a 20% loss in the stock market, you shouldn't be in stocks".. John (Jack) Bogle .."Look at market fluctuations as your friend rather than your enemy; profit from folly rather than participate in it".. Warren Buffett .."The first rule is not to lose. The second rule is not to forget the first rule" Warren Buffett
NOTE: readtheticker.com does allow users to load objects and text on charts, however some annotations are by a free third party image tool named Paint.net
Readtheticker
My website: www.readtheticker.com
We are financial market enthusiast using methods expressed by the Gann, Hurst and Wyckoff with a few of our own proprietary tools. Readtheticker.com provides online stock and index charts with commentary. We are not brokers, bankers, financial planners, hedge fund traders or investment advisors, we are private investors
© 2018 Copyright readtheticker - All Rights Reserved
Disclaimer: The material is presented for educational purposes only and may contain errors or omissions and are subject to change without notice. Readtheticker.com (or 'RTT') members and or associates are NOT responsible for any actions you may take on any comments, advice,annotations or advertisement presented in this content. This material is not presented to be a recommendation to buy or sell any financial instrument (including but not limited to stocks, forex, options, bonds or futures, on any exchange in the world) or as 'investment advice'. Readtheticker.com members may have a position in any company or security mentioned herein.
© 2005-2019 http://www.MarketOracle.co.uk - The Market Oracle is a FREE Daily Financial Markets Analysis & Forecasting online publication.

Only logged in users are allowed to post comments.
Register/ Log in