UKIP Racists Infiltrating Brexit Party Will Kill it Electorally as they did UKIP
Politics
/
BrExit
Jun 03, 2019 - 10:34 AM GMT

UKIP is DEAD! Electorally speaking as first the local election results and then the European Elections showed a total collapse of their vote to just 4%, losing all 24 of their MEP's as Gerard Battens embrace of the likes of Tommy "Fake Name" Robinson killed the party. Whilst TR himself only managed to scrape the bottom of the barrel with just 2% of the vote in the North West region. Basically UKIP and TR only got the perma BNP vote.
Brexit Party 29
Lib Dems 16
Labour 10
Conservatives 4
Green 7
Change 0
SNP 3
UKIP 0
Plaid Cymru 1
None of this will come as news to my readers for I warned months ago that Gerard Battens embrace of the far right had all but killed UKIP which sowed the seeds for REMAIN to win a second referendum as one of the primary pillars of the 2016 LEAVE vote had been destroyed, which at the time it was early days to see if the newly formed Brexit Party will be able to fill the void and win it for LEAVE.
29 Mar 2019 - UK INDEPENDENCE DAY CANCELLED! As Westminster SUBVERTS BREXIT!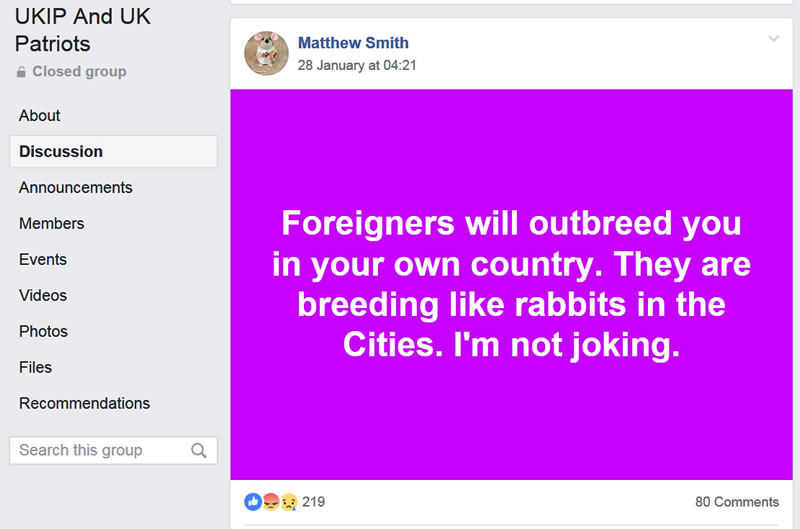 Apparently UKIP / BNP 2.0 have a particular hatred of London's Lord Mayor, Saddique Khan.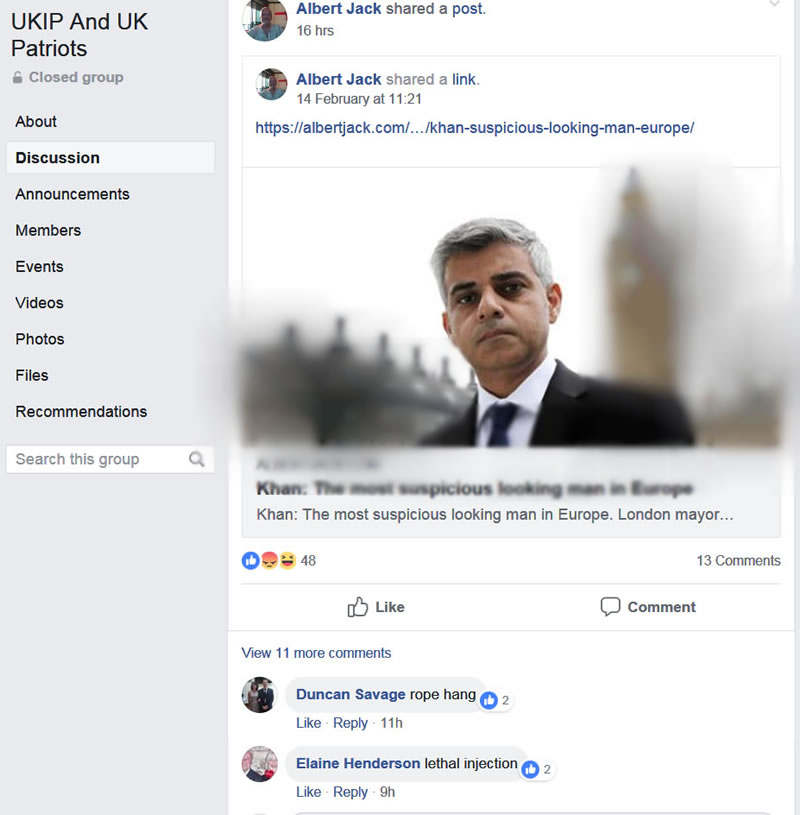 Where an increase in security around mosques in the wake of the terror attack was met with comments such as :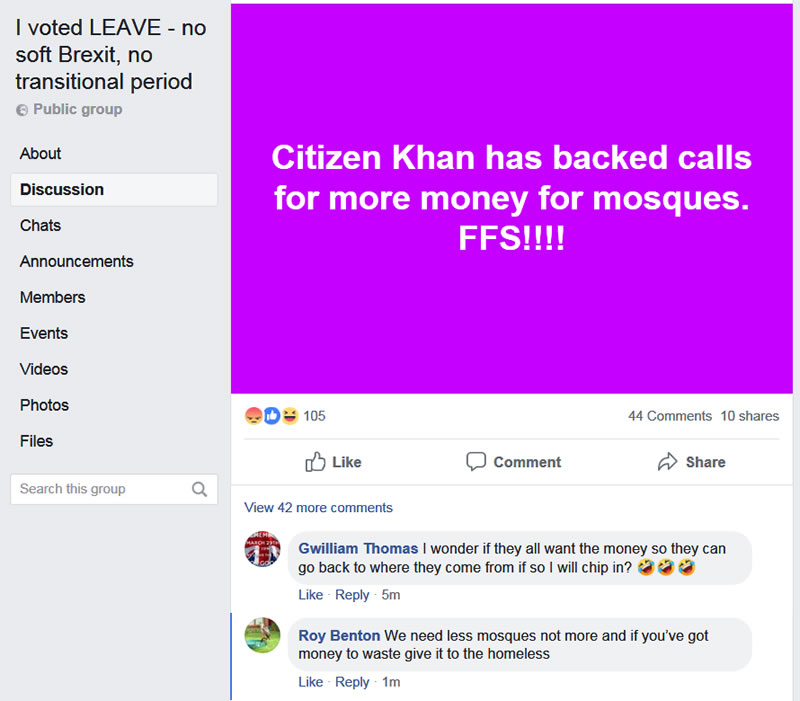 The fundamental error that UKIP and similar right wing Brexit campaign groups are making is that by embracing the likes of Tommy Robinson they now solely appeal to die hard right wing Brexiteers, who are just a small minority of those who voted LEAVE. Instead elections are WON at the MARGINS and where the EU referendum is concerned, given its binary choice had a huge margin of 4 million voters, likely none of whom are far right so UKIP and Tommy Robinson have effectively now KILLED the chances of LEAVE winning a Second EU Referendum.
For instance 40% of British muslims (900,000) voted to LEAVE and thus swinging the outcome FOR Brexit as the swing from REMAIN to LEAVE was just 625,000 votes. I am sure many Brexit voting muslims are now watching the antics of UKIP and Tommy Robinson and be feeling themselves akin to having been Turkeys voting for Christmas! And this is just one example of what could turn into a rout of several million voters towards REMAINs favour.
In the wake of the European Elections the UKIP supporting facebook groups like their party are dying. However hundreds of thousands of racists have been on a search for a new home which given what I have increasingly been seeing on Brexit Party facebook groups that I am a member of are clearly infiltrating and highly vocally seeking to destructively takeover the Brexit Party!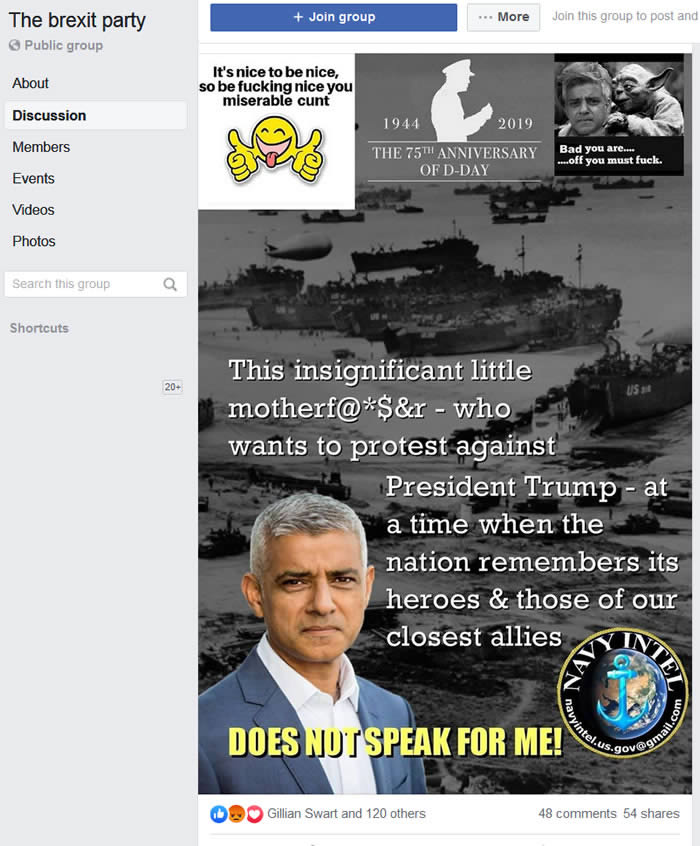 Therefore just as I warned many months ago that UKIP's embrace of the far right had killed UKIP electorally, thus I am now warning the Brexit Party could face a similar fate if they don't eject racist Islamophobia nutters form their midst's! the Brexit party needs to take a hard line else their recent electoral success could prove highly transitory, just as they are preparing to storm the next General election as they did the European Elections.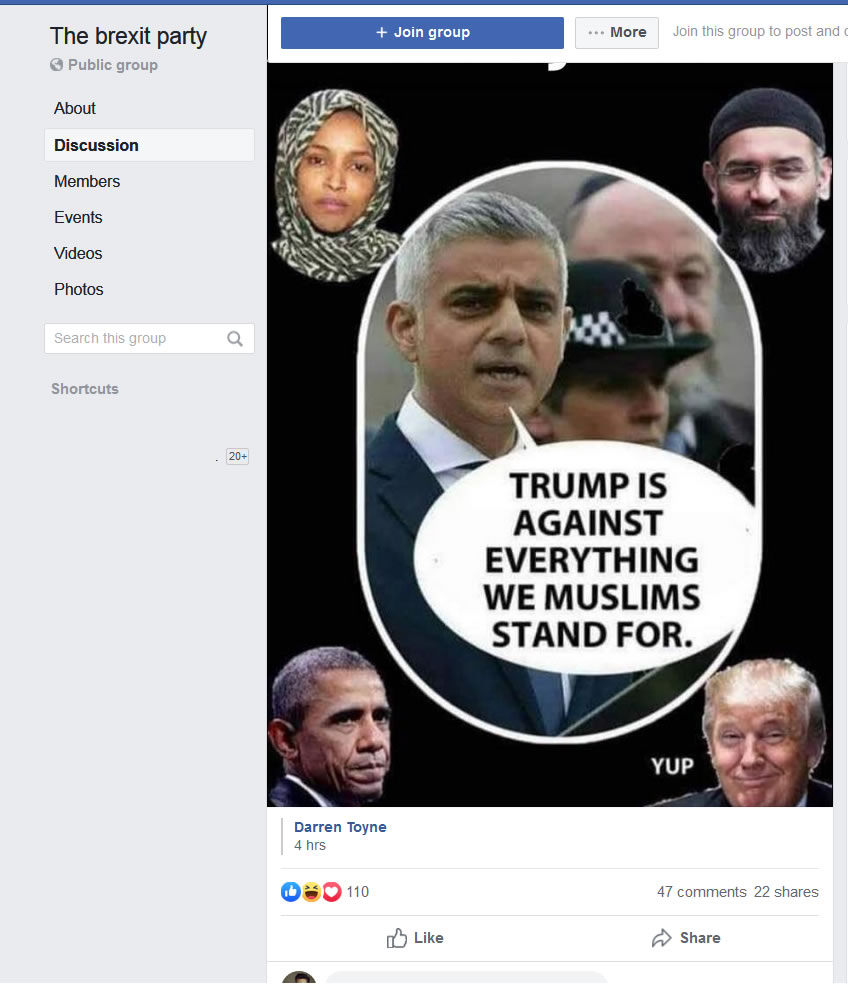 So what does one do as a firm Brexit party supporter that is seeing the Brexit party supporting groups being infiltrated by racists who in their blind hatred are going to destroy the Brexit Party just as they did UKIP. For a while I tried arguing with the racists but just like any religious nut jobs there is no point in arguing with those that hate with a vengeance. So I basically wasted several weeks ridiculing and arguing that they are killing rather than helping Brexit as they give the opponents of Brexit ammunition to use against the Brexit cause, I finally gave up and reluctantly left the Brexit Party facebook group that was increasingly being infiltrated by UKIP / BNP racists.
So my solution is to create my own racism free Brexit Party facebook group! Where anyone hurling abuse at any segment of the British population will find themselves muted until they work in the best interests of the Brexit Party or leave the group.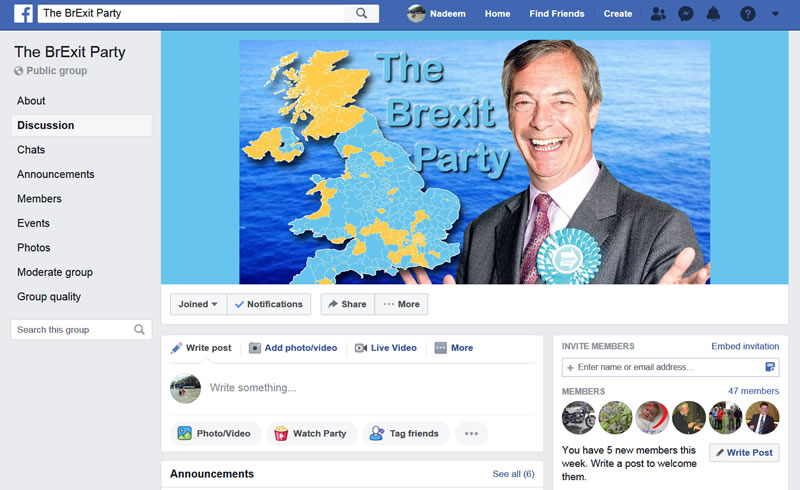 So come join me in the Brexit Party group https://www.facebook.com/groups/TheBrexitParty/ and we along with Nigel Farage can help make Britain LEAVE the EU and make Britain Great Again all without picking on segments of the population on the basis of their religion, race, or gender.
By Nadeem Walayat
Copyright © 2005-2019 Marketoracle.co.uk (Market Oracle Ltd). All rights reserved.
Disclaimer: The above is a matter of opinion provided for general information purposes.
© 2005-2022 http://www.MarketOracle.co.uk - The Market Oracle is a FREE Daily Financial Markets Analysis & Forecasting online publication.

Only logged in users are allowed to post comments.
Register/ Log in