Stock Market Meltdown On Bailout Rejection
Stock-Markets
/
Stocks Bear Market
Sep 30, 2008 - 08:33 AM GMT


I'm writing this around 6:00 AM and the market futures are up this morning following yesterday's 777 point drubbing of the DOW, which came after the House of Representatives voted no against the Wall Street bailout package. We are in a pure crash mode in the market. After the close yesterday I looked at the internal figures and 97% of the volume on the Nasdaq was to the downside - that's a figure I never have seen before.
On the national news last night there was talk of expecting a crash today. And of course we've heard doom and gloom pronouncements by President Bush, Treasury Secretary Paulson, and Ben Bernanke that if their bailout for Wall Street wasn't passed there would be a stock market crash and massive bank failures.
Today there is a story on CNBC that Congressional leaders are going to try to work together a revised bailout plan and bring it up to vote. That has the market futures up this morning.
I find this very disappointing. I lost some money yesterday due to the drop in the market. I went long a S&P 500 ETF before the vote on the bill and then ended up selling it for a loss moments after the vote, but I had never been more happy to lose money in the market.
You see I do not believe that we are on the edge of a total collapse. Some key credit barometers, although at fear levels, are actually below the point that they were the other week. For instance the yield on the 3-month Treasury bill is above its low of the other week. I take this as a positive, because if we were really on the verge of a total banking collapse then you would think this would not be the case. It makes me think that this crisis is not as bad as the bailout creators have warned.
Secondly, if the market continues to drop from here we will get a real end to this bear market and a cleansing for the economy that will set the stage for true sustainable and healthy economic growth. Yes it will be tough times for another year for the economy and it would mean lower stock prices in the short-term, but I much rather take this kind of medicine now than have this economic mess continue for another five or ten years and end with a possible hyperinflationary collapse in the dollar. What could lie at the end of a bailout that could means trillions of dollars added to the deficit is a hell worse than what happened in the Great Depression.
The debts for the bailouts so far add up to $1.6 trillion dollars. That is 12 percent of GDP. The current account deficit stands right now at 6.7 percent. In the next two years both figures would likely double if the bailout package had passed. That trend would cause the dollar to drop in value and would bring us to the edge of a bull blown dollar crisis - if not into one. Instead of the banks going down it would be the value of the dollar that implodes - and that would totally wipe out your savings.
No we don't need a bailout. And if you opposed the bailout then you need to call your Congressman right now. Find out how he or she voted and if they voted against the bailout congratulate them and tell them to continue to resist the agents of Wall Street. Buck them up. They will need it in the next few days if the House leadership brings the bailout plan up again for vote.
If you are worried about the market crashing and wiping you out you are actually being too pessimistic. When I looked over the charts last night I saw the light at the of the tunnel - the end of the bear market.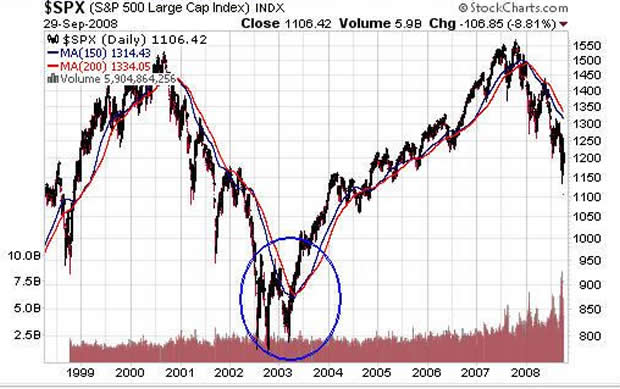 Last night I said to myself to just forget about the news and look at the charts to figure out where we could go. Well, the market drop is certainly picking up and suggests that we on the verge of a mini-crash. Crashes come when selling gets out of control despite signs up pure panic in the market. The VIX for instance is in the 40's - a sign that there is pure panic in the options market. Internal indicators show extreme selling. By these indicators there is so much fear in the market that it should bottom right now - if it doesn't then the selling would get out of control and morph into a crash with a few more days like what we saw yesterday.
But if that were to happen we would actually see an end to the bear market! We would see a drop similar to what we saw in the summer of 2002 when the Enron and WorldCom news broke and caused huge selling that marked the end of the 2000-2002 bear market. Right now such a selling climax would probably take us to the 950-1000 area of the S&P 500, but such a drop would most likely bring us to the end of the bear market. From there I would expect something similar to what happened after the 2002 bottom to occur - a big counter rally back up and then a retest of the low. We would then see a few months of sideways action and the start of a new bull market sometime next year.
This is what the market would do without a bailout - it would fall another 10% or so - but then bottom and go into a sideways consolidation range that would set the stage for a new bull market.
Personally I much rather see this happen than see a bailout.
If we get a bailout then we'll have a rally here that we really won't be able to trust. Every rally we've have seen the October 2007 top has occurred due to government intervention and each has failed.
A natural bottom would give us a real bottom.
An artificial bottom simply helps bankers, prolongs the agony of this bear market, and will bring us to a full blown dollar crisis down the road, which will be worse to live through than a credit crunch.
Two hundred of the nation's economists wrote a letter opposing the plan, including former FDIC Chairman William Isaac, but of course you won't hear this on CNBC.
We need a real natural bottom. And if the bailout isn't brought back up and/or we see continued big selling in the market in the following days don't be afraid. I know there would be panic on TV and more cries for a bailout and it'll look scary, but if you ignore the fear you'll know that what you are seeing is a process that will take us to the end of this bear market.
There is light at the end of this tunnel as long as the government doesn't shut the door so that some bankers don't have to realize their losses like grownups.
Call your Congressman to keep it open. Congress voted no against the wishes of the banking lobbies, the President, and the Senate and House leadership that is owned by the banks. They did so because of the voice of the American people. It is proof that we still live in a Democracy. It shows that your voice can count if you use it. You can protect your children and grandchildren and ensure that their generations aren't saddled by debts that they will never pay thanks to the greed of the Wall Street bankers. You can protect the value of your own savings and dollars. You can stand up and act now.
As you know on Wednesday October 1st 12 noon EST I will make available 300 spots for the WSW Power Investor Service. The signup page will be available to you until those 300 spots are gone or four days pass. I'm really curious to see which happens first. The whole thing could sell out in an hour or just stay open 48 hours. Maybe it will take the full four days. It's anybody's guess.
I put up a video yesterday with some more details about the Power Investor service. I think you'll enjoy it. To watch it go here .
By Michael Swanson
WallStreetWindow.com
Mike Swanson is the founder and chief editor of WallStreetWindow. He began investing and trading in 1997 and achieved a return in excess of 800% from 1997 to 2001. In 2002 he won second place in the 2002 Robbins Trading Contest and ran a hedge fund from 2003 to 2006 that generated a return of over 78% for its investors during that time frame. In 2005 out of 3,621 hedge funds tracked by HedgeFund.Net only 35 other funds had a better return that year. Mike holds a Masters Degree in history from the University of Virginia and has a knowledge of the history and political economy of the United States and the world financial markets. Besides writing about financial matters he is also working on a history of the state of Virginia. To subscribe to his free stock market newsletter click here .
Copyright © 2008 Michael Swanson - All Rights Reserved.
Disclaimer - WallStreetWindow.com is owned by Timingwallstreet, Inc of which Michael Swanson is President and sole shareholder. Both Swanson and employees and associates of Timingwallstreet, Inc. may have a position in securities which are mentioned on any of the websites or commentaries published by TimingWallStreet or any of its services and may sell or close such positions at any moment and without warning. Under no circumstances should the information received from TimingWallStreet represent a recommendation to buy, sell, or hold any security. TimingWallStreet contains the opinions of Swanson and and other financial writers and commentators. Neither Swanson, nor TimingWallstreet, Inc. provide individual investment advice and will not advise you personally concerning the nature, potential, value, or of any particular stock or investment strategy. To the extent that any of the information contained on any TimingWallStreet publications may be deemed investment advice, such information is impersonal and not tailored to the investment needs of any specific person. Past results of TimingWallStreet, Michael Swanson or other financial authors are not necessarily indicative of future performance.
TimingWallStreet does not represent the accuracy nor does it warranty the accuracy, completeness or timeliness of the statements published on its web sites, its email alerts, podcats, or other media. The information provided should therefore be used as a basis for continued, independent research into a security referenced on TimingWallStreet so that the reader forms his or her own opinion regarding any investment in a security published on any TimingWallStreet of media outlets or services. The reader therefore agrees that he or she alone bears complete responsibility for their own investment research and decisions. We are not and do not represent ourselves to be a registered investment adviser or advisory firm or company. You should consult a qualified financial advisor or stock broker before making any investment decision and to help you evaluate any information you may receive from TimingWallstreet.
Consequently, the reader understands and agrees that by using any of TimingWallStreet services, either directly or indirectly, TimingWallStreet, Inc. shall not be liable to anyone for any loss, injury or damage resulting from the use of or information attained from TimingWallStreet.
© 2005-2019 http://www.MarketOracle.co.uk - The Market Oracle is a FREE Daily Financial Markets Analysis & Forecasting online publication.

Only logged in users are allowed to post comments.
Register/ Log in