Stocks Secular Bear Market Immune to Bailout Government Manipulation
Stock-Markets
/
Stocks Bear Market
Oct 04, 2008 - 03:37 PM GMT


By every historical measure the equity markets slipped into a secular bear market in 2000. As a result, we began to see efforts by the powers that be to keep the market afloat. I have stated all along that manipulation, will ultimately not work. I have also stated all along that all this will do is make matters worse in the end. Well, I would think that everyone can now see, matters are indeed much worse. Yet, the Fed, the Treasury and the politicians continue to think that they can "fix" the problem by throwing more money at it. They do not understand that they can't "fix" this economic crisis. They also do not understand that it is their trying to "fix" things in the past that has created the current situation. All markets as well as the economy must both inhale and exhale. They are trying to prevent the exhaling and it ain't gonna work.


What we are dealing with is the wrath of Kondratieff Winter, which is about the purging of excess credit. Along with that comes deflation and along with that global stock markets enter into extended declines. Real estate declines, economic growth slows, commodities decline, bankruptcies accelerate as the excess credit is purged from the system, the banking system is shaken, the free market is blamed and we move toward national fascist political tendencies. We are now seeing each and every one of these symptoms of K-wave winter. For the record, I did not make up these symptoms to fit the current situation. I have original writings by Nikolai D. Kondratieff and the signs of K-wave winter were quoted from a book by David Knox Barker titled, The K-wave and was published in 1995. Don't think the powers that be aren't aware of Kondratieff Winter. They know full well what we are facing and that is why they have tried to hold back its wrath as diligently as they have, since 2001.
Now, from a Dow theory perspective, I have been saying that when the averages moved below their August 2007 secondary low points, on November 21, 2007, that under classical Dow theory a primary bearish trend change occurred. According to William Peter Hamilton, the great Dow theorist of the 1920's who called the 1929 top, said that when the averages move below their previous secondary low points the stock market barometer is forecasting stormy conditions. Interestingly enough, most major averages around the world also topped and entered into primary bearish trends in conjunction with this Dow theory primary trend change.
Let's now move to the Dow theory chart below. When the non-confirmation between the averages occurred in July, many insisted that that non-confirmation was bullish. I even read articles claiming that the primary trend was bullish in accordance to Dow theory. I have maintained that under orthodox Dow theory nothing has changed the primary bearish trend that was confirmed on November 21, 2007 and that the non-confirmation was merely a warning of a possible trend change, but that it was NOT in and of itself bullish. This has since proven correct. This topic was also addressed here in mid-September. There are many that view the Dow theory as some antiquated relic of the past that is no longer relevant. There are others that claim to be Dow theorists, yet they have never read the writings of our Dow theory founding fathers, which again were Charles H. Dow, William Peter Hamilton and Robert Rhea. Anyway, I guess my point here is that the Dow theory first signaled stormy conditions last November and it has proven correct once again. It has also helped me to guide my subscribers through this economic disaster and it is anything but an antiquated relic of the past. If someone says this, then they don't truly understand Dow theory.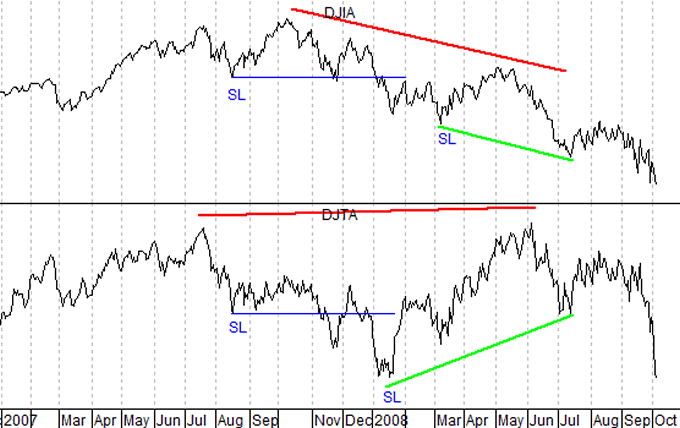 The great Dow theorists of the past also wrote about manipulation. The following text on this topic is by Robert Rhea:
"Manipulation is possible in the day to day movement of the averages, and secondary reactions are subject to such an influence to a more limited degree, but, the primary trend can never be manipulated.
Hamilton frequently discussed the subject of stock market manipulation. There are many who will disagree with his belief that manipulation is a negligible factor in primary movements, but it should always be remembered that he had, as a background for his opinions, a most intimate acquaintance with the veterans of Wall Street, and the advantage of having spent his life in accumulating facts pertaining to financial matters.
The following comment, taken at random from his many editorials, affords convincing proof that his views on the subject of manipulation did not vary:
'A limited number of stocks may be manipulated at one time, and may give an entirely false view of the situation. It is impossible, however, to manipulate the whole list so that the average price of 20 active stocks will show changes sufficiently important to draw market deductions from them.' (Nov. 29, 1908)
'Anybody will admit that while manipulation is possible in the day-to-day market movement, and the short swing is subject to such an influence in a more limited degree, the great market movement must be beyond the manipulation of the combined financial interests of the world.' (Feb.26, 1909)
'…the market itself is bigger than all the 'pools' and 'insiders' put together.' (May 8, 1922)
'One of the greatest of misconceptions, that which has militated most against the usefulness of the stock market barometer, is the belief that manipulation can falsify stock market movements otherwise authoritative and instructive. The writer claims no more authority than may come from twenty-two years of stark intimacy with Wall Street, preceded by practical acquaintance with the London Stock Exchange, the Paris Bourse and even that wildly speculative market in gold shares, 'Between the Chains,' in Johannesburg in 1895. But in all that experience, for what it may be worth, it is impossible to recall a single instance of a major market movement which depended for its impetus, or even for its genesis, upon manipulation.
These discussions have been made in vain if they have failed to show that all the primary bull markets and every primary bear market have been vindicated, in the course of their development and before their close, by the facts of general business, however much over-speculations or over-liquidation may have tended to excess, as they always do, in the last stage of the primary swing.' (The Stock Market Barometer) '…no power, not the U. S. Treasury and the Federal Reserve System combined, could usefully manipulate forty active stocks or deflect their record to any but a negligible extent.' (April 27, 1923)
'The average amateur trader believes the stock market is guided in its trends by a certain mysterious 'power,' this belief being the one factor, next to impatience, most responsible for his losses. He reads tipster sheets avidly; he scans the newspapers industriously for news likely, in his opinion, to change the trend of the market. He does not seem to realize that by the time the news of real importance is printed, its effect, so far as the basic trend of the market is concerned, has long ago been discounted.'
'It is true that a flurry in the price of wheat or cotton may influence the day to day movement of stock prices. Moreover, sometimes newspaper headlines contain news which is construed as bullish or bearish by market dabblers, who collectively rush in to buy or sell, thus influencing or 'manipulating' the market for a short period. The professional speculator is always ready to help the movement along by 'placing his line' while the little fellow timidly 'lays out' a few shares; then, when the little fellow decides to increase his commitments, the professional begins to unload and the reaction ends, and the primary movement is again resumed. It is doubtful if many of these reactions would ever be caused by newspaper headlines alone unless the market was either overbought or oversold at the time---the 'technical situation' so dear to the hearts of financial news reporters.'
'Those who believe the primary trend can be manipulated could, no doubt, study the subject for a few days and be convinced that such a thing is impossible. For instance, on September 1, 1929, the total market value of all stocks listed on the New York Stock Exchange was reported to have amounted to more than $89,000,000,000. Imagine the money which would have been involved in depressing such a mass of values even 10 per cent!'
Yes, it is true that this is not the early 1900's. We also know that today the Fed has more tools available to influence the market as well. But, at the same time the markets are much, much larger than they were in the early 1900's. So, even though the Fed has more tools available, this fact is over ridden by the fact that the market is now many, many times larger than it was then. Personally, I think that the powers that be helped to make matters worse by postponing the inevitable and that they are now facing checkmate because the die has now been pretty much cast.
I have begun doing free Friday market commentary that is available at www.cyclesman.com/Articles.htm so please begin joining me there. Should you be interested in more in depth analysis that provides intermediate-term turn points utilizing the Cycle Turn Indicator, which has done a fabulous job, on stock market, the dollar, bonds, gold, silver, oil, gasoline, and more, those details are available in the newsletter and short-term updates. I will also be covering the details on the dollar and commodities in the coming months as these developments unfold. A subscription includes access to the monthly issues of Cycles News & Views covering the Dow theory, and very detailed statistical based analysis plus updates 3 times a week.
By Tim Wood
Cyclesman.com
© 2008 Cycles News & Views; All Rights Reserved
Tim Wood specialises in Dow Theory and Cycles Analysis - Should you be interested in analysis that provides intermediate-term turn points utilizing the Cycle Turn Indicator as well as coverage on the Dow theory, other price quantification methods and all the statistical data surrounding the 4-year cycle, then please visit www.cyclesman.com for more details. A subscription includes access to the monthly issues of Cycles News & Views covering the stock market, the dollar, bonds and gold. I also cover other areas of interest at important turn points such as gasoline, oil, silver, the XAU and recently I have even covered corn. I also provide updates 3 times a week plus additional weekend updates on the Cycle Turn Indicator on most all areas of concern. I also give specific expectations for turn points of the short, intermediate and longer-term cycles based on historical quantification.
© 2005-2019 http://www.MarketOracle.co.uk - The Market Oracle is a FREE Daily Financial Markets Analysis & Forecasting online publication.

Only logged in users are allowed to post comments.
Register/ Log in