The Once in a Lifetime Stocks Bear Market
Stock-Markets
/
Stocks Bear Market
Oct 11, 2008 - 04:07 PM GMT

Why wasn't that a perfect reversal Jack? Because the advance decline line wasn't right. Slightly more losers than gainers on the Nas but 2/1 negative on the Nyse. You want 2/1 or 3/1 advancers to decliners. I know today seemed exciting with such a massive reversal but many stocks lagged badly and some were absolutely crushed. You won't see that when we make just the right reversal. The rally occurred for two reasons. Incredibly oversold and massive short covering ahead of the G7 meeting this weekend which will be a meeting to try and find more solutions for the current credit crisis. The shorts are afraid of them coming up with a solution that the market will like.


They figure, hey, I've made a lot of money being short, I can take profits here ahead of the big meeting. If nothing comes out of the meeting, nothing substantial that is, then the market will likely fall right back down early next week. They'll likely take more short positions and more folks will sell their stocks. Just because we got a nice rebound today does not mean the selling is over. I want all the right ingredients before entering back in again. I've learned over time that the market really doesn't change very much. It pretty much does what it's supposed to and that means all the right ingredients will be in place the day the market really bottoms for some time. It'll allow for one gorgeous counter trend rally that we can all enjoy but I feel today did not bring all the necessary ingredients together, sad as that may be. Close, but no cigar.
It's important to understand the depth of this bear market and why it already is different this time. We've had days of over 3000 new lows. We've had a record number of days on the Vix at levels never seen before in history. It's still very high. We've had a record level of losses in a very short period of time in terms of price. We have the worst bull bear percentage in terms of pessimism in history. We basically printed the highest level of the put call ratio you'll ever see. The list goes on and on and is seemingly endless. In other words, with all of these realities upon us daily, the market still can't rally.
It should already have long ago bottomed and a new bull begun but in this case, IT IS DIFFERENT THIS TIME!!! No matter what happens from here, it was different this time. There will always be something different in a persons lifetime that happens only once. You will never see anything like this again in your lifetimes but we are living it in the moment and we're all trying to figure out how to play it appropriately. There is also an anxiousness about getting in at the very bottom. We all want to do that. It's virtually impossible because we want to see a rally first that tells us we can nail this thing. This bear market is so bad and so different we have to be super sure before we get in. Even then there's no guarantee but you have to enter when all the signals come together and we will.
I think the roughest part of this bear has been the screaming shills on Cnbc and other financial stations but particularly Cnbc. They march out one money manager after another who has been just crushed and they have been telling you for the past 3000 points that it's fine to enter in the markets. That we have never seen a better buying opportunity. These shills have dragged in many that i know of and now they've gotten hurt for no good reason. These folks know how to sell themselves and can make some very strong cases for why we should all be listening to them. They don't really care about any of you but they'll do anything to get your dollars in to the market to help their cause.
I think, over the past month, that Cnbc has asked at least 100 of these people "has the bottom been seen"? "is it time to go back in"? I mean, how many times can you ask the same stupid question to everyone on your show? Only a few of them have said they weren't sure. If you hear it enough times and you're looking for some guidance, it's easy to follow their advice. After all, they are the experts, right? Yeah right!!!! I hope the majority of you have not been adversely affected by the inappropriate behavior of that station and others. Shameless!!!
There are no rules that say the bottom has to come the way I believe it will. With all the ingredients I have spoken about recently. It may have come today in a way I would never expect. That we have never seen before. This is a once in a lifetime bear and maybe it ends in a once in a lifetime way. I wouldn't bet too much on that. It really would be best to play this game in a way, based on the nastiness of this market, that says the waters can be tested. So what if we miss a little bit first in terms of up side. This bear is one mean beast. It has my full respect. I'm sure it has yours as well. Let's go about our business the right way.
Don't let today bother you. The Dow was up 300 with thirty minutes to go and then reversed down over 400. Also not what you'd see at a real bottom. Maybe we've seen the ultimate lows but that doesn't mean we won't get another strong test down that sets things up the way we'd all prefer.
Peace
Jack
Sign up for a free 30-day trial to Jack Steiman's SwingTradeOnline.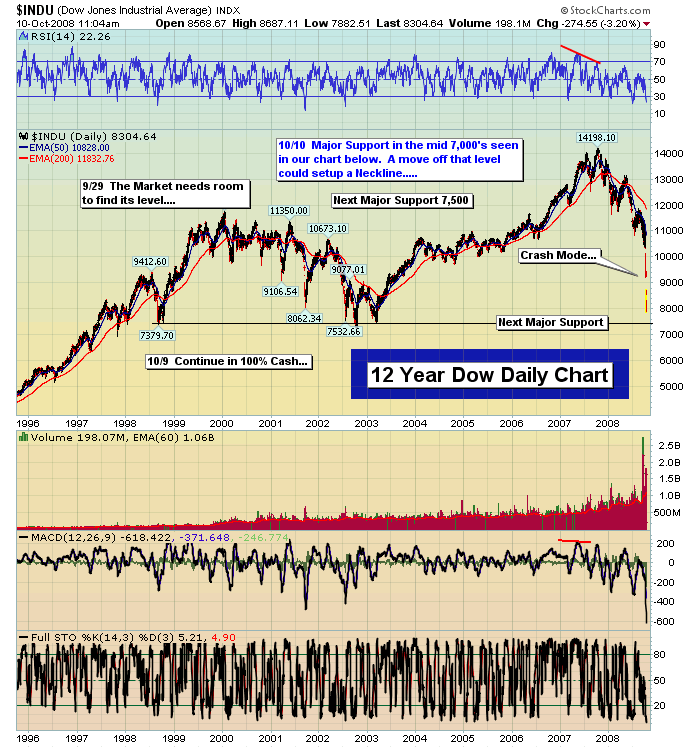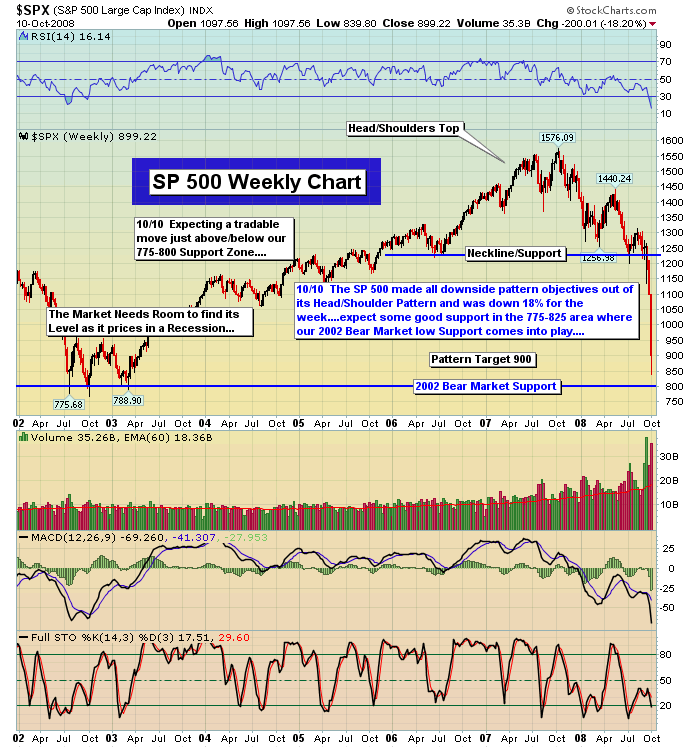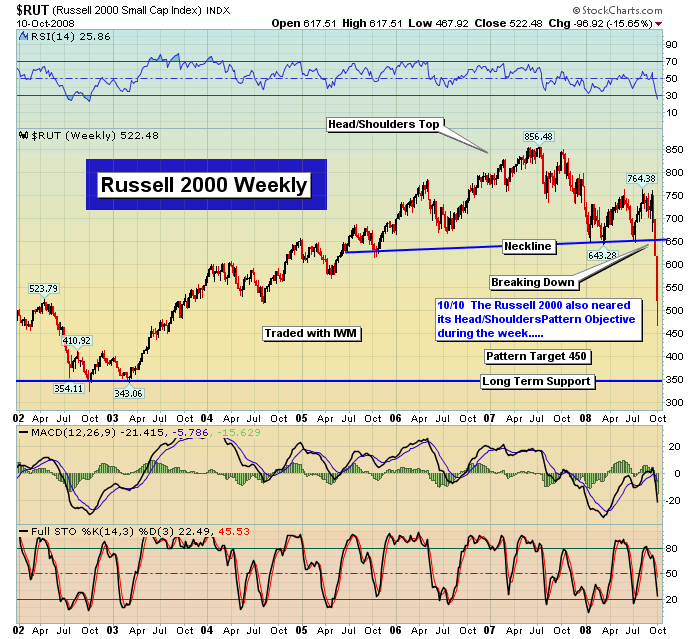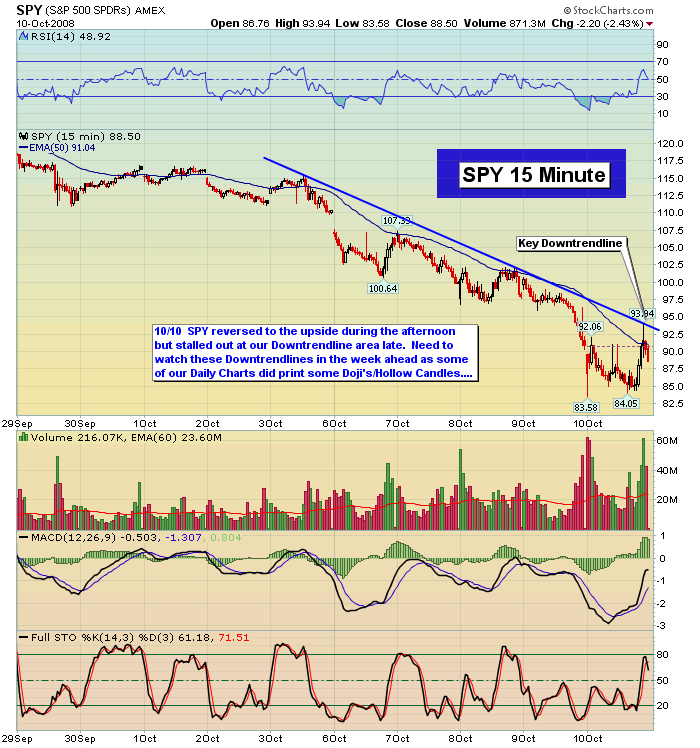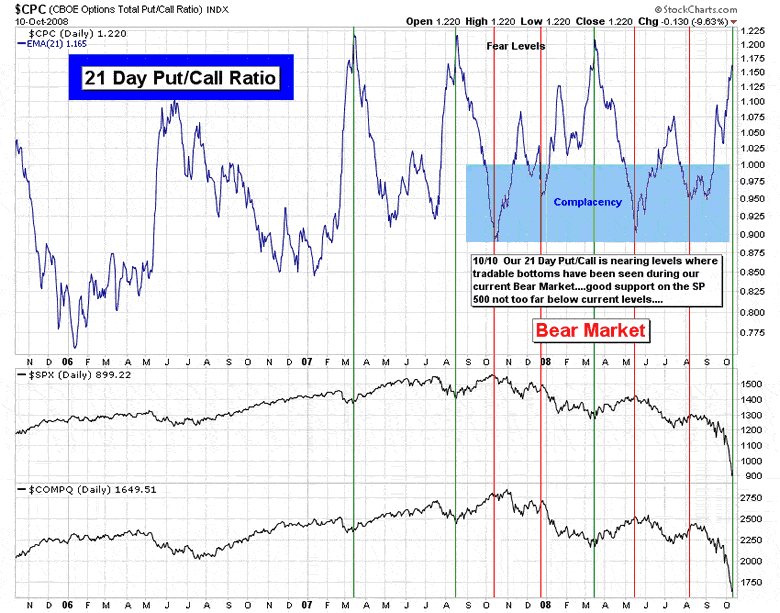 http://www.advicetrade.com/Wizards
© 2002-2008 MPTrader.com, Weekly Wizards an AdviceTrade publication. All rights reserved. Any publication, distribution, retransmission or reproduction of information or data contained on this Web site without written consent from MPTrader is prohibited. See our disclaimer.
© 2005-2019 http://www.MarketOracle.co.uk - The Market Oracle is a FREE Daily Financial Markets Analysis & Forecasting online publication.

Only logged in users are allowed to post comments.
Register/ Log in