The $126 Billion Gold Opportunity in Australia
Commodities
/
Gold and Silver Stocks 2020
Oct 27, 2020 - 11:44 AM GMT

The biggest banks in the world are eyeing gold prices of around $3,000 in just over a year. Former Citigroup billionaire Thomas Kaplan predicts $5,000 gold . And even without those predictions, the gold rush is on …
Miners are stampeding this single gold rush territory …
That's already produced over 40 million ounces of gold …
And still has an estimated 68 million+ ounces in the ground, ripe for the taking.
Three miners have already descended on the territory, and their success has by now reduced the upside.
But the fourth miner in the stampede has seen its shares surge 600%, perhaps because it's surrounded by major success stories, and there's a ton of potential upside left as it gets ready to drill in the world's No. 1 gold venue.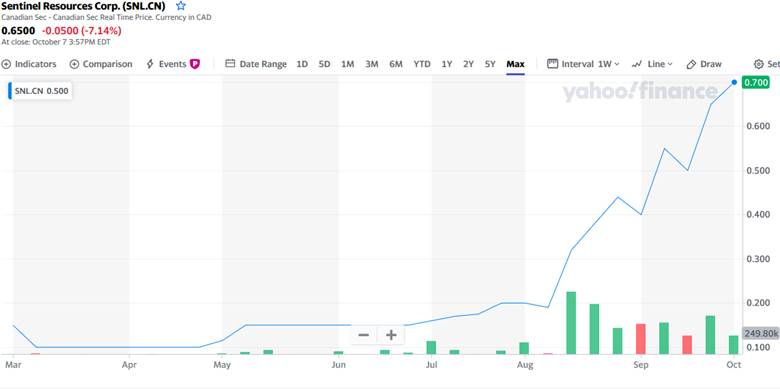 Source: https://ca.finance.yahoo.com/quote/SNL.CN/holders/
The 2020 gold rush scramble is going down in New South Wales (NSW) in southeast Australia, where the past-producing numbers are mouthwatering, and the untapped potential is even more so.
And the company that's surged 600% is Sentinel Resources Corp. a new Canadian-based explorer that's been hot on the acquisition trail, with one of the biggest names in junior mining behind it.

Here are 5 reasons why you should keep Sentinel Resources Corp. (CSE:SNL,OTC:SNLRF) on your radar:
#1 68 Million+ In Untapped Gold
New South Wales is a gold miner's underexplored dream. Past and present.
And the region's Victoria gold district is its shining star.
The first gold was found in NSW in 1823, and the first gold rush started in earnest in 1851.
Those explorers had pickaxes and shovels.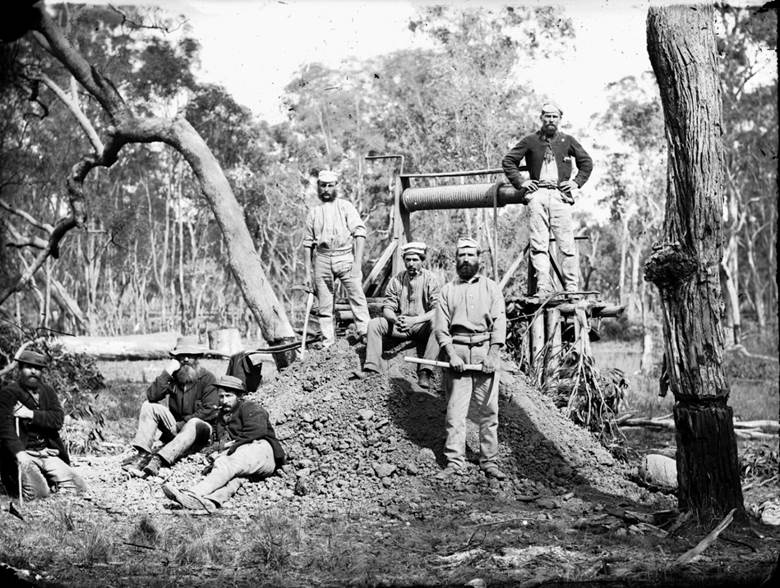 Source: https://www.sl.nsw.gov.au/stories/eureka-rush-gold
Since then, NSW has produced 40 million ounces of gold.
Today's explorers have advanced technology on their side.
And the potential is for nearly double 40 million ounces of gold because it's still wildly underexplored.
This is exactly where Sentinel has parked itself--in the heart of gold rush territory.
Sentinel's geography is as stunning as one would expect in this gold-rush region: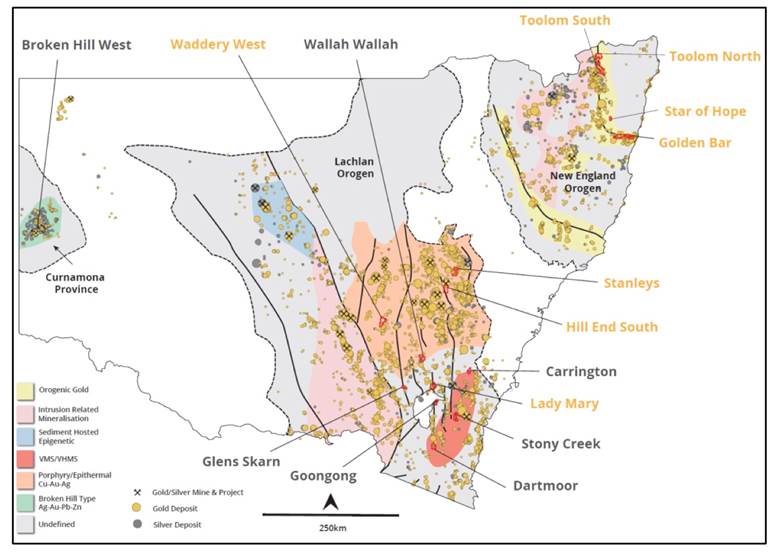 Source: https://secureservercdn.net/45.40.144.60/1hy.bea.myftpupload.com/wp-content/uploads/2020/10/SNL_Corp_Presentation-Oct-2020.pdf
And the company has 8 gold exploration projects in this district, covering a massive 94,500 hectares: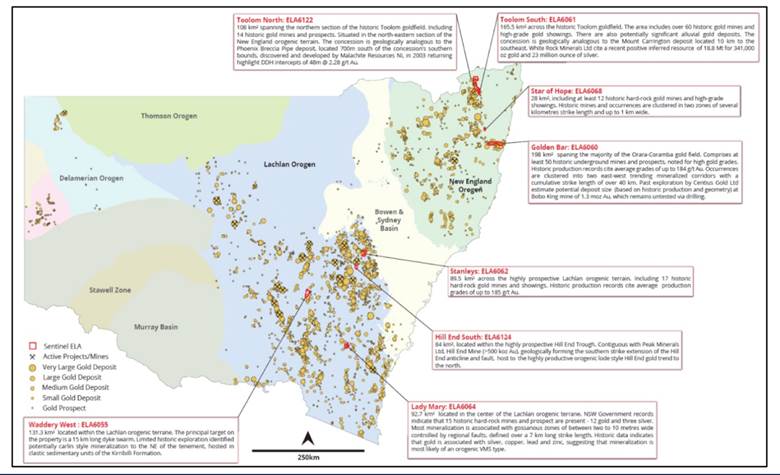 Source: https://secureservercdn.net/45.40.144.60/1hy.bea.myftpupload.com/wp-content/uploads/2020/10/SNL_Corp_Presentation-Oct-2020.pdf
The brilliant geography alone doesn't even tell half the story here: Almost 200 historical gold mines are spread across Sentinel's 8 gold projects.
And Sentinel's exploration licenses for all of these projects are strategically located in the best of the best geographies: The prolifically mineralized Lachlan, and the New England orogenic.
But that's just the gold.
Sentinel also has 7 silver exploration projects in the same area, covering 38,600 hectares. And once again, it's spread across past-producing territory with at least 23 historic silver and 3 historic gold mines and exploration prospects.
The Broken Hill Mine, which has produced 60 million ounces of silver, is right next door to Sentinel's assets.
And this is just one of many gold bonanzas in the area, including more than 7 million ounces from Mount Morgan and more than 3 million ounces from Queensland--just for starters. Significant gold resources have also recently been discovered at Gympie, Cracow, Tooloom and Mount Rawdon.
But again, geography--while breathtaking--is only part of this story …
Present-day "closeology" hits the point home:
#2 Surrounded by High-Grade Gold
Everyone's congregating in New South Wales, and the news flow has never been more exciting …
Foster South Exploration Limited (TSX.V:FSX) just announced multiple high-grade gold assays from its core drilling program at its Golden Mountain project.
Kirkland Lake Gold (TSX:KL) recently announced high-grade intersections at its Fosterville Swan Zone, a new exploration area of its Fosterville mine, the largest gold producer in the Australian state of Victoria.
Newcrest Mining (TSX:NCM) just set in motion the "execution" phase of its Cadia Mine Expansion project, one of the largest in Australia. This is one of the largest, lowest cost, long-life gold mines in the entire world.
And they're all flanking Sentinel's assets, potentially setting this junior company up for a huge win with each new discovery, each new high-grade assay and each new expansion development.
The number of gold deposits in the area is astounding ...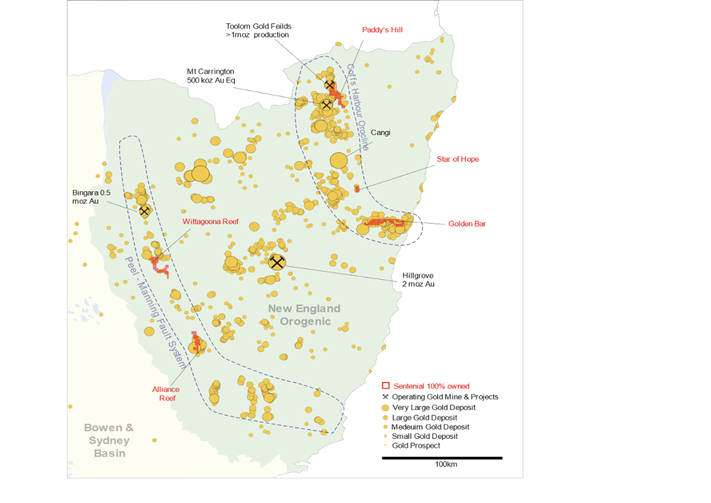 Source: https://secureservercdn.net/45.40.144.60/1hy.bea.myftpupload.com/wp-content/uploads/2020/10/SNL_Corp_Presentation-Oct-2020.pdf
And Sentinel (CSE:SNL,OTC:SNLRF) is right in the middle of it all.
Sentinel's Peel-Manning fault system project alone could be sitting on more than a million ounces of gold ...
That's gold with a retail value of nearly $2 billion at current gold prices of $1,915 per ounce.
And that's only one of 8 gold projects.
#3 One of the Biggest Names on the Junior Mining Scene
There's one name that helps de-risk this all: Dr. Chris Wilson, a high-success-rate explorer with as much experience in precious metals mining as it's possible to have.
Wilson has been a key force behind the exploration success of Foster South Exploration Limited.
Now, he's got his radar trained on Sentinel.
Dr. Wilson is a name connected with almost every major gold-mining success story you've heard in the past three decades--and particularly on the junior mining scene.
Among many others, Ivanhoe Mines should ring a bell. Dr. Wilson served as the head of exploration for this company for a decade, leading the company's Mongolia mining exploration covering a massive 11 million hectares.
He's viewed by some as the go-to expert for area selection, prospect generation and target generation, and his track record in large resource drilling is unparalleled.
He's worked on major projects in over 75 countries--and now he's jumping in on Sentinel's NSW exploration in a huge vote of confidence for investors.
And he's joined by another high-profile advisor to Sentinel--Karl Kottmeier, a force of nature on the TSX who's previously raised and managed over $200 million in equity capital for resource-based ventures, including Rockgate Capital Corp. and American Lithium.
Right now, with Wilson in a key advisory role, Sentinel is doing a high-tech evaluation of all 198 historic mines and prospects that run through its 8 gold projects.
Then, it will select the top 50% of those targets for Phase 2 exploration.
The remaining 50% will be considered for joint venture or other development.
In other words, Sentinel de-risks its projects by having an eclectic mix that diversifies its portfolio and minimizes risk, and with Wilson behind the target definition wheel, that de-risking spreads even further.
#4 The Gold Boost of the Century
This is the perfect moment for gold. An unprecedented pandemic-induced economic meltdown, a weakening dollar and the cobra effect of massive government stimulus has sent financial markets into a tailspin.
The fear index is at an all-time high.
The markets are frightened at the prospect of a potentially turbulent outcome to US presidential elections.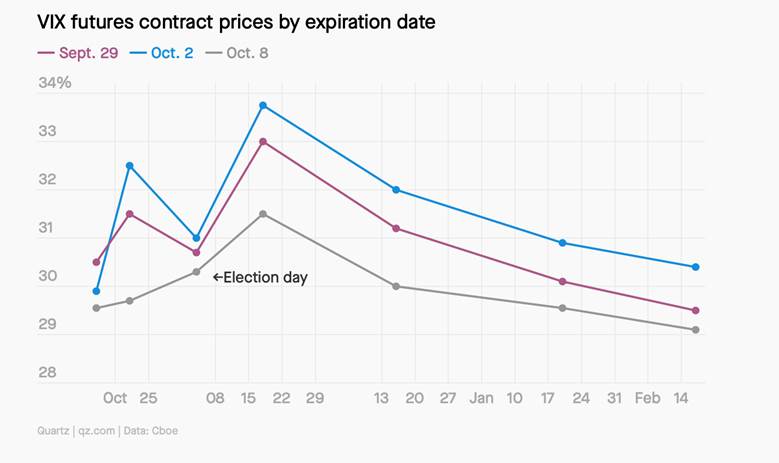 Source: https://qz.com/1910348/vix-index-shows-traders-expect-contested-us-presidential-election/
Gold is one of the only real safe havens.
That's why gold prices and mining stocks have gained 25%-35% in the ongoing maelstrom…
Bank of America Merrill Lynch says it expects gold to hit $3,000 by early 2022.
Billionaire Thomas Kaplan, founder of New York-based asset management firm Electrum Group, believes that $5,000 is in the crosshairs.
Indeed, the current gold setup looks very much like the one of the 1970s that triggered the biggest gold rally in history.
But this one might have an even more potent catalyst: A global pandemic and a Fed that has just handed gold investors the biggest gift ever. It's a "FAIT" accompli--a new monetary framework in process dubbed the "flexible average inflation targeting" strategy. In other words, when inflation undershoots its target in one period, the Fed will try to push inflation above the target in the next period to compensate for the previous shortfalls.
This means interest rates are likely to remain close to zero for longer, which gold investors absolutely love because gold is a hedge against inflation.
The biggest beneficiaries are the junior gold miners--the only place to bet on gold where investors can see real, millionaire-minting upside.
And junior miners could now be ready to outperform the market. Even short-sellers seem to be withdrawing.
Sentinel (CSE:SNL,OTC:SNLRF), sitting on so much prime gold acreage in the middle of a gold rush, could be well positioned to gain the most.
#5 Wildly Undervalued in the Middle of a Gold Rush
You get discount gold when you buy gold that's still in the ground in the form of an investment in a company that is sitting on potential gold worth multiple times its market cap. That discount grows even bigger when the price of gold soars.

Even after the mad rally, Sentinel has a market cap of approximately $15M.
That's absurd considering the incredible reserves they are potentially sitting on.
This company has purchased over 60 historic gold mines--all at once. They've packaged it all together in 8 major projects covering nearly 95,000 hectares. It's an unfathomable amount of acreage.
These 8 projects could be sitting on billions of dollars in gold. A thousand multiples above their market cap.
And if so, that's when you really get discount gold … When you don't even have to get the gold out of the ground. You get discount gold when you jump on a junior that could be about to make big headlines.
It's the equivalent of buying an entire gold rush in an area rich in gold that's only been explored with a pickaxe.

Right now, Sentinel (CSE:SNL,OTC:SNLRF) is identifying targets with new imaging technology and one of the biggest names in precious metals exploration.
The stock is already up 600% … and it only listed on the CSE in March 2020, right when the COVID-19 pandemic struck.
If only one of their historical mines hits… it could be front page financial news for this stock to explode many times over.
The New South Wales Gold Rush took place over 120 years ago… and was largely forgotten until this year. Now, it's on the cusp of making history again. This time, with high-tech exploration tools that might make the previous bonanza look like fool's gold.

`By. Nikki Olusha
IMPORTANT NOTICE AND DISCLAIMER
PAID ADVERTISEMENT. This article is a paid advertisement. GlobalInvestmentDaily.com and its owners, managers, employees, and assigns (collectively "the Publisher") is often paid by one or more of the profiled companies or a third party to disseminate these types of communications. In this case, the Publisher has been compensated by Sentinel Resources Corp. to conduct investor awareness advertising and marketing. Sentinel paid the Publisher to produce and disseminate five similar articles and additional banner ads at a rate of seventy thousand US dollars per article. This compensation should be viewed as a major conflict with our ability to be unbiased.
Readers should beware that third parties, profiled companies, and/or their affiliates may liquidate shares of the profiled companies at any time, including at or near the time you receive this communication, which has the potential to hurt share prices. Frequently companies profiled in our articles experience a large increase in volume and share price during the course of investor awareness marketing, which often ends as soon as the investor awareness marketing ceases. The investor awareness marketing may be as brief as one day, after which a large decrease in volume and share price may likely occur.
This communication is not, and should not be construed to be, an offer to sell or a solicitation of an offer to buy any security. Neither this communication nor the Publisher purport to provide a complete analysis of any company or its financial position. The Publisher is not, and does not purport to be, a broker-dealer or registered investment adviser. This communication is not, and should not be construed to be, personalized investment advice directed to or appropriate for any particular investor. Any investment should be made only after consulting a professional investment advisor and only after reviewing the financial statements and other pertinent corporate information about the company. Further, readers are advised to read and carefully consider the Risk Factors identified and discussed in the advertised company's SEC, SEDAR and/or other government filings. Investing in securities, particularly microcap securities, is speculative and carries a high degree of risk. Past performance does not guarantee future results. This communication is based on information generally available to the public and on interviews with company management, and does not contain any material, non-public information. The information on which it is based is believed to be reliable. Nevertheless, the Publisher cannot guarantee the accuracy or completeness of the information.
SHARE OWNERSHIP. The Publisher owns shares and/or stock options of the featured companies and therefore has an additional incentive to see the featured companies' stock perform well. The Publisher has no present intention to sell any of the issuer's securities in the near future but does not undertake any obligation to notify the market when it decides to buy or sell shares of the issuer in the market. The Publisher will be buying and selling shares of the featured company for its own profit. This is why we stress that you conduct extensive due diligence as well as seek the advice of your financial advisor or a registered broker-dealer before investing in any securities.
FORWARD LOOKING STATEMENTS. This publication contains forward-looking statements, including statements regarding expected continual growth of the featured companies and/or industry. The Publisher notes that statements contained herein that look forward in time, which include everything other than historical information, involve risks and uncertainties that may affect the companies' actual results of operations. Factors that could cause actual results to differ include, but are not limited to, changing governmental laws and policies impacting the company's business, the degree of success of identifying mineral-rich areas to explore, the degree of success of drilling excursions, geopolitical issues in the various parts of the world in which the company operates, the size and growth of the market for the companies' products and services, the ability of management to execute its business plan, the companies' ability to fund its capital requirements in the near term and long term, pricing pressures, etc.
INDEMNIFICATION/RELEASE OF LIABILITY. By reading this communication, you acknowledge that you have read and understand this disclaimer, and further that to the greatest extent permitted under law, you release the Publisher, its affiliates, assigns and successors from any and all liability, damages, and injury from this communication. You further warrant that you are solely responsible for any financial outcome that may come from your investment decisions.
TERMS OF USE. By reading this communication you agree that you have reviewed and fully agree to the Terms of Use found here http://GlobalInvestmentDaily.com/terms-of-use. If you do not agree to the Terms of Use http://GlobalInvestmentDaily.com/terms-of-use, please contact GlobalInvestmentDaily.com to discontinue receiving future communications.
INTELLECTUAL PROPERTY. GlobalInvestmentDaily.com is the Publisher's trademark. All other trademarks used in this communication are the property of their respective trademark holders. The Publisher is not affiliated, connected, or associated with, and is not sponsored, approved, or originated by, the trademark holders unless otherwise stated. No claim is made by the Publisher to any rights in any third-party trademarks.
© 2005-2019 http://www.MarketOracle.co.uk - The Market Oracle is a FREE Daily Financial Markets Analysis & Forecasting online publication.

Only logged in users are allowed to post comments.
Register/ Log in