What's Next For Gold Is Always About The US Dollar
Commodities
/
Gold and Silver 2021
Jul 22, 2021 - 02:18 PM GMT

Since the origin of the Federal Reserve in 1913 the US dollar has lost ninety-nine percent of its purchasing power.
Not coincidentally, but in direct reflection of the dollar's loss in purchasing power, the price of gold has multiplied one hundred fold from $20.67 oz to $2060 oz as of August 2020.
The chart (source) below shows the ever-increasing price of gold over the past century…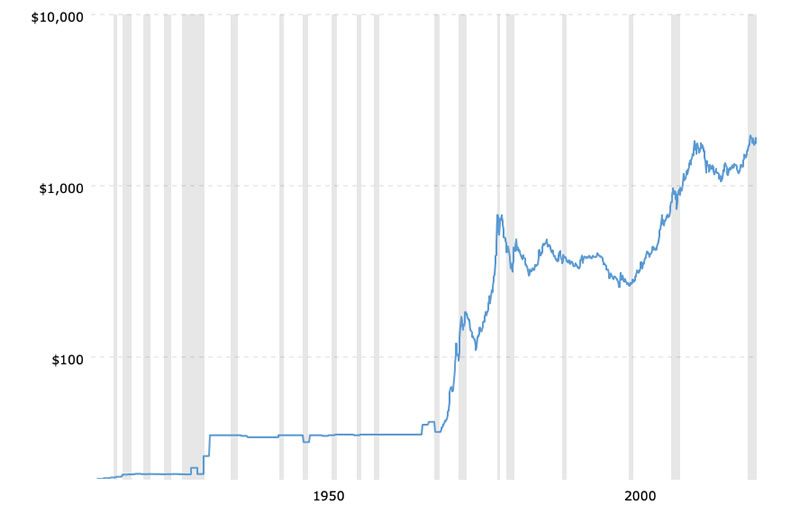 GOLD PRICE LINKED TO US DOLLAR
When President Nixon suspended convertibility of the US dollar into gold in 1971, his action ushered in a decade-long period of US dollar weakness and rejection.
The effects of inflation created over the previous four decades, initially in an attempt to extricate us from the economic depression of the thirties, then to fund the country's expenses relative to its involvement in WWII, etc., came roaring to life in the form of higher prices for all goods and services.
The rapid rise in the prices for goods and services in the United States was a reflection of the loss in purchasing power of the US dollar. Consequently, the dollar price of gold moved considerably higher and peaked intraday in January 1980 at $843 oz. The average monthly price for gold in January 1980 was $677 oz, which is reflected on the chart above.
The 1970s were a catch-up period for the price of gold relative to the US dollar's loss in purchasing power. The $677 price for gold indicated that the US dollar had declined by nearly ninety-seven percent at that point since the origin of the Federal Reserve.
After that, the Fed found religion and managed to temporarily halt the dollar's decline. A new period of prosperity and economic growth buoyed the dollar.
The effects of inflation were surprisingly mild for the next two decades. A stronger dollar showed up in lower gold prices. By 1999, the gold price had fallen to $252 oz., a decline of seventy percent.
Beginning in 2001, the US dollar began a significant decline on world markets lasting until 2008. During that time the price of gold rose from $256 oz to as high as $1023 oz.
A secondary low for the US dollar occurred in 2011. This was closely concurrent with a peak in gold's price at $1896 oz.
Again, as in the period following gold's price peak in 1980, the US dollar began a multi-year period of strength and stability. The muted effects of inflation between 2011 and 2016 resulted in a lower gold price.
The price of gold declined from $1896 oz. to $1049 oz. during that period, a loss of forty-five percent.
The price of gold since then has risen to $2060 oz. and subsequently declined back to $1675 oz. Meanwhile, the US dollar has neither gotten much weaker nor strengthened to any measurable degree.
INFLATION-ADJUSTED GOLD PRICES
The chart (source) below illustrates the link between gold's price and the US dollar. It is similar to the previous chart except that the one below allows for the effects of inflation…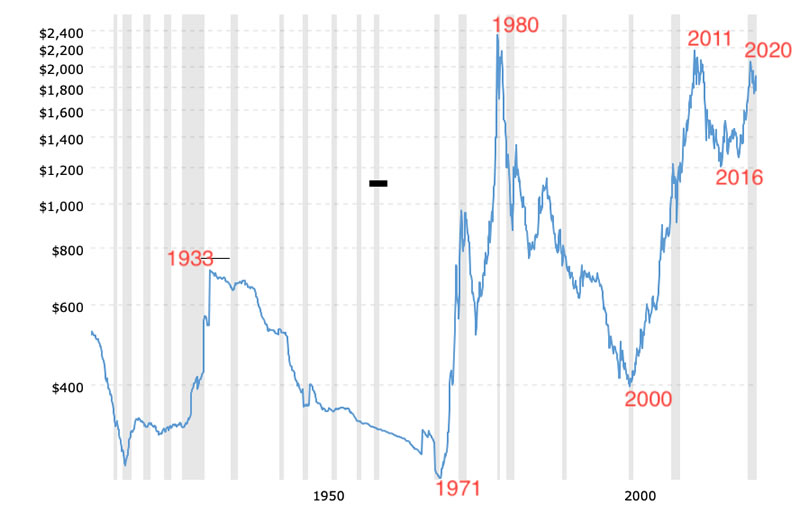 There are five major turning points for gold's price that are reflected on the chart. All five turning points (1933, 1971, 1980, 2000, 2011) coincided with changes in the US dollar.
Gold is priced in US dollars and since the US dollar is in a state of perpetual decline, the US dollar price of gold will continue to rise over time, as is shown in the first chart.
There are periodic changes in US dollar valuations and these changes can last for years (1980-2000; 2011-2016). During such periods the price of gold can and does decline considerably.
Gold's value is not determined by world events, political turmoil, or industrial demand. The only thing that you need to know in order to understand and appreciate gold for what it is, is to know and understand what is happening to the US dollar.
The US dollar is in a constant state of deterioration, punctuated with periods of temporary strength and stability. The dollar price of gold reflects the deterioration by moving higher over time, usually after the fact.
Gold is not forward-looking. The higher price of gold in dollars is a reflection of the loss in purchasing power that has already occurred.
GOLD – WHAT TO EXPECT NEXT
As far as gold is concerned, the only thing that will take its price higher is further lasting deterioration in actual purchasing power of the US dollar.
If you think that a collapse in the US dollar is imminent, and that runaway inflation is just around the corner, then load up on gold. But don't expect to get rich if you are correct. At best, all you can expect is to maintain your current level of purchasing power for whatever wealth you have already accumulated.
If we have a period of relative tranquility and economic prosperity with mild inflation effects, then gold's price could languish or decline for many years.
A financial collapse with credit defaults would likely usher in a long-lasting economic depression and deflation. The deflation would result in price declines for all assets of anywhere from 60-90 percent or more. And, yes, that includes gold.
CONCLUSION
The value of gold is constant. Its price changes according to changes in actual purchasing power of the US dollar.
Higher gold prices usually come after longer periods of time when the cumulative effects of previous inflation become more apparent.
If you want to know and understand what is happening to gold's price, then you need to know and understand what is happening to the US dollar.
Changes in the price of gold do not tell us anything about gold; they tell us what has happened to the US dollar.
(also see Gold Price – $700 or $7000)
Kelsey Williams is the author of two books: INFLATION, WHAT IT IS, WHAT IT ISN'T, AND WHO'S RESPONSIBLE FOR IT and ALL HAIL THE FED!
By Kelsey Williams
http://www.kelseywilliamsgold.com
Kelsey Williams is a retired financial professional living in Southern Utah. His website, Kelsey's Gold Facts, contains self-authored articles written for the purpose of educating others about Gold within an historical context.
© 2021 Copyright Kelsey Williams - All Rights Reserved Disclaimer: The above is a matter of opinion provided for general information purposes only and is not intended as investment advice. Information and analysis above are derived from sources and utilising methods believed to be reliable, but we cannot accept responsibility for any losses you may incur as a result of this analysis. Individuals should consult with their personal financial advisors.
© 2005-2019 http://www.MarketOracle.co.uk - The Market Oracle is a FREE Daily Financial Markets Analysis & Forecasting online publication.

Only logged in users are allowed to post comments.
Register/ Log in