America and the Creation of an Economic Frankenstein
Politics
/
US Economy
Feb 04, 2009 - 04:32 PM GMT


Jim McTague has been writing articles for Barron's for a very long time. He's a better journalist than I and likely earns more money. He writes a column called D.C. Current for the august investment weekly and boasts the title Washington Editor. For my part… well, it's not nice to boast. The only thing the two of us may have in common is a Northern Irish distaste for all things orange and a love of the Pogues. The fact that our grandfathers once put the boots to a black and tan before his went and ratted out mine, I'll leave to another time.


For now, I quote the old, silver-haired fart in order to explain to my loyal readers just where the conventional thinking lies and to clarify where we're headed. With apologies to all who've already perused the blarney lad's work:
IN THE EMERGENCY ROOM, JOB NO. 1 FOR THE crash team is to stabilize the fading patient. Stop the hemorrhage. Treat the shock. Don't worry now about the binge drinking that caused the near-fatal collision in the first place.
This approach seems to have escaped President Barack Obama in his effort to save a fast-fading economy. Rather than applying a tourniquet and injecting the patient with a stimulative dose of adrenaline, he endorses the use of a drip-bag filled with a cocktail aimed at curing all the economy's ills. The mix includes appetite suppressants to reduce our craving for petroleum products, prescriptions to improve rural Internet connectivity, and elixirs to influence our appliance choices, to name but a few. These are elements of the House bill passed Wednesday and forwarded to the Senate for quick action this week. If the Senate fails to remix the meds in a way that amplifies the stimulus, the patient could slip into a coma.
Now, Mr. McTague or McTeague – or whatever your real name is: first of all, very nicely written. Very nice, indeed. Economic collapse as car accident, president as ER doc – I have to say, it works beautifully. The only problem is it fails to account for a number of details that transpired prior to the drunk bastard arriving at the Emergency Room, forgive my Gaelic.
They are as follows:
Squad 51: Emergency Treatment on the fly
First, he was treated by a pair of EMTs at the scene and was administered a fairly healthy dose of get-up-and-move before he arrived at the hospital. In fact, his current shell-shocked appearance is more a function of that initial, crude field treatment than anything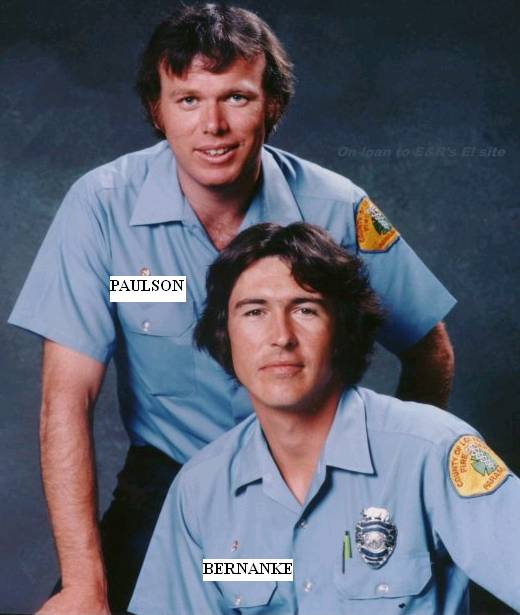 genuinely life-threatening. It did its work. Nay, more. The dosages administered at the scene had a transformative effect on the reckless little forquere and now he looks a little different from before.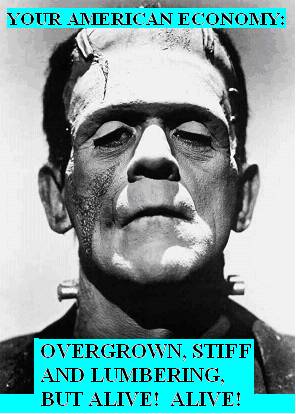 Mssrs. Paulson and Bernanke mixed up a cocktail of their own before the Obama surgeons ever got their hands on him. And the ad-libbed concoction that was injected into our wiped-out swerver kept him going, but so obscured his appearance, movements and behaviour that even his own family doesn't recognize him! They're traumatized.
Just like the American investing public – not to mention the doctors and other strangers who never knew him. "He's so ghastly!" "What is he?" "What is he going to do to us?"
The fact that he's very shortly going to get up and dance a grotesque and wily jig in front of them – the fact that he's going to return to Lacey's for another few rounds and a scrap before getting behind the wheel again, does nothing to gainsay the very real fact that he is alive, his monstrous appearance notwithstanding. Nor will he get any worse. The jerkoff is stable. He's an idiot. But he's stable.
Say hello to your American equity market. Only that everyone is so traumatized by the butt-filth ugliness of the thing are they staying away, holding their money and taking a wait-and-see approach. Only in their trauma and fear – what the professionals term "lack of confidence," but which statistics prove is closer to a personality disorder – are they not buying. "What will the monster do next?" "He wants to kill us all!" "He wants to torture us first!" "Run!"
The day of grace is approaching
So when Mr. McTague (and others) speak of the need to administer new remedies to the patient, we must demur. It is the American people who require a cure. For these last six months they faced the inevitability that trees (and markets) do not grow to the sky and that the wealthy (and not so wealthy) might be laid low in a blink. Therein, they met the truth. Nor has it been a comfortable meeting.
Thankfully for them, things remain in one piece. All that is needed is the return of confidence. And what will bring it? I hate to admit it. There is only one thing that can return the pep and vigor of the American investor, and that is oratory.
The market has been moving sideways for months waiting for someone with the proper skill and direction (a la Leni Riefenstahl) to remove its doubts. When that happens the market will move sharply, as we've noted before in this space.
The orator? Well, we all know who he is. And you can be darned sure he's rehearsing now for the speech of his life. Without a successful showing, the monster remains a monster, the family remains terror-struck, and the nation goes to hell.
Better cheer the well-groomed shell of a leader on. He's the only hope you've got.
May those who love us love us.
And those who don't love us:
May the Lord turn their hearts.
And if He doesn't turn their hearts,
May he turn their ankles,
So we'll know them by their limping.
– Old Irish Curse
By the way, if McTaig wants to come down to South Buffalo and take me on with a few rounds of squiggle-me-beeragh – and attempt to rectify the evil his grampa has done, he's cordially invited.
Matt McAbby
Analyst, Oxbury Research
After graduating from Harvard University in 1989, Matt worked as a Financial Advisor at Wood Gundy Private Client Investments (now CIBC World Markets). After several successful years, he moved over to the analysis side of the business and has written extensively for some of corporate Canada's largest financial institutions.
Oxbury Research originally formed as an underground investment club, Oxbury Publishing is comprised of a wide variety of Wall Street professionals - from equity analysts to futures floor traders – all independent thinkers and all capital market veterans.
© 2009 Copyright Oxbury Research - All Rights Reserved
Disclaimer: The above is a matter of opinion provided for general information purposes only and is not intended as investment advice. Information and analysis above are derived from sources and utilising methods believed to be reliable, but we cannot accept responsibility for any losses you may incur as a result of this analysis. Individuals should consult with their personal financial advisors.
© 2005-2019 http://www.MarketOracle.co.uk - The Market Oracle is a FREE Daily Financial Markets Analysis & Forecasting online publication.
Comments
Do Henis
15 Feb 09, 13:45
Obama Deludes Himself


Prsdnt Obama Deludes Himself

Re The Required Economy Collapse Cure

It's Not Just The Economy, It's The Technology Culture That Collapsed

A. Brief notes re the apparent major aspects of the collapse

1) Jan 6 2009

What Is "Scientific Progress"

What Is Needed To Advance Science

http://www.physforum.com/index.php?showtopic=14988&st=390entry392722

2) Dec 24 2008

For 2008 Sciencenews Of The Year YOK The World-Wide Economy Collapse

Money Printing Will NOT Cure The Technology Culture Greed Cancer

http://www.physforum.com/index.php?showtopic=14988&st=390entry390280

3) Dec 22 2008

Separate Technology From Science To Renovate Our Culture Including Economy

http://www.physforum.com/index.php?showtopic=14988&st=375entry390004

4) Nov 21 2008

Real And Virtual Energy, And Keynesian Salvation Prospects

http://www.physforum.com/index.php?showtopic=14988&st=345entry384952

B. There are no short-cuts for effecting a cure of the malignant world economy greed cancer.

From the above (4) ref:

"The present tone of the world's culture, and even ethics, including the banners of a variety of types and shades of greed, has been set by the 20th century Technology Culture. Its essence is the legitimacy and admiration of gaining capital via virtual activities, activities without or beyond the production of real assets for humanity, real life resources.

So the odds of the economy's salvation via Keynesian prospects are, in the long run, proportional to the odds that the culture of Earth's humanity will evolve towards ever more rational self-organization...which is, how unsurprisingly rational, the odds of every organism to survive..."

There are no short-cuts for effecting a cure of the malignant world economy greed cancer. The cure and recovery from this cancer entails a steady resolute cultural modification of 20th century personal and societal capitalistic greed values-ethics-morals. It entails public education to value and promote legitimacy and respect only of shares-stocks of products and processes that contribute to health, security, basic comfort, education and science, and to reject and shun offers of any form of productionless capital gain or of luxuriousness.

And it entails a steady resolute continuous promotion of rational respect to non-luxurious life style, to a wide civic public social security network, and to continuous pursuit of further scientific comprehension of ever closer approaching approximate models of the real world including life and ourselves. This would be a return to and furthering of Enlightenment's inherent philosophy and attitudes in regards to individualism, universal human progress and, most important to humanity, embarkment on a road to societal application of reason.

Dov Henis

(Comments From The 22nd Century)

http://blog.360.yahoo.com/blog-P81pQcU1dLBbHgtjQjxG_Q--?cq=1




Only logged in users are allowed to post comments.
Register/ Log in