Silver Forecast - Bullish Pennant Pattern Developing
Commodities
/
Forecasts & Technical Analysis
Oct 26, 2006 - 12:00 AM GMT

Silver recently followed the other commodities lower, such as gold and crude oil. But unlike gold, the price pattern is much more bullish, and resembles the Bullish Pennant, which is an strong and explosive bull pattern.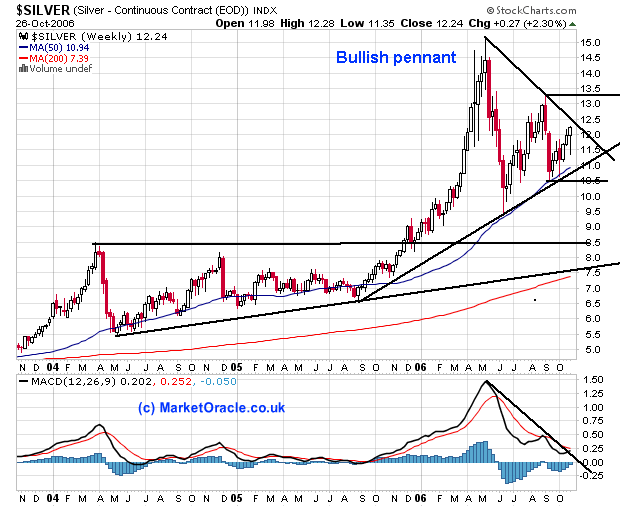 Technical Analysis
1. Price Patterns & Support - The price pattern developing is the Bullish Pennant on break of the trendline at about 12.5, The pattern would target a move of the size of the pattern from the high of the pattern of about 5.50 so would target 18.00
2. MACD - (Bottom indicator) - The MACD has been unwinding its overbought state and is now ready to trigger a resumption of the bull market on a cross that is likely in the next 2 weeks.
3. Moving Averages - The 50 week average as consistently worked well as support and held the recent correction in check, also gives the market room to breath on the upside.
4. Trend lines - The trend lines offer support at 10.5 and resistance at 13.30, With the triggering trendlines from the recent lows and highs at 12.5 and 10.8
5. Time - The pattern is likely to be fulfilled within the next 2 or 3 weeks at most with an anticipated break to the upside.
Conclusion - Silver is targeting a resumption of the uptrend on a break above 12.50 to target 18, as long as the support at 10.5 holds. The pattern observed is likely to be fulfilled within 2 weeks, and 3 at the latest.
Buy Trigger - A break of $12.50
Target - First target $15, 2nd target $18.
Stop-Loss - Would be below the recent low, so $10.50.
Nadeem Walayat
(c) MarketOracle.co.uk 2005-2006
Disclaimer - This Forecast / Trade Scenerio is PROVIDED "AS IS" WITHOUT WARRANTY OF ANY KIND, EITHER EXPRESSED OR IMPLIED, for general information purposes only and not a solicitation or recommendation to enter into any market position, and you are reminded to seek independent professional advice before entering into any investments or trading positions.
The Market Oracle is a FREE Financial Markets Forecasting & Analysis online publication. We aim to cut through the noise cluttering traditional sources of market analysis and get to the key points of where the markets are at and where they are expected to move to next ! http://www.marketoracle.co.uk
This article maybe reproduced if reprinted in its entirety with links to http://www.marketoracle.co.uk
© 2005-2019 http://www.MarketOracle.co.uk - The Market Oracle is a FREE Daily Financial Markets Analysis & Forecasting online publication.
Comments

30 Oct 06, 03:25
Re: Silver Forecast - Bullish Pennant Pattern Developing


So how do I buy silver or gold ?




01 Nov 06, 13:56
Re: Silver Forecast - Bullish Pennant Pattern Developing


Have you heard of spread betting ? ;)




27 Nov 06, 00:37
Re: Silver Forecast - Bullish Pennant Pattern Developing


I just bought my first silver, it was from a dealer at a coin show. I researched and found out that there are coin shows once a month from a local coin club and you can buy bullion or coins, etc. No shipping costs and you pay in cash. I have never been so excited to own real wealth. Awesome feeling. Hope that helps, nobody advertises this on websites because there is really no incentive, but I think it would only help the price of Gold/Silver by providing a logical way to buy silver/gold, it's the same as going to the bank for fiat cash. That is how the mainstream thinks.




Only logged in users are allowed to post comments.
Register/ Log in