Category: Natural Gas
The analysis published under this category are as follows.

Wednesday, July 25, 2007
Imagine driving up to your local gas station and filling your car's tank with natural gas instead petrol? More and more, this has become the case in some parts of China.
We were excited that someone else finally brought it up.


Read full article...

Read full article...
---

Thursday, July 05, 2007
Where do you turn and what do you to when your city is among the filthiest in the world?
In Seoul, South Korea, public officials pressured food vendors to stop selling roasted canines during the 1988 Olympiad to avoid giving the city and country a bad name among the tourists.
Read full article...

Read full article...
---

Tuesday, June 12, 2007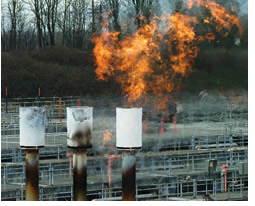 Carbon traders are utilizing the Kyoto Protocol's clause on 'certified emission reduction' credits to capitalize on China's vast coalbed methane reserves. The Asian director of Fortis' carbon trading desk calls China's methane 'easy pickings.' For every tonne of methane captured, about 20 tons of CO2 credits are obtained. CBM projects in China should indirectly benefit from foreign capital racing to exploit these credits before they expire in 2012
Read full article...

Read full article...
---

Tuesday, June 05, 2007
After months of consolidation, Natural Gas now appears ready to climb over a rigid resistance line and advance considerably higher. This move should also start driving gas stocks upward starting in June.
Read full article...

Read full article...
---

Friday, September 22, 2006
The financial media is buzzing about the reports of "enormous losses" suffered by Amaranth Advisors, a Connecticut hedge fund that reported it had lost in excess of $4 billion in the collapse of natural gas prices during 2006.
Specifically, the fund claims that its losses were due to bets that the spread between the March and April 2007 natural gas contracts would widen. That spread, in fact, did not widen but instead grew tighter as natural gas prices fell. While the fund allegedly lost money on a number of natural gas–related bets, The New York Times is reporting that the spread bet was the most costly.
Read full article...

Read full article...
---