Category: Household Bills
The analysis published under this category are as follows.

Friday, October 18, 2013

It's that time of the year when Britain's cartel of 6 energy suppliers steps forward one by one to announce extortionate price hikes with SSE's 8.2% of a few days ago now being followed by British Gas announcing that they will hike energy prices by 9.2% (gas prices by 8.4% and electricity by 10.4%).
Read full article...

Read full article...
---

Friday, November 12, 2010

British Gas (owned by Centrica) paid propagandists have been busy making appearances on the mainstream broadcast media with misinformation to try and persuade its 9 million retail gas and electricity customers that the announced price hike of 7% from 10th December is justified, when the facts are that British Gas is ripping off its customers by making near monopoly profits as evidenced by a 98% rise in gas profits for the first half of 2010 to £585 million.
Read full article...

Read full article...
---

Friday, September 18, 2009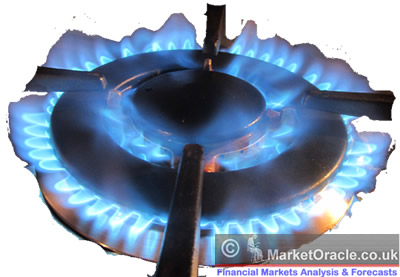 Ofgem, Britains' toothless energy regulator announced today what customers already knew that Britians' six main energy suppliers (British Gas, E.ON, Scottish Power, Scottish & Southern Energy, EDF Energy) are ripping off their customers to the tune of more than £170 each per annum. In the face of a 75% fall in the whole gas price energy suppliers have raised prices by 20% on a year earlier, this is AFTER a 35% price hike during mid 2008. The industry representatives have publically replied that they may even raise energy prices further despite the fact that average wholesale prices for power has halved over the past 12 months which is reflected in projected profits for the sector of £4 billion over the next 12 months.
Read full article...

Read full article...
---

Tuesday, July 07, 2009
Scott Byrom, utilities manager at moneysupermarket.com, said: "This price drop is a tiny step in the right direction.
Read full article...

Read full article...
---

Wednesday, July 30, 2008

A 100% rise in the wholesale gas price has resulted in retail gas suppliers in recent days pushing gas prices sharply higher. First to raise was EDF which announced a 22% rise, quickly followed by Britain's biggest gas supplier British Gas which today announced a 35% price hike.
Read full article...

Read full article...
---