Stocks Bull Market Correction Continues, U.S. Dollar Bears Running Out of Time?
News_Letter
/
Financial Markets 2009
Oct 04, 2009 - 10:39 PM GMT

The Market Oracle Newsletter
October 4th, 2009 Issue #77 Vol. 3


The Market Oracle Newsletter
October 4th, 2009 Issue #77 Vol. 3
Stocks Bull Market Correction Continues, U.S. Dollar Bears Running Out of Time?
Dear Reader
The Stock markets continued to correct following the preceding weeks sell signals as confirmed in last weeks newsletter. The market has now given a ABC pattern which allows me to generate a trend channel within which I can trade more closely to the price, i.e. rather than leaving stops far distant due to the lack of price action as the below chart illustrates (more on trading, eventually at walayatstreet.com).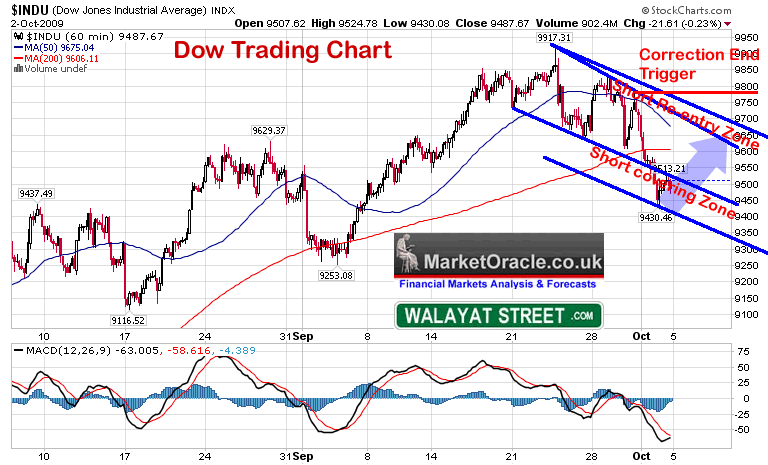 Courtesy of stockcharts.com
Dow / FTSE Targets
The trend remains inline with expectations for Dow / FTSE to experience a serious correction during October and therefore should continue to trade inside the down trend channel all the way towards the targets of FTSE 4,650 and Dow 9000, with now clearly determinable re-entry levels as well as much tighter stops.
Reasons for the rally ?
People are always interested in reasons for why markets must move in this or that direction, I have long since come to realise that the reasons are not important as the reasons only become clear in hind site AFTER the market has moved, Back in mid March the reason for stocks to keep falling were centred around falling corporate earnings expectations, as illustrated by John Mauldin's - Reality Bites :
Year-to-date through February 27, the S&P 500 was down 18.62 percent and the Dow Jones Industrial Average was down 19.52 percent. Moreover, strategists and investors are increasingly coming around to the conclusion that corporate earnings are going to be nothing short of horrendous this year and that stocks are headed even lower, as HCM has been arguing for months (without pleasure, we hasten to add). Very recently, three of the smartest forecasters on Wall Street sharply lowered their earnings forecasts for the S&P 500.
Which I said to ignore as the bear market had by then built up overwhelming bearish 'reasons' to reinforce the expectation of much lower prices, however all of this was irrelevant as it was OLD NEWS.
For more on what to do and not to do at market bottoms see - Stealth Bull Market Follows Stocks Bear Market Bottom at Dow 6,470
However, some of the reasons I gave back in mid March as to why stocks should rally have now AFTER the rally has occurred are put forward as an explanation.
A. The markets move ahead of the economy, whilst I don't profess to know the EXACT reasons of why they will move AHEAD until that becomes apparent AFTER the market has already moved, however I do have some reasoning in that INFLATION, Zero Interest Rates (Forcing savers / financial institutions to take risks) Quantitative Easing (money printing), and HUGE Fiscal stimulus packages that are laying all of the ground work for the next bubble regardless of how bad things appear as any outcome that prevents another Great Depression will be seen as bullish! i.e. even a low growth high inflation stagflationary environment WILL be seen as a positive outcome against the present day data that points to a collapse of global demand on a scale not seen since the Great Depression. The governments HAVE learned the lessons from the Great Depression and WILL succeed in inflating the asset prices and ignite the next perhaps even bigger bubble, meanwhile the stealth bull market will continue which by the time everyone realizes what's going on stocks will already by up by perhaps more than 50% from the low.
U.S. Dollar Bears Running Out of Time?
Despite the over whelming weight of bearish fundamentals that the dollar collapse proponents are eager to remind readers across the media, however one fact may have escaped this onslaught and that is the U.S. Dollar is NOT falling, the trend remains in line with my U.S. Dollar bull market analysis of Mid August 2009, that concluded that the U.S. Dollar targets a rally to USD 90 by the end of this year on the proviso that 75 is not breached on the downside which would negate the scenario. To date the Dollar has held support and continues to build a base, however at 77.25 the dollar is seriously lacking upside momentum so all is not 'yet' lost of the dollar crash proponents, despite the fact that we have listened to the same expectations for the past 18 months since the U.S. Dollar bottomed in March 2008, given the weak state of the current rally they may finally be proved right!
Today's Market Lesson - Do not THINK too MUCH !, Don't get lost in reasons of why the market must move, rather focus on what the market is doing on the price charts! AS you are trading the PRICE CHART and NOT the fundamental DATA! They can and DO move in OPPOSITE DIRECTIONS! Funnymentals are a RED HERRING that continue to sucker both the professionals and the inexperienced, whereas they should amount to no more than 10% to 20% of the your decision making process when trading rather than the over inflated 80% or more that many weight towards in depth Funnymentals studies into for instance corporate earnings forecasts.
Your swing trading analyst.
By Nadeem Walayat http://www.marketoracle.co.uk
Copyright © 2005-09 Marketoracle.co.uk (Market Oracle Ltd). All rights reserved.
Featured Analysis of the Week





Most Popular Financial Markets Analysis of the Week :
1. World Health Organisation Admits No Deadly Mutation of H1N1 Swine Flu
By: F_William_Engdahl
The World Health Organization, the UN agency (ir-) responsible for declaring a Phase 6 "PANDEMIC" global alert over what it calls H1N1 Influenza A or Swine Flu, whose chief Dr Margaret Chan has repeatedly warned that while Swine Flu to date had been rather mild, that the emergency declaration was necessary because it "could mutate" aggressively into a deadly pandemic killing millions, now admits well into the flu season in the Northern Hemisphere that H1N1 has apparently not mutated.
2. Stock Market SELL Signals and Inflation Missing from 2010
By: Nadeem_Walayat
Early in the week I went hunting for signs for high UK inflation in the analysis -UK Inflation Forecast, Will RPI Deflation Return to Inflation? However despite zero interest rates and all the money printing to date, I was surprised not to find it, not for 2009 and not for the whole of 2010! and given the double dip depression (more on this tomorrow), probably beyond. What does this mean ? It means the Bank of England NEEDS to act to CREATE inflation AHEAD of the double dip Depression (again more on this tomorrow).
3. Inflation Is Mortally Wounded And Rapidly Fading, Dump Gold?
By: Ronald_Rosen
It is my opinion that you should ignore all fundamental stories and statistics about runaway prices and hyperinflation at least for the next 8 to 12 months. Gold, silver, and their shares are in the process of being sliced, diced, baked, broiled, and slaughtered. A rare, very rare, opportunity to acquire gold, silver, and their shares at lower than bargain prices will arrive when the [C] leg down that I have been describing and writing about bottoms.
4. U.S. Dollar Crashes Against Yen! Time to Act!
By: Martin_D_Weiss
Martin here with an urgent update on the dramatic events that took place late last week and what they could ultimately mean for you …
Just when the worldwide onslaught against the U.S. dollar seemed to be temporarily subsiding, a new round of attacks hit Friday — this time from Japan.
5. Rampant Debt Monetization Means U.S. Financial System is Doomed
By: Bob_Chapman
Nearly half the nation's 25 biggest retail chains expect to hire fewer holiday workers this season than they did last year, another sign that retailers aren't counting on recession-strained shoppers to relax the tight grip on their pocketbooks this year.
6. Stock Market Close to Major Turning Point
By: David_Petch
The daily chart of the Gold miners bullish percentage index (BPGDM) is shown below, with the HUI shown in green. In the past whenever the BPGDM reached 85 or higher, it was often associated with a top. At present the BPGDM has declined from 87 to 67, with an accompanying decline in the HUI. Full stochastics 1, 2 and 3 are shown below in order of descent, with the %K beneath the %D in stochastics 1 and 2. Based upon extrapolation of the trend, the potential downside could last for 3-4 weeks. Expect continued weakness in the gold stocks.
7. The Biggest Banking Heist in World History: Washington Mutual
By: Mike_Stathis
This September 25th 2009 marked the one-year anniversary of Washington Mutual's seizure, by the Office of Thrift Supervision (supposedly) as a result of insolvency (supposedly).
Last year, on October 7th, I sent the SEC a (rushed) formal complaint highlighting my concerns regarding insider trading and other illegal activities associated with WaMu.
You're receiving this Email because you've registered with our website.
How to Subscribe
Click here to register and get our FREE Newsletter
To access the Newsletter archive this link
Forward a Message to Someone [FORWARD]
To update your preferences [PREFERENCES]
How to Unsubscribe - [UNSUBSCRIBE]
About: The Market Oracle Newsletter

The Market Oracle is a FREE Financial Markets Forecasting & Analysis Newsletter and online publication.
(c) 2005-2009MarketOracle.co.uk (Market Oracle Ltd) - The Market Oracle asserts copyright on all articles authored by our editorial team. Any and all information provided within this newsletter is for general information purposes only and Market Oracle do not warrant the accuracy, timeliness or suitability of any information provided in this newsletter. nor is or shall be deemed to constitute, financial or any other advice or recommendation by us. and are also not meant to be investment advice or solicitation or recommendation to establish market positions. We recommend that independent professional advice is obtained before you make any investment or trading decisions. ( Market Oracle Ltd , Registered in England and Wales, Company no 6387055. Registered office: 226 Darnall Road, Sheffield S9 5AN , UK )
Copyright 2009 MarketOracle.co.uk
© 2005-2019 http://www.MarketOracle.co.uk - The Market Oracle is a FREE Daily Financial Markets Analysis & Forecasting online publication.

Only logged in users are allowed to post comments.
Register/ Log in