UK Economy Booms Whilst U.S. Stutters, Stocks Fail to Follow Crash Script
Stock-Markets
/
Financial Markets 2010
Aug 29, 2010 - 07:39 PM GMT


Did the stock market crash Monday ? Nope, Tuesday ? Nope. How about Wednesday, Thursday or Friday ? The Dow closed down 63 points on the week at 10,150 (10,213) which given the much publicised Hindenburg Crash Omen, is not exactly following the script though off course the Hindenburg Omen has plenty of get out of jail cards in the small print which ensures that all eventualities are covered ( The Hindenburg Stock Market Omen Doomed to Crash and Burn? ).
The HO will now soon be forgotten by 99% as it has become old news only for its proponents to dredge it back up when any of the wide range of criteria occurs at any point during the next 4 months to claim victory whilst the indicator will have proved totally useless in what should be the primary aim for ALL analysis which is to actually monetize on probable trends. It is much better for an indicator to be quickly proven wrong so that traders / investors can focus on what actually is the most probable outcome, than to exist purely as a mechanism for generating publicity as we have witnessed right across the internet and mainstream press during the past few weeks with the Hindenburg Omen rammed down our throats. Now watch how the HO gets extended ad infinitum until the market actually does take tumble.
Stock Market Quick Analysis
My last in depth analysis (16 May 2010 - Stocks Bull Market Hits Eurozone Debt Crisis Brick Wall, Forecast Into July 2010 ) concluded in a summer corrective trend to first target a low of 9,800 then a rally to 10,700. The rally was achieved by mid August with stock market subsequently correcting towards an expected range for a low of 10,000 to 10,100. The weeks action saw stocks dip marginally below 10k but without any follow through with a strong reaction higher Friday.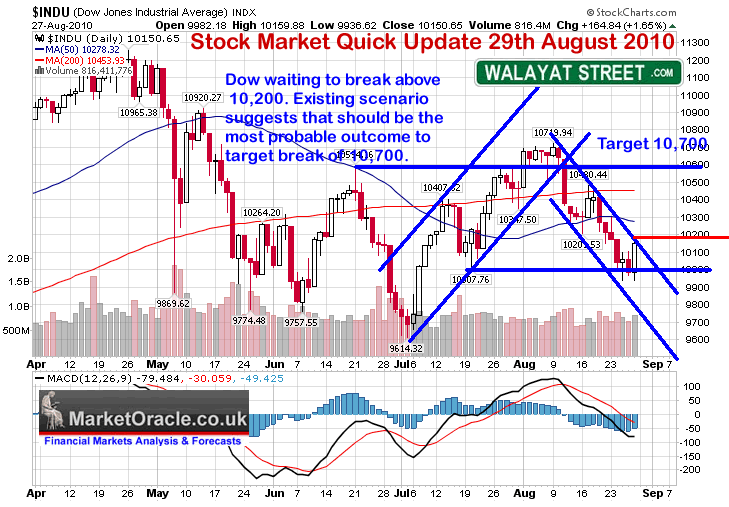 A quick chart analysis shows that the break below 10,000 was not particularly healthy, and Fridays rally has yet to trigger any reversal higher, it would be an easier market to determine at this point in time if it had breached the downtrend line and closed above 10,200. The Dow is going to need to rally next week by trading back above 10,200. Okay, I am going to go with a rally early next week that breaks above 10,200 which would be inline with the existing scenario that suggests the trend pattern should now be for an assault on and break above Dow 10,700, which would confirm the higher high and generate a higher low that would target the bull market peak.
This risk to this scenario is that the Dow fails to breakout and continues to trade within the downtrend channel all the way to 9,600 which would set the scene for a double bottom pattern. An in depth update is pending time.
UK Economy Boomed 2nd Quarter 2010
Original data announced 4 weeks ago of 1.1% Q2 GDP growth was revised higher this week to 1.2%, which is set against original market expectations for 0.3% to 0.5% as of July 2010. Which is set against my UK GDP forecast (31 Dec 2009 - UK Economy GDP Growth Forecast 2010 and 2011, The Stealth Election Boom ) that forecast 2nd quarter GDP of 1.3%, so 1.2% for Q2 is pretty much for an economy that is right on schedule to hit the forecast for 2010 for healthy growth of 2.8% as tabled and illustrated by the updated GDP growth projections (09 Aug 2010 - UK Economy GDP Growth Forecast 2010 to 2015 )
UK GDP 2010 2.8%
UK GDP 2011 = 2.3% - Revised down to 1.3%
UK GDP 2012 = 1.1%
UK GDP 2013 = 1.4%
UK GDP 2014 = 3.1%
UK GDP Mid 2015 = 3.3% - NEW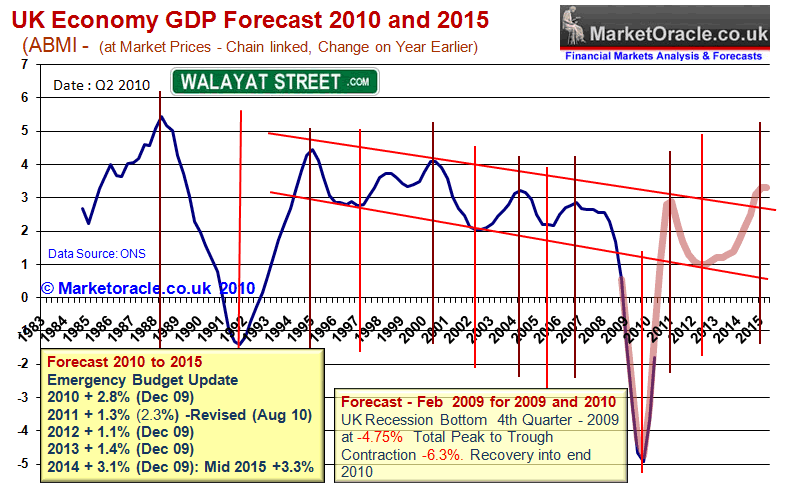 Whilst 1.2% is a great quarterly growth rate, it is still far behind Germanys boom of 2.2% for Q2, both the UK and the U.S. could learn a lot of lessons from Germany. My last in depth analysis updated the deflation / inflation debate (26 Aug 2010 - Deflation Delusion Continues as Economies Trend Towards High Inflation ) in advance of an UK interest forecast update.
U.S. Economy Stutters
The U.S. Economy continues to stutter along at just 0.4% for the Q2, against initial estimates of 0.6%. Ben Bernanke spoke to reiterate his pledge to inflate the U.S. economy (print money), which implies plenty of new dollars which will primarily flow into emerging markets and asset classes such as stocks.
The problem with the U.S. and much of the rest of the west is that capitalism has succeeded in delivering what everyone wanted it to deliver namely, driving down costs for an ever expanding amount of goods and services which is illustrated by super markets full to bursting point with at least 4,000 items to browse through. However the price for this is that tens of millions of jobs have been permanently exported to asia which sets the scene for permanently high unemployment than has been known during the past 25 years because globalisation ensures that the west just cannot compete against workers producing the same goods for 1/10th the salary in the east, and it will take a long time, several decades for the west and the east GDP per capita to converge.
The world just does not need as many high paid workers to perform the same jobs. There is nothing much that the U.S. government can do other than to continue debasing its currency by printing money (they are all competitively debasing their currencies) and running huge deficits which contrary to the deflation mantra means HIGH INFLATION - SO GET PROTECTED - See the 100 page Inflation Mega-Trend Ebook (FREE DOWNLOAD), and protectionism is not the solution as that will just shrink the overall economic pie and thus result in even more economic pain.
NHS Direct Scrapped
Another remnant of the Labour spending frenzy was scrapped today, this follows on from the proposed scrapping of all NHS PCT's, that prompted NHS GP's to gleefully wring their hands at the prospects of getting their hands on £80 billion of NHS budget redirected to under their management, much of which will one way or another find its way into their back pockets much as occurred as a consequence of the 2003 GP contracts.
The 34,000 GP's despite intelligently passing difficult medical exams fail to comprehend the big picture that once they totally manage their own budgets for treating patients then they are in effect competing against all other GP consortia for patients that amounts to a defacto privatisation of the NHS in all but name, maybe they do realise this and it is what they actually want? Which is good, because it will mean that the 15% to 20% of incompetent GP's that flourished under New Labour by producing dodgy statistics that never matched actual patient experience as illustrated by the UK GP Patient Survey, WILL NOW LOSE THEIR JOBS!
Pakistan Continues to Suffer as Cricketers Defraud Bookmakers
The floods and their aftermath continues to devastate the country with towns and crops washed away leaving an estimated 20 million homeless (UN). Meanwhile Pakistani cricketers instead of giving hope and respite to their fellow countrymen's suffering, grabbed the headlines by defrauding bookmakers by a match fixing sting conducted by the News of the World.
Meanwhile the slow motion Tsunami has continued to travel southwards into Sindh province towards the ocean, breeching more levee's and plunging more cities such as Thatta under water and sending their populations fleeing for high ground.
UK Donations
USA Donations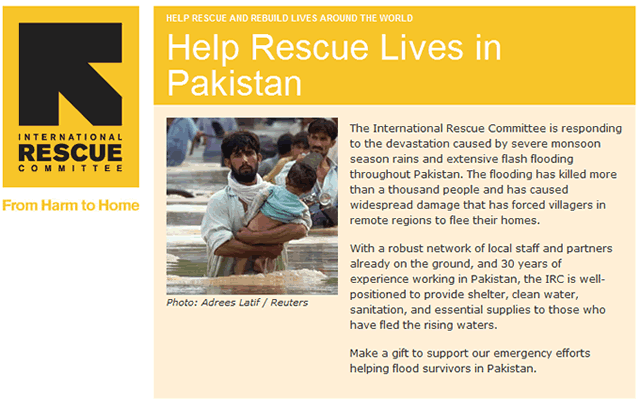 Your analyst enjoying the bank holiday weekend.
Comments and Source: http://www.marketoracle.co.uk/Article22289.html
By Nadeem Walayat
Copyright © 2005-10 Marketoracle.co.uk (Market Oracle Ltd). All rights reserved.
Featured Analysis of the Week




Most Popular Financial Markets Analysis of the Week :
1. Hindenburg Stock Market Crash Omen Confirmed
By: Robert_McHugh_PhD
So what is a Hindenburg Omen? It is the alignment of several technical factors that measure the underlying condition of the stock market -- specifically the NYSE -- such that the probability that a stock market crash occurs is higher than normal, and the probability of a severe decline is quite high.
2. Deflation Delusion Continues as Economies Trend Towards High Inflation
By: Nadeem_Walayat
Delusional deflationists right from the Bank of England MPC, through to the mainstream press for well over a year have pushed the mantra of ongoing debt deleveraging deflation everywhere, everywhere that is than appears in where it counts i.e. the actual INFLATION indices, where inflation is on the rise right across the world as illustrated in the UK by the persistent failure of the Bank of England to control UK inflation that remains above the banks CPI 3% upper limit. Even Greece that really is in an depression is experiencing inflation at above 3%, whilst the US CPI continues to inflate at a more modest 1.2% as summarised below for key world economies.
3. Third Hinderburg Omen Signals Stock Market Crash
By: Anthony_Cherniawski
FDIC Friday back on the job.- The FDIC Failed Bank List announced eight new bank closures this week. My count suggests 118 on August 20th. ShoreBank Corp., the Chicago lender operating under a Federal Deposit Insurance Corp. cease-and- desist order for 13 months, will be shut and most of its assets will be bought by Urban Partnership Bank, two people with direct knowledge of the matter said.

4. The Hindenburg Stock Market Omen Doomed to Crash and Burn?
By: Nadeem_Walayat
The dreaded Hindenburg Omen (HO) has been making the rounds in the mainstream press and BlogosFear for the past few weeks, which purportedly heralds an imminent stock market crash.
5. Why US Treasury Notes Will Eventually Yield Nothing
By: Barry_M_Ferguson
For all investors seeking income, I have some bad news for you. US Treasury notes and bonds will eventually yield nothing. That's right, I said it. "Zero percent interest coupons". Many pundits would argue the opposite. And yes, the argument for higher interest coupons in the future is valid and sound. The US is currently following a strategy of debt destruction such that as I write, the nation is closing in on $13.5 trillion in debt. To see the number is quite startling. It is: $13,500,000,000,000.00. Mercy! The number is so large, most calculators can't account for all the numeric placeholders. The number is so large, we now round up by hundred billions. The number is so large, the late astronomer, Carl Sagan, referred to really large numbers as "billions and billions".
6. America's Financial System Based on Debt Deception, Stock Markets Headed a Lot Lower
By: Steve_Betts
"When power leads man toward arrogance, poetry reminds him of his limitations. When power narrows the areas of man's concern, poetry reminds him of the richness and diversity of his experience. When power corrupts, poetry cleanses. For art establishes the basic human truths which must serve as the touchstones of our judgment. The artist. . . faithful to his personal vision of reality, becomes the last champion of the individual mind and sensibility against an intrusive society and an offensive state." - John F. Kennedy
7. Gold and Silver Protection From Economic Cancer and Desperation of QE2
By: Jim_Willie_CB
History is being made. The American public has never been no nervous, perhaps fearful of something dreadful and imminent. The global monetary system is crumbling. The typical stimulus has failed to jumpstart the USEconomy. The 20 months of near 0% short-term official interest rate has failed to revive the moribund US housing market. The phony FASB accounting rules has failed to accomplish anything except a stay of execution for the big US banks, which do not lend much. In fact, the US banks are largely dead entities showing enough life for to receive USGovt largesse aid. Witness the failure of the US financial sector. Witness the climax chapter of failure for the Fascist Business Model.
8. Economic "Water Torture" Coming to U.S, Bullish for Gold
By: David Skarica
Addicted to Profits Newsletter Writer David Skarica has an addiction that might just benefit you. David is addicted to making himself and his subscribers money. In this exclusive interview with The Gold Report, David predicts that the U.S. economy will decline very slowly, describing the process as "Chinese water torture." David says any precipitous market drop will be pre-empted by further quantitative easing. And this, he says, will be bullish for gold. He also names some companies that might help folks suffering David's sweet affliction.
How to Subscribe
Click here to register and get our FREE Newsletter
About: The Market Oracle Newsletter
The Market Oracle is a FREE Financial Markets Forecasting & Analysis Newsletter and online publication.
(c) 2005-2010 MarketOracle.co.uk (Market Oracle Ltd) - The Market Oracle asserts copyright on all articles authored by our editorial team. Any and all information provided within this newsletter is for general information purposes only and Market Oracle do not warrant the accuracy, timeliness or suitability of any information provided in this newsletter. nor is or shall be deemed to constitute, financial or any other advice or recommendation by us. and are also not meant to be investment advice or solicitation or recommendation to establish market positions. We recommend that independent professional advice is obtained before you make any investment or trading decisions. ( Market Oracle Ltd , Registered in England and Wales, Company no 6387055. Registered office: 226 Darnall Road, Sheffield S9 5AN , UK )
© 2005-2022 http://www.MarketOracle.co.uk - The Market Oracle is a FREE Daily Financial Markets Analysis & Forecasting online publication.
Comments
Andrew
31 Aug 10, 06:38
British Pound


I love your reports and updates. I see many of your thoughts about the UK economy come to pass. One thing I've not seen a comment on recently, though, is £ vs. $. You were predicting 1.40 but do you still see that?

AB

Sent from my iPad



Edward
31 Aug 10, 06:38
Middle class


Dear Sir:

It seems to me that you espouse a middle-class dismantlement within the USA.

So, who, then, shall profit?

Thanking you for your attention, I remain

Yours truly,

Eddy



Nadeem_Walayat
31 Aug 10, 06:42
GBP


I will be doing an indepth technical update for the pound as part of the UK interest rate forecast update.

A quick take on sterling now would be pretty close to a coin toss. But just that both the dollar and sterling are competitively devaluing / falling at differing rates, with the new government giving the advantage to GBP



Nadeem_Walayat
31 Aug 10, 06:44
Middle class


Eddy

The problem is globalisation and the internet which are resulting in the mega-trend for the convergence of REAL GDP per capita.

Until that is complete the wests middle class are going to find things tough for several decades.



Simon Green
02 Sep 10, 07:59
stock market update


Nadeem

Thankyou for all of your analysis, I have been following you for a number of years and your market calls have been un-canny.

Please, please, please do an update for the stealth bull market.

Also, I was wondering what is the most important tool or factor in producing acurrate analysis ?

Best regards

Simon Green



Nadeem_Walayat
02 Sep 10, 11:14
Stocks analysis update


Hi Simon

I have a big backlog of analysis on UK housing market, interest rates, GBP.

With that in mind with stocks still in the range of 10,700 to 10k, my focus is to get as much of the other analysis done as possible.

Though my eye is always on the stock market EVERY day with regards real-term RECACTIVE TRADING I.e. WAITING for triggers rather than PREEMPTING triggers.

The most important element is that everything I do where analysis is concerned is primarily regard my own money. So if I am wrong I WILL lose my money ! Which over the years trains ones mind, which is why my analysis concludes in actionable conclusions rather than wishy washy garbage such as the hindenburg omen which exists primarily for publicity than anything actionable.

So the bottom line is my analysis MUST be accurate OR I WILL lose money ! Can the same be said for the media whores prancing about on TV etc ?, failed traders selling their garbage to a gullible audiance. If they were soo soo good then they would be busy MAKING MONEY trading instead of MARKETING !

Best

NW




Only logged in users are allowed to post comments.
Register/ Log in