U.S. Presidential Election Forecasts From Academics, Market Analysts and Mainstream Press
ElectionOracle
/
US Presidential Election 2012
Nov 04, 2012 - 06:24 AM GMT

The opinion polls continue to paint a picture of a close race between Obama and Romney going into the final two days of campaigning ahead of Tuesdays election. However all of the opinion polls with large margins of error of + /- 3% are further complicated by the electoral college votes system which means that the polling is increasingly focused on a handful of swing states such as Ohio, Florida, Iowa, Wisconsin and New Hampshire, making it virtually impossible to gauge the probable election outcome by looking at these polls, thus the general public is looking towards informed opinions of academics with their back tested models (Uni Professors), market analysts (me), and mainstream media (such as News Papers), therefore this article seeks to present the views from each category in terms of evaluating the probable election outcome.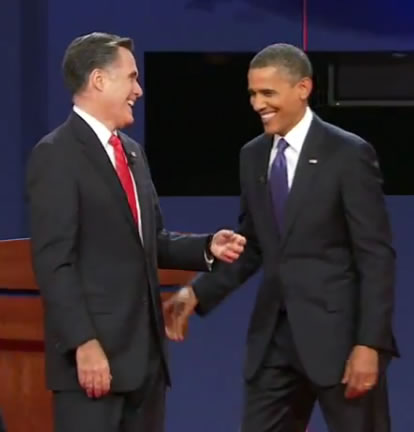 Market Analysts / Traders
My own view as an analyst/trader who has approached the US Presidential Election in terms of a market to determine the most probable outcome, and therefore I have been more focused on market moving events, which has led me to conclude since Mid September 2012 that Obama would win the election and further more since 6th October 2012 that Obama would win by more than 300 votes, and subsequent events have in net terms not changed this expectation. In fact were I active in this market (U.S. Presidential Elections), then I would have put my own money on the line as clearly following Obama's handling of the hurricane Sandy disaster, the probability for an Obama win should have increased further.
19 Sep 2012 - The Day Mitt Romney Lost the U.S. Presidential Election 2012, Youtube Fund Raising Video
After Mondays debacle, Romney has fatally crippled himself and is destined to lose the November election.
06 Oct 2012 - High U.S. Unemployment Rate, Obama Failure or Bush Catastrophe for Romney to Continue?
Therefore many american's may be surprised on election night when the results start coming in that point to a relatively strong Obama election win of more than 300 Electoral votes.
27th Oct 12 - Who Will Win the U.S. Presidential Election, Forecast 2012
My forecast remains for President Obama to be re-elected on November 6th with the probability favouring more than 300 electoral votes.
01 Nov 2012 - Hurricane Sandy Impact on U.S. Presidential Election 2012
The momentum is firmly behind Obama going into the final days of campaigning that not even a relatively bad jobs report tomorrow (Nov 2nd) will have enough time behind it for momentum to reverse this trend. Ironically, the long term impact of Sandy will be to create jobs and stimulate the U.S. economy as damaged and destroyed homes and infrastructure will need to be rebuilt.
Intrade - Barack Obama to be re-elected President in 2012
A search for an actual market for the US presidential election has led me to Intrade that basically allows market participants to trade the US election. However when one considers such a market, one needs to look at the volume of activity for the greater the volume in the market then the greater the probability of the probable outcome. In this respect Intrade over the past month is showing a pick up in the volume from 20,000 per day to as high as 150,000 per day. The current expectation puts Obama on a 64% probability of a win in terms of market expectations of several hundred thousand participants which is well beyond the scope of opinion polls, all with the added bonus that these market participants have actually put money on the line so are less influenced by political bias but rather veering more toward what is actually the more probable outcome.

Again, a word of caution for those seeking to relying on such markets for outcomes because the vast majority of markets offered are highly illiquid and thus not giving a reliable price / probability of outcome, as one is unable to trade at the indicated prices because there is no counter party available to fill an order any where near the quoted price.
Academics
The Daily Mail published a a story that a computer model by two professors at the University of Colorado forecast a Romney win of 320 votes with Obama losing on 218 as excerpted below:
Daily Mail - Bad news Barack: Electoral College computer model that's correctly predicted presidential elections since 1980 shows big WIN for Romney
A model which has foretold the correct results of the Electoral College selections in U.S. Presidential elections since 1980, has predicted a loss for Barack Obama and the Democratic Party.
The forecast was made by two professors at the University of Colorado who used economic data and unemployment figures from each state to predict a Republican win come November.
Political science professors Kenneth Bickers and Michael Berry's study predicts 218 electoral votes for President Obama and 320 for Romney with the Republican candidate winning every seat currently considered to be on the fence.
If you have any experience of my writings then you will know my view of academic theories and models as being more or less worthless, as they live in ivory towers creating intricate back tested models that FAIL over 90% of the time going forward, as every experienced market trader knows, you CANNOT TRADE FORWARD on the basis of BACKTESTED models! It just does not work in the real world, instead systems have to be adaptive and skewed in favour of the most recent data.
US Mainstream Media - Highly Polarised Propaganda
The US media map is highly polarised and biased in favour of a particular candidate, for instance many of the news papers have been biased right from the beginning of the campaign and the same holds true for broadcast news as we see with the likes of Fox News which is clearly Republican in output and MSNBC which is clearly Democrat. Instead in the UK the broadcast news channels are not discernibly biased in a particular direction and to a lesser extent British newspapers that can and do switch their allegiances between political parties only making their support public in the final week or so before each election. Therefore the US election is highly polarised in terms of media output that we just do not experience in the UK. There is far more ms-information pumped out in the US media about each opponent, so I am not surprised that the general population is fearful of either outcome, whereas in the UK most of the people understand that there is little difference between Conservatives or Labour and therefore tend to be more detached from the politicking that goes on and not let themselves be built up into a frenzy of fear and loathing.
Looking at the US media sphere, some of the more credible 'independant' papers have made their intentions known at a late stage are -
America could do better than Barack Obama; sadly, Mitt Romney does not fit the bill
The devil we know
We very much hope that whichever of these men wins office will prove our pessimism wrong. Once in the White House, maybe the Romney of the mind will become reality, cracking bipartisan deals to reshape American government, with his vice-president keeping the headbangers in the Republican Party in line. A re-elected President Obama might learn from his mistakes, clean up the White House, listen to the odd businessman and secure a legacy happier than the one he would leave after a single term. Both men have it in them to be their better selves; but the sad fact is that neither candidate has campaigned as if that is his plan.
As a result, this election offers American voters an unedifying choice. Many of The Economist's readers, especially those who run businesses in America, may well conclude that nothing could be worse than another four years of Mr Obama. We beg to differ. For all his businesslike intentions, Mr Romney has an economic plan that works only if you don't believe most of what he says. That is not a convincing pitch for a chief executive. And for all his shortcomings, Mr Obama has dragged America's economy back from the brink of disaster, and has made a decent fist of foreign policy. So this newspaper would stick with the devil it knows, and re-elect him.
New York Times - Back Obama for Re-election
The New York times has recently thrown its hat behind the Barack Obama giving a string of reasons from economic recovery, foreign affairs and Obamacare.
For these and many other reasons, we enthusiastically endorse President Barack Obama for a second term, and express the hope that his victory will be accompanied by a new Congress willing to work for policies that Americans need.
The New York TImes - New York Times Endorsements Through the Ages
I had been assuming that the New York Times would be a relatively independant voice as illustrated by waiting to throw their hat in towards the end of the campaign, however they have also published an interesting piece which shows the Times endorsements for the presidency since 1860 to the present.
As the below graphic illustrates, the New York Times stopped being impartial in 1960 since which time it has ONLY picked democrat candidates, and thus their accuracy has been 46% (less than a coin toss) due to a clear inbred political bias against Republicans and in favour of Democrats which illustrates the tendency of US media sphere to be highly polarised.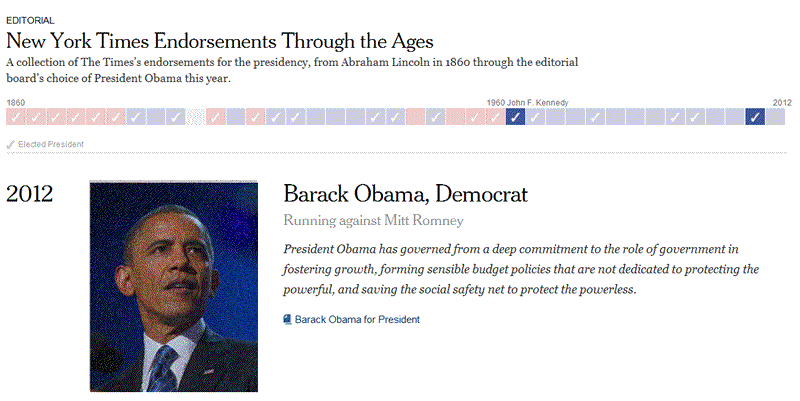 I could try to find an impartial U.S. media source but I don't think I will be able to do so. Instead a look at the UK media-sphere such as the Telegraph does not show a clear statement in favour of either candidate, just coverage of political events and opinion polls that conclude in Obama on 48% and Romney on 47%.
However another poll published in the Sunday Times suggests 70% of Britons would vote for Obama, and just 7% would back the Republican candidate. So perhaps those living in the UK are exposed to more subtle pro Obama propaganda than the more overt in your face propaganda that takes place in the US?
The sum of this article taking account of academics who are wrong over 90% of the time, market analysts who have an monetary incentive to be right (as they actually put money on the line) and relegating the highly bias US media-sphere and pro Obama UK media, then the probability still continues to favour an Obama win, though perhaps the race is marginally closer than I had concluded earlier, we shall soon find out.
If the election were not complicated enough we also have a string of conspiracy theories to contend with such as centring around voting machines. With stories along the lines of the 2000 election of the hanging shads. Specifically that Mitt Romney son's private equity firm has a stake in the provider of Ohio's voting machines as illustrated by comments by MSNBC's Jennifer Brunner "It doesn't look good for a presidential candidate's son to be an investor in a voting machine company.", if true (and I doubt it), it would put a new spin on the rich buying votes.
Source and comments - http://www.marketoracle.co.uk/Article37332.html
By Nadeem Walayat
Copyright © 2005-2012 Marketoracle.co.uk (Market Oracle Ltd). All rights reserved.
Nadeem Walayat has over 25 years experience of trading derivatives, portfolio management and analysing the financial markets, including one of few who both anticipated and Beat the 1987 Crash. Nadeem's forward looking analysis focuses on UK inflation, economy, interest rates and housing market. He is the author of three ebook's - The Inflation Mega-Trend; The Interest Rate Mega-Trend and The Stocks Stealth Bull Market Update 2011 that can be downloaded for Free.
Nadeem is the Editor of The Market Oracle, a FREE Daily Financial Markets Analysis & Forecasting online publication that presents in-depth analysis from over 600 experienced analysts on a range of views of the probable direction of the financial markets, thus enabling our readers to arrive at an informed opinion on future market direction. http://www.marketoracle.co.uk
Disclaimer: The above is a matter of opinion provided for general information purposes only and is not intended as investment advice. Information and analysis above are derived from sources and utilising methods believed to be reliable, but we cannot accept responsibility for any trading losses you may incur as a result of this analysis. Individuals should consult with their personal financial advisors before engaging in any trading activities.
© 2005-2022 http://www.MarketOracle.co.uk - The Market Oracle is a FREE Daily Financial Markets Analysis & Forecasting online publication.
Comments
Michael_T_Bucci
04 Nov 12, 09:47
election prediction​s


Nadeem, your essay is excellent. I focus on your comments about US media where you state, "Therefore the US election is highly polarised in terms of media output that we just do not experience in the UK. There is far more ms-information pumped out in the US media about each opponent, so I am not surprised that the general population is fearful of either outcome." Yes, indeed, and terribly crippling to our Democracy. I suspected that media bias was less intense in UK, but you confirmed it. Thank you.

An aide: As a writer and formerly a PR exec, my writings appear more often in UK (Market Oracle), Canada and Asia. The US media is off-limits to analyses that seek to stand apart from the polarized for the macro view (totality). Hence, a "generalist" is more often refused admission. Yet, the US audience is perfectly capable of extending its exposure to broader opinion by simply surfing the web. Unfortunately, it seems most Americans I know prefer to remain in their comfort zone of the like-minded and the polarized. Thanks Nadeem and Market Oracle for providing a venue for the rest of us.



Robert_G
05 Nov 12, 02:47
Mitt Romney clearly winning


Surprised to see someone as smart as you are to make such a flimsy conclusion. The early voting and ground game clearly has mitt winning. The 08 turnout will not be repeated in our lifetime as it was an historic election for our country. Those folks were severely let down over the past 4 yrs.



Steven_F
05 Nov 12, 03:41
Your wrong about the election


You're wrong about the election call..it makes me wonder about the accuracy of the rest of your predictions. The numbers DO NOT add up in Obama's favor. Since the summer, the independent vote has trended massively in Romney's favor. The polls have used faulty methodology to predict the race, and as the numbers moved away from Obama, the polling firms increased the democrat representation to favor their candidate.

How you missed these data points is a mystery.

Steven Faticone

Florida



Nadeem_Walayat
05 Nov 12, 06:45
US Election Independants


Hi Steven

Romneys video that stated he was not interested in 47% of the electorate impacted primairly on the independants which is why it crippled his chance of winning.

Again, I am not relying on the polls but rather market moving events such as the 47% video, debates and jobs reports, and most recently Sandy.

Anyway, tick, tock, tick tock, some 36 hours to go.

Best

NW



Nadeem_Walayat
05 Nov 12, 06:52
Romney Win Improbable


Hi Robert

This analysis reinforces the probability for an Obama win as illustrated by those that have put their money where their mouth is i.e. Intrade market participants that run into several hundred thousand open positions giving a current net probability of 65.7%.

Yes, it is not certain, no market outlook is but 65.7% is better than 34.3% which is where Mitt Romney stands.

My question to you is, would you put money on Mitt Romney winning? Because there is nothing that focuses ones mind, cuts through the BS, if one actually puts their own money on the line, which is what seperates the academics, and journalists from market analysts / traders.

Best

NW



Patrick_S
05 Nov 12, 09:47
Betting


Nadeem, one thing you do not mention is how the betting is going. I always have a sense that Ladbrokes, etc have a pretty good handle on what's happening and stand to lose a lot if they get it wrong. I guess this is a market like the others you describe. Pat



Nadeem_Walayat
05 Nov 12, 09:52
US Election Odds


Hi Patrick

Yes, bookies are essentially market makers but not as transparent because they don't tend to publish volume in real time.

Best

NW



Dave_11
07 Nov 12, 09:14
Election Good call!


Good call!

Unlike 99% of the MSM.

NOW watch the failed "analysts" all come out and back-track.

Dave



theftbyprinting
08 Nov 12, 18:00
Romney lost


because the GOP forced him onto the Republicans. If Santorum was announced the official winner from the start in Iowa, then the momentum would have been much harder to stop. There was alot of corruption during the primary process with rule changes in the last minute, poeple getting arrested in the caucuses, fingers broken, an old guy with a hip dislocated by same police. Romney staff handing out fake Ron Paul delegate slates etc. The GOP lawyers even arguing because the Republican party is a private club, they can change the rules or ignore the electing process, so if court cases are brought then it is more a civil case then criminal. The irony is that the tax payer foots the $50mill bill for the RNC.

At the national convention itself when Romney clearly had majority support they still were so insecure that they stripped half the Maine delegation (all Ron Paul delegates), they blocked the bus entering the RNC where the poeple on board were to vote against rule changes taking power away from the grassroots and giving it to the GOP leadership.

If Romney won fair and square at the RNC then many that didn't like him would have voted for him, but no one likes been cheated.

http://www.youtube.com/watch?v=B39W91O-rUg

http://www.youtube.com/watch?v=tD0LlwN-xOg




Only logged in users are allowed to post comments.
Register/ Log in