Bitcoin Craptocurrency Ponzi Crash Grinds Towards ZERO, Where's Max Keiser Hiding?
Currencies
/
Bitcoin
Feb 16, 2014 - 03:33 PM GMT


Bitcoin Craptocurrency has plunged to USD $230, down 81.6% from its USD $1250 high - Unfortunately for bitcoin holders the ponzi scam crash continues to play out as holders of bitcoins find out that as is the case with all scams that when they want to sell their holdings they CAN'T. Instead they are locked into holdings that continue collapse in value all the way towards a pittance of the price that hooked them into buying of just a few months ago.
Slovenia, Bulgaria, Romania, and such like places where the now effectively frozen bitcoin exchanges operate from should have been a big signal for SCAM ALERT! Even the big exchange at Tokyo remains frozen as hackers, crackers, and cyber attackers dictate the real value (if any) of the craptocurrency.
The current 'price' of Bitcoins is USD $230, though off course the price is absolutely meaningless if one cannot actually trade at it ! Which is the case for many bitcoins holders today, as they will only be released form their bitcoin torture when the value of their holdings has been effectively wiped out, stolen by those that constructed and maintained the ponzi scam that hooked many unsuspecting naive investors into its vortex amidst an avalanche of sales propaganda that was liberally regurgitated at length by worthless mainstream media that painted a picture of Bitcoins having come of age when the truth was of the scammers final price spike.
The mainstream financial media is yet still populated by propaganda attempting to seduce foolish new entrants into a collapsing ponzi scheme that encourages new victims to buy at low prices, when any that do get suckered will soon by feeling the mental torture of having been conned out of their hard earned wealth. This whilst the same journalists / market commentators who were encouraging investors to jump onto the ponzi bandwagon barely a few weeks ago can today be seen warning of the dangers of Bitcoins AFTER THE FACT as evidence of the fact that 95% of the market commentary out there is WORTHLESS, that tends to flop flop every over week, so it is no wonder that so many people can be repeatedly suckered into the latest ponzi scam after scam after scam.
In fact as I have stated many times over the years, the degree of worthlessness is such that people are far better off NOT reading anything, NOTHING ! Than attempt to identify the 5% or so of useful insightful market commentary out there.
Every reader should check the track record of any market commentator before taking any notice and for that we have the ultimate intelligence agency tool, namely GOOGLE!, to be blunt if you don't google someone's track record on a particular market then you are a FOOL! that deserves to LOSE your money!
95% of What you reading is WORTHELSS SALES PITCH!
99% of Mainstream media is a WORTHLESS SALES PITCH!
What rocks are the Bitcoin pumper's hiding under today? Where are the likes of Max Keiser and his RT Newspeak disinformation brainwashing hogwash TV show today? Or are they as I suspect suffering from collective amnesia, instead now pumping out sales pitches and propaganda disguised as sterile warnings surrounding bitcoins when at the time that they should have been warning they were busy pumping bitcoins in show after show after show!
First he pumped Silver then it crashed, then he pumped Bitcoins and well - it crashed. Now he's pumping ?
Here's a re-cap of my warnings of over 2 months ago to GET OUT IMMEDIATELY :
07 Dec 2013 - Bitcoin Price Crash Towards Zero? The Ponzi Scheme Bubble Plays Out as Designed
The bitcoin stepped crash with much volatility continues to play out not just towards my technical target of 500 but eventually towards virtually zero as represented by my longer-term objective of just 15, that is 1/99th of its trading high. So understand this that the nightmare for those who continue to hold onto bitcoins is only just beginning, yes the price has crashed by 37%, but it is still stands 37% above its technical target of 500 and has the potential for a 96% loss of its current value should the target of 15 be realised, so this is NOT the time to hold on hopes of recovering back towards the highs as the loss of value sustained could literally be TOTAL! A lesson that all market traders have to learn else they will go bankrupt holding on for price recoveries that always become more distant with each stomach churning lurch to the downside.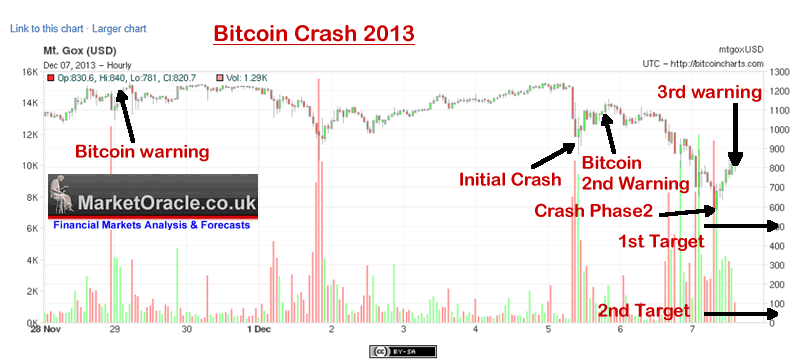 05 Dec 2013 - Bitcoin Mania Bubble Bursts, China Triggers Price Crash Start, Technical Forecast
What's Next for Bitcoins
A quick technical review of the charts implies that a double top pattern is being formed which is a warning that the bounce from the neckline is not something that bitcoin holders should put much hope into for the price is likely to reverse within days to break the neckline and retrace all the way down to at least 500 (current 1074), which is more than a 50% drop of the last price and a 60% drop from the high.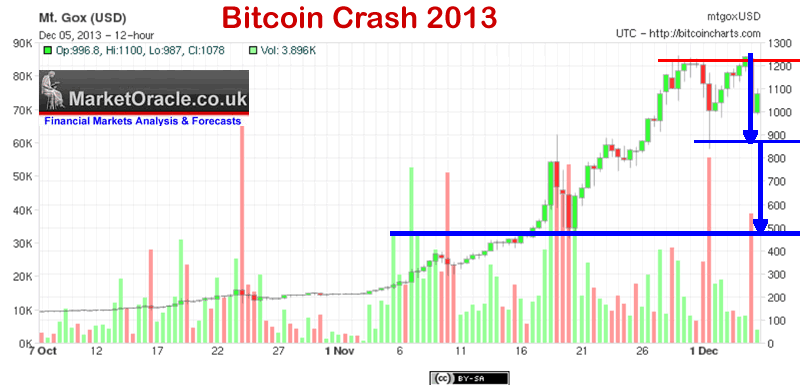 Longer term my view remains that bitcoins could lose as much as 99% of their value, so following a 60% crash, don't be seduced into the buying opportunity sales pitch that you will hear much about, no matter how hard the price bounces following the crash it will as the bitcoin longer term history illustrates just mark the initial phase of a prolonged price collapse towards 1/99th of its trading high or about 15, at which point even I would consider a speculative buy.
29 Nov 2013 - Bank of England UK Housing Market Bubble Panic is Mark Carney Playing Game of Thrones
As was the case for the original Tulip Mania, following the bursting of the bubble Bitcoins will soon be forgotten and so will the craze for all peer to peer i-currencies, as the bottom line is that bitcoins never matched the hype for transactions are NOT anonymous and it IS heavily manipulated by a handful of mining pools so is not decentralised as today ordinary people cannot muster the processing power required to mine for bitcoins.
The bottom line is that bitcoins are a pyramid ponzi scheme where those who got in early win, whilst everyone else loses. If you own bitcoins then you should get out IMMEDIATELY!
Still despite repeated warnings, many people were not convinced as illustrated by the below exchange in the comments section:
paulmathers 27 Dec 13, 13:25
bitcoin challange

Dear Nadeem

A rare occasion where I think you've got it wrong. Care to take my $100 challenge? http://paulmathersblog.wordpress.com/2013/12/12/bitcoin-ftw/

Happy Christmas!

Paul Mathers

Nadeem_Walayat 27 Dec 13, 13:54
Bitcoin gamble

Hi

I don't gamble I take calculated risks, I said what i would do which is to buy bitcoins at 15. That is the risk reward that would get me a positiona and that is what Market Oracle is all about, not gambling.

If bitcoin never gets anywhere near 15 then I have no position, no loss, but if I take your bet then I could lose $100. The risk vs reward is bad. It's a gamble!

To trade the price collapse I would have shorted it from above 1100 and then moved the stop to break-even and then locked in a small profit, and then cashed in on the plunge- that's how I would trade bitcoins IF it had a tradeble tight spread market, that's how I traded past crashes such as stocks in 1987 - not take a 50/50 MASSIVE SPREAD bet of $2000 or $15 for $100 that is a bad behaviour pattern to imprint.

Ofcourse bitcoins is a ponzi scheme, I could create my own ! and make it even more enticing to investors as it would be backed by the MO site ! But I won't for obvious reasons.

And ofcourse the bitcoin market is manipuated by a few small pools THAT IS WHAT HAPPENS TO ALL MARKETS!!!! ALL MARKETS ARE MANIPULATED! Teh first step to understanding where markets are going to go is to understand this fundemental fact that all markets are manipulated!

I understand it is very easy to get sucked into bubbles afterall that is what happened during the dot com bubble, but people buying at $900 are going to regret buying big time.

All the Best

NW

paulmathers 08 Jan 14, 17:37
bitcoin challange

It was more a friendly wager Nadeem.

The fact that you can create a crypto currency yourself does not make it a Ponzi scheme. Confidence in your coins only comes by them being operated by a democratic network viz-a-viz bitcoin.

I still maintain that the greatest ponzi scheme of all is fiat currency as explained on my blog. This has recently been supported by reports in the newspapers such as http://www.ibtimes.co.uk/nigel-farage-would-rather-uk-was-poorer-fewer-migrants-1431315

Best

Paul M

Nadeem_Walayat 08 Jan 14, 21:14
Fiat Currency

Yes, fiat currency is a ponzi scheme the cost of which manifests itself in inflation and ultimately hyperinflationary collapse that ALL currencies are trending towards.

To imagine bitcoin is any different is a huge mistake. It IS a PONZI just as are all fiat currencies.

For something to be none ponzi it needs to be backed by something physical that cannot be easily printed such as gold or housing stock.

Best

NW
I sincrely do hope that at least some of my readers did manage to get out before the bitcoin blood bath.
Ensure you remain subscribed to me ALWAYS FREE Newsletter for insightful analysis and detailed trend forecasts.
Your scams detecting analyst.
Source and Comments: http://www.marketoracle.co.uk/Article44455.html
Nadeem Walayat
Copyright © 2005-2014 Marketoracle.co.uk (Market Oracle Ltd). All rights reserved.
Nadeem Walayat has over 25 years experience of trading derivatives, portfolio management and analysing the financial markets, including one of few who both anticipated and Beat the 1987 Crash. Nadeem's forward looking analysis focuses on UK inflation, economy, interest rates and housing market. He is the author of five ebook's in the The Inflation Mega-Trend and Stocks Stealth Bull Market series.that can be downloaded for Free.

Nadeem is the Editor of The Market Oracle, a FREE Daily Financial Markets Analysis & Forecasting online publication that presents in-depth analysis from over 600 experienced analysts on a range of views of the probable direction of the financial markets, thus enabling our readers to arrive at an informed opinion on future market direction. http://www.marketoracle.co.uk
Disclaimer: The above is a matter of opinion provided for general information purposes only and is not intended as investment advice. Information and analysis above are derived from sources and utilising methods believed to be reliable, but we cannot accept responsibility for any trading losses you may incur as a result of this analysis. Individuals should consult with their personal financial advisors before engaging in any trading activities.
© 2005-2022 http://www.MarketOracle.co.uk - The Market Oracle is a FREE Daily Financial Markets Analysis & Forecasting online publication.
Comments
James A
17 Feb 14, 01:20
An unjust misrepresentation of bitcoin..


Dear Market Oracle,

As a cryptocurrency advocator I get used to seeing ramblings of mistrust from media outlets regarding Bitcoin and rarely get annoyed. After all regardless of my own personal opinions, other people will see differently and one must respect that. With that being said your 'delightfully' titled article "Bitcoin Craptocurrency Ponzi Crash Grinds Towards ZERO, Where's Max Keiser Hiding?" really tested my nerves.

To begin with there are obvious inaccuracies littered throughout your article. Your claim that "Bitcoin Craptocurrency has plunged to USD $230" is misleading at best. Although it is true that on one of the big exchanges prices have plummeted as low as $230 the other two 'big' bitcoin exchanges are currently valuing bitcoin at $625 and $602 respectively. Mt.Gox, the exchange you were referring to, is also currently valuing bitcoin at $301. Even after averaging these values out the value is currently placed at $509, which is over double your quoted figure.

This though is still an inaccurate reflection of bitcoins current value as Mt.Gox has recently been plagued by problems, which bitcoin users are fully aware about. The problems are internal and have led to Mt.Gox temporarily halting bitcoin withdrawals from their site. This has led to trust in the platform decreasing and the price dropping. Subsequently the price you quoted in your article is not a true reflection on actual worth. Your article surprised me as it's the only article I know to have misreported these facts

.

I also would like to question your mentioning of Max Keiser in your story. The bitcoin movement has many advocates; and in mentioning just one of these advocates it could be easy for a newcomer to the currency perceiving Max as a 'bitcoin spokesperson'. I seriously doubt that if you spent the time to question users of the currency you would find any majority who see Max as a spokesperson for their views.

I can safely say I doubt your sources for these two claims:

1) "95% of What you reading is WORTHELSS SALES PITCH" and

2) "99% of Mainstream media is a WORTHLESS SALES PITCH".

As from my own personal experience I can safely assure you that the mainstream media has done more towards discrediting the currency than promoting.

Taking all of this into account, I hope you understand the need for me to ask you to reflect more accurately regarding bitcoin in the future. As this will enable readers of your site to be more accurately informed.

With sincerity,

James



Nadeem_Walayat
17 Feb 14, 05:26
Bitcoin is a Scam


Hi James

Offcourse bitcoins is a scam, the more value in terms of exposure of victims then the bigger will be the losses.

In fact, mark my words, I would NOT be surprised if you wake up one day to find that bitcoins are trading at a NEGATIVE VALUE !

The ability to scam is in built in bitcoins. I know cos I looked under the hood a few years back! The biggest such holes is that the 'networok' validates who owns what!

Which means scammers CAN and probably WILL at some point re-write who owns what !

Cannot be done ?

Offcourse it can, one way is through use of bot nets.

At least fiat currency is backed ny millions of tax payers, bitcoins is backed by nothing!

Best

NW



R.E.B
17 Feb 14, 15:33
Con from start


I might not be the brightest person on the planet but even I could see that bitcoin was a con from the very beginning. bitcoins only exist in the imaginations of those "buying" them. It is futile to say that such and such an exchange values them a such and such a price. Try selling them at that! I was gobsmacked to see people apparently piling into them at the fictitious price of over $1000. I wonder if gold will have a bitcoin moment!



biju.joseph
17 Feb 14, 18:22
Bitcoin's weakness


Nadeem,

you again nailed it with your Dec 7th Article smashing bitcoin. I agree, Bitcoin is destined for less than $10.

- Both buyer and seller of bitcoin cannot be validated. This is their one weakness. As recent silkroad 2 incident showed, some hacking resulted in bitcoin behaving like counterfeit notes.

- Nothing backs bitcoins as you indicated, unlike taxpayers for fiat currencies.

I will run miles away from this junk.

Again kudos to you for spotting and shaming those folks trying to pimp bitcoin.



paulmathers
21 Feb 14, 13:24
MTGox


There is a flaw with the bitcoin protocol that is being remediated and MTGox's handling of it has been very poor. As a consequence is a run on the MTGox exchange at the moment, much like a run on a bank. But a run on a bank is rarely a vote of confidence on the currency itself but of the bank in question (e.g. Northern Rock). As you can see, other bitcoin exchanges are trading bitcoin at very different levels to MTGox.

That still does not make it a Ponzi scheme. You seem to be confusing a speculative bubble with Ponzi scheme (much like Tulip mania that you reference above). As I've previously stated there is no dividend payback that you get with a Ponzi scheme, only speculative returns if you believe prices with go up much like Tulip Mania.



R.E.B
21 Feb 14, 18:08
Bitcoin Exchanges


Sorry but it is a nonsense to talk of Bitcoins being worth more on some exchanges than others. If this were the case, there would be an arbitrage that people could easily take advantage of and this would narrow the gaps. The truth is there is no trading going on. As Nadeem says people are locked in all the way to the bottom. Nor can any analogy be drawn with a bank run. People are not withdrawing a currency unit and simply trying to move it to another bank. They are trying to exit bitcoin and acquire state backed currency. Iam afraid those holding bitcoin are just going to accept they have made a mistake. I wonder if Max Keiser and sidekick Stacy got out in time?




Only logged in users are allowed to post comments.
Register/ Log in