UK and US Housing Bull Market Trend Forecasts and How to Profit New Free 300 page Ebook
Housing-Market
/
UK Housing
May 22, 2014 - 07:49 AM GMT

The UK housing bull market has barely begun and already bubble talk fills the media air waves whilst similar bubble talk in the US began a year earlier! The latest media noise concerns mortgage caps and rising interest rates, both are red herrings as the media fail to even be conscious of the primary drivers of this bull market, hence much of which is written will remain several years behind the curve and continue to miss whole bull markets just as the stocks bull market has passed under their collective radar for OVER 5 years! The end of which is supposedly always imminent which is now also repeating towards the housing markets with constant commentary of a an about to burst bubble.
Even Mark 'Money Printing' Carney has begun issuing warnings of a UK housing market bubble that needs to burst as he in effect acts to cover his and the Bank of England's backs for being the architects of the current UK housing bull market that continues to accelerate towards an average inflation rate of 10% per annum, which looks set to break to a new all time high within the next few months, whilst the London boom already stands at a 20% premium to its 2007 bull market peak following waves of foreign buying that seek a safe haven from their own corrupt and always eager to steal the peoples wealth governments.
Mark Carney speaking to Sky News warned:
"There was evidence that large-value mortgages – with loans of more than four times a borrower's salary – were on the rise again. The Bank has the power to issue recommendations on the scale of loan-to-value ratios."
"The biggest risk to financial stability, and therefore to the durability of the expansion – those risks centre in the housing market, and that's why we are focused on that,"
"We don't want to build up another big debt overhang that is going to hurt individuals and is very much going to slow the economy in the medium term.
"We would be concerned if there were a rapid increase in high loan-to-value mortgages across the banks … we have seen that creeping up and it is something we are watching closely."
"The level of higher loan-to-income mortgages, ones above four and a half, five times loan-to-income, potentially could store up bigger problems for the future and we need to be careful."
Mark Carney also addressed the key issue driving Britians' housing bull market which was the shortage of new homes of just 123,000 years which was well below what academic economists consider as a minimum of 200,000 needed per year.
"We're not going to build a single house at the Bank of England and we can't influence that," and said that UK house building was half that of his own country, Canada, despite the UK having a population twice the size.
As I pointed out earlier, Mark Carney's statements are pure smoke and mirrors back covering, it's just so that when he leaves for his next job he can point out to his future employer that he did warn of x,y,z when the truth will be that in actions he did the exact OPPOSITE to INFLATE the housing bubble.
Understand this fundamental truth of the British economy - Inflating the housing bubble is the ONLY thing that can prevent the British economy from collapsing ! as falling house prices would bankrupt Britians banks once more! There is NO WAY, ZERO chance of the Bank of England acting to burst Britain's housing bubble instead they will act to SUSTAIN it!
Perhaps Mark Carney has only just realised this fundamental fact that his job is as it was when he was the Governor of the Central Bank of Canada which was to INFLATE housing bubbles for that is what he did for Canada and the primary reason why he was hired by the British Government to INFLATE UK house prices so that the debt slaves fall for the illusion of increased wealth and go and borrow more for consumption and pay ADDITIONAL high taxes such as Stamp Duty on inflated property sale prices.
The dynamics of the ever inflating housing bubble are not by chance but by design! We have high Immigration by DESIGN, we have LOW house building by DESIGN - None of it is by chance as I illustrate in great depth in my latest UK housing market ebook. So don't be fooled by the likes of Carney and his bankster brethren warning of a housing bubble and for actions to be taken that NEVER WILL be taken for these are the people who CREATED the bubble and it is in their Interests to PERPETUATE it for as long as they can, even if it means the British Pound loses 99% of its value.
The bottom line is that Mark Carney is literally a pretty polly that squawks warnings every now and then, nothing more whilst the beat goes on for reasons I cover in depth in my new FREE ebook.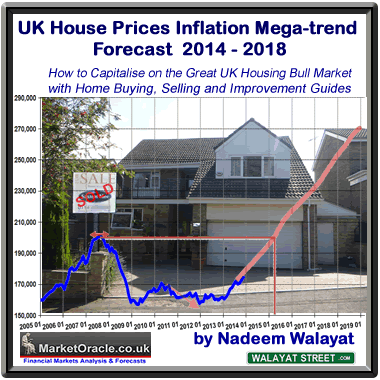 New Housing Market Ebook - FREE DOWNLOAD
Owning ones own home is one of the few ways to gain freedom in our system of inflation inducing debt slavery, despite the fact that approx 1/2 of home owners utilise debt (mortgages) to buy their homes. Succinctly, central bank prints money (debt) and then loan it to the government to buy votes (so as the population has a vested interest in perpetuating the illusion of freedom called democracy) and to the banks (who loan it to us) for interest, the consequences of printed money (debt) is to cause exponential inflation hence the Inflation Mega-trend. The government then taxes us on the inflation so that the purchasing power of our net earnings and net value of our assets (after taxes) is effectively stolen by the government and the banks, whereas the home one owns and lives in is one of the few assets that is both leveraged to inflation (because homes cannot be printed) and where the inflation is not taxed (UK capital gains are tax free on the home you own and live in).
FREE DOWNLOAD (Only requirement is a valid email address)
This ebook is the fifth in the Inflation mega-trend series as waves of ever expanding fiat fractional reserve banking system debt money, encouraged by governments for the means of bribing voters with printed money (debt) that is stealthily monetized by central banks that wash over and cycle through asset classes such as for stocks for over the past 5 years against a perpetual highly vocal media-sphere that constantly warns of an unsustainable trend that is stated as being always on the verge of ending that is now being repeated towards the housing bull markets with talks of about to burst bubbles.
Since mid 2012 the waves of inflation started to inflate new housing bull markets across the world where the focus of my analysis is primarily on the UK and US housing markets which unlike fiat currency cannot be printed and thus tend to be leveraged to inflation as first momentum and then sentiment lifts each asset class towards their ultimate final bubble peaks many years, even as long as a decade AFTER the mainstream press first starts warning of a bubble.
The UK housing market during 2013 accelerated to an inflation rate of 8% per annum whilst US house prices literally soared by more than 12%. Meanwhile the most vocal of mainstream housing market commentators persisted in pointing to a myriad of reasons why the rise in house prices is unsustainable, such as a weak economy, high indebtedness, prospects for rising interest rates and lack of affordability as average earnings continue to rise at a rate below even the official rates of Inflation which is said to have put home ownership out of the reach of most. This ebook's in-depth analysis of the housing markets concludes in detailed multi-year trend forecasts for the next 6 years for the UK. Whilst also containing extensive housing market guides that push this ebook's value far beyond the trend forecasts.
My latest ebook of over 300 pages comprises four main parts :
1. U.S. Housing Market Analysis and Trend Forecast 2013-2016 - 27 pages
The US housing market analysis and concluding trend forecast at the start of 2013 acted as a good lead exercise for the subsequent more in-depth analysis of the UK housing market.
2. U.K. Housing Market Analysis and House Prices Forecast 2014-2018 - 107 pages
The second part comprises the bulk of analysis that concludes in several detailed trend forecasts including that for UK house prices from 2014 to 2018 and their implications for the outcome of the next General Election (May 2015) as well as the Scottish Referendum.
3. Housing Market Guides - 138 Pages
Over 1/3rd of the ebook comprises of extensive guides that cover virtually every aspect of the process of buying, selling and owning properties, including many value increasing home improvements continuing on in how to save on running and repair costs with timely maintenance tasks and even guides on which value losing home improvements should be avoided.
What Can You Afford to Buy?
Home Buyers Guide
Home Sellers Guide
Top 15 Value Increasing Home Improvements
Home Improvements to Avoid
Home Winter Weather Proofing 22 Point Survey

These guides will further be supplemented from Mid 2014 onwards by a series of online videos and regularly updated calculators such as the Home Buying Profit and Loss Calculator, which will seek to give calculations on whether to buy or rent based on personal individual circumstances, that will be updated to include the latest expected trend trajectories for future house price inflation i.e. you will have your own personal house price forecast.
4. Historic Analysis 2007 to 2012 - 40 pages
A selection of 10 historic articles of analysis to illustrate the process of analysis during key stages of the housing markets trend from the euphoric bubble high, to a state of denial as house prices entered a literal free fall, to the depths of depression and then emergence of the embryonic bull market during 2012 that gave birth to the bull market proper of 2013.
FREE DOWNLOAD (Only requirement is a valid email address)
Source and comments: http://www.marketoracle.co.uk/Article45704.html
By Nadeem Walayat
Copyright © 2005-2014 Marketoracle.co.uk (Market Oracle Ltd). All rights reserved.
Nadeem Walayat has over 25 years experience of trading derivatives, portfolio management and analysing the financial markets, including one of few who both anticipated and Beat the 1987 Crash. Nadeem's forward looking analysis focuses on UK inflation, economy, interest rates and housing market. He is the author of five ebook's in the The Inflation Mega-Trend and Stocks Stealth Bull Market series that can be downloaded for Free.

Nadeem is the Editor of The Market Oracle, a FREE Daily Financial Markets Analysis & Forecasting online publication that presents in-depth analysis from over 1000 experienced analysts on a range of views of the probable direction of the financial markets, thus enabling our readers to arrive at an informed opinion on future market direction. http://www.marketoracle.co.uk
Disclaimer: The above is a matter of opinion provided for general information purposes only and is not intended as investment advice. Information and analysis above are derived from sources and utilising methods believed to be reliable, but we cannot accept responsibility for any trading losses you may incur as a result of this analysis. Individuals should consult with their personal financial advisors before engaging in any trading activities.
© 2005-2022 http://www.MarketOracle.co.uk - The Market Oracle is a FREE Daily Financial Markets Analysis & Forecasting online publication.
Comments
Simon_A
22 May 14, 10:07
Help to Buy


For those, including Clegg, pointing the finger at the "Help to Buy" scheme, I'd like to point out that there are an awful lot of people out there still struggling to buy. No, the help to buy scheme is not the problem. The problem is that house prices have been inflated, primarily, by people buying property for investment but also by greedy estate agents, cashing in on the end of the lean years.

Simon A



mackerel22
22 May 14, 11:08
Forced to Sell


As a pensioner with limited savings I will be forced eventually to sell my home to live. Low interests rates have meant I have had to dig into savings to live. Never been a believer in inheritance myself, was taught to work & save, had hoped though to be able to leave the family home to the children but that will not happen now. End result, yes a house on the market soon, we will be renting! crazy



Jimmy_R
22 May 14, 11:40
Capping Rates


Capping maximum rates charged on ANY credit products including business or personal loans, overdrafts or mortgages to say cost of funds plus a spread of one third of what is currently being charged will be useful. Its a complete joke with base rates at 0.5% for so many years the average credit card charges 40 times that and a personal loan 15-20 times base. Why is an average mortgage 9 times the base rate? NO RELATION BETWEEN BASE AND LENDING PRODUCTS - LENDERS CHARGE WHAT THEY LIKE, NOBODY IS REGULATING IT.



UpUpUpGone
22 May 14, 12:12
UK housing Bubble


The reason we have a bubble, amoungst other things, is all to do with GLOBAL quantitative easing (printing money). Money at the top of the pyramid (from huge amounts of QE) has been used to purchase goods and services at a much cheaper price than us at the bottom. Thus those goods and services have risen drastically in price, by the time the money reaches the bottom of the pyramid (you and I) those goods and services become beyond financial reach. Just watch the Official FOUR HORSEMEN film on youtube, its an unbiased independent feature documentary which lifts the lid on how the world REALLY works.



Cheam
22 May 14, 15:14
House Prices


The only way to solve the persistent housing price frothiness is to defeat expectations of constantly rising house prices that are now engrained in the British psyche. The only way to do this is to significantly boost supply and this can only be done by placating Nimbyism. Doling out significant council tax and income tax rebates funded by sale of green belt land and a relaxation of planning laws should do the trick. But make sure the amounts of rebates are in the 'shock and awe' category rather than pocket money.



Perplexed1962
22 May 14, 18:36
London Foriegn Buying


Mr Cameron needs to seriously take a look at the proportion of foreign investment into UK (more specifically, London) real estate. The new build residential developments being launched in and around East London are first being launched to Malaysian, Chinese and Singaporean investors who drive the prices up - there are no controls on how many units they can buy and UK buyers find that they are left with whatever is cast aside. These property launches often take place in Asia BEFORE being released to UK buyers meaning all the best (more affordable) units (one-two bedroom plots which are popular for rental purposes) are sold out before even reaching UK market. How are first time buyers ever going to get on the ladder? Where are the controls?




Only logged in users are allowed to post comments.
Register/ Log in