Britain's Zombie Marginal Democracy to Deliver Labour General Election 70 Seat Majority?
ElectionOracle
/
UK General Election
May 25, 2014 - 02:20 PM GMT

The housing market is booming and the economy within a matter of months will have recouped the whole of the loss of the last Labour governments catastrophic drop in GDP of over 7%, the worst since the 1930's Great Depression. But still there has yet to be any feed back towards an improvement in Tory general election prospects as illustrated by the local election results that show that the Conservatives currently stand in a far worse state than where they were at the start of the Coalition government as the surge in UKIP votes claims seven Tory votes for every one Labour vote taken.
The dire state of affairs for the Conservative party were no better illustrated than by private opinion polling by Lord Ashcfroft on Friday 23rd of May of 26,000 voters in 26 marginal continues that would translate into a 6.5% swing from Conservatives to Labour resulting in a loss of 83 Tory MP's to Labour, enough to give Labour an outright election victory on a majority of 70 seats.
Liberal Democrats Self Destruct
Whilst the Conservatives are smarting from the impact of UKIP, the Lib Dems have been paying the price for betraying virtually everything that they stand for so as Nick Clegg and a few fellow MP's could drive around in chauffeur driven cars. After losing over 250 councilors and look set to lose ALL of their 11 MEP's the party is gone into self destruct mode with highly vocal calls for Nick Clegg to be dumped as leader barely 12 months away from the general election.
Off course Nick Clegg has no choice but to go, but first he will secure himself a lucrative job in the EU.
The bottom line is that the Liberal Democrats have a destiny with extinction no matter who leads them into the next general election as they look set to be replaced by UKIP as Britain's third party of protest.
Britain's Marginal Zombie Democracy
The local election results and Ashcrofts polling reveals the truth of Britain at best being described as a marginal democracy as the political parties take their heartlands tribal voters for granted, expecting voters to turn out zombie style at each election to mark their X against whomever the party elites put up for election, whilst focusing their attentions primarily on the 20% or so of swing voters in the 80 or so marginal constituencies which translates into politicians pandering towards wooing as few as 5% of British voters as the other 95% of voters do not determine the outcome of elections! A postcode election lottery of where your vote counts and where it does not count.
The local election results form the Peoples Republic of South Yorkshire illustrates Britain's marginal zombie democracy in action.
South Yorkshire Local Election Results 2014
Sheffield - Labour Hold
| | | |
| --- | --- | --- |
| Party | Seats | Change |
| Labour | 59 | +1 |
| Liberal Democrat | 18 | -6 |
| Green Party | 4 | +2 |
| United Kingdom Independence Party | 3 | +3 |
Labour's iron grip over the people of Sheffield remains where the cities turkeys continued to vote for Christmas. So it is business as usual for more crackpot projects such as cutting bin collections by 50% to save on costs that resulted in costs actually increasing. Creating mega-primary schools that parents don't want to send their children to, or spending £18 million on the Moor market that no one can visit due to the bus gate nazi's and lack of parking.
Perhaps it was the bussing in of over 40,000 eastern european (Labour government conspiracy) new Labour voters over the years that continues to ensure Labours stranglehold over Britain's fifth largest city? The price being paid for that is literally building pressures that look set to explode this summer. - 17 Jan 2014 - Sheffield Roma Riots 2014 Warns Labour MP David Blunkett - Immigration Cultural Catastrophe
Rotherham - Labour Hold
| | | |
| --- | --- | --- |
| Party | Seats | Change |
| Labour | 50 | -8 |
| United Kingdom Independence Party | 10 | +10 |
| Conservative | 2 | -2 |
| Independent | 1 | 0 |
Rotherham saw a rebellion against the decades old dictatorship, whilst not enough to impact on the huge majority as many remain brainwashed into blindly voting Labour despite Labour having wrecked the city, leaving its centre as a literal ghost town. Still the election result will act as a wake up call for Rotherham's Labour ruling elite to actually pay some attention to the people of Rotherham's concerns.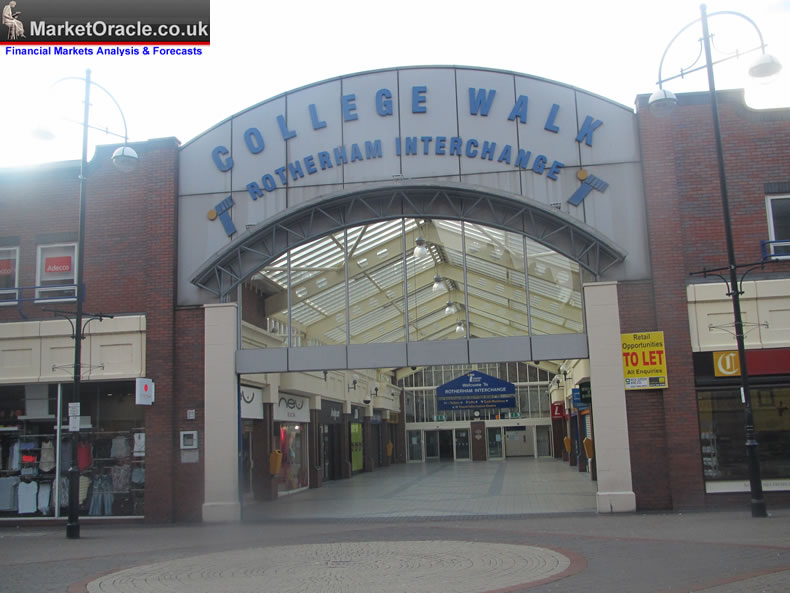 Doncaster - Labour Hold
| | | |
| --- | --- | --- |
| Party | Seats | Change |
| Labour | 48 | -2 |
| Conservative | 8 | 0 |
| Independent | 6 | +2 |
| United Kingdom Independence Party | 1 | +1 |
| Liberal Democrat | 0 | -1 |
Doncaster another Labour dictatorship full of zombie voters who complain loudly but fail to act against decades of programming.
Barnsley - Labour Hold
| | | |
| --- | --- | --- |
| Party | Seats | Change |
| Labour | 53 | +1 |
| Independent | 5 | 0 |
| Conservative | 4 | -1 |
| Vacant | 1 | 0 |
Labours iron grip over Barnsley remains as clearly the people favour election bribes and freebies over freedom.
General Election Forecast 2014 - Stealth Conservative Victory?
Whilst the Labour elite may be congratulating themselves for being on course for an outright election victory, allowing Ed Milliband to relax and literally stuff his face with a bacon sandwich,instead the underlying fundamentals of an fast accelerating economy is likely to result the exact opposite outcome by the May 2015 general election than that which the journalists / political commentariat are liberally regurgitating at length today.
My longstanding forecast for the outcome of the next general election is as excerpted below -
30 Dec 2013 - UK House Prices Forecast 2014 to 2018, Inflation, Trend Trajectory and General Election 2015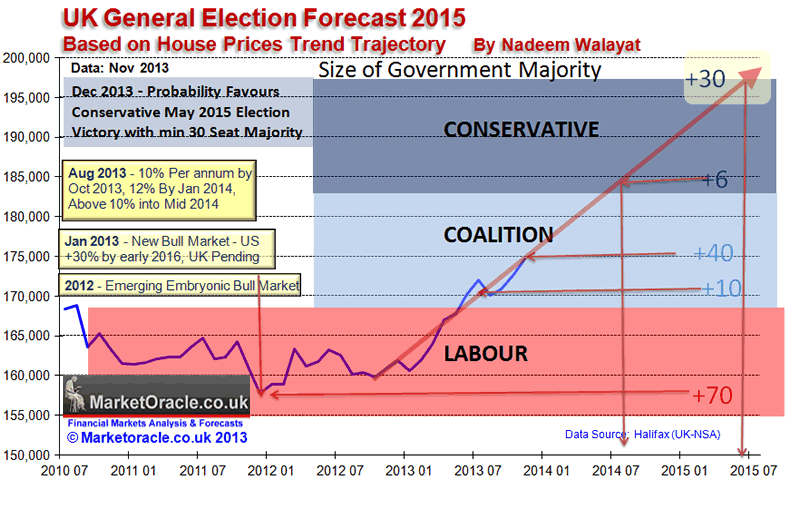 In conclusion a May 2015 general election at an average house price inflation rate of 8.5% would result in a Conservative overall majority of at least 30 seats. Therefore this is my minimum expectation as I expect UK house prices to start to average 10% per annum from early 2014 with my actual forecast converging towards average UK house prices breaking to a new all time high just prior to the May 2015 general election which would be a significant boost for housing market sentiment and thus the Conservative's election prospects.
Therefore today's media coverage of Labour winning on a majority of 70 seats belies the probable reality of a stealth conservative election victory that will take many by surprise, just as had Major's 1992 election victory when virtually everyone had been expected Kinnocks Labour party to win.
At worst, depending on how well UKIP actually do at the general election i.e. if they are able to translate their 20% of the vote into actual seats or if UKIP voters see the disaster Ed Milliband would be and vote tactically to keep Labour out, then we may end up with a Conservative / UKIP Coalition government, which at this time remains a low probability outcome as UKIP will be lucky to even win 10 seats.
The bottom line is Ed Milliband is today's Neil Kinnocks, meaning that the 5% of voters who actually determine the outcomes of elections will BLINK at the ballot box regardless of what the opinion polls imply right upto polling day.
Scottish Independence and the Balkanisation of Britain
The Scottish Independence referendum has the potential to cause great disruption to what in effect would be the end of the 300 year old entity of the united Island of Britain, which as I have often written that a YES vote would literally sow the seeds for the balkanisation of Britain as what remains of the UK literally starts to rip itself apart for the status quo of what was taken for granted would no longer exist.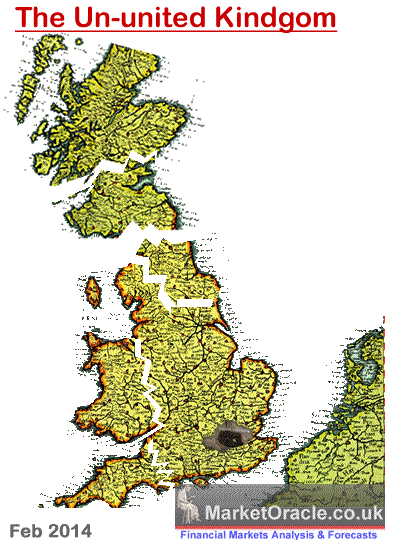 Recent news illustrates that the approaching Scottish Independence vote has already galvanised agitants to blow on the embers for Cornish independence as they wave their aptly coloured Cornish black funeralesk flag that continued with calls of autonomy literally at the other end of Britain from the Northern and Western Isles with calls for devolution from Edinburgh and even calls for their own parliament that sows the seeds not only for the balkanisation of Britain but also of an Independent Scotland that following a YES vote would soon start to fragment as for instance the bordering regions would reassert their separate identity that has far more in common with the of North England than Scotland, formerly known as the kingdom of Northumbria that stretches from Edinburgh in the north to Sheffield in the south. Whilst the Northern Isles see themselves as having more in common with Norway than Scotland.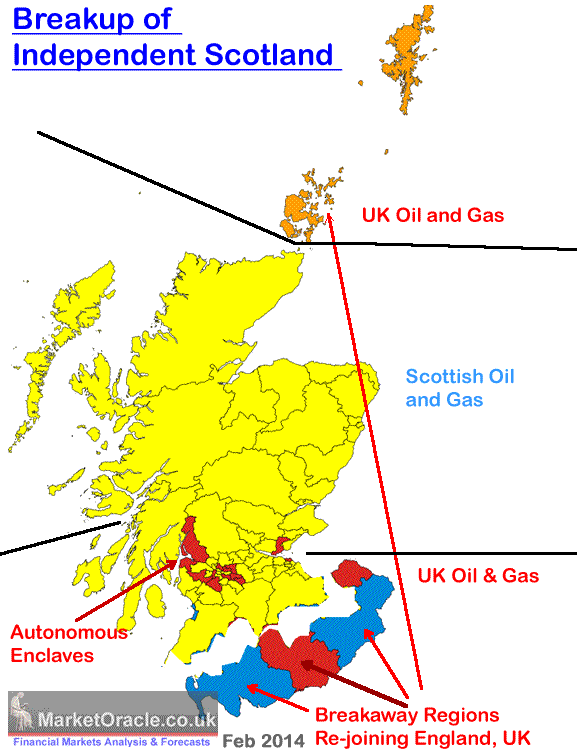 So if Alex Salmond does succeed in his cunning plan for greater powers then he will likely go down in history as the first and last Prime Minister of Scotland as we know it today which effectively means a Yes vote on 18th September will be Scotland voting to commit suicide.
Where the next election is concerned clearly this would mean that the next parliament would not run for 5 years but instead a new general election would take place soon after Scottish Independence day which means even if Labour did manage to pull off a miraculous election win in May 2015, however they may not last even a year in office before the next general election was called in May 2016.
However my view remains that the people of Scotland will blink at the brink and not be seduced by SNP fanaticism which will not only save Scotland but the whole of the Island of Britain from the start of a sequence of events that would be far more catastrophic than anything experienced since World War 2.
For in-depth analysis and detailed trend forecasts of the UK economy, housing market and general election outcome see the New UK Housing Market Ebook available for FREE DOWNLOAD (Only requirement is a valid email address).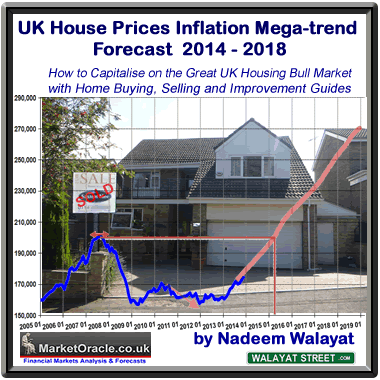 New Housing Market Ebook - FREE DOWNLOAD
The housing market ebook of over 300 pages comprises four main parts :
1. U.S. Housing Market Analysis and Trend Forecast 2013-2016 - 27 pages
The US housing market analysis and concluding trend forecast at the start of 2013 acted as a good lead exercise for the subsequent more in-depth analysis of the UK housing market.
2. U.K. Housing Market Analysis and House Prices Forecast 2014-2018 - 107 pages
The second part comprises the bulk of analysis that concludes in several detailed trend forecasts including that for UK house prices from 2014 to 2018 and their implications for the outcome of the next General Election (May 2015) as well as the Scottish Referendum.
3. Housing Market Guides - 138 Pages
Over 1/3rd of the ebook comprises of extensive guides that cover virtually every aspect of the process of buying, selling and owning properties, including many value increasing home improvements continuing on in how to save on running and repair costs with timely maintenance tasks and even guides on which value losing home improvements should be avoided.
What Can You Afford to Buy?
Home Buyers Guide
Home Sellers Guide
Top 15 Value Increasing Home Improvements
Home Improvements to Avoid
Home Winter Weather Proofing 22 Point Survey

These guides will further be supplemented from Mid 2014 onwards by a series of online videos and regularly updated calculators such as the Home Buying Profit and Loss Calculator, which will seek to give calculations on whether to buy or rent based on personal individual circumstances, that will be updated to include the latest expected trend trajectories for future house price inflation i.e. you will have your own personal house price forecast.
4. Historic Analysis 2007 to 2012 - 40 pages
A selection of 10 historic articles of analysis to illustrate the process of analysis during key stages of the housing markets trend from the euphoric bubble high, to a state of denial as house prices entered a literal free fall, to the depths of depression and then emergence of the embryonic bull market during 2012 that gave birth to the bull market proper of 2013.
FREE DOWNLOAD (Only requirement is a valid email address)
Source and comments: http://www.marketoracle.co.uk/Article45756.html
By Nadeem Walayat
Copyright © 2005-2014 Marketoracle.co.uk (Market Oracle Ltd). All rights reserved.
Nadeem Walayat has over 25 years experience of trading derivatives, portfolio management and analysing the financial markets, including one of few who both anticipated and Beat the 1987 Crash. Nadeem's forward looking analysis focuses on UK inflation, economy, interest rates and housing market. He is the author of five ebook's in the The Inflation Mega-Trend and Stocks Stealth Bull Market series that can be downloaded for Free.

Nadeem is the Editor of The Market Oracle, a FREE Daily Financial Markets Analysis & Forecasting online publication that presents in-depth analysis from over 1000 experienced analysts on a range of views of the probable direction of the financial markets, thus enabling our readers to arrive at an informed opinion on future market direction. http://www.marketoracle.co.uk
Disclaimer: The above is a matter of opinion provided for general information purposes only and is not intended as investment advice. Information and analysis above are derived from sources and utilising methods believed to be reliable, but we cannot accept responsibility for any trading losses you may incur as a result of this analysis. Individuals should consult with their personal financial advisors before engaging in any trading activities.
© 2005-2022 http://www.MarketOracle.co.uk - The Market Oracle is a FREE Daily Financial Markets Analysis & Forecasting online publication.
Comments
IGSH
25 May 14, 16:08
Scotland Yes Vote


A Yes vote would have a huge impact on the 2015 election campaign because that would then become the central and most important issue in the election. Emotions would undoubtedly be running extremely high.

The English electorate would be looking for real assurances that their interests would be paramount in any negotiations, and there would be no exaggeration in warning that serious civil disorder might result if Parliament supinely acquiesced to all Salmond's demands.

There is no way on earth that negotiations could be conducted without a degree of bitterness and acrimony which would have a serious impact on both countries that could last for hundreds of years.

England simply would not allow its Government to give Salmond everything that he keeps telling the Scots they are going to get.

Miliband would have real problems arriving at a narrative that satisfied both Scottish and English Labour supporters; he would clearly be unable to satisfy both.

The Scots in Scotland might be the only ones who have a vote, but the rest of the population of the UK will come hell or high water make sure its voice is heard by those negotiating on their behalf.



StopPress
25 May 14, 17:01
Stop Milliband


Miliband looks like one of those weird idiots who spends hours looking in the mirror wondering why it is that when he turns the mirror vertically his reflection is not upside down. If this foreign looking man gets power it will be the last rusty nail in the British coffin. You can say goodbye to your British identity forever as Labour completes its plan for the 'final solution' called multiculturalism.



Snarf
25 May 14, 21:58
Labour - Nooo!


boot in and destroy us....I can't afford to pay more tax because of their off the scale borrowing

Snarf



R.E.B
25 May 14, 22:48
Miliband/Balls ticket to lose


I do not see anything like the kind of cut through that would suggest a Labour victory at the next general election. Miliband does not have the confidence of the public, and his adjutant Balls is clearly regarded as an embarrassment. Labour fail Iam afraid, barring a bombshell.



Nadeem_Walayat
26 May 14, 00:23
Labour


Hi

Labour victory is what the media expects, my long standing forecast remains for a Conservartive outright victory, the prospects for which I will update in my next article i.e. trend trajectory based on house price inflation to date.

Best

NW




Only logged in users are allowed to post comments.
Register/ Log in