Britain's Immigration Catastrophe Continues, David Cameron's Impotent Speech on Stopping In Work Benefits
Politics
/
Immigration
Nov 28, 2014 - 02:51 PM GMT

The latest immigration statistics out of the ONS reveal the truth of what amounts to continuing out of control immigration of the last Labour governments disastrous policy of importing several million new Labour voters into Britain. Meanwhile all that David Cameron can do is to make impotent speeches in a desperate attempt to fight off the UKIP threat ahead of the next general election, promises of withholding in work benefits to migrant workers for upto 4 years. However virtually all of his proposals CANNOT be implemented and were immediately rejected by European Union bureaucrats as being illegal if implemented.
Highlights of David Cameron's Impotent Speech
Limit in work benefits such as tax credits for four years worth £2 billion per year.
No cap or limit on numbers
No unemployment benefit for migrants and 6 month time limit to find work.
No child benefit or tax credits to children who do not live in the UK.
No access to social housing and housing benefit for 4 years, worth £6 billion per year
Fails to warn of UK exiting the EU if he does not get his way, instead states that "cutting EU migration will be an absolute requirement in a renegotiation of Britain's EU membership and he will rule nothing out if he doesn't get that agreement.
However, the facts to date illustrate that David Cameron just CANNOT be trusted on immigration, for he has repeatedly FAILED in virtually EVERY PROMISE made as when David Cameron took power in 2010 he promised that he would cut net immigration towards the end of the parliament to the tens of thousands rather than the 205,000 at the time, instead the latest data from the ONS shows that net immigration has SOARED to a level even far higher than in 2010 to now stand at 260,000.
"Overall, net immigration would be kept in the tens of thousands, rather than the current rate of hundreds of thousands". - David Cameron 2010
Furthermore the net immigration trend is ACCELERATING as 260,000 in the year ending June 2014 is up 42% from the 182,000 in the year ending June 2013. As 583,000 people immigrated to the UK in the year ending June 2014, compared to 502,000 in the previous year which is set against emigration of 323,000 in the year ending June 2014 compared to 320,000 in the previous year.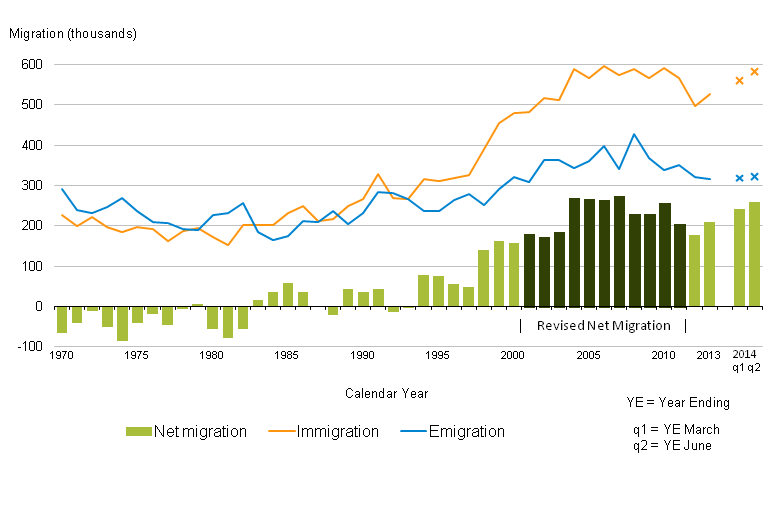 And as repeatedly warned during much of 2013 to expect a surge in immigration from Romania which has been materialising as whole villages are moving lock stock and barrel to places such as Sheffield resulting in huge social consequences for settled communities.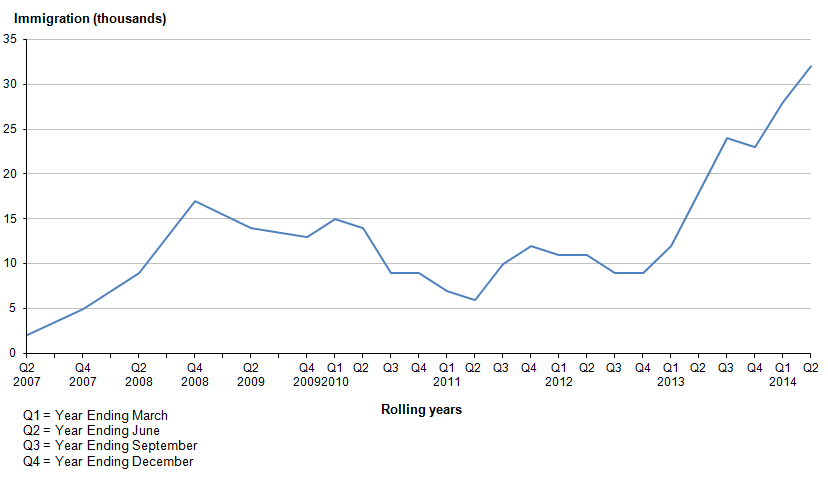 Whilst the primary reason for migrating to the UK is work (250k) with studying second (170k), that feeds into state propaganda (BBC) that most migrants come to the UK to work and not claim benefits, however as I next illustrate the reality of which is the exact opposite.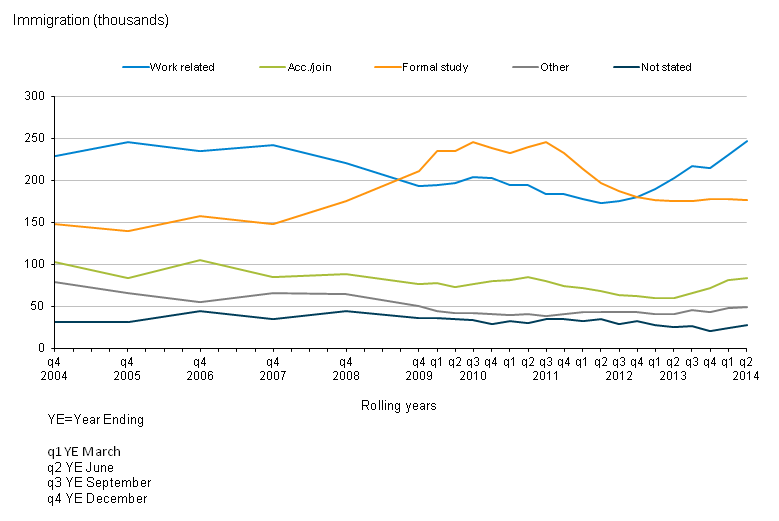 Tax Credits, In work Benefits
Repeatedly a politically correct BBC brings forth a stream of recent migrants on broadcast news to proclaim that they are in the UK to work and not to claim benefits. But what state propaganda repeatedly tends to ignore or brush over is the consequences of the IN WORK BENEFITS such as Tax credits, housing benefit and social housing which amounts to HUGE benefits payments for migrant workers and a subsidy to employers.
Analysis by the Open Europe think tank illustrates the effect of in work benefits on actual earnings and why contrary to state propaganda that it is BENEFITS as the PRIMARY reason why eastern europeans arrive to WORK in the UK at huge expense to British workers, both in terms of continuing high unemployment especially for british youth as 1 in every 3 jobs created goes to migrant workers (ONS) and in terms of depressing wages that contributes to the cost of living crisis.
Weekly take-home pay: single earner, minimum wage, no dependent children (UK GBP at PPP)




UK nationals and EU migrants under current rules

EU migrants in UK under OE rules

Spanish minimum wage

Polish minimum wage

Bulgarian minimum wage

Salary

£227.50

£227.50

£178.07

£174.06

£79.48

Total deductions

-£30.99

-£30.99

-£11.31

-£60.05

-£18.20

Income post deductions

£196.51

£196.51

£166.77

£114.01

£61.28

Benefits/tax credits

£93.77

£0.00

£47.30

£0.00

£0.00

Total

£290.28

£196.51

£214.07

£114.01

£61.28

Effect on income of moving to UK under current rules






+35.6%

+154.6%

+373.7
Weekly take-home pay: single parent, UK minimum wage, two dependent children (UK GBP at PPP)




UK nationals and EU migrants under current rules

EU migrants in UK under OE rules

Spanish average wage

Polish average wage

Bulgarian average wage

Salary

£227.50

£227.50

£433.65

£387.90

£191.69

Total deductions

-£30.99

-£30.99

-£80.77

-£136.67

-£43.90

Income post deductions

£196.51

£196.51

£352.88

£251.23

£147.79

Benefits/tax credits

£330.52

£0.00

£9.45

£18.43

£1.66

Total

£527.03

£196.51

£362.33

£269.67

£149.45

Effect on income of moving to UK under current rules






+45.5%

+95.4%

+252.6%
Source: Open Europe
This analysis shows that the effect of in work benefits results in 'single' Polish workers being typically 150% better of coming to the UK in terms of pay and a Bulgarian near 400% better off. Whilst a single parent polish worker would be near 100% better off and a Bulgarian typically 250%. Where it is the benefits that on several measures are many multiples of the actual pay rates in Poland and Bulgaria hence why migrant workers are contributing NOTHING in terms of net economic output because on average tend to consume far more in benefits than contribute in economic output let alone in terms of taxation which does not even amount to 1% of the amount taken in benefits.
Additionally other costs / benefits are not being factored into the equation such as the NHS, social services, education and child benefit.
The truth is that most migrant workers, at least 80% make NO NET positive contribution to the UK economy. However, neither do some 80% of british workers as Britain's political system through inflation and election bribes has been designed by successive governments to turn virtually everyone into a vested interest benefits claimaint. 80% of the British people ARE benefits claimants, where the cost of which is financed by PRINTING MONEY (Government bonds and QE) which causes the inflation that the elite leveraged themselves to by means of oscillating asset prices around the exponential Inflation mega-trend as I have covered at length over the past 5 years in the Inflation mega-trend series of ebook's (FREE DOWNLOAD).
I elaborated upon the consequences of Britains' immigration catastrophe at the start of the year with a possible solution -
02 Jan 2014 - One Million Romanian and Bulgarian's to Descend upon Elysium - Britain's Immigration Catastrophe
Breaking the Back of Public Services
Public services such as health, housing and schools were already stretched to breaking point as a consequence of a decade of mass immigration and ongoing health tourism are now likely to effectively seize under the weight of the latest wave of as much as 1 million over the next 2 years as many hundreds of thousands of poor families will dump themselves at the feet of Britain's local councils and welfare state to home, feed, cloth and school in perpetuity that will prompt many hard working taxpayers to question exactly what are they being forced to pay taxes for because when they attempt to gain access to services they will experience much inertia.
UK Population Growth Trend Trajectory
My long standing forecast is for the UK population to grow from 62.2 million as of Mid 2010 to at least 70.5 million by 2030 as illustrated by the graph below. However the actual trend trajectory as per the most recent population data into Mid 2012 suggests that the UK population could increase by an additional 4 million by 2030 as a consequence of what amounts to out of control immigration that translates into a population increase equivalent to 15 cities the size of Birmingham.
02 Aug 2010 - UK Population Growth and Immigration Trend Forecast 2010 to 2030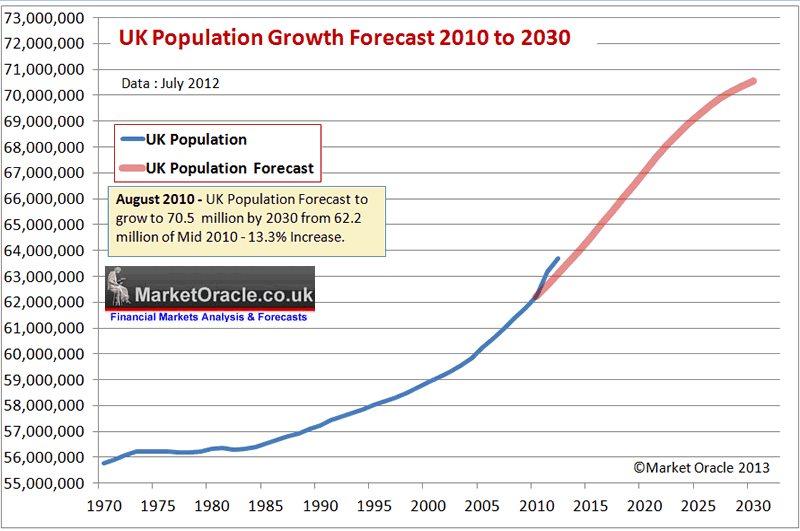 Continuing out of control immigration looks set to have a huge impact on the UK housing market in terms of availability and prices so ensure you subscribe to my FREE newsletter to be in receipt of detailed trend forecasts for UK house prices for the next 5 years as well as to download my NEW Ebook UK Housing Market Forecast 2014 - 2018 (available from Mid Jan 2014).
Both Major Political Parties Support Immigration
Leaders and representatives of both major parties have been busy making statements promising to control immigration in the future, however these amount to nothing more than bare faced lies when one considers the real fundamental drivers for immigration because if the politicians were really serious about controlling immigration than it would already have been done!
Labour Supports unlimited immigration because the vast majority of immigrants will tend to vote Labour i.e. be politically left of centre, therefore Labour sees immigration ultimately in terms of hundreds of thousands of new Labour voters who will ensure further election victories. Labour's strategy has therefore been highly successful as in a little over 10 years it has changed many constituencies in favour of voting Labour to the point where it has become near impossible for the Conservatives to win elections with significant majorities such as the landslides achieved by Margaret Thatcher achieved during the 1980's.
Conservatives support immigration because it is highly profitable for their pay masters - big business, as the influx of migrant workers will tend to drive down wages for all workers thus deliver higher profits for business. Academic economists may rightly argue that by doing so businesses will ultimately erode their own profits as workers who earn less also spend less. However what academics fail to appreciate is that the state steps in to fill the gap by subsidising workers through tax credits and paying some 8 million people who are economically inactive all of which is funded by money conjured out of thin air i.e. government debt that is not backed by any economic activity that acts to inflate the economy, and thus corporate profits which are leveraged to inflation.
The Conservative led Coalition boasts that it has cut net migration by a third, but what they forget to mention is that only immigration from OUTSIDE of the EU has been cut i.e. many of whom would be highly skilled workers, who instead of being reliant on the state would have paid taxes. Additionally the Conservatives conveniently tend to forget that the Borders Agency has been an abysmal failure that routinely allows in many tens of thousands of illegal migrants every year.
Therefore one should realise that high net immigration is in the interests of both major political parties both in terms of votes and for those that bankroll the parties, which means neither Labour or Conservatives will actually do anything significant in respect of controlling immigration, so everything you are hearing in the mainstream media from the politicians such as Cameron promising a referendum in 2017, some 2 years AFTER the next election is purely smoke and mirrors BS to mislead the population into thinking that something will eventually be done about Britain's immigration crisis.
Yes each party may announce plenty of policies and massage figures in the run upto the next General election, but they will break ALL of their immigration promises just as they have done before because it is not in either main parties interests to control immigration.
Long Term Solution
A possible solution to Britain's immigration crisis is for politically corrupt eastern european countries such as Bulgaria and Romania to replicate the British political, legal, social and cultural system, therefore Britain rather than opening its doors instead Bulgaria and Romania should open their doors to hordes of British technocrats so that they can implement a blue print for constructing a modern democratic British colony, it's not as far fetched as it may sound as the euro-zone effectively replaced democratically elected governments with technocrats in several european countries such as Mario Monti's in Italy. The only stumbling block is will the corrupt eastern european politicians give up power?
Source and Comments: http://www.marketoracle.co.uk/Article48407.html
By Nadeem Walayat
Copyright © 2005-2014 Marketoracle.co.uk (Market Oracle Ltd). All rights reserved.
Nadeem Walayat has over 25 years experience of trading derivatives, portfolio management and analysing the financial markets, including one of few who both anticipated and Beat the 1987 Crash. Nadeem's forward looking analysis focuses on UK inflation, economy, interest rates and housing market. He is the author of five ebook's in the The Inflation Mega-Trend and Stocks Stealth Bull Market series that can be downloaded for Free.

Nadeem is the Editor of The Market Oracle, a FREE Daily Financial Markets Analysis & Forecasting online publication that presents in-depth analysis from over 1000 experienced analysts on a range of views of the probable direction of the financial markets, thus enabling our readers to arrive at an informed opinion on future market direction. http://www.marketoracle.co.uk
Disclaimer: The above is a matter of opinion provided for general information purposes only and is not intended as investment advice. Information and analysis above are derived from sources and utilising methods believed to be reliable, but we cannot accept responsibility for any trading losses you may incur as a result of this analysis. Individuals should consult with their personal financial advisors before engaging in any trading activities.
© 2005-2022 http://www.MarketOracle.co.uk - The Market Oracle is a FREE Daily Financial Markets Analysis & Forecasting online publication.

Only logged in users are allowed to post comments.
Register/ Log in