Sheffield School Places Crisis 2015, Magnitude of Dobcroft Catastrophe Revealed
Local
/
Sheffield
Feb 17, 2015 - 03:57 AM GMT


In microcosm Sheffield's Dobcroft Infants school illustrates the crisis in school places taking place right across Britain's cities as a consequence of a soaring birth rate, out of control immigration and school budget spending cuts. Where the most recent development in the unfolding saga is a detailed lengthy letter by the governing body of the school in the wake of the Sheffield city councils election panic decree for a 33% increase in school places for the intake due to be be announced April 2014, just a few weeks before the May general election as I recently covered at length in -
09 Feb 2015 - Sheffield School Places Crisis - Labour Council Election Panic Dobcroft Infant 33% Extra Places
Election Year School Places Panic - Dobcroft 33% Increase
Whilst there may still be some snow left outside the gates of many of Sheffield's best state schools but the city council has attempted to blast away the BIG FREEZE in school places that would soon have resulted in parent (voter) outrage by apparently pulling a magic rabbit out of the hat by conjuring 33% extra school places into existence at Dobcroft Infant Schools 2015 intake.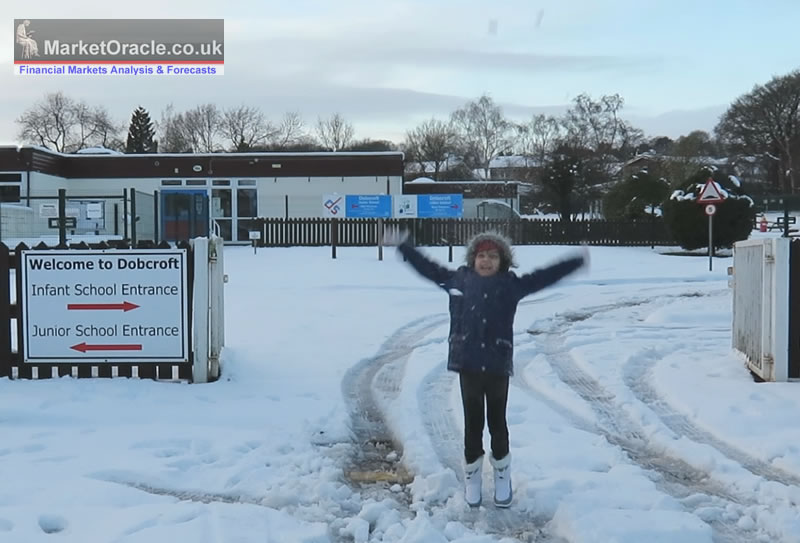 All without any consultation with the School as illustrated by a letter from the Chair of School Governors which states:
"The school was given no choice over the 2015 decision."
"This is being addressed through an ongoing dialogue with senior council officers, through which we have vigorously questioned their decision-making process for both 2015 and 2016."
"This is being addressed through an ongoing dialogue with senior council officers, through which we have vigorously questioned their decision-making process for both 2015 and 2016.
"We share many of your concerns, as parents ourselves, and appreciate that it is a very emotive subject. We remain focused on the key issues and will continue to work tirelessly in the interests of the school pupils."

This follows some 7 months on from when I wrote that the provision for school places should be created at high demand schools such as Dobcroft, where parents actually wanted to send their children rather than the baldrick-esk policy the Labour run council had implemented. However, clearly this is an obvious election panic move for the extra intake is provisionally only for 2015 and that unlike the expansion of Greystones School which had been well planned for and announced early 2014, the Dobcroft announcement is without any planning on where the extra children will be taught as the school is already stuffed to the rafters with many children near permanently taught in porta cabins.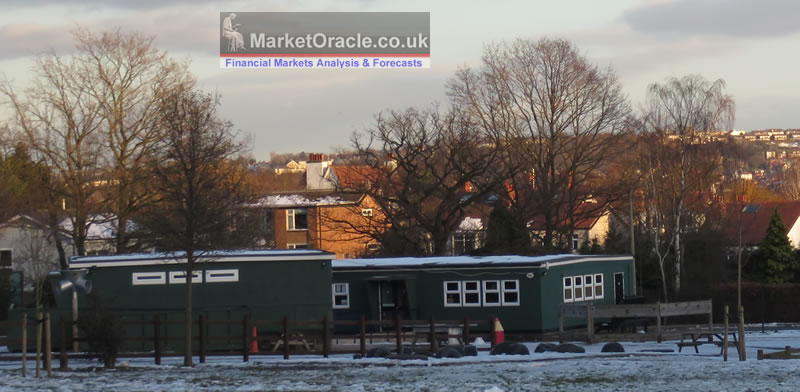 Whilst the city council has made the right decision to expand the number of places at Dobcroft Infant school by 33%. However the way it has been announced out of the blue within a few months of the general election, all without any consultation with the school or parents reeks of a panic move from preventing the school places crisis from exploding into an major election issue, because as far as I am aware the plans for where the extra 33% of children will go has yet to be worked out which probably means more porta cabins are going to be hastily shipped in over the summer months that just like the existing ones will become a permanent fixture.
Whilst the primary focus of the most recent governors letter is to criticise the Councils unilateral expansion for a 33% intake increase without any prior consultation with the school, parents or with regard to the capacity of the local infrastructure that would have yielded much protest and delay had there been such prior consultation that would not have chimed well with the election time table, as illustrated by this excerpt -
The council should, however, be aware that the absence of any consultation and openness in the decision making process has alienated parents. The lack of trust and sense of betrayal cannot be underestimated. The decision is a short sighted fix to a perceived immediate problem that is not evident from the data. Current forecasts suggest that 2015 will have no greater pressures than 2014. This temporary expansion will result in more 'out of catchment' admissions building pressure in later years, due to increased sibling preferences.
The letter from the governing body continues by explaining the detrimental impacts of the councils decision on the children's learning environment, lack of space, road safety etc. However, despite the schools protestations of there apparently being no real issue in demand vs places, one item stands out that blows much of the schools argument away and brings home the magnitude of the crisis in school places that would have resulted in a catastrophic outcome for many Sheffield's families had the city council not acted albeit several years late and in the face of a general election that would sparked much negative publicity for the Labour run council.
Annex One – Future catchment 1st preference application estimates (as published on FAQs by the council).
Table 1: Predicted numbers of in catchment applications in future years.
Catchment population 1st pref forecast

Intake

2015

2016

2017

2018

4 year average

4 year average places Vs 1st pref catchment apps

Nether Edge

60

25

27

28

26

27

-33

Hunter's Bar

90

40

37

47

46

42

-48

Lowfield

60

28

27

27

25

27

-33

Totley

30

39

41

52

49

45

15

Ecclesall

60

84

64

86

78

78

18

Holt House & Carterknowle

60

48

42

34

34

39

-21

Dobcroft*

90

82

99

105

101

97

7

Springfield

30

22

19

20

23

21

-9

Greystones**

90

80

79

63

68

73

-17

Dore

60

61

68

62

57

62

2

Sharrow

60

36

42

40

35

38

-22
The fact is that for IN CATCHMENT Children's 1st preference applications, Dobcroft Infants School at 60 places would have resulted in 22 children THIS year FAILING to obtain a place at their Catchment School, or 36% of the intake. Remember this is for IN CATCHMENT applications and NOT total applications which will probably turn out to be triple the original intake. Furthermore, the table illustrates that the Dobcroft school places crisis looks set to continue to worsen in subsequent years as is the case for virtually all of Sheffield's best ranked schools.
However, the school governors and the City Council still fail to recognise one of the primary causes of the crisis which is the fundamental issue of rampant fraud in school place applications that I have covered at length during 2014, that I warned would result in a perfect storm for 2015 admissions that we are witnessing today and that which is resulting in the Councils panic decisions.
17 Oct 2014 - Sheffield Roma Crisis School Place Application's Fraud Perfect Storm
Sheffield School Place Application's Fraud Perfect Storm
Parents desperate to avoid crisis at their catchment schools will just intensify the epidemic of fraudulent school place applications as many parents are more than willing to have their children avoid going to the local catchment area school. Especially as this fraud has NO consequences in law and is seen by the perpetuators as a victimless crime, where as the inept system currently stands that even if the fraud is subsequently discovered once the child starts school, then the child would still be allowed to continue at that school which effectively amounts to fraud being rewarded rather than punished, that's what tends to happen in socialist utopia's.
Therefore many parents will be pressurising family members, friends, acquaintances or even using addresses without householders knowledge, all in pursuit of a place at one of Sheffield's best ranked state secondary, juniors and infants schools as illustrated by the following graph that represents Sheffield's Top 14 Secondary schools out of a total of 26 rated in terms of consistency in attaining high rankings in the school league tables from 2001 to 2014.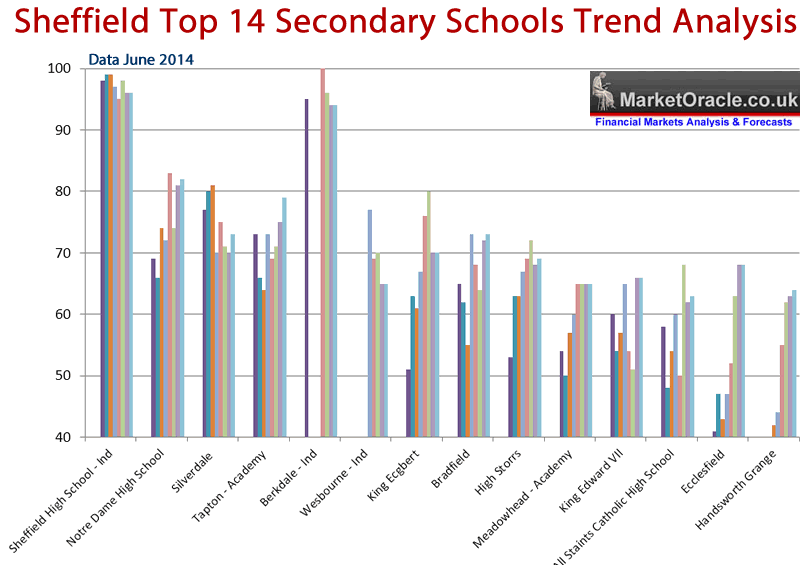 School Place Applications Fraud - A Victimless Crime?
Serious flaws in the management of the school admissions process means that an increasing number of fraudulent applications succeed each year as representing a failure of the schools admissions team to do their job in firstly identifying fraudsters and then in taking action to ensure that fraud does not pay, as currently there is NO consequences for having committed school places fraud as if the fraud is not identified before the start of the academic year then the parent / student has effectively succeeded in stealing a school place from those who are actually entitled to a place at schools such as Silverdale where the situation is even worse for primary schools with far fewer places coupled with high demand such as for Dobcroft Infants / Junior School which results in much disruption for Sheffield's honest hard working families as siblings FAIL to get places at their local catchment schools.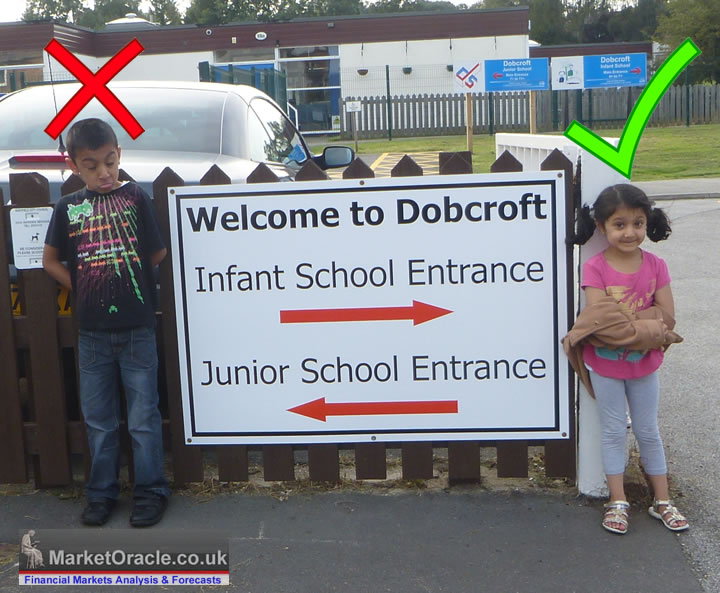 Parents that reside in Sheffield's less affluent areas that target Sheffield's best schools (outside their catchment areas) are under the misguided assumption that just by sending their child to a good school will be enough to instantly turn their child into a little einstein, which fails to grasp the fundamental factor that it is NOT teachers that determine whether a school is good or bad but rather it is the PARENTS! As the teachers are of virtually the same caliber across all schools, for most teachers go through the same system of coming out of University with a mediocre degree, followed by post graduate certification allowing them to start work as a teacher, all without any real world experience to differentiate them from one another and therefore all Schools tend to be staffed by teachers of the same system programmed theory based capabilities. After all teachers can only teach what they have been taught by other teachers! A perpetual cycle of putting theory of what 'should' work over what real world experience states actually does work.
In reality ordinary schools can only become good schools because the PARENTS of children go out of their way to educate their children far beyond the capability of what the school teaches, who be virtue of the fact are only capable of securing a job as a teacher generally earning £20k to £30k per year, otherwise they would not be teaching but be in a higher commanding profession or running their own business. Eventually some teachers after a decade or so of teaching will engage brain cells and realise that they can earn a lot more for instance by starting their own nursery or similar educational service that better utilises on their experience and yields many times a teachers salary for similar effort.
Therefore it is the middle class 'pushy' parents through extracurricular activities and actively pushing the school to outperform through a myriad of suggested activities that turns an ordinary state school into a good state school. And conversely populating a good state school with children of parents who in large number may have parked their lard asses on benefits for most of their adult lives whilst only paying lip service to their child's educational needs other than in making a fraudulent school place application is just going to eventually result in that good school becoming just another bottom ranking state school.
This has happened several times before in Sheffield, for instance the Socialist Labour City council had a Baldrick-esk cunning plan to open up one of Sheffield's best Schools at the time (early 1990's), Abbeydale Grange to anyone in the city, that given its high league table standings was soon swamped by the benefits and low paid classes of the city, that subsequently resulted in the School going from being one of the best ranked schools in the city to literally the worst all within a few years, where it got to the point that NO parent wanted to send their child to Abbeydale Grange which ultimately resulted in the school being closed down some 3 years ago. That's what happens to Good Schools when you open them up to outside catchment or allow out of control fraud and as Schools such as Hinde House appear to be going the same way as Abbeydale Grange than that is what is increasingly going to happen to some of Sheffield's best schools.
At the end of the day Sheffield can choose to turn ALL of its schools into poor schools by turning a blind eye to school places fraud as the middle class can always elect to either opt out of state education altogether or move out of the city at huge determent to the cities economy for then who will be left to pay for the services and taxes to finance Sheffield's Socialist Utopian hell-hole?
So rather than school place application's fraud being a victimless crime, in reality it will succeed in turning virtually every area of Sheffield into a Page Hall and every school into a Hinde House! Therefore the fraud should be recognised for what it is, a crime, and prosecuted accordingly with stiff fines and even suspended sentences.
Solutions to Sheffield's School Places Crisis
Where Sheffield's school places crisis is concerned, if the city council seriously intends on addressing the issue then there three clear solutions -
Short-term - Introduce and enforce penalties for making fraudulent school place applications that includes cancellation of school places no matter when the fraud is discovered and a fixed penalty notice fine.
Short-term - Temporarily expand places at ALL of Sheffield's high demand schools, but to do it in a properly planned manner, not as an election panic move. However the issue here is there is a limit to what sites can be expanded to i.e. roads and local infrastructure.
Long-term - A NEW Primary / Junior school in the high demand area of the city.
Source and Comments: http://www.marketoracle.co.uk/Article49467.html
By Nadeem Walayat
Copyright © 2005-2015 Marketoracle.co.uk (Market Oracle Ltd). All rights reserved.
Nadeem Walayat has over 25 years experience of trading derivatives, portfolio management and analysing the financial markets, including one of few who both anticipated and Beat the 1987 Crash. Nadeem's forward looking analysis focuses on UK inflation, economy, interest rates and housing market. He is the author of five ebook's in the The Inflation Mega-Trend and Stocks Stealth Bull Market series that can be downloaded for Free.

Nadeem is the Editor of The Market Oracle, a FREE Daily Financial Markets Analysis & Forecasting online publication that presents in-depth analysis from over 1000 experienced analysts on a range of views of the probable direction of the financial markets, thus enabling our readers to arrive at an informed opinion on future market direction. http://www.marketoracle.co.uk
Disclaimer: The above is a matter of opinion provided for general information purposes only and is not intended as investment advice. Information and analysis above are derived from sources and utilising methods believed to be reliable, but we cannot accept responsibility for any trading losses you may incur as a result of this analysis. Individuals should consult with their personal financial advisors before engaging in any trading activities.
© 2005-2019 http://www.MarketOracle.co.uk - The Market Oracle is a FREE Daily Financial Markets Analysis & Forecasting online publication.

Only logged in users are allowed to post comments.
Register/ Log in