BrExit War - Tory Party About to Replace Theresa May for NO DEAL BrExit
Politics
/
BrExit
Nov 16, 2018 - 11:33 AM GMT

Britain is possibly counting down to towards the END of Theresa May's premiership who has been a walking disaster since Article 50 was triggered in March 2017, and who has likely DELIBERATELY WASTED the past 18 months in doing an exit deal with the EU Devil that effectively KEEPs the UK within the EU!, a deal where nearly every British red line has been watered down towards nothing in what amounts to a 585 page suicide note, one of virtually delivering Britain on a platter to the European Union Mafia which from the outset had sought to extract a heavy price from Britain such a Euro 50 billion divorce bill, free movement of people, Northern Ireland effectively split from the rest of the UK and over 500 pages more of similar poison, all in exchange for Britain to remain within a customs union for a few more years.
In fact the more I look into the contents of this 585 page suicide note the worse it appears. For instance any member of the EU can supposedly vote to LEAVE the EU on 2 years notice. However, this so called DEAL states that the UK CANNOT LEAVE the EU WITHOUT the EU's permission! Thus the deal is designed to permanently KEEP the UK within the EU as a second class member!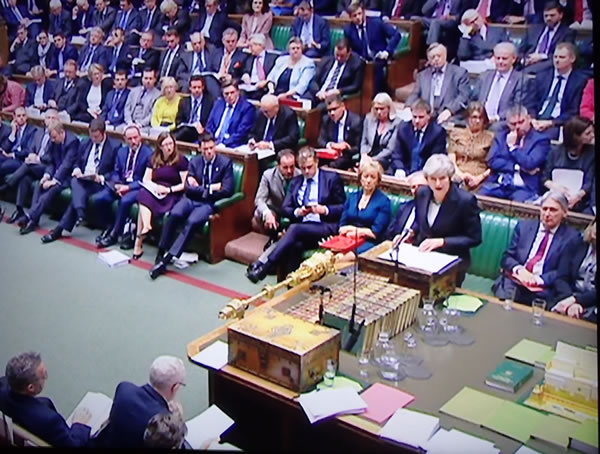 Getting rid of Theresa May looks like a necessary step towards avoiding the catastrophe of Theresa May's so called BrExit DEAL Against which my view from the outset of the triggering of Article 50 has been that it is in Britains best interests to LEAVE the European Union WITHOUT A DEAL! In fact at the time I laid out a BrExit Strategy that Britain could follow that would ensure the time between March 2017 and March 2019 was not wasted falling into the European Unions Brexit negotiations trap that Theresa May not only fell into as a REMAINER, but made things TEN TIMES WORSE following Theresa May's disastrous decision to call a general election on the 8th of June 2017 that delivered 'Chaos and Uncertainty' instead of 'Strong and Stable' which not only further shocked Britain's political and media establishment but also hit the UK economy hard, effectively suffering a heart attack with confidence fast evaporating as the economy slowed which to this day makes a mockery of the Bank of England MPC persisting with their talk of raising UK interest rates.
And along with evaporating economic confidence has been the evaporation in confidence in Britains housing market which I recently covered the consequences (Tory BrExit Chaos Cripples UK Economy, Wrecks Housing Market Confidence)
Theresa May, was and remains the wrong person in the wrong job at the wrong time who even surprised me by just how badly she has steered Britain through BrExit these past 2 years, leaving Britain effectively paralysed in the countdown to 29th March 2019. So the time has come to get rid of this walking disaster area in favour of someone with has the balls to carry out the settled will of the British people, one of LEAVING the European Union!
In respect of which BrExit Secretary Dominic Raab's resignation on Thursday set the ball rolling on a leadership challenge to Theresa May's premiership.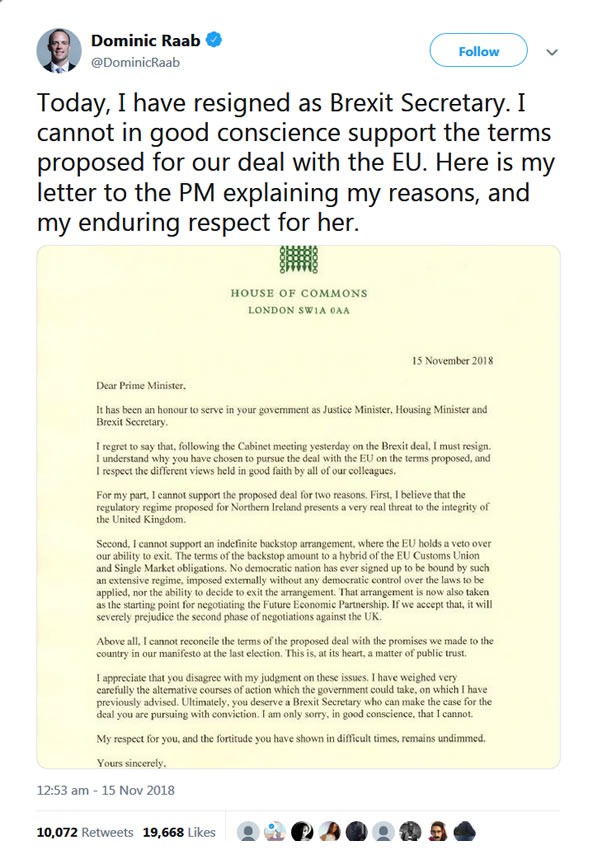 The next step was backbencher Jacob Rees-Mogg calling on a vote of no confidence in the Prime Minister by sending a letter to the Tory Party's 1922 committee and calling on other MP's to do the same. The committee requires 15% of Tory MP's (48) to write a letter to trigger a leadership challenge which is where we currently stand as of writing, awaiting the 1922 Committee to make an announcement of whether or not they have received at least 48 letters, where as of writing the tally according to SKY News is for 17 letters, so some way to go get to 48.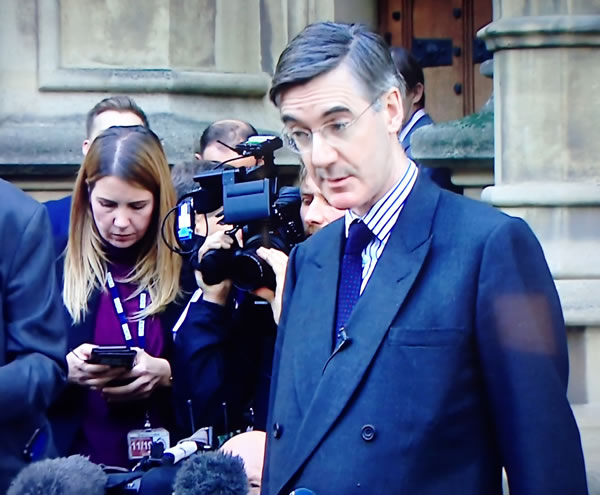 Jacob Rees-Mogg Britain's Next Prime Minister?
So what is likely to happen over the coming days if the 1922 committee declares that they have received at least 48 letters, triggering a leadership challenge, a vote that Theresa May would hopefully lose and be replaced as Prime Minister.
Who could be Britain's Next Prime Minister?
Well it is likely to be a Brexiteer of which the most prominent are:
Boris Johnson
Dominic Raab
David Davis
Michael Gove
Jacob Rees-Mogg
Of the above, I would rank the favourite as Jacob Rees-Mogg and then Boris Johnson.
Hopefully, Britain gets a new Prime Minister who despite being at the head of a weak Tory government that likely won't last even a year before a general election is called, however will in the short amount of time he has make it his primary objective for Britain to ACTUALLY LEAVE the European Union on the 29th of March 2019 WITHOUT A SUICIDAL DEAL!
Meanwhile the EU continue to prepare a party for the 25th of November to celebrate Britain's capitulation that could soon be cancelled.
BrExit Strategy
In two articles in April 2017 I laid out what the British government should do to ensure a successful BrExit outcome which is even more relevant today then when it published as Theresa May's 'Deal' is such a grand disaster that it is destined to fail and thus Britain is on a trend trajectory for a NO DEAL BREXIT.
3rd April 2017 - The Brexit War! EU Fearing Collapse Set to Stoke Scottish Independence Proxy War
6th April 2017 - The BrExit War, Game Theory Strategy for What UK Should Do to Win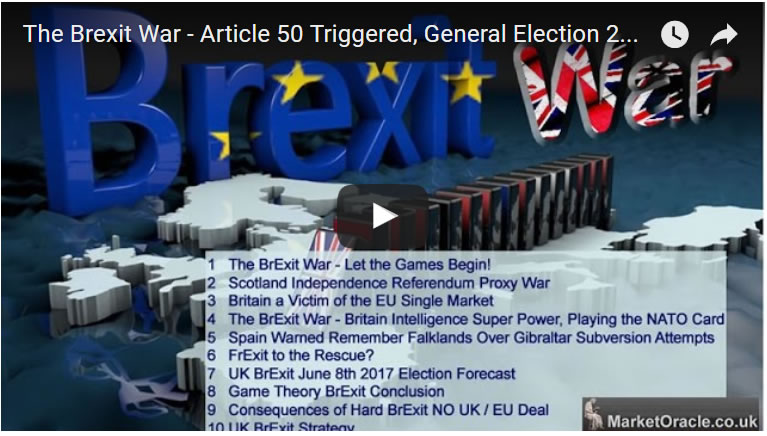 Game Theory BrExit Conclusion
Whilst Theresa May appears more intelligent than David Cameron, unfortunately she is a politician from the same stock as 80% of those who inhabit Westminster so I suspect she will be sucked into the game the European Union intends on playing for some time. Where the game Britain will be playing will be one of the cooperative game theory, basically where no one loses i.e. Britain's access to the single market being a win - win situation for Europe and Britain as the alternative would result in a loss of at least £150 billion in annual trade.
However the objective for the EU is for the negotiations to fail resulting in far greater pain for the UK than the EU, and thus Britain failing to leave the EU by 2 years from now.
So literally with each passing day in the Great Brexit negotiation game about to begin following triggering of Article 50, the cost and eventual pain Britain will suffer will increase as Britain runs around like a headless chicken trying to placate individual member states towards voting to agree to the agreement for Britain to leave the EU (qualified majority of 65%). Whilst the EU seeks to reinforce the status quo amongst all member states as that being most likely to result in the survival of the European Union which requires a far lower bar of just 36% voting against the agreement with Britain. So unless Britain is able to secure 65% which effectively would mean bribing France, Germany and the whole of Eastern Europe at a cost far greater than today's annual contributions, then there will be NO agreement.
SO understand this following the triggering of Article 50 that the primary objective of the EU is to destabilise the UK to such an extent that the UK becomes incapable of leaving the European Union.
The big question I am left asking is when will British the Government realise that they are in a LOSE, LOSE situation where the Brexit Negotiation Game is concerned, and so must realise that the only action that would result in Brexit is for Britain to unilaterally declare all of the EU membership treaties null and void and thus unilaterally leave the EU without agreement, a HARD BREXIT.
When will this happen? Definitely not anytime soon, but what about in 3 months' time? 6 months, 1 year, 2 years? Will it ever happen? Will my update in 2 years' time be from a Britain that has had its back broken by the European Union? Abandoning Brexit by declaring itself incapable of leaving the European Union, I hope not!
Of course in response to EU subversion the UK can play its own game of subversion of pitting member state against the EU in a downward death spiral for all.
And don't forget that Britain literally has Trump card to play, well until the CIA does a JFK on him, so things are not as bleak as they appear as long as Theresa May manages to quickly wake up and smell the coffee of the game that the EU has no choice but to play.
So the only way that Britain can leave the EU is by means of a HARD BREXIT. An Immediate hard BrExit would throw the European Union into turmoil, destabilise it and result in the likes of Germany and Italy as the greatest beneficiaries of trade with Britain to fast track agreements for sectors that other EU member nations will build on.
UK Brexit Strategy
Bribing Eastern Europe - In addition to the Trump cards already mentioned such as NATO, Intelligence agencies and the trade imbalance, Britain could also undermine the position of the European Union through a myriad of measures such as by bribing the large recipient eastern European nations that are already heavily reliant on UK funding such as Poland and Hungary. And thus the UK could encourage eastern European nations to demand that the EU allow UK single market access in exchange for continuing UK funding for some years beyond Brexit.
Financial Armageddon - The UK is Europe's financial centre, therefore Britain could use this to its advantage in threatening to make foreign investment in Europe via London much harder if not impossible. Therefore seeking to financially destabilise the European Union by using weapons of mass financial destruction such as hitting the European Union member states already crippled bond markets.
EU Nationals - One of the biggest cards Britain can play are the 4 million EU citizens who reside in the UK against 1.2 million Brit's in the EU. Whilst both sides today say that they do not want to use citizens as bargaining chips, however it would be stupid for Britain to give up one of its major trump cards.
Tax Bomb - Britain could threaten to detonate the tax nuclear option, one of cutting corporation tax to 10% or even lower to 5% which would have a devastating effect on the European Union economies as it would encourage especially financial services corporations to move to the UK from the EU.
Putin Doctrine - Britain could take a leaf out of the Putin doctrine of undermining the EU through migration via the Middle East and North Africa through taking military action for instance in Syria, perhaps in conjunction with a change of mind from the Trump regime. This would further encourage migration into the EU and thus keep the EU occupied with an even bigger crisis than Brexit over the next couple of years as several more millions of migrants seek to flow into the European Union.
Trade Tariffs and Unemployment - The EU putting trade tariffs on UK Exports and the UK putting trade tariffs on EU exports will mean job losses on both side. However as there exists a huge trade imbalance between the two economies then Britain will earn at least twice as much in tariffs than EU will from UK imports. Thus an intelligent British government could use this windfall income to reimburse UK companies on the costs of tariffs paid to the EU. Theoretically this would mean NO UK job need be lost as UK companies would be being reimbursed in totality.
Economic Boom - Britain should once more play its ace card which is that Britain has its own currency which means that Britain can print money to monetize debt. The advantage of this during the BrExit negotiations is that the UK government could engineer an economic boom! All it would take would be about £150 billion of fresh QE. Which would induce a feel good factor and galvanise the British population and foreign investors behind Brexit. Therefore defeating the EU's strategy for inflicting pain on Britain, for if the British economy by 2 years from now is growing at the rate of more than 3% per annum far beyond that of a stagnating European Union, then that would act to strengthen British resolve no matter what the outcome of the Brexit negotiations are.
At the end of the day Britain has a trump card to play, which was apparent in my recent analysis on the impact of Tory Brexit chaos on Britains housing market, and that Trump card is QE, or good old Bank of England money printing. The BoE can do today what they did 10 years ago during the financial crisis which is to print money to inflate asset prices through buying Bank stocks and Government bonds which the banks hold.
This would have the effect of allowing the Government to run a large budget deficit to offset BrExit economic consequences and thus Britain could just about avoid an economic recession (at least 2 consecutive quarters of a fall in GDP). Though in reality it is highly probable there will be a mild NO DEAL recession, probably resulting in a contraction of about 1.5% of GDP. Or about 1/3rd that of the 2008-2009 Bankster recession.
This analysis was first been made available to Patrons who support my work. So to get immediate First Access to ALL of my analysis and trend forecasts then do consider becoming a Patron by supporting my work for just $3 per month. https://www.patreon.com/Nadeem_Walayat.
Your analyst,
Nadeem Walayat
Copyright © 2005-2018 Marketoracle.co.uk (Market Oracle Ltd). All rights reserved.
Nadeem Walayat has over 30 years experience of trading derivatives, portfolio management and analysing the financial markets, including one of few who both anticipated and Beat the 1987 Crash. Nadeem's forward looking analysis focuses on UK inflation, economy, interest rates and housing market. He is the author of five ebook's in the The Inflation Mega-Trend and Stocks Stealth Bull Market series that can be downloaded for Free.

Nadeem is the Editor of The Market Oracle, a FREE Daily Financial Markets Analysis & Forecasting online publication that presents in-depth analysis from over 1000 experienced analysts on a range of views of the probable direction of the financial markets, thus enabling our readers to arrive at an informed opinion on future market direction. http://www.marketoracle.co.uk
Disclaimer: The above is a matter of opinion provided for general information purposes only and is not intended as investment advice. Information and analysis above are derived from sources and utilising methods believed to be reliable, but we cannot accept responsibility for any trading losses you may incur as a result of this analysis. Individuals should consult with their personal financial advisors before engaging in any trading activities.
© 2005-2022 http://www.MarketOracle.co.uk - The Market Oracle is a FREE Daily Financial Markets Analysis & Forecasting online publication.

Only logged in users are allowed to post comments.
Register/ Log in