Analysis Topic: Housing Market Price trends
The analysis published under this topic are as follows.

Sunday, April 01, 2007
A new trade and national advertising campaign launched in February advising landlords who let a room in their home or run a business, of the need to declare their earnings and pay tax on any profit.
Read full article...

Read full article...
---

Sunday, April 01, 2007
Following last week's release of MBBG net lending figures for February, further information now available on lending to individuals shows that:
Read full article...

Read full article...
---

Thursday, March 29, 2007
One of the Trading Rules identified by Dennis Gartman of The Gartman Letter states that there is never only just one cockroach. If you see one, you know more are hiding in the walls and behind the counters. Investors who seek to beat the market should carefully consider this principle when they are considering investments in sectors that are experiencing trouble. They also might want to read Ahead of the Curve: A Commonsense Guide to Forecasting Business and Market Cycles
by Joe Ellis is an excellent book on how to predict macro moves of the market.
Well, as I mentioned in earlier commentaries, the problems in the sub-prime mortgage market are going to become more significant over time. Where there is one cockroach, there will be many more. For example, www.lenderimplode.com lists 39 sub-prime mortgage firms that have either shut down or been taken over so far.
Read full article...

Read full article...
---

Wednesday, March 28, 2007
It seems that of late that a major topic being covered by the mainstream media is "sub-prime" mortgages and the related scare of the downstream impact. Well, the charts warned of problems in the home building sector a year and a half ago. In fact, I first reported in October 2005 that the charts were showing signs of trouble for the housing market. In the February 2006 I also reported on the further technical problems and developments for the housing sector.
Then, in the May 19, 2006 I followed up again on the housing sector and reported that the evidence from the intermediate-term charts had continued to evolved to the point that the longer-term trend had topped. I went on to give very specific cyclical high and low points to watch for as continued confirmation of my thesis. My point here being, the charts were right and the mainstream media once again failed to warn and even refused to acknowledge a housing bubble. That is until now when the problem becomes obvious.
Read full article...

Read full article...
---

Saturday, March 24, 2007
At the risk of being all subprime, all the time, this week we look at what I think are the real risks for the economy as a result of the subprime debacle. How can one side say it is a contained risk (and in one sense it is) and not a problem for the economy while another side says it will drag the US into a recession and thus be a drag on the world economy? The answers will give us a handle on the whole issue, as we look at how the problem developed.
But first, let me correct an error. Last Monday in my Outside the Box, we used a brilliant piece of work from Dr. Woody Brock on why we need more derivatives and that the real problem in the derivatives market is not the size of the market. If you did not read it, you should.
Read full article...

Read full article...
---

Wednesday, March 21, 2007
Lee Tillcock, Editor of Business Moneyfacts comments: "The last year has seen a raft of legislation impacting on the buy-to-let sector, with more new rules and regulations still to be implemented. So far the new regulation has covered areas to protect both the landlord's and tenant's rights. However lenders and borrowers should also be aware that The Consumer Credit Act 2006 (CCA 2006) presents potentially far more serious issues when its provisions begin to take full effect next April.
"As a general rule, buy-to-let (BTL) lending is unregulated. However, it risks becoming CCA regulated once the £25,000 financial limit is removed in April
Read full article...

Read full article...
---

Wednesday, March 21, 2007
On March 15, IndyMac released a rather lengthy press release claiming that it had been inappropriately categorized by many media sources as a subprime lender. IndyMac stated that it is primarily a prime/Alt-A mortgage lender with minimal exposure to subprime. With the subprime lenders in melt-down mode, it is quite understandable why IndyMac would want to differentiate itself.
However, in doing so it brought more attention to itself and was featured in an article by CNN Money called "Liar loans: Mortgage Woes Beyond Subprime." Sometimes it pays just to be quiet.
Read full article...

Read full article...
---

Tuesday, March 20, 2007
The stock market is about to crash. The only question is whether it will quickly fall down the elevator shaft or follow the jerky flight-path of a man pushed down a stairwell. Either way, the outcome will be the same; stocks will nose-dive, the dollar will plummet, and the bruised US economy will be splattered on the canvas like George Foreman in Rumble in the Jungle.
Troubles in the sub-prime market have just begun to materialize and already 38 main sub prime lenders have gone kaput. Foreclosures have reached a 37 year high, and an estimated 2 million homeowners will be put out on the street in the next few years.
And that's just for starters.
Read full article...

Read full article...
---

Saturday, March 17, 2007
The last few weeks have been disastrous for the major homebuilders and mortgage lenders. The stocks have been crushed across the board. I'm not talking about a few percentage points. I'm talking about …
A 45% plunge in subprime mortgage company Fremont General (NYSE: FMT) in just 12 trading days …
A whopping 87% five-day collapse in New Century Financial , some of which took place on the Pink Sheets because the New York Stock Exchange suspended the shares …
A multi-week, 24% decline in the shares of homebuilder Centex (NYSE: CTX) …
Read full article...

Read full article...
---

Friday, March 16, 2007
The series of rises in UK interest rates over the past 9 months from 4.5% to 5.25% has started to have an impact on the UK housing market, according to a survey by Royal Institution of Chartered Surveyors' (RICS).The gain for February is the slowest in over 9 months,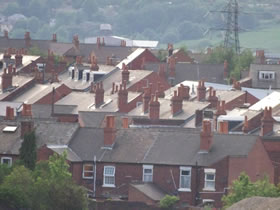 Read full article...

Read full article...
---

Thursday, March 15, 2007
"Millions at risk of losing homes" was the headline on the news wires on Wednesday, March 14. This happened on the day when the stock market showed a positive intraday reversal on strong trading volume. Obviously, the stock market wasn't put off by this negative piece of news.
If it were true that millions of Americans risk losing their homes over the sub-prime mortgage fiasco, the market would have already tanked by now.
Read full article...

Read full article...
---

Wednesday, March 14, 2007
With the meltdown in the sub-prime mortgage sector now laid bare, many on Wall Street desperately cling to the notion that the pain will be localized. The prevalent delusion is that the overall mortgage, housing and stock markets will be little impacted by the carnage ravaging the sub-prime sector.
As such, renewed stock market weakness is seen as an over-reaction and a great buying opportunity. These assumptions represent wishful thinking in the extreme.
Read full article...

Read full article...
---

Wednesday, March 14, 2007
Mortgage Bankers Association Chief Economist, Douglas Duncan, believes that mortgage activity is set to dip and that "there's no question that the decline in [mortgage] volume will reveal excess capacity". Although Mr. Duncan isn't painting on overly grim picture, it is worth pointing out that he offered this negative outlook
more than 3-years ago
…
Nearly Three Years of Insanity All But Over


As it would turn out, the so called 'excess capacity' in the mortgage industry wasn't shed in 2004, it was simply utilized to push more 'creative' mortgages.
Read full article...

Read full article...
---

Wednesday, March 14, 2007
As house prices fall, repossession rates rise. Unless the lenders wake up to their dilemma...
"UK HOUSE PRICES to recover next year," said The Times of London on 17 November, 1989.

Real estate in the United Kingdom had risen three times over on average during the previous 10 years. National prices rose 40% in the last 18 months alone!

But now, suddenly, house prices had stopped rising. When would the good times kick off again?
Read full article...

Read full article...
---

Sunday, March 11, 2007
This week we look at the possible latest entry into the hedge fund world, The People's Republic of China; review the cockroach principle of subprime mortgages; and investigate the possibility of whether we need more derivatives and not less than the $283 trillion or so we now have. It's a lot to cover, but it should all be interesting.
And speaking of China, we all read the stories about the rapid growth of the economy, the increasing percentage of the growth in demand for commodities and energy that comes because of that growth, the increased trade deficit with the US, and the rapid increase in foreign reserves.
Read full article...

Read full article...
---

Friday, March 09, 2007
I told you about the housing sales and pricing declines before they happened …
I told you that the subprime mortgage industry would end in disaster before the stocks blew up …
And today, I want to tell you about the next major group of companies that I think are going to get hit from the housing bust. I'm talking about apartment Real Estate Invest Trusts (REITs).
Read full article...

Read full article...
---

Sunday, March 04, 2007
As always, the market's way ahead of the Fed...
BEN BERNANKE told politicians in Washington this week that the collapse of subprime mortgage companies had been "contained".
Perhaps Dr. Ben was just thinking of Fremont delaying its fourth-quarter results...or New Century Financial (NEW) having to restate its earnings for the first nine months of last year.
Yes, that little nugget of news knocked NEW's stock 30% lower in one session last month. But the damage was still "contained", right? It's not like Bernanke had to revise GDP thirty per cent lower as a result.
Read full article...

Read full article...
---

Thursday, March 01, 2007
Chart 1 shows that the national homeownership rate (the percentage of occupied housing units that are owner occupied housing units) started rising sharply around 1995, hitting a record high in 2004. Why this sudden rise in homeownership?
Chart 1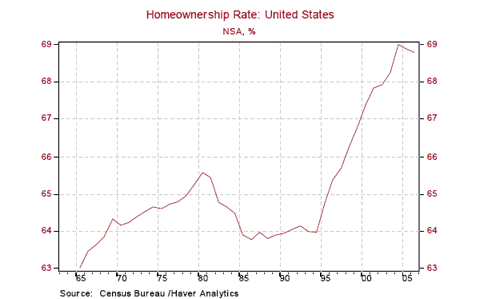 Read full article...

Read full article...
---

Tuesday, February 27, 2007
The continuing fallout from subprime mortgages is starting to weigh on the Stock Market as the consequences of failures continue to ripple out into the financial and home building market sectors. Already sharp sell offs have occurred in the shares of subprime lenders such as New Century Financial Corp, falling by more than 40% in less than a week. As well as major banks such as HSBC issuing statements on the impact of defaults.
Read full article...

Read full article...
---

Sunday, February 25, 2007
The UK housing market has proved remarkably resilient by notching up a further gain for January of 1.3% (Halifax) , whilst the US Housing market continues to go from bad to worse as the sub prime mortgages time bomb goes off, resulting in a slump that looks set to be the worst since the Great Depression of the 1930's.
The key to the strength of the UK housing market has been the fact that UK house prices have yet to reach the excesses of the early 1990's, in terms of House Price to Earnings to Interest rates ratio. Traditionally, average earnings and house prices have been taken together to produce an affordability ratio, this ratio has clearly in recent years shown itself to be flawed, as UK house prices have not fallen, because this measure has ignored historically low interest rates as a function of earnings and house prices, and therefore a more accurate indicator needs to include interest rates.
Read full article...

Read full article...
---