Flash Alert: Wall Street Financial Meltdown!
Stock-Markets
/
Financial Crash
Jul 27, 2007 - 11:22 AM GMT

Martin Weiss writes: Wall Street is suffering a meltdown, and in a moment I'll tell you what to do about it.
The big picture: Anyone who thinks the meltdown is limited to a decline in stock prices should wake up and smell the coffee:
The big money that Wall Street was pouring into mortgages is drying up …
The big equity deals that were pouring still more money into the economy are bombing …
The U.S. economy, hooked on all that Wall Street money like a dope addict, is about to suffer one heck of a hangover …
The dollar is continuing to plunge virtually nonstop, and …
The worst is yet to come! But …
Absolutely None of This Should Come as a Surprise to Readers!
Over two years ago, the headline of our June 2005 Safe Money Report said it all: "Final Stage of the Real Estate Bubble! When it pops, stocks of big banks, construction companies, and mortgage lenders will be shattered."
And the headline of our March 2006 issue — "Housing Slump Begins! Housing Bust on the Way!" — accurately marked the precise peak in the entire housing market:
We've stepped up the tempo of these early warnings in nearly every Safe Money issue since; while Mike Larson has been shouting them from the rooftops in Money and Markets almost weekly. (See " Subprime lending sector spiraling south ," or " Subprime debacle unfolding as expected ," or " The next wave of the housing bust ," or " When smart money does dumb things ," just to mention a few.)
Three weeks ago, he told you about " The Consequences of Reckless Lending ."
Two weeks ago, he warned you about " Chaos Breaking out in the Mortgage Bond Market ."
And just in case you weren't listening, we published Mike's 66-page white paper on the housing crisis … sent you an urgent press release eight days ago … and held a press conference with reporters to make sure they didn't miss it either. ( Click here to listen to the recording, and wait a few minutes for it to load.)
This past Monday, just as the market was peaking, we sent Safe Money subscribers an urgent flash to take profits.
If you're a subscriber, and you missed it for some reason, check your inbox for the subject "Flash Alert: Time to bag more gains!" sent by Safe Money Report on July 23, 2:50 PM.
It's still not too late to act on most of the sell recommendations.
Meanwhile …
Larry Edelson Nailed the Dow's Peak On the Head! With a Sledge Hammer!
Exactly one month ago, in his Money and Markets of June 28 , Larry warned …
"the U.S. economy's second breath is ending" …
expect "a series of shocks in U.S. financial markets that will catch most investors with their pants down," and …
"the Dow is getting ready to plunge 2,000 points! "
At the same time, he told subscribers to his Real Wealth Report to take profits on 12 different investments.
And one week later, on July 5 , he told Money and Markets readers to take profits on a list of 20 more. (His subject line: "Take Profits Now!")
Missed that one?
No problem, because you surely must have seen his next warning (two weeks ago), headlined " Warnings! " In it, he wrote:
"The next five to six months will harbor nightmares for the U.S. economy so profound that they will impact each and every one of us" leading to
"a sharp, unexpected drop in most U.S. stocks."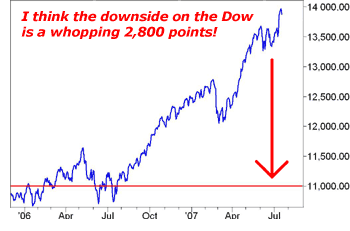 And just in case you missed THAT one too , as the U.S. stock market was hitting its peak last week , Larry absolutely clinched it with this now-famous red-arrow chart, pointing straight down to 11,000 on the Dow.
How far is that from here?
Answer: In yesterday's rout, the Dow hit an intraday low of 13,335 and closed at nearly 13,474. So to reach Larry's target, it still has about another 2,500 points to go . If he's right, that means …
Investors Who Take Profits at Today's Levels Are Still Pretty Close to Catching the Peak!
That's what we recommend you do. And if you're not sure how much to sell or when, consider these six guidelines:
1. You don't own the market; you own stocks. So you can start by selectively shedding the sectors we've been warning you about all along — home builders, mortgage lenders, and financial stocks in general.
2. To take some profits on the strong stocks, you don't have to choose strictly between "sell" and "hold." If you're unsure, sell half and hold the balance.
3. You shouldn't wait. Nor do you have to undertake your profit-taking all at once. Sell some right now. Sell some more on the next one-day bounce.
4. Take better advantage of the handy hedging vehicles available today — such as ETFs that are designed to go UP when a stock index is going down. For example …
Short Dow30 ProShares (DOG), designed to rise as the Dow falls, jumped over 2% yesterday. Or …
UltraShort Financials ProShares (SKF), designed to go up 2% for every 1% decline in financial stocks, jumped nearly 4% yesterday.
If you feel you're overexposed to the U.S. market's decline, these kinds of ETFs can give you some insurance. Or, you can use them to go for a pure profit: The more the market falls, the more money you stand to make.
5. Make sure you have plenty of money outside of the stock market. Remember: Even while most stocks are falling, foreign currencies continue to soar. Gold, oil and other resources should do the same.
6. Most important, don't paint all stock sectors and foreign countries with the same brush. For many U.S. sectors, this looks like the beginning of a drawn-out decline. But for our favorite foreign markets, everything tells us it's merely another correction — a major buying opportunity coming up very soon.
Last week, one subscriber asked:
"You say China's stock market is surging, and its economy is exploding. But you say you're waiting before issuing your next major buy signal. Why don't you jump in today?"
Well, now you have the answer: We wanted to see a correction, and here it is. So stand by for our next signals.
Good luck and God bless!
By Martin Weiss
This investment news is brought to you by Money and Markets . Money and Markets is a free daily investment newsletter from Martin D. Weiss and Weiss Research analysts offering the latest investing news and financial insights for the stock market, including tips and advice on investing in gold, energy and oil. Dr. Weiss is a leader in the fields of investing, interest rates, financial safety and economic forecasting. To view archives or subscribe, visit http://www.moneyandmarkets.com .
© 2005-2019 http://www.MarketOracle.co.uk - The Market Oracle is a FREE Daily Financial Markets Analysis & Forecasting online publication.

Only logged in users are allowed to post comments.
Register/ Log in