Dow Closes at New All Time High Despite Academics, Journalists and Perma Bears Gibberish
Stock-Markets
/
Stock Markets 2013
Oct 30, 2013 - 02:55 AM GMT


New Dow (DJIA) closing high of 15,680 illustrates that the fundamentals as perceived by academic economists, pseudo-economists (Journalists) and market commentators (sales men) which suggested that following the last stock market peak of Mid September, and in the light of dire news of U.S. government shutdown, possible debt default, QE tapering and slowing econcomy that the stock market looked set to have entered into another New bear market. The calls for such dire expectations reached their maximum intensity at the depths of the stock market correction by early October where many commentators in the mainstream press and BlogosFear could be found proclaiming that "The Top Was In", "The Top Was In", and continuing along a now very familiar argument for a debt deflationary death spiral, an argument that is more than 5 years and has YET to materialise whilst 'normal' and seasonally expected stock market corrections have ALWAYS resolved to new all time highs, just as was the case this time around.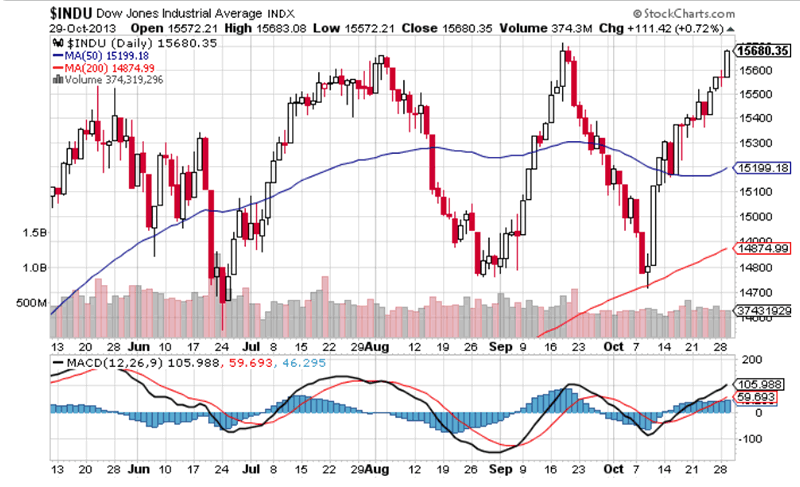 Luckily for the perma-fools, I don't see it as my job to hold the fools to account for that is first task of every reader to use the most powerful tool at their disposal, even more powerful than the NSA! It's called GOOGLE! a Quick google will soon reveal that truth of the delusional state of mind that resembles that of being mentally ill of those that purport to commentate on the markets. I say delusional and even mentally ill because they have a clear psychological block that prevents them remembering what they stated barely a few days earlier, such condition prevents such commentators from learning from their mistakes and can thus be found regurgitating the same deflationary scenario for in some cases even decades!
As I have covered many times over the years, it is not of much value to explain why something has already happened, because any event could be used to explain a rise or a fall in market prices. For instance today the perma- fools (journalists) can be found explaining the rise in the stock market to a new all time high as being as a consequence of a weakness in US consumer confidence and thus implies a delay in Fed QE tapering, whereas had the stock market fallen then the same data would have been used to explain its fall. This illustrates why most investors miss whole bull and bear markets, it is because they are paying attention to those that don't even trade! The smartly dressed idiots reading off autocue's, written by journalists, managed by senior journalists none of whom have ever traded and if they had they FAILED because that's why they ended up where they are.
Similarly, highly vocal snake oil sales men can be touting their worthless insights in the mainstream news media, spending hours arranging and traveling too and from TV studios across the world, usually culminating in commentary that can be construed towards ANY eventual outcome i.e. that the stock market could rally but then again the stock market could also fall, afterwards they focus only on the aspects that turned out to be right despite the fact that such commentary was completely in actionable at the time and to all intents and purposes worthless, just as a means towards promoting worthless services to the gullible masses.
The bottom line is that most analysts are nothing more than salesmen, their primary objective is to entice you to buy a product or service, and therefore they have to follow the scenario's that are likely to generate the most revenue which is why the sales pitch is Crash this that or the other because FEAR SELLS ! Which is why politicians, intelligence agencies and market salesmen constantly play the fear card as I have written about several times over the years :
21 Feb 2012 - Stocks Stealth Bull Market Riding Tsunami's of Debt Crisis Fears to New Highs, What's Next?
The Blogosphere Sells FEAR
FEAR SELLS, Which is why most of what you read and gravitate towards is fear related and nothing illustrates this more than what I term as the BlogosFear, it is a case of the perpetual crash is coming mantra, which is just the latest manifestation of the age old end of the world prophecies that for some reason the human psyche seems to be fixated upon, perhaps its coded into our genes and is related to our need to be scared into following societies rules which up until quite recently were determined wholly by religious dogma. The fear of what will happen to you AFTER you die if you do not obey your masters. Fear we take notice of and react towards, and focus on, so it is not so surprising that most of the news and commentary is fear related because it is what we seek out to be scared, be it in real life or in movies or in markets.
Fear of recession, depression, economic collapse, financial collapse, war, the end of the world !
Originally, when the stealth bull market in stocks began in March 2009 (Stealth Bull Market Follows Stocks Bear Market Bottom at Dow 6,470), I knew that there would be many fear mongering perma-fools out there who would continue to bet against its existence for many, many months, however I never imagined that this delusional state would still exist near three years on! This is despite the fact that if they had followed their own advice then they would have already bankrupted themselves several times over, still the same overwhelming delusional commentary persists the reason for which I have touched on many times over the past few years but basically it comes down to this, that at least 90% and perhaps as high as 99% of what is written is by those that do not trade or invest, instead it is written by salesmen of one type or another be it a CEO selling his company on CNBC or a an academic selling his theory or a failed trader selling his latest book or service.
In my 25 year+ trading and investing experience, the ONLY mechanism for generating accurate investing and trade scenarios. Whilst many people obsesses over forecasts all we can do is to focus on what is likely to be the most probable scenario against which to measure market price strength or weakness and then REACT accordingly, and the only mechanism that can allow investors and traders to achieve this, to know when one is right or wrong in their scenario / open positions is ones trading account. For if ones scenario is right then one accumulates profits, if one is wrong then one accumulates losses, it's as simple as that and all there in black and white, so one cannot delude oneself that one is right when one is actually wrong as many of these perma-fools have been doing during these past 3 years.
You have to realise that delusions are widespread, everywhere I look I see self delusion, people get themselves into a state of mind on a particular market or trend and then for some season remain perpetually fixated on it. They appear to lack a mechanism to tell them when they are wrong. This explains why academic economics are wrong at least 90% of the time and why journalists are always giving you advice based on looking in the rear view mirror long after the time to act has passed because they have no correcting mechanism to tell them when they are right and when they are wrong. The reality is much worse than that because journalists and economists are PAID to follow a school of thought so there is never any real PAIN associated with being wrong instead readers are treated as amnesia suffering naive fools that will continue to buy FEAR filled trash regardless because as we all know FEAR SELLS.
In economists we see this in the non existant deflation mantra against the reality of an on going Inflation Mega-trend (ebook free download) that has never matched the deflation mantra which amounts to nothing more than economic propaganda that your government wants you to swallow so that it can keep printing money (in all its form) and debasing the currency, which it has to do because that is how it bribes you at election time. This is the primary purpose of Central banks, which is to obey their political masters by ensuring that Governments are able to print money (debt) to buy votes, no matter which party is in power which as most American's should be realising at this precise moment in time because there is very little difference between Red and Blue, Bush and Obama, they are just different shades of colour, the politicians are ALL the SAME. NO politician can get elected unless they are PART OF THE SYSTEM which has its whole basis in the elite getting FIRST CALL ON INFLATION.
Economics as far as the mainstream press is concerned is pure propaganda and nothing more, it has nothing to to do with the real economy, that is not what the politicians want your to read or hear about. Economic statistics in most part exists purely to massage the populations expectations to get them to work for pieces of paper (fiat currency) that is perpetually being devalued by means of money printing.
What do to ?
As I have pointed out over a 100 times now, the strategy for a bull market is VERY simple!
It is this - "The greater the deviation from the stock market high then the greater the buying opportunity presented."
No black box top secret program, no need to subscribe to a flip flopping newsletter commentary service that is most bearish at market bottoms and most bullish just before markets top out and then suffers amnesia as to what was actually written which ultimately means converging towards writing weak conclusions that could imply any eventuality.
Whilst the strategy is to buy deviations from the highs, the mechanisms for market positions is money management, something that is rarely if ever mentioned because that is not what the punters want to hear they want to hear about the future, they don't want to hear about the actual mechanisms for making profits which is rooted in two elements -
a. Money management
b. Real-Time
Instead, having been successfully brainwashed since birth punters tend to focus on the future by referring to the past. This is our societal programming, it is not surprising why for such conditioning as it is the nature of the world we experience as a time line from birth to death, therefore we are easily conditioned to refer to the past be it economic, market history, political and as most visibly - religious history as per doctrine contained within the religious scripts towards what needs to be done to gain the ultimate bright future, even if that outcome is said to only materialise AFTER one DIES! i.e. in the perfect Afterlife.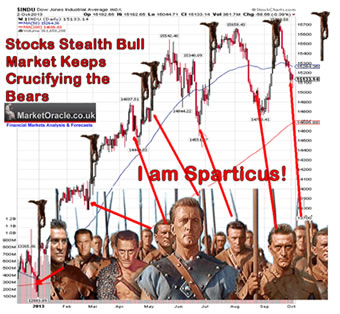 My articles and four ebook's (FREE DOWNLOAD ) attempt to explain my methodology, and more importantly my reasoning involved in consciously seizing a grip on reality in the PRESENT around which trends oscillate from fuzzy pasts into futures that will NEVER exist! My recent articles attempt to illustrate this as expectations going into and out of the recent stock market correction:
The bottom line is that by referring to the past and focusing on the future, all that is going it happen is that you are going to get all worked up and frustrated when what you need to do is practice perceiving the PRESENT, for that is where ALL decisions are made.
To find out what actually drives the financial markets (hint Exponential Inflation Mega-trend) ensure you remain subscribed to my always FREE newsletter to receive to my next in depth analysis that continues in the housing bull markets series which remains my primary focus as illustrated by recent articles -
Obama to the peoples of the world "Yes We Scan"
NSA - "Angela Merkel could be a terrorist".
Why worry? If you have nothing to hide then you have nothing to fear?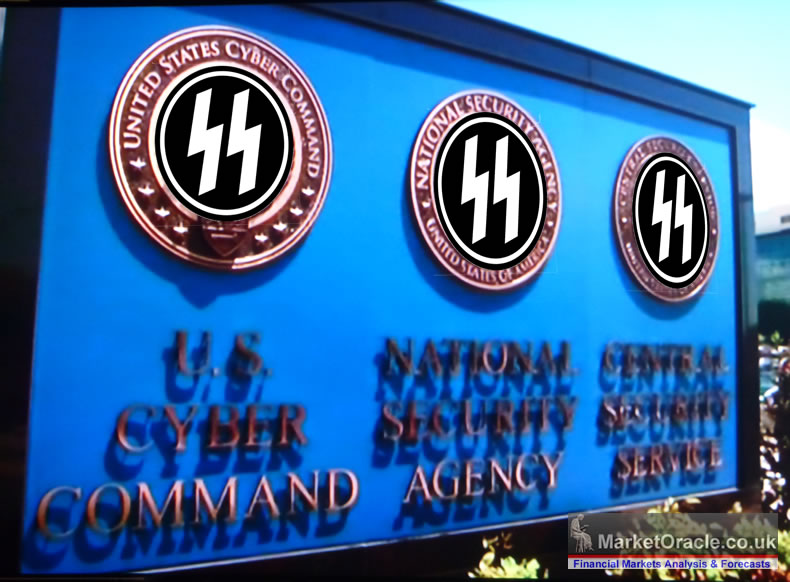 Source and Comments: http://www.marketoracle.co.uk/Article42898.html
Nadeem Walayat
Copyright © 2005-2013 Marketoracle.co.uk (Market Oracle Ltd). All rights reserved.
Nadeem Walayat has over 25 years experience of trading derivatives, portfolio management and analysing the financial markets, including one of few who both anticipated and Beat the 1987 Crash. Nadeem's forward looking analysis focuses on UK inflation, economy, interest rates and housing market. He is the author of four ebook's in the The Inflation Mega-Trend and Stocks Stealth Bull Market series.that can be downloaded for Free.

Nadeem is the Editor of The Market Oracle, a FREE Daily Financial Markets Analysis & Forecasting online publication that presents in-depth analysis from over 600 experienced analysts on a range of views of the probable direction of the financial markets, thus enabling our readers to arrive at an informed opinion on future market direction. http://www.marketoracle.co.uk
Disclaimer: The above is a matter of opinion provided for general information purposes only and is not intended as investment advice. Information and analysis above are derived from sources and utilising methods believed to be reliable, but we cannot accept responsibility for any trading losses you may incur as a result of this analysis. Individuals should consult with their personal financial advisors before engaging in any trading activities.
© 2005-2022 http://www.MarketOracle.co.uk - The Market Oracle is a FREE Daily Financial Markets Analysis & Forecasting online publication.

Only logged in users are allowed to post comments.
Register/ Log in