General Election Forecast 2015 Stealth Economic Boom - Why Opinion Polls are WRONG!
ElectionOracle
/
UK General Election
Mar 11, 2015 - 06:46 AM GMT

Opinion polls for the past month and earlier have consistently been putting Labour ahead by 1% - 2% which converts to Labour being the largest party in an hung parliament and therefore most likely to form the next government as indicated by a plethora of election forecasting sites such as electoralcalculus.co.uk which currently puts Labour on 298 seats to Conservatives on 267 (9th March 2015), or the New Statesman's May2015.com that puts Labour on 283 seats against Conservatives on 255 (5th March 2015).
However, virtually all of the opinion polls analysis and concluding assumptions are WRONG! For they are based on two fundamental errors.
1. The NASTY Party and Economic Austerity
Voters when polled are less likely to indicate that they would vote for the Tory party, more so then virtually any other party for the consensus opinion as a consequence of perceived economic and social austerity the Tories are perceived as the NASTY party, with headline after headline of cuts in public services and benefits despite the fact there has been no real economic austerity as I warned to expect right at the beginning of the Coalitions term in office and regularly since. Again there has been NO REAL NET ECONOMIC AUSTERITY! The DEBT and DEFICIT are virtually identical to what they would have been had LABOUR won the 2010 general election as illustrated below:
29th June 2010 - UK ConLib Government to Use INFLATION Stealth Tax to Erode Value of Public Debt
Therefore it is difficult to see how the government will be able to achieve its stated budget reduction target of getting the annual deficit down to just £20 billion by 2015-16. Whilst the government is expected to trend close to target for the next 3 years, however thereafter the governments (OFBR) and my deficit forecasts diverge as the coalition governments primary focus will be towards getting re-elected in May 2015. In all likelihood this means that total debt will be over £100 billion higher than that which the government is forecasting as illustrated by the annual budget deficits forecast graph below-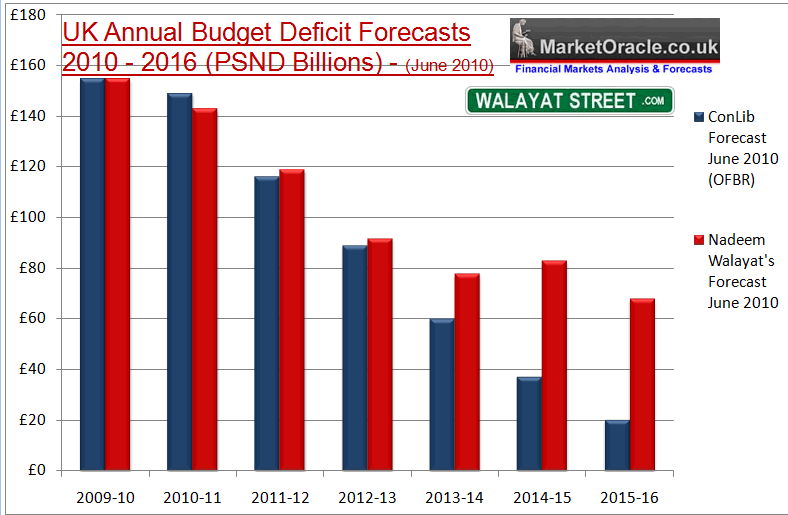 Whilst the ConLib's deficit reduction targets represent an improvement under the Labour governments target that would have resulted in extra borrowing of £478 billion over the next 4 years if the Labour government managed to stick to its targets. However the ConLib government will still expand total debt by £414 billion over the next 4 years, and £471 billion over the next 6 years to reach £1,242 billion, so hardly an earth shattering improvement.
The following updated graph for UK public sector net debt clearly shows that the Coalition government has hit a deficit cutting road block because instead of the deficit falling to around £38 billion for 2014-15, the government will be lucky if the deficit comes in at under £100 billion. Furthermore the trend for persistently high deficits is expected to continue beyond the May 2015 general election as the Coalition government has ramped up deficit spending to buy votes, the net effect of which would be for a total additional debt of over £130 billion beyond the Coalition governments expectations to be added to Britain's debt mountain.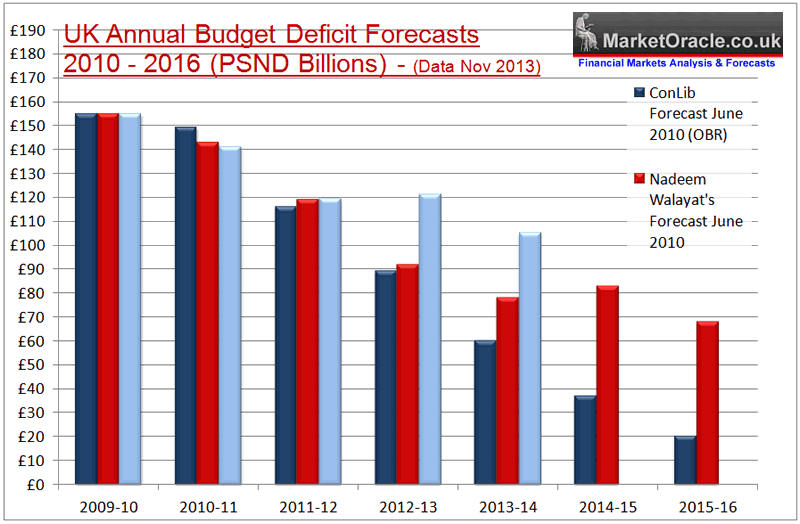 This illustrates that the only answer / solution that all governments have remains one of stealth default by means of high real inflation hence the Inflation Mega-trend. Inflation is a REQUIREMENT for the Debt Based Economy, this is how governments keep putting off the day of reckoning by attempting to inflate the debt away with printed money and then borrowing more money to service the debt interest which is why virtually all money in an economy is debt money that will NEVER be repaid.
Whenever George Osborne or David Cameron are stating that they are paying down Britain's debt, they are LYING! The same goes for Ed Milliband if he states that he will cut Britain's debt. NO GOVERNMENT DEBT IS BEING REPAID OR WILL EVER BE REPAID! Instead the truth is that the WHOLE of the economic growth (in real terms) since the May 2010 General Election and continuing into the May 2015 General Election will be wholly as a consequence of some £550 billion of additional DEBT. Again this is a very important point to note that ALL of the economic growth of this parliament is DEBT based, ALL of it, including the current election boom, the debt accrued over the 5 year term will equate to total real terms increase in GDP - virtually pound for pound which is why there is a cost of living crisis because printing money (debt) does not increase productivity, all it does is inflate the money supply.
You should realise by now that the constant drivel about the threats and risks of debt deflation are nothing more than propaganda so as to allow policies such as quantitative easing (money printing) to be more palatable to the general population so as to ensure that the Inflation Mega-trend continues.
The economic austerity fundamental error is resulting in a mass detachment from reality against what should be and that which actually is, all based on flawed economic understanding of what actually has been taking place for the past 5 years, which effectively has been a holding pattern so as the Bank of England can complete its primary mission of stuffing every orifice of its bankster brethren with cash through a multitude of mechanisms such as QE, funding for lending etc, ALL to arrive at a point when the banks once more accelerate the creation of debt money to pre crisis levels (via fractional reserve banking).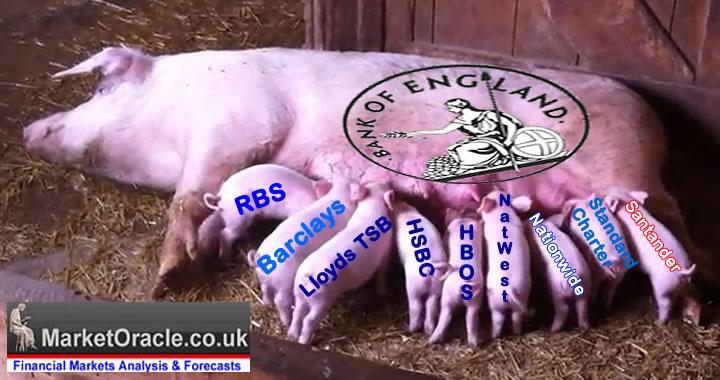 Again contrary to the overwhelming consensus view, in reality there has been no real economic austerity in Britain, for if there had been we would be in worse shape then GREECE! Look at the debt and deficit data and you will see the truth revealed that the Tories have cut NOTHING. Instead the deficit is still there and the debt has mushroomed to £1.5 trillion, up by 1/3rd on 2010 which the Bank of England has monetized with printed money. If there had been economic austerity then the UK would NOT Have borrowed £550 billion over the past 5 years! Instead as Osbourne KEEPS forecasting and then forgetting, Britain would be running a budget SURPLUS by now and not a £100 BILLION DEFICIT!
Here's what George Osborne said in his June 2010 budget statement: "The Coalition Government will take responsibility for balancing Britain' s books within five years."
2. Stealth Economic Boom
NO economic austerity directly feeds into the fact that we are in the midst of an economic boom that started early 2012 that manifested itself with the embryonic housing bull market that became a bull market proper during 2013 and has remained in 10% per annum trend trajectory since and that the stealth economic boom is primed to accelerate into an May 2015 PEAK.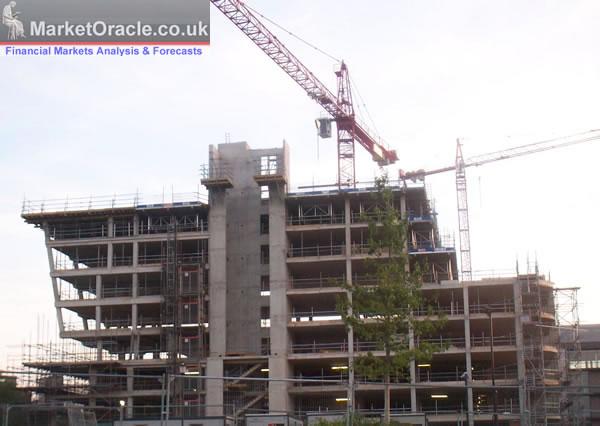 Construction, construction - virtually everywhere!
The academic journalists who think they are economists reliant on ivory tower academics for their daily diatribe are literally BLIND to THIS STEALTH BOOM because it won't mostly manifest itself in economic data until AFTER the General Election! Hence why the political pundits are virtually ALL skewed in the WRONG direction and I can imagine that on election day once the exit polls are taken they will be found to be scurrying around to reinvent themselves with announcements of expectations for the Conservatives to do much better than Labour.
A number of factors are converging towards an election economic boom, some by design and some by chance such as the collapse in the oil price that has temporarily pushed the inflation rate down towards zero and probably negative just in time for the election that effectively annihilates Labours cost of living crisis election campaign issue. Again, the fall in inflation will be temporary, probably negative for a couple of months at most, any longer than that and you can start to kiss goodbye to the UK housing bull market and with it the banking system which would be BACK to 2008 crisis levels, something that Mark 'bubbles' Carney well understands.
Here are two further key illustrators of a stealth economic boom by design underway:
UK Unemployment Plunge Conservative Election Boost
UK unemployment falls to its lowest level for 6 years as statistics for the 3 months to December 2014 register a drop of 97,000 claimants to 1.86 million, standing at 5.7% of the workforce, and down nearly 1/2 million on a year ago that illustrates a continuing strong trend in the reduction of domestic unemployment that is set against approx 700,000 jobs created. The difference being that these jobs have gone to migrant workers from firstly Eastern Europe and then the bankrupting PIIGS nations with Spain, Portugal and Greece that have lost many of their brightest to the likes of Britain's NHS, so if your puzzled by the origins of your accented NHS consultant then you may find that they are probably Greek.
Falling unemployment puts upwards pressure on wages that are now rising at 2.1% per annum, well above both official rates of inflation at CPI 0.3% and RPI 1.6%, perfectly times to coincide with the run up to the General election that follows sub-inflation or even falling wages for the past 5 years.
My long standing forecast as of 4.5 years ago was for UK unemployment to trend higher towards a peak of 2.9 million by mid 2013 before trending lower into the May 2015 general election as I expected 70% of the new jobs created under the Coalition government to go to migrant workers as they continued to displace British workers.
01 Jul 2010 - UK Unemployment Forecast 2010 to 2015
Final conclusion - UK unemployment looks set to gradually rise to a peak of just over 2.9 million by mid 2013 before stabilising and starting to decline into a May 2015 General Election of just below 2.7 million against the governments forecast for UK unemployment to fall to 2 million by 2015 (OFBR - Peak at 8.1% this year before falling to 6.1%).
The benefit claimant count can also be expected to rise, though is much more difficult to forecast as it is far easier for the government to manage claimant numbers by moving recipients onto other benefits, OFBR forecast a claimant count of 1.17 million by May 2015.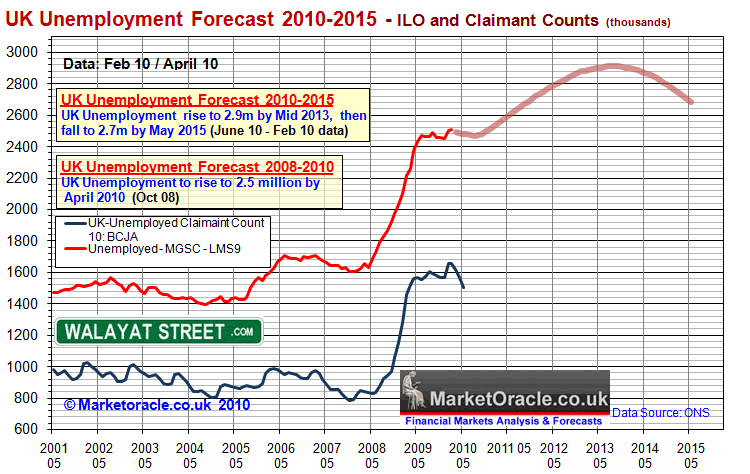 The following updated graph illustrates what has subsequently transpired in that UK unemployment did track my forecast for the first two years before starting to show significant divergence that on face value was a sign of relative economic strength but instead reflects the dual impact of the Coalition government stealthy abandoning the policies of economic austerity as evidenced by expansion of the budget deficit against forecast expectations. Something that both Labour and the Coalition government were happy to under play the significance of as both parties are invested in promoting the impacts of economic austerity. That and the trend for falling wages which encouraged employers to retain / employ workers on significantly less pay.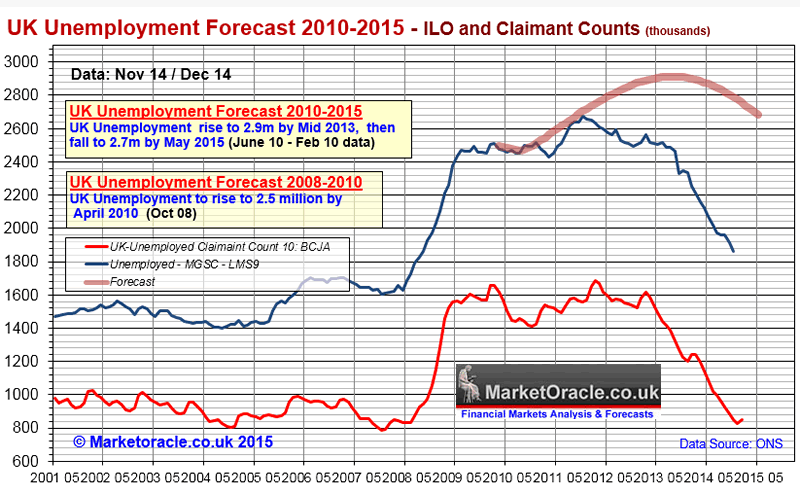 The positive UK unemployment trend has been further encouraged through a whole host of schemes such as the Bank of England's funding for lending scheme primarily for small businesses, full time workers converted to part time workers, and 1.1 million more self employed than there were in 2008, and that more than 1.2 million workers are now contracted under zero hours (up from 150,000 in 2010) that amount to a pools of virtual slave labour, workers who tend not to know if they will be working the following day until they receive a phone all or more usually the case a text message the evening before, and even then may find themselves rejected on arrival at work if the quota for workers has been fulfilled for that days shift work, or that their shift will end early on completion of the order, hence less pay as workers are only paid for hours actually worked.
Implications for General Election Result
Implications are for a further 100,000 reduction in headline unemployment number in the run up to election day and including effect of voting spouses and family members will likely result in at least 100,000 voters more predisposed to vote for the Conservatives, which whilst not a huge number of voters nevertheless will be enough to tip a handful of marginal seats in the Conservatives favour, and further illustrates in microcosm what is taking place right across Britain in terms of improving economic activity such as wage inflation, which means that today's opinion polls that tend to put the Tories and Labour neck and neck on about 270-280 MP's each are UNDER estimating the eventual number of seats that the Conservatives will actually succeed in winning.
UK House Prices Trend 2015 and the May General Election
For Britain the most critical economic driver, far beyond interest rates, inflation, or even unemployment is the trend in average house prices for the fundamental reason that positive housing market SENTIMENT IS that which makes the all difference between the UK economy being in recession or in an common boom, as you don't tend to get one without the other. Which any government of the day fully realises and why the Coalition government has literally bent over backwards to first ignite and then to target maintaining a house prices bull market right into the May 2015 General Election through a myriad of tax payer funded schemes such as ZERO interest rates, the Help to Buy Scheme, Stamp duty cut, today's start of a 20% house purchase discount scheme and a continuous flood of liquidity forcing savers to spend or invest depreciating value of bank deposits into primarily bricks and mortar as I have covered at length for several years -
19 Aug 2013 - UK House Prices Bull Market Soaring Momentum
What Academics and Journalists Will Never Understand About Markets
In having immersed by myself in the markets for 30 years now, I know that what many academics tend to take for granted rarely matches reality. Whilst I covered many aspects of trading markets in my last ebook (Stocks Stealth Bull Market 2013 and Beyond - Free Download). However in terms of economic trends what academics will always fail to grasp is that markets are NOT driven by fundamentals but by SENTIMENT and it is SENTIMENT that CREATES the fundamentals! Which is why the academic economists rarely have any real clue as to what is going in the markets because they are nearly always looking in the WRONG direction i.e. they are looking at the CAUSE rather than the EFFECT, as in reality it is the EFFECT that makes itself manifest in the price charts long before the CAUSE appears in the economic data that academics focus upon, which is why the SAME economic data can and is used by economists and pseudo-economist (journalists) such as that which we see on TV news shows to explain EITHER price rises OR falls.
You can only know the markets IF you TRADE the markets! The pseudo and academics economists will never get you on the right side of trends years ahead of the herd, in fact most press media commentators will be some of the LAST people to jump onboard trends, usually just before they end!
Momentum Drives Housing Market Sentiment and Economic Growth
As house price rises continue to accelerate, many people sat on the sidelines waiting for prices to fall or even crash will realise that it is just not going to happen, and in their despair at the relentless accelerating trend of rising prices, in increasing numbers will feel no choice but to jump onboard the housing bull market as a they see the houses they have been viewing sold and asking prices trending ever higher.
As house prices rise, home owners see the value of their houses rise £x thousands per month, in many cases by more than their salaries, this will encourage many to borrow and spend more, and save less which will meet the governments primary objective for inflating the economy by means of the housing market. Everyone will be playing the game of how much has my house value increased by, a quick analysis of my own housing portfolio (based in Zoopla estimates) shows a 5.5% increase in housing wealth over just the past 6 months! Does this make me feel richer, more willing to spend? Well, being only human, YES it does!
Current State of the UK House Prices Forecast
The updated Halifax average house prices (NSA) graph to Jan 2015 of £190,113 basically shows that the UK housing bull market paused from August to December 2014 before resuming its bull run in January. House prices are currently showing a deviation of 3.3% against the forecast trend trajectory. In terms of the long-term trend forecast for a 55% rise in in average UK house prices by the end of 2018, if the current deviation continued to persist then this would result in an 15% reduction in the forecast outcome to approx a 40% rise by the end of 2018.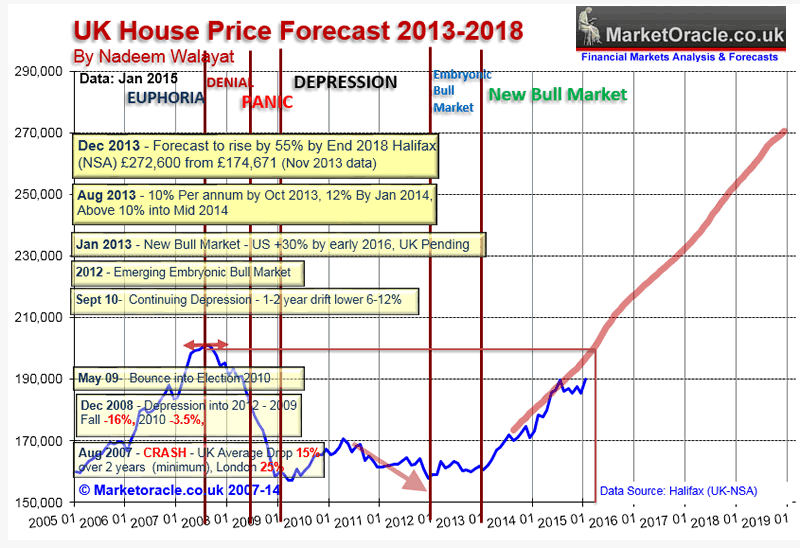 UK House Prices Momentum into Election 2015
The following graph further illustrates the fall in momentum during the second half of 2014 and the recent surge higher back to 10% as UK house prices look set to soar to an annual inflation rate well above 10% per annum, timed to just reach their peak during May 2015 at probably around 12%, though unlikely to accelerate any higher due to weakness in house prices in the South East.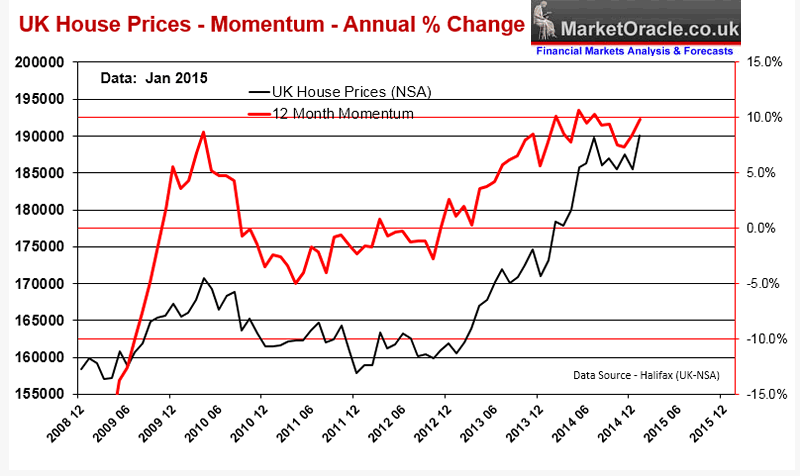 Thereafter we can expect a similar sharp slowdown to probably a greater extent than that of 2014. In fact the momentum trend is likely to be very similar to Labours 2010 house prices mini-election boom that I had started to warn to expect from mid 2009. Though at this point I am not expecting a similar post election collapse to -5% as that was as a consequence of Labour going for broke on a near £160 billion annual deficit debt printing binge.
Implications for the General Election
Clearly the house prices driven economic mini-boom is timed to PEAK during May 2015 at approx 12% per year, to just exceed the 10% Labour mini-boom into the May 2010 general election. Which therefore implies that the prospects for the Conservatives and to a far lesser extent the Liberal Democrats should continue to improve right upto polling day. Although 12% will not be on par with the landslide generating booms of the noughties of over 20%. So house prices are suggesting a very similar election result for the Conservatives to that of 2010.
My long standing General Election seats / house prices trend trajectory paints the following picture for a likely probable Conservative general election victory. 16 Dec 2013 - UK General Election Forecast 2015, Who Will Win, Coalition, Conservative or Labour?
The updated election seats trend graph illustrates that the Conservatives are virtually ON TRACK to achieve the forecast outcome for an outright election victory on a majority of about 30 seats which NO ONE, and I mean no serious commentators / analysts is advocating such a probability of today.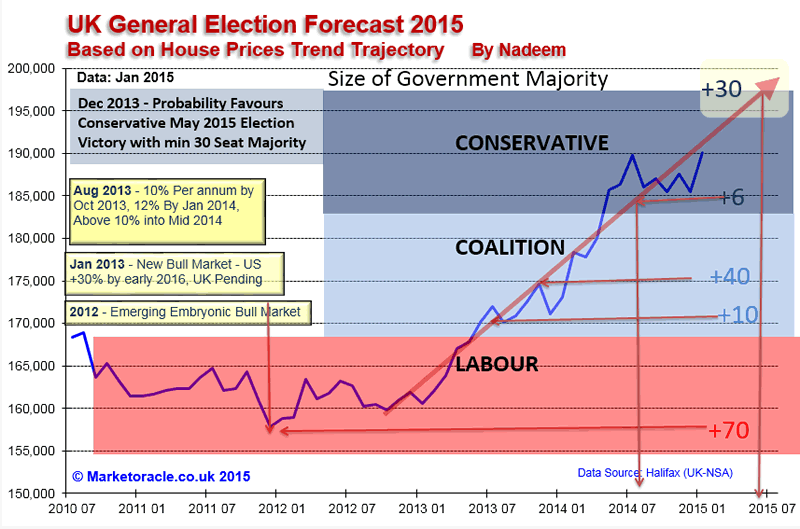 UK General Election Forecast 2015
In conclusion the opinion polls are consistently under reporting the actual percentage standing of the Conservative party by at least 2%, which converts into a 4% swing FROM Labour TO Conservative that makes a huge difference in terms of seats. In fact when viewing these erroneous Labour in the lead seats projections, subtract 30 from Labour total and add it to Conservatives for that which is far more probable.
In terms of what I actually see as the most probable outcome for the general election, I refer to my recent in-depth analysis that concluded in the following detailed seats per party forecast:
UK General Election May 2015 Forecast Conclusion
My forecast conclusion is for the Conservatives to win 296 seats at the May 7th general election, Labour 2nd on 262 seats, with the full seats per political party breakdown as follows: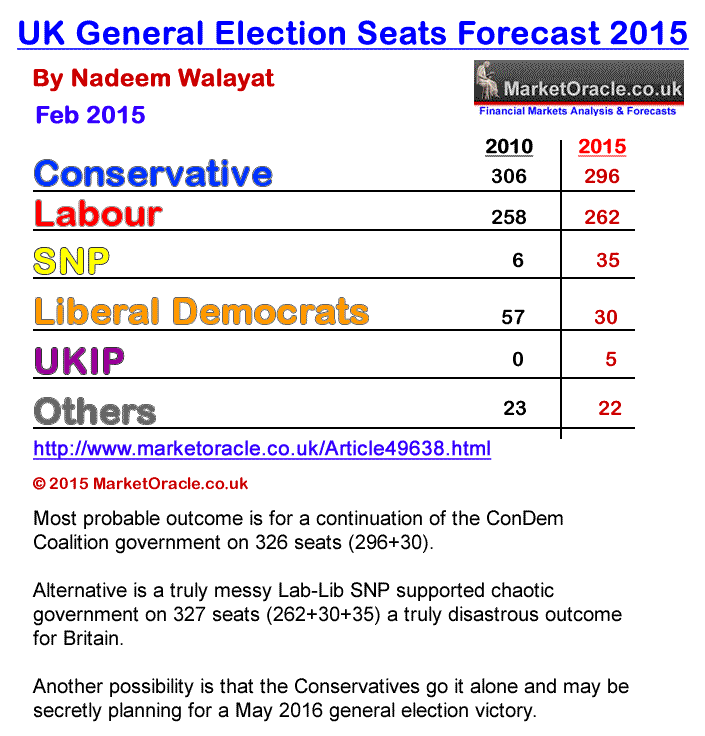 Therefore the most probable outcome is for a continuation of the ConDem Coalition government on 326 seats (296+30) where any shortfall would likely find support from the DUP's 8 seats.
The alternative is for a truly messy Lab-Lib SNP supported chaotic government on 327 seats (262+30+35) which in my opinion would be a truly disastrous outcome for Britain, nearly as bad as if Scotland had voted for independence last September.
Another possibility is that should the Conservatives do better than forecast i.e. secure over 300 seats but still fail to win an overall majority, then they may chose to go it alone with the plan to work towards winning a May 2016 general election.
The bottom line is that the opinion polls do not reflect how people will actually vote on May 7th when they are faced with a stark choice of steady as she goes ConDem government or take a huge gamble on Ed Milliband's Labour party. So in my opinion several millions of voters will chose to play it safe with ConDem which thus is the most probable outcome.
Also available a youtube video version of my forecast: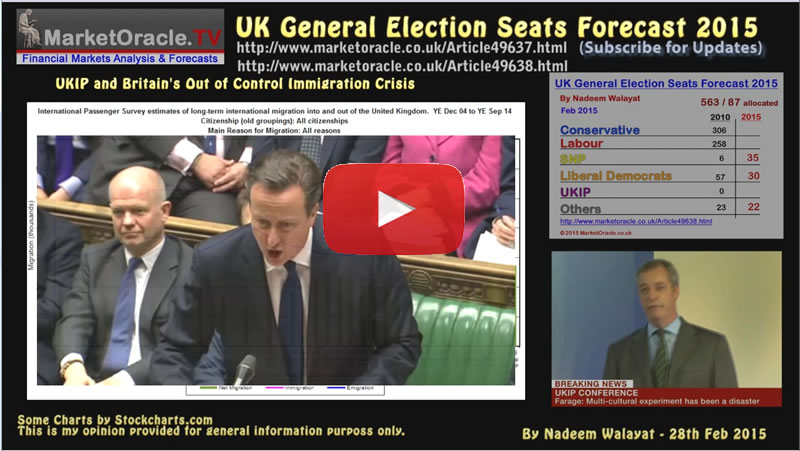 Source and Comments: http://www.marketoracle.co.uk/Article49783.html
By Nadeem Walayat
Copyright © 2005-2015 Marketoracle.co.uk (Market Oracle Ltd). All rights reserved.
Nadeem Walayat has over 25 years experience of trading derivatives, portfolio management and analysing the financial markets, including one of few who both anticipated and Beat the 1987 Crash. Nadeem's forward looking analysis focuses on UK inflation, economy, interest rates and housing market. He is the author of five ebook's in the The Inflation Mega-Trend and Stocks Stealth Bull Market series that can be downloaded for Free.

Nadeem is the Editor of The Market Oracle, a FREE Daily Financial Markets Analysis & Forecasting online publication that presents in-depth analysis from over 1000 experienced analysts on a range of views of the probable direction of the financial markets, thus enabling our readers to arrive at an informed opinion on future market direction. http://www.marketoracle.co.uk
Disclaimer: The above is a matter of opinion provided for general information purposes only and is not intended as investment advice. Information and analysis above are derived from sources and utilising methods believed to be reliable, but we cannot accept responsibility for any trading losses you may incur as a result of this analysis. Individuals should consult with their personal financial advisors before engaging in any trading activities.
© 2005-2022 http://www.MarketOracle.co.uk - The Market Oracle is a FREE Daily Financial Markets Analysis & Forecasting online publication.

Only logged in users are allowed to post comments.
Register/ Log in