North Korean Chinese Proxy vs US Military Empire Trending Towards Nuclear War!
Politics
/
China US Conflict
Aug 12, 2017 - 06:20 PM GMT

The US continues to firmly trend towards war with China as the mainstream press media spotlight on North Korea during 2017 continues to displace the other dozen or so US/China flashpoints such as China's land grab underway in the South China Sea.
"North Korea best not make any more threats to the United States. They will be met with fire and fury like the world has never seen. He has been very threatening beyond a normal state. And as I said, they will be met with fire, fury and frankly power, the likes of which this world has never seen before". - President Trump
North Korea responds "it is 'carefully examining' plans for a missile strike on the U.S. Pacific territory of Guam, just hours after U.S. President Donald Trump told the North that any threat to the United States would be met with 'fire and fury,'The strike plan would be put into practice at any moment once leader Kim Jong-un makes a decision, a spokesman for the Korean People's Army (KPA) said in a statement carried by the North's state-run KCNA news agency."
Previously Trump has warned of a possible first strike - The US refused to rule out a pre-emptive strike on North Korea last night .... Mr Trump said China was 'working with us' on the issue – the first ...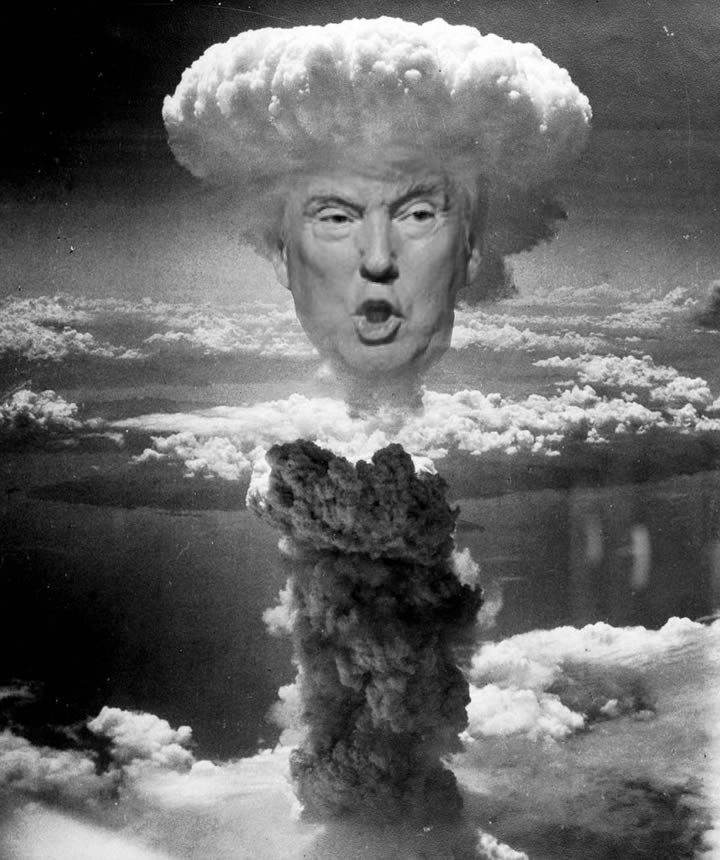 With his more recent tweets further seeking to escalate the situation, pushing the Korean peninsula towards the brink of war, prime for a miscalculation on either side triggering military conflict.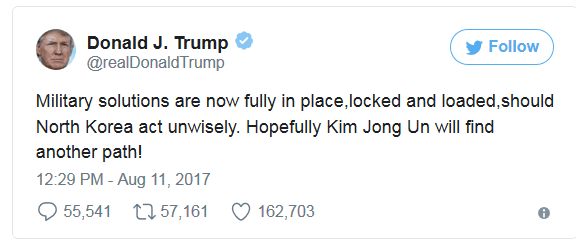 However, every report by the mainstream press makes the most fundamental of errors, which is that they fail to understand that North Korea is a Chinese proxy. Kim Jong Un is not just North Korea's Dear Leader but also a puppet of the Chinese Empire i.e. just an Oscar winning actor as was Donald Trump for his portrayal of Mr BrExit during the last US Presidential election campaign.
Don't take my word for it google search and you will not find a single mainstream press article that states that North Korea is a Chinese proxy. The only reason North Korea has nuclear weapons is because China gave them the technology, and the same goes for its ballistic missiles. And the same goes for the other Chinese proxy in the region, Pakistan. Whilst India is America's nuclear proxy in the region.
Therefore, if the press fail to get this fundamental fact then everything else they write is pretty much gibberish. North Korea is a basket case where at least 90% of its soldiers would fail to even fight for the Kim 'God' dynasty, instead would likely celebrate the demise of their Dear 'Fat' Leader. And if North Korea ever launches an attack on US interests then it will only be under the directive of the Chinese empire.
My in-depth analysis in the Trump Reset series concluded BEFORE Donald Trump took office of why the US was inevitably trending towards War with China and therefore to understand why events such as the US bombing of Syria and a bellicose North Korea are happening one needs to look through prism of the world's TWO global military and economic super powers. The United States as the defacto global super power, and the emerging Chinese super power that ultimately seeks to displace the United States with its own military and economic global empire.
Therefore the only reason why North Korea has nuclear weapons is because the Chinese want them to so that they can be used to put the United States and its Asian allies under pressure which the United States military fully understands hence why the US long term strategy is for the military encirclement of China. In respect of which having a North Korean rogue state that openly threatens the United States is in China's strategic interests. And thus all of the noises coming out of China regarding their inability to control North Korea can be taken with a huge mountain of salt for China WANTS THIS version of North Korea to exist so that it can be used to attack US interests without triggering war between China and the US.
Whilst the US confronting North Korea is in terms of sending a message to China as North Korea is merely a stepping stone towards the containment of China. Thus an attack and destruction of North Korea's military capability would amount to degrading Chinese military power in the region.
For instance my article of 7th April BEFORE the US missile strike on Syria illustrated that the primary objective for such an attack was not to send a message to the Russians in Syria, for Trump firmly remains Putin's Manchurian candidate. Instead it was to send a message to the emerging CHINESE EMPIRE! As was the MOAB attack on Afghanistan and now as are the threats to North Korea which are a ruse for the United States Empire tightening its noose around China as evidenced by whilst Trump was having dinner with the Chinese dictator Xi Jinping at Mar-a-Lago, a US strike fleet was upping anchor and setting sail for the South China Sea at full speed.
07 Apr 2017 - Trump to Fire 50 US Cruise Missiles To Erase Syrian Chemical Attack Air Base, China Next?
This would appear to be a win-win situation for the Trump regime, by attempting to kill two birds with one stone. Firstly to crush the narrative that Trump is working in the interests of Czar Putin who backs the Assad regime, and secondly to deflate calls from America's deep state neo-con elite who seek regime change in Syria, who have been using their deep state CIA and NSA infrastructure to undermine the Trump regime. Also such a large strike would likely also result in russian military causalities, which will be seen as being the icing on the cake for the Trump regime. Which I am sure Trump would soon propagandise in a twitter torrent of "How can be working for the Russian's when I just killed Russian military on the ground in Syria"...
However, this is all just a side show for the main event which is Trump's meeting with the Chinese dictator. In fact the timing of a large missile attack will be just as much a shot across China's bow than a calculated warning to Russia.
So whilst the mainstream press pundits in advance of the visit are busy painting a lovey, dovey friendly picture of what is likely to transpire, which is completely ignorant of Trumps 'China raping America' rhetoric during the election campaign. Then I think they are in for a rude awakening as my in-depth analysis and series of videos in "Trump Reset - War with China" illustrates.
The bottom line is that the US firmly remains on a trend trajectory towards War with China, and the growing armada of US warships in the South China Sea are not there for dealing with North Korea but China's island land grab underway in an attempt at displacing the US from Asia, which is the REAL flash point, a military confrontation between Chinese and US war ships that escalates into outright war.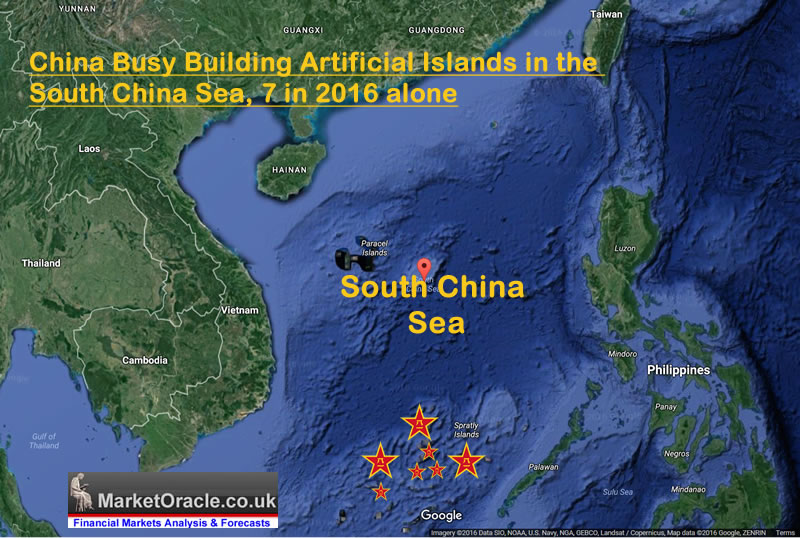 Now fast forward 8 months and what at the time was largely seen by most as being highly improbable is now several order of magnitudes more probable. Again so that there is no confusion, North Korea is a Chinese proxy. What this means is that any attack on US interests by North Korea will be seen as an attack by China on the US, and thus would quickly escalate into an outright war with China.
Furthermore I would expect that as the trend towards war with china continues then there will come a point when the Untied States issues a statement that any attack by North Korea on the Untied States or its allies will be deemed to be an attack on the US by the Peoples Republic of China.
And where Russia is concerned, we this week had further confirmation that Trump is Putin's Manchurian candidate for Russia recently order the US cut its diplomatic staff in Russia by 755, which after several weeks of silence finally triggered the following response from the Trump White house.
"I want to thank him because we're trying to cut down on payroll, We'll save a lot of money." - President Trump
So What's Going to Happen?
Sanctions are not going to work because North Korea is a Chinese proxy state with much of the economic and military support from China given in secret. Therefore the only logical conclusion is that a war between the US and North Korea is the most inevitable outcome, given the wider dynamics of North Korea being a Chinese proxy for the purpose of plausible deniability to prevent a US attack on China in the event of a North Korean first strike on US interests such as Guam.
The alternative is that the US slowly surrenders in Asia to China by starting to withdraw its military bases and nuclear umbrella from the likes of South Korea and Japan.
Thus the United States firmly remains on a trend trajectory towards war with China. And nor should readers forget that North Korea is just 1 of as a dozen flash points as I covered over 8 months ago in my extensive analysis that is even more relevant today then when published during December 2016. Ensure you are subscribed to my always free newsletter for my forthcoming video updates un the War with China series with the following 4 videos so far published to date:
Delirium - Why Trump Won the Election
My first video in this series was in the immediate aftermath of the US election and explained why Trump won.
The Putin Doctrine
My second video concerned Trump following the "Putin Doctrine", one of there being no difference between that which is truth and that which is fiction.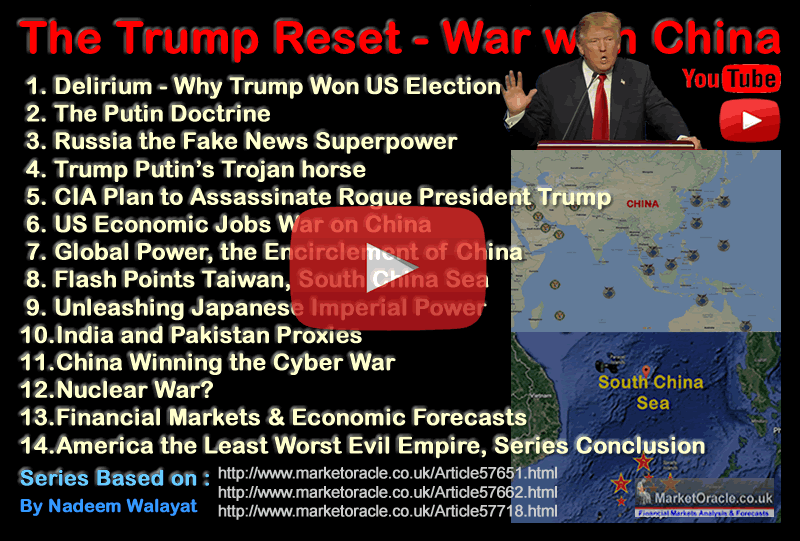 Will the CIA Assassinate President Trump?
The prospects of the risk of President Trump going against the interests of the US military industrial, intelligence and corporate complex, such as being friendly towards Russia and dismissive of NATO and US intelligence that risks the CIA moving once more to remove a 'rogue' president from office, the last being 1963.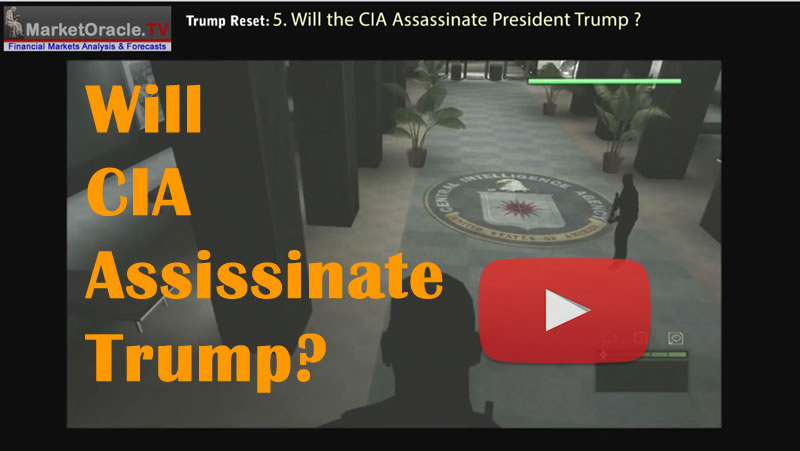 Trump vs the Deep State that Hides in Plain Sight
The "Deep State" best describes the invisible labyrinth of power which truly controls the United States no matter which party is in power against which a President Donald Trump will find himself doing battle against as his first press conference illustrates where Trump let rip into the mainstream press (CNN) as he reacted to the CIA's leaking of another MI6 dodgy dossier to the mainstream press, calling it all 'Fake News', fake intelligence by something that could have come out of Nazi Germany.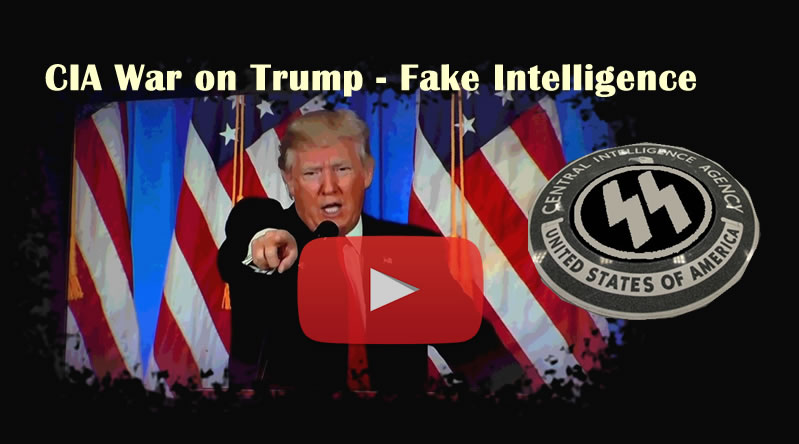 And neither should it be forgotten that there are two other nuclear weapon proxies in the region, India for the US and Pakistan for China. Which as the North Korea theatre continues to escalate then too could soon to engineered towards threatening postures in the interest of each super power.
UK and US Housing Markets Analysis
Whilst my forthcoming market based analysis will be focused on the UK and US housing markets, as my most recent interim update warned of a collapse in UK housing market momentum underway that risks an outright bear market for 2017 and into 2018.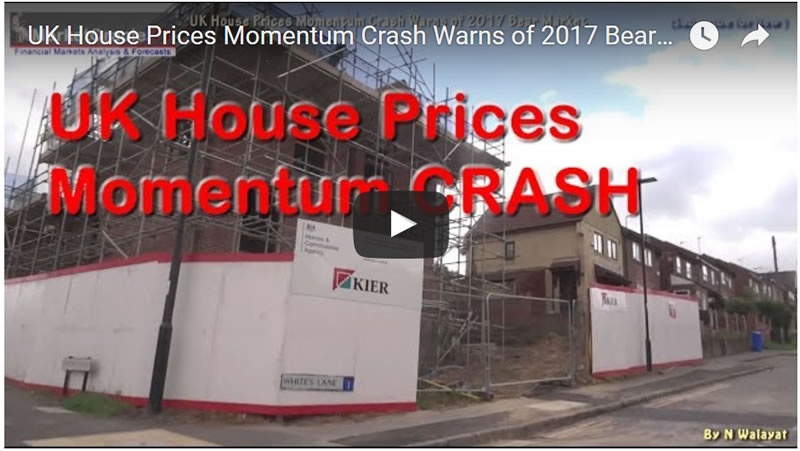 Therefore ensure you are subscribed to my always free newsletter and youtube channel for my forthcoming of 4 pieces of in-depth analysis that seek to conclude in a new multi-year trend forecast for house prices:
1. CITIES ECONOMIC AUSTERITY
Britains' largest cities such as Sheffield are feeling the real effects of crumbling infrastructure as a consequences of 9 years of economic austerity prompting house prices value destroying local council actions.

2. THE LONDON BUBBLE - The centre of Britain's housing market, from which all UK property trends ripple out in waves of either euphoria or despair. A reminder that I have been bearish on the prospects for the London housing market for some time as my video analysis of December 2015 illustrates.

3. UK HOUSE PRICES TREND FORECAST - Aiming to conclude in a new multi-year trend forecast.

4. US HOUSE PRICES TREND FORECAST - And lastly my 3 year US house prices forecast successfully concluded early 2016. The forecast trend of which was in the face of overwhelming doom and gloom for the duration of the then unfolding US housing bull market that I will now attempt to map out a new forecast trend for another 3 years.

Retail Sector Crisis
And finally my latest video in the UK retail sector crisis covered the latest results out of Britain's third largest retailer, Asda.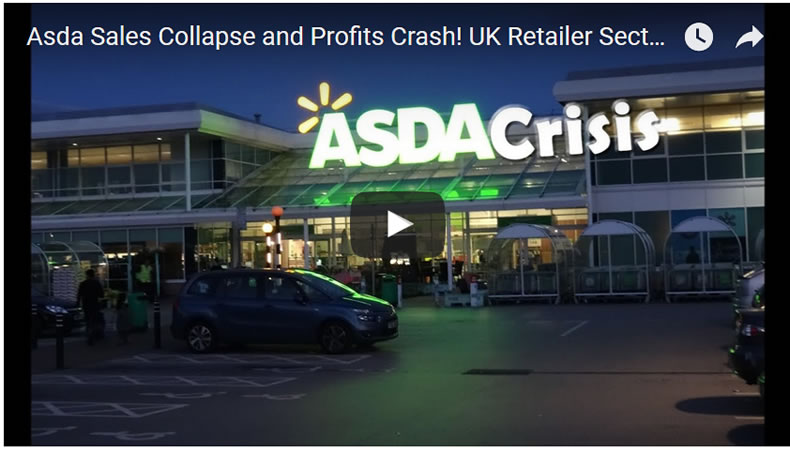 Source and comments: http://www.marketoracle.co.uk/Article59934.html
By Nadeem Walayat
Copyright © 2005-2017 Marketoracle.co.uk (Market Oracle Ltd). All rights reserved.
Nadeem Walayat has over 25 years experience of trading derivatives, portfolio management and analysing the financial markets, including one of few who both anticipated and Beat the 1987 Crash. Nadeem's forward looking analysis focuses on UK inflation, economy, interest rates and housing market. He is the author of five ebook's in the The Inflation Mega-Trend and Stocks Stealth Bull Market series that can be downloaded for Free.

Nadeem is the Editor of The Market Oracle, a FREE Daily Financial Markets Analysis & Forecasting online publication that presents in-depth analysis from over 1000 experienced analysts on a range of views of the probable direction of the financial markets, thus enabling our readers to arrive at an informed opinion on future market direction. http://www.marketoracle.co.uk
Disclaimer: The above is a matter of opinion provided for general information purposes only and is not intended as investment advice. Information and analysis above are derived from sources and utilising methods believed to be reliable, but we cannot accept responsibility for any trading losses you may incur as a result of this analysis. Individuals should consult with their personal financial advisors before engaging in any trading activities.
© 2005-2022 http://www.MarketOracle.co.uk - The Market Oracle is a FREE Daily Financial Markets Analysis & Forecasting online publication.
Comments
R.E.B
13 Aug 17, 18:16
Japan?


You haven't mentioned the Japanese. At present banned from having any real military, they will press for a resurgence.China is a great threat to them, and old enmities have never been forgotten. They have great technological prowess, whereas the Chinese only have what they have stolen. When Japan, U.S and Israel bring the full weight of 21st century technology to bear down on China, they will learn that they are not ready to rule the world just yet. Much vaunted missiles will never get off the ground. They will be frozen in their bunks. As for Pakistan, they are of no moment. In short, I do not believe I will see a major conflict as per your description in my lifetime, but I will see China slapped down. If China does rule the world, it will be after I am gone.



4caster
17 Aug 17, 23:26
North Korea


A nuclear exchange between North Korea and the USA will have no winners, just losers. Millions on both sides will lose their lives. North Korea and a large chunk of South Korea and China will be obliterated, with parts of the US following suit. Therefore it will not happen. If Chinese nuclear missiles are also launched, the outcome for all sides will be much worse.

The economies are China and the USA are closely linked, and any armed conflict between the two of them is in neither's interest. That is why China feels bold enough to occupy the islands of the South China Sea, over 2,000 KM from China. More likely Trump will attempt a proxy war in which the Philippine Islands would be the fall guy, but President Duterte, despite his faults, is not likely to fall for that one.




Only logged in users are allowed to post comments.
Register/ Log in