Bitcoin Ponzi Scam Crash Update - MTGox Vanishing Act, Who Will be Next ?
ConsumerWatch
/
Bitcoin
Feb 25, 2014 - 09:03 PM GMT


Holders of the Bitcoin fictional currency remain in a state of denial as MtGox, the worlds largest Bitcoin exchange has effectively gone bust after a fortnight of statements that they would soon resume allowing clients to transfer their funds and bitcoins out of 'Magic the Gathering', instead MTGox has disappeared in a puff of smoke with some estimated 750,000 of customer bitcoins that at the current average market price of $500 (illiquid price) would be worth $375 million.
Panicking holders of bitcoins visiting the MtGox site were earlier met with an alarming blank page which has now been replaced with the following just as alarming message :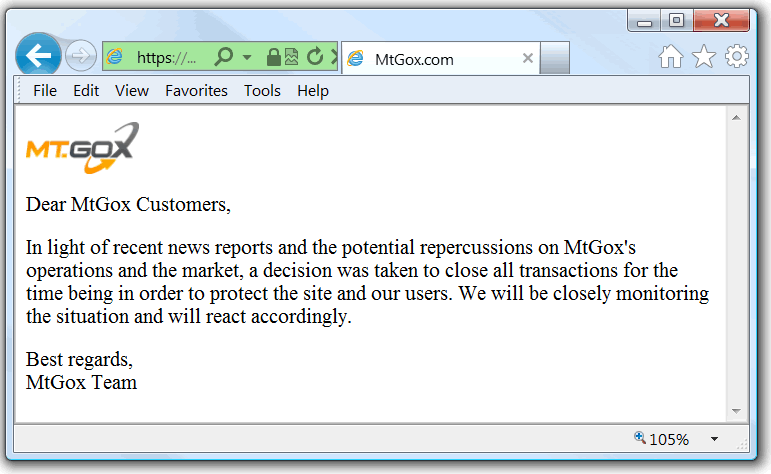 'Magic the Gathering' has been busy throwing up a smoke screen for several weeks as to what has actually happened to its customers 750,000 bitcoins with statements such as that the exchange had been subject to hacking, cracking and theft the truth of which can only be ascertained via a police investigation that will look at the evidence, if they can find any left as the MTGox has shut its offices and melted away, busily deleting any evidence that it actually ever existed as evidenced by its Twitter account having been wiped blank.
Now it is upto the authorities to determine whether an estimated $375 million fraud has taken place or not, that apparently sought to hook investors to deposit their funds into the fictional currency and then to vanish in a puff of smoke, leaving investors literally crying outside its former offices with stories of how their bitcoin holdings running into the hundreds of thousands of dollars have just vanished.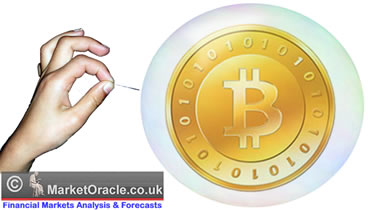 Ponzi Scheme ?
A ponzi scheme is designed to hook investors into investing by promising rewards that can never be realised, where early investors receive pay outs from new investors. The ponzi schemes eventually collapse when the number of new investors are not enough to cover the payout's to earlier investors seeking an exit.
Are Bitcoins a Ponzi Scam ?
We'll as soon as the bitcoin price started to fall which made new investors wary of putting their hard earned fiat cash into the fictional currency then apparently we hear out of the blue announcements of a theft having been discovered, as though a button was pressed and then the investors holdings vanished in a puff of smoke!
Here's what I warned near 3 months ago :
07 Dec 2013 - Bitcoin Price Crash Towards Zero? The Ponzi Scheme Bubble Plays Out as Designed
Bitcoins is DESIGNED to play out as a ponzi scheme bubble to enrich those that created it as they mined over a million bitcoins (current 12.1mln bitcoins) relatively easily (initially low processing power required), with future supply increasingly limited as much greater processing power is required to mine more blocks which coupled with the media frenzy has helped push up the price which the designers and early adopters can offload into and onto unsuspecting fools. This is a ponzi scheme where only the designers and initial miners win hugely, that I suspect will lead to criminal prosecutions.
Again the bitcoin slime never had any real value for they were backed by NOTHING, unlike fiat currency which is backed by tax payers. To be clear, Bitcoins are fictional, fake money. THEY HAVE NO VALUE.
Mainstream Press Culpability?
It has been funny watching and reading the mainstream press these past few days (whilst trying hard not to vomit) commenting on what has been taking place at MtGox and how they have been very naughty and how risky bitcoins apparently are. This whilst these (I came close to putting the C word here), these self same 'contemptible persons' were guilty of reporting sales pitches that hooked many unsuspecting victims into the bitcoin ponzi scheme by ridiculously referring to it as an alternative currency. The journo-fools might as well have stated that investors should ditch the U.S. Dollar and British Pound to instead use the Zimbabwe dollar which too would have seen its price soar only to collapse once reality dawned, and even there the Zimbabwe dollars are a more credible alternative than any of the craptocurrencies which are backed by NOTHING!
The clueless mainstream press populated with journalists who think they are experts in every field but in reality are nothing more than bleating sheep tasked with selling advertising space, baaah, baaaah, baaaaah, to their sheepeople readers baahing in agreement, instead of now warning their shepeople readers to steer clear of the fictional craptocurrency are vomiting advice to spread their risk amongst several exchanges or to use digital wallets parked on their hard drives, which shows a little knowledge is even more dangerous than no knowledge!
In reality what the clueless journalists are effectively saying is that instead of putting all of your money into one big ponzi scheme, that instead you should spread your money amongst several ponzi schemes so that they don't all blow up at the same time. And as for the digital wallets, well don't be surprised that when you go to take a peak at your bitcoins that a trojan virus will have transferred them out long ago.
Who will be next?
Meanwhile the worlds other major Bitcoin exchanges that are usually located in the wild west of poorly regulated countries have been busy issuing reassuring statements to their own holders of bitcoins just as MtGox had been doing for several weeks before performing its vanishing act.
To be blunt, someone would have to be really dumb and therefore deserve to lose all of their money if they thought that MtGox was an isolated incidence. Have people learned nothing from the financial crisis ? When Northern Rock went bust was it an isolated incidence? That's what the central bankers told us! When Lehman's went bust the politicians and central bankers told us it was an isolated incidence.
What was the truth?
The truth was that ALL of the banks were bankrupt! They were ALL BANKSTERS, all as bad as one another.
So the answer to the question as to who will be next ?
ALL OF THEM! Just as took place during 2008, watch for ALL of the dominoes to tumble!
A reminder - YOU WERE WARNED!
29 Nov 2013 - Bank of England UK Housing Market Bubble Panic is Mark Carney Playing Game of Thrones
As was the case for the original Tulip Mania, following the bursting of the bubble Bitcoins will soon be forgotten and so will the craze for all peer to peer i-currencies, as the bottom line is that bitcoins never matched the hype for transactions are NOT anonymous and it IS heavily manipulated by a handful of mining pools so is not decentralised as today ordinary people cannot muster the processing power required to mine for bitcoins.
The bottom line is that bitcoins are a pyramid ponzi scheme where those who got in early win, whilst everyone else loses. If you own bitcoins then you should get out IMMEDIATELY!
05 Dec 2013 - Bitcoin Mania Bubble Bursts, China Triggers Price Crash Start, Technical Forecast
What's Next for Bitcoins
A quick technical review of the charts implies that a double top pattern is being formed which is a warning that the bounce from the neckline is not something that bitcoin holders should put much hope into for the price is likely to reverse within days to break the neckline and retrace all the way down to at least 500 (current 1074), which is more than a 50% drop of the last price and a 60% drop from the high.
07 Dec 2013 - Bitcoin Price Crash Towards Zero? The Ponzi Scheme Bubble Plays Out as Designed
The bitcoin stepped crash with much volatility continues to play out not just towards my technical target of 500 but eventually towards virtually zero as represented by my longer-term objective of just 15, that is 1/99th of its trading high. So understand this that the nightmare for those who continue to hold onto bitcoins is only just beginning, yes the price has crashed by 37%, but it is still stands 37% above its technical target of 500 and has the potential for a 96% loss of its current value should the target of 15 be realised, so this is NOT the time to hold on hopes of recovering back towards the highs as the loss of value sustained could literally be TOTAL! A lesson that all market traders have to learn else they will go bankrupt holding on for price recoveries that always become more distant with each stomach churning lurch to the downside.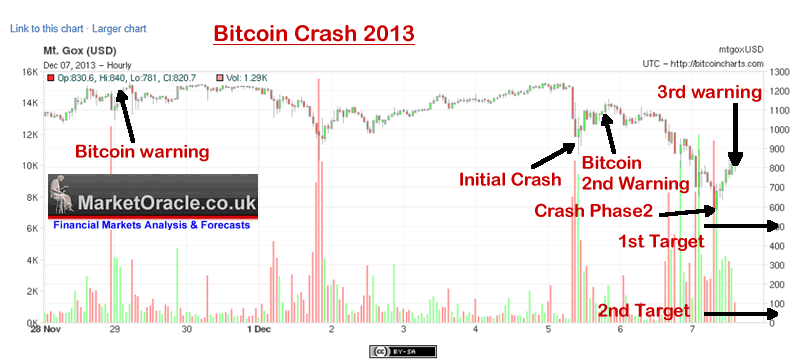 16 Feb 2014 - Bitcoin Craptocurrency Ponzi Crash Grinds Towards ZERO, Where's Max Keiser Hiding?
Bitcoin Craptocurrency has plunged to USD $230, down 81.6% from its USD $1250 high - Unfortunately for bitcoin holders the ponzi scam crash continues to play out as holders of bitcoins find out that as is the case with all scams that when they want to sell their holdings they CAN'T. Instead they are locked into holdings that continue collapse in value all the way towards a pittance of the price that hooked them into buying of just a few months ago.
Slovenia, Bulgaria, Romania, and such like places where the now effectively frozen bitcoin exchanges operate from should have been a big signal for SCAM ALERT! Even the big exchange at Tokyo remains frozen as hackers, crackers, and cyber attackers dictate the real value (if any) of the craptocurrency.
The current 'price' of Bitcoins is USD $230, though off course the price is absolutely meaningless if one cannot actually trade at it ! Which is the case for many bitcoins holders today, as they will only be released form their bitcoin torture when the value of their holdings has been effectively wiped out, stolen by those that constructed and maintained the ponzi scam that hooked many unsuspecting naive investors into its vortex amidst an avalanche of sales propaganda that was liberally regurgitated at length by worthless mainstream media that painted a picture of Bitcoins having come of age when the truth was of the scammers final price spike.
Your scams detecting analyst.
Source and Comments: http://www.marketoracle.co.uk/Article44588.html
Nadeem Walayat
Copyright © 2005-2014 Marketoracle.co.uk (Market Oracle Ltd). All rights reserved.
Nadeem Walayat has over 25 years experience of trading derivatives, portfolio management and analysing the financial markets, including one of few who both anticipated and Beat the 1987 Crash. Nadeem's forward looking analysis focuses on UK inflation, economy, interest rates and housing market. He is the author of five ebook's in the The Inflation Mega-Trend and Stocks Stealth Bull Market series.that can be downloaded for Free.

Nadeem is the Editor of The Market Oracle, a FREE Daily Financial Markets Analysis & Forecasting online publication that presents in-depth analysis from over 600 experienced analysts on a range of views of the probable direction of the financial markets, thus enabling our readers to arrive at an informed opinion on future market direction. http://www.marketoracle.co.uk
Disclaimer: The above is a matter of opinion provided for general information purposes only and is not intended as investment advice. Information and analysis above are derived from sources and utilising methods believed to be reliable, but we cannot accept responsibility for any trading losses you may incur as a result of this analysis. Individuals should consult with their personal financial advisors before engaging in any trading activities.
© 2005-2022 http://www.MarketOracle.co.uk - The Market Oracle is a FREE Daily Financial Markets Analysis & Forecasting online publication.
Comments
TruthTeller
26 Feb 14, 09:36
Bitcoin Scam


Of course it's over. This was simply a libertarian fantasy waiting to crash against the shoals of reality. It was a sham and a scam from the get-go. Who ya gonna complain to now - the United States of Gox? The Attorney General of Gox? Yeah, you see what I'm driving at? There's no there, there. It's all a bunch of jibberish. Sorry that real people are going to get hurt but y'all are responsible for your individual actions, right?



popshed
26 Feb 14, 10:40
MTGox Bitcoin holder


This guy over on Reddit -

"I want to start off by saying that I've been waiting for this moment for a while. I knew it was bound to happen sooner or later, as soon as we weren't able to withdraw our coins from Mt. Gox weeks ago. I stupidly had my life's savings in bitcoin, and when the price started to fall, I converted to dollars and watched the price plummet. I lost $357,000. Not to try to earn a bunch of sympathy or anything but this was not only my money but it was going to be my 5 year old son's education fund which i took out of fidelity about 1 year ago to mess with bitcoins"

Stunning. Absolutely stunning.



mikedittor
26 Feb 14, 11:21
Bitcoins and Gold


the bitcoin crowd is the the same crowd that was loading up on bullion at $1900, the same ol same ol stupido.



NorthernVigour
26 Feb 14, 12:43
Bitcoin pony virus


Reuters reported a more thorough story. Rather than hold the hand of its readers, Reuters reported the "PONY" virus that is infecting over 600,000 computers of Bitcoin wallets and other on-line users. The PONY virus seems to be cleaning out bitcoin wallets, leaving people wondering "Where is my money"...geez people are stupid.

I just checked my bullion...it is perfectly safe where I hid it.



R.E.B
26 Feb 14, 21:19
Max Keiser still pumping


Max Keiser and sidekick Stacy still amazingly pumping this fraud to an apparently enthusiastic audience of lemmings, and calling the MtGox debacle "growing pains" !!!!

Apparently loads of "venture capital" is going into Bitcoin at the moment and Max is a buyer at these levels. No really, Iam not making this up.




Only logged in users are allowed to post comments.
Register/ Log in