Why Labour Lost Election 2015, Who will be Next New Labour Leader?
ElectionOracle
/
UK General Election
May 11, 2015 - 01:47 PM GMT


Labour suffered its worst defeat in over 30 years, putting the party back to where it stood under the disastrous leadership of Michael Foot, and even worse when considering the blood bath in Scotland where the Labour party was born, which saw the Scottish Nationalists take every Labour seat bar 1. The election result has shocked about half the electorate whilst surprising the rest as what amounted to daily worthless opinion polls had led the nation to believe that this was a neck and neck election race, one in which where even if Labour had won far fewer seats than the Conservatives then Labour were still likely to go on and form next government as illustrated below:

Opinion pollster's seats forecasts averaged to:
Conservatives : 276
Labour : 271
SNP : 53
Lib Dems : 25
DUP 8
Which were forecasting an extreme hung parliament -
Conservatives + Lib Dems = 301 - FAIL
Add DUP 8 seats = 309 - FAIL
Labour + Lib-Dems = 296 - FAIL
Labour + Lib-Dems + Plaid Cymru + Greens = 303 - FAIL
Thus according to the opinion polls the only workable majority would have been one of a minority Labour government supported by the SNP (53) to total 323.
However, those who had followed my series of articles number approx 60 and accompanying videos would have received the unequivocal message that the opinion polls were wrong and that the Conservatives could even win a single digits outright election victory.
01 May 2015 - UK Election Forecast 2015 - Who Will Win?
The updated election seats trend graph suggests that the Conservatives are on target towards achieving a single digits outright majority which is completely contrary to every opinion poll published this year. Which if it materialises then I am sure for Election 2020 everyone will be staring at the house prices indices rather than the opinion polls. Though as is usually the case that when the consensus becomes focused on an particular indicator then it usually stops working.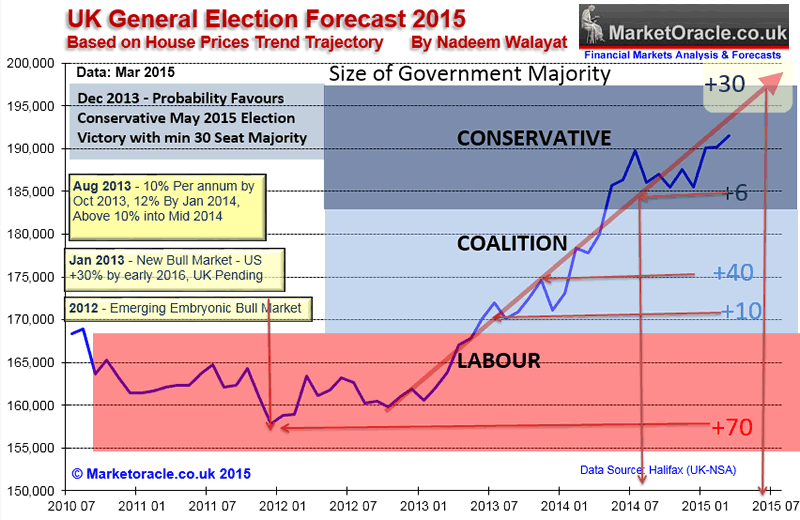 With the accompanying video published on 3rd of May that also confirmed that UK house prices were forecasting a single digit outright Conservative election victory, which was contrary to every opinion poll and political pundit: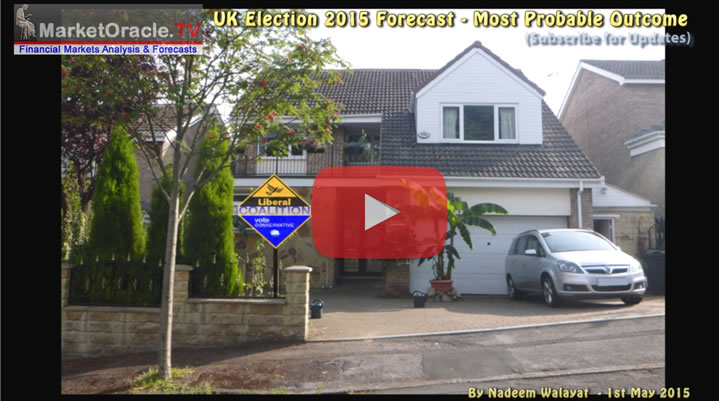 Why Labour Lost ?
Whilst the mainstream press will be obsessed with the SNP Labour blood bath in Scotland, Labours poor economic record in government, all of which I covered at length before the election for instance that the Conservatives would win because it was the ECONOMY STUPID! Something that a collectively clueless mainstream press had virtually completely missed the implications of as my video of early April illustrates: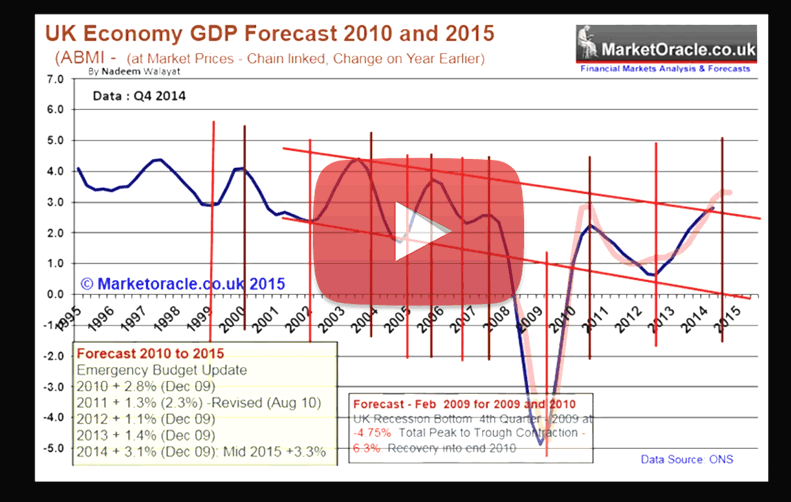 And earlier still here - 11 Mar 2015 - General Election Forecast 2015 Stealth Economic Boom - Why Opinion Polls are WRONG!
However, leaving aside the above which ensured that Labour stood a poor chance of winning the 2015 general election regardless of what the opinion polls were stating, in my opinion the real reasons why Labour lost the election are -
1. Choosing the WRONG Leader
Labour had effectively lost the 2015 election back in 2010 when the Unions anointed Ed Miliband to wave the red flag!
16 Mar 2015 - Election Forecast 2015: The Day Labour Lost the General Election
Following abandoning government in 2010, Labour then had an golden opportunity to plan for their next government in 2015, all they had to do was to take their time to choose a new leader who would appeal to the voters and then sit back and profit from the Coalitions painful attempts at fixing a near bankrupted economy, where 5 years of economic austerity virtually guaranteed that Labour would win in 2015.
However, as I mentioned at the start, Labour is good at choosing the WRONG leader and the following video shows exactly what happened in 2010 -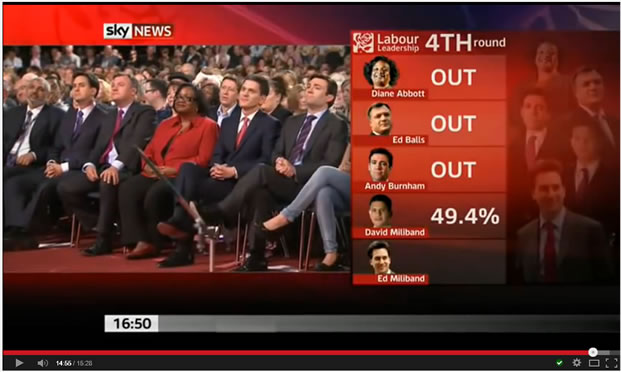 The the highly charismatic clear and present danger to the Tories, David Milliband was beaten by his 'can't even eat a hamburger properly' younger brother, Ed Milliband to audible gasps from the audience. How could David Milliband lose when the majority of party members and MP's voted for him, the answer is the back room deals union block votes, which means those that the likes of the GMB and Unite favour (candidates suck up to the most) get elected as leader.
The most recent party leader popularity polls illustrate the problem Labour has, as an Ipsos Mori poll states only 30% of voters like the labour leader compared to 39% for David Cameron.
Therefore, Labour lost the next election in September 2010 which sowed the seeds for the slow evaporation of any certainty of Labour winning the next general election, as each passing year has seen Labours lead in the polls melt away to now stand approximately where they were on election day 2010!
The problem is the unions, for until Labour makes the change to one member one vote then Labour will nearly always select unelectable unionites who tend to be weak leaders who are subservient to the unions and not priministerial material.
In terms of the election probabilities, Ed Milliband has always worked in the Tories favour, as the more he is seen the more voters are put off from voting Labour to the point today where as my earlier analysis concluded there is now an increasing chance for an outright Conservative election victory, especially as voters have several more weeks of Ed Milliband to look forward to.
2. Labour a Party for Immigrants and Benefits Scroungers
Labour dancing to the SNP's tune was only the tip of the socialist ice-berg for the red flag flying Ed Miliband painted a picture of a class struggle between the 99% and the 1%, when in reality it was Labour that demonstrated itself as being the party of immigrants and benefits scroungers and not the workers, i.e. approx 25% vs the hard working 75% which is the real reason why Labour lost the election as Labour made it clear it would go on a debt fuelled spending binge to reward the most laziest in society to the cost of Britain's workers, where the SNP was just an extra dozen or so nails in Labours coffin.
08 Mar 2015 - Vote Labour Get SNP Catastrophe - General Election 2015 Forecast - Grand Coalition Possible
Therefore to imagine a Labour - SNP supported government is going to be able to stick to its debt promises is delusional because the often hyped of economic austerity Con-Dem Coalition are themselves looking set to borrow an extra £130 billion over that which they promised they would. Which means the £180 billion of extra SNP led borrowing could easily double to £360 billion of EXRA borrowing which implies that the current debt total of £1.5 trillion could easily soar to £2.5 trillion by the end of the next parliament, double the £500 billion of Coalition debt added to Britain's debt mountain that makes a mockery of politicians when they make claims that the deficit will be cut and debt repaid.
The only answer / solution that all governments have remains one of stealth default by means of high real inflation hence the Inflation Mega-trend. Inflation is a REQUIREMENT for the Debt Based Economy, this is how governments keep putting off the day of reckoning by attempting to inflate the debt away with printed money and then borrowing more money to service the debt interest which is why virtually all money in an economy is debt money that will NEVER be repaid.
When George Osbourne and David Cameron are stating that they are paying down Britain's debt, they are LYING! The same goes for Ed Milliband if he states that he will cut Britain's debt. NO GOVERNMENT DEBT IS BEING REPAID OR WILL EVER BE REPAID! Instead the truth is that the WHOLE of the economic growth (in real terms) since the May 2010 General Election and continuing into the May 2015 General Election will be wholly as a consequence of some £550 billion of additional DEBT. Again this is a very important point to note that ALL of the economic growth of this parliament is DEBT based, ALL of it, including the current election boom, the debt accrued over the 5 year term will equate to total real terms increase in GDP - virtually pound for pound which is why there is a cost of living crisis because printing money (debt) does not increase productivity, all it does is inflate the money supply.
You should realise by now that the constant drivel about the threats and risks of debt deflation are nothing more than propaganda so as to allow policies such as quantitative easing (money printing) to be more palatable to the general population so as to ensure that the Inflation Mega-trend continues, and all that an Labour-SNP pseudo coalition promises is an even greater magnitude to the cost of living crisis for Britains (England's) hard working tax payers as their productive capacity is funneled as election bribes towards Labour - SNP voting regions and the 8 million or so vested interests sat on their lard asses on benefits for life.
And those are the two primary reasons why Labour lost the 2015 general election. They chose the WRONG leader and then focused on Britain's SLOTHS. Whilst ignoring most of Britain's hard working families who want to better themselves, where the message from was Labour that they would do their best to keep the people sedated on benefits for life so that they would become vested interest Labour voters.
People want jobs, REAL JOBS! and not the worthless paper pushing public sector pseudo-jobs.
People want education, REAL education and not the 80% of worthless -ologie degrees that socialist Universities tend to pump out which result in graduates finding themselves working in Burger King for that is the value of their degrees.
People want a welfare state, a REAL welfare state that supports people when they actually need help, and not the lazy lard asses parked on benefits for life culture that the Labour party promotes.
People want the borders to be controlled, REAL BORDER CONTROL - What's the point of Labour promising to build 200,000 homes per year when it would have ended up letting in over 1/2 million of new migrants per year.
Therefore the Labour party was fighting the WRONG election, instead of 2015 the party was stuck in a time warp by fighting a 1970's election.
And that's what Labour needs to realise and fix, else it will lose the NEXT election as well!
Labours Next / New Leader
Therefore for Labour to even stand a chance of winning the 2020 General Election then they need to elect an centralist leader, a fresh face and not the likes of Yvette Cooper who shortly after the BBC exit poll was released after 10pm on 7th May angered many of the electorate by stating that if the exit polls were correct then David Cameron had lost the election and so Labour would go on to form the next government.
A disgraceful display that that revealed to the public Labours true undemocratic colours.
Labour needs a FRESH FACE, someone who was not part of the last Labour government.
This is my opinion on Labour politicians who are likely to stand for leader:
Yvette Cooper - Disastrous choice, old Labour
Andy Burnham - Disastrous choice, old Labour
Chuka Umunnna - Disastrous choice, london elite.
Rachel Reeves - Disastrous choice, london elite, would wind up the electorate to no end with her constant whining for benefits scroungers.
Stella Creasy - A hint of a young Margaret Thatcher, could surprise.
Tristram Hunt - Unsure, could surprise as did Blair.
David Lammy - Disastrous choice, london elite.
David Miliband - Ed's older brother, too late, the country could not stomach another Miliband for 5 years.
Liz Kendall - Blairite, Unsure.
So out of the current list of possible's, so far only Tristram Hunt, Stella Creasy and Liz Kendall stand out as standing any chance of reversing Labours fortunes. Whilst the favourites - Chuka, Andy and Yvette as Labour leader would virtually guarantee another Conservative 2020 election victory. Therefore it is highly probable that Labour could make another huge blunder by electing the wrong Leader just as they did in September 2010.
Labour needs to ditch the red flag and instead over the next 5 years create a NEW, NEW Labour party that rewards HARD WORK and NOT SLOTH. For in the 2015 election Labour presented itself as the party of SLOTH.
To find out WHY the opinion polls got it so badly wrong then ensure you are subscribed to my always free newsletter for my in-depth analysis and detailed trend forecasts.
Source and Comments: http://www.marketoracle.co.uk/Article50629.html
By Nadeem Walayat
Copyright © 2005-2015 Marketoracle.co.uk (Market Oracle Ltd). All rights reserved.
Nadeem Walayat has over 25 years experience of trading derivatives, portfolio management and analysing the financial markets, including one of few who both anticipated and Beat the 1987 Crash. Nadeem's forward looking analysis focuses on UK inflation, economy, interest rates and housing market. He is the author of five ebook's in the The Inflation Mega-Trend and Stocks Stealth Bull Market series that can be downloaded for Free.

Nadeem is the Editor of The Market Oracle, a FREE Daily Financial Markets Analysis & Forecasting online publication that presents in-depth analysis from over 1000 experienced analysts on a range of views of the probable direction of the financial markets, thus enabling our readers to arrive at an informed opinion on future market direction. http://www.marketoracle.co.uk
Disclaimer: The above is a matter of opinion provided for general information purposes only and is not intended as investment advice. Information and analysis above are derived from sources and utilising methods believed to be reliable, but we cannot accept responsibility for any trading losses you may incur as a result of this analysis. Individuals should consult with their personal financial advisors before engaging in any trading activities.
© 2005-2022 http://www.MarketOracle.co.uk - The Market Oracle is a FREE Daily Financial Markets Analysis & Forecasting online publication.

Only logged in users are allowed to post comments.
Register/ Log in