Analysis Topic: Companies Analysis
The analysis published under this topic are as follows.

Tuesday, October 02, 2007

Investors who beat the market look for opportunities in places before others arrive on the scene A recent edition of The McKinsey Quarterly discussed "A Cost Curve for greenhouse Gas Reduction"
The McKinsey Quarterly September 27, 2007
. The study presents their analysis of the costs to abate greenhouse gases, especially CO 2 . Their goal is to provide a framework for policy makers and business people as they debate future regulation.
Read full article...

Read full article...
---

Tuesday, September 25, 2007
Northern Rock's board of directors is meeting to agree to the deferment of the interim dividend totaling £59 million, announced in July 07 just prior to the impact of the credit crunch. The dividend amounts to 14.2p per share and would represent 8% of the current value of the company.
Read full article...

Read full article...
---

Monday, September 17, 2007
The British Government stepped in today to guarantee ALL Savings in Northern Rock Bank at 100% in an announcement a few minutes ago.
The chancellor of the exchequer, Alistair Darling stated: "I can announce today that following the discussions with the Governor (of the Bank of England) and the Chairman of the FSA, should it be necessary, we, with the Bank of England would put in place arrangements that would guarantee all the existing deposits in Northern Rock during the current instability."
Read full article...

Read full article...
---

Saturday, September 15, 2007

Whilst the run on the Northern Rock Bank continues during weekend openings, the same brokers and the mainstream financial press that were recommending buy and hold on the stock throughout the year are still dishing out advice on what savers and investors should now do, again with a bullish tinge. With every other paragraph containing words such as bid target, despite the fact that there's an ongoing run on the bank and liquidity has dried up in the market place so exactly where the financing will come from is anyone's guess. Additionally it will take many years for the public to gain confidence in the brand name 'Northern Rock', after watching endless news reports of savers lining up at high street branches throughout the UK to withdraw their funds in sheer panic.
Read full article...

Read full article...
---

Friday, September 14, 2007

"...The queues outside British bank Northern Bank have nothing to do with subprime US home loans. But they have everything to do with today's US banking model..."
ON WEDNESDAY THIS WEEK the UK mortgage bank Northern Rock ran a banner advertisement across the bottom of The Daily Telegraph 's front page. It promised 6.30% interest on cash deposits, more than 250 basis points above the average rate-of-return offered on time deposits by UK banks in August.
Read full article...

Read full article...
---

Friday, September 14, 2007
SPOT GOLD PRICES slipped against the US Dollar early Friday, bouncing off Thursday's low at $704.50 but testing the week's highs for British investors as long queues formed outside branches of Northern Rock, the UK 's fifth largest mortgage lender.
Despite having just 0.24% of its assets exposed to the subprime US housing market, Northern Rock's stock plunged by one quarter at the London Stock Exchange in early trade after it said the Bank of England is stepping in to support it with a short-term loan as "lender of last resort."
Read full article...

Read full article...
---

Friday, September 14, 2007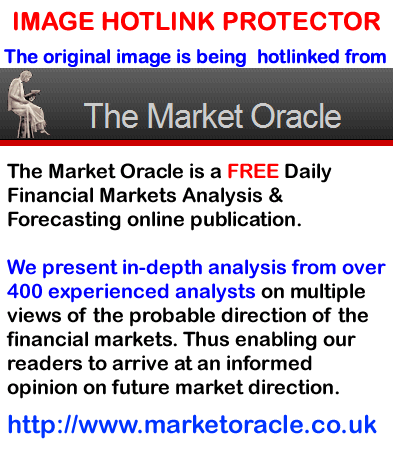 Northern Rocks Share price crashed by 30% today as the mortgage bank sought emergency funds from the Bank of England due to the credit freeze in the interbank money market which Northern Rock heavily relies upon. Panic gripped savers forming long lines outside Northern Rock Branches throughout the UK to withdraw funds. Investors dumping the stock on the market open where even unsubstantiated rumors of takeovers and white knights failed to halt the crash in the banks share price.
Read full article...

Read full article...
---

Friday, September 14, 2007

Northern Rock, one of Britian's largest mortgage banks is expected to receive emergency funding from the Bank of England today for possibly more than £4 billion ($8 billions), as the mortgage bank runs out of cash and is unable to obtain credit on the interbank money market due to the ongoing liquidity squeeze and the banks own sizeable subprime mortgage book risks. As with the earlier emergency funding of barclays, the rate charged by the Bank of England is expected to be significantly higher than the 5.75% base rate, possibly around 6.75%.
Read full article...

Read full article...
---

Tuesday, September 11, 2007
Tony Sagami writes: I run at a pretty fast pace when I'm in Asia. Every day is packed with factory tours … meeting with company executives … pestering government and university leaders for their local knowledge.
I hit the streets to see things with my own eyes because that's the only way I can know if the zealous investor relations departments are feeding me overly optimistic projections. I'm also willing to shift my entire focus when something really makes my eyeballs pop out.
Read full article...

Read full article...
---

Thursday, September 06, 2007
We highlighted Newmont Mining (NYSE: NEM) 8 days ago at 41.72. Aside from the fact the NEM has climbed 6% since the 8/28 read, let's notice that today's thrust from 43 to over 44 occurred immediately after the price structure hurdled the 200 DMA (42.82), which also has propelled NEM above its prior rally peak of 44.05 on 7/24…leaving behind a big "W" pattern (Double Bottom). A sustained climb above 44 will trigger upside potential off of the Double Bottom towards the 48-50 target zone.
Read full article...

Read full article...
---

Wednesday, September 05, 2007
When California passed its long awaited electricity deregulation law in 1996, it was supposed to signal the start of a revolution.
Proponents had argued for years that breaking up utility monopolies would trigger an explosion in generating capacity.
Read full article...

Read full article...
---

Tuesday, September 04, 2007

Tony Sagami writes: Do you remember the gasps when the Japanese were snapping up some of America's most-loved landmark properties during the 1980s?
Back then, the business news almost always included a segment about the Japanese buying an American icon, whether it was Pebble Beach, Columbia Pictures, or the Rockefeller Center.
Read full article...

Read full article...
---

Friday, August 24, 2007
It's tough to keep in mind during times of turbulence, but market moods and trends come and go. The only constant is businesses. And the performance of those in your portfolio is what's ultimately going to determine whether your wealth expands or contracts.
This week, the markets returned to a relative state of calm. The key was the aggressive action by the Federal Reserve and the world's other central banks to pump liquidity into the global system and prevent the ongoing credit crunch from becoming an economic calamity.
Read full article...

Read full article...
---

Thursday, August 23, 2007
Investors swamped my email when news hit that some oil crews were "fleeing" the advance of Mean Dean in the Gulf of Mexico.
These investors have seen some hard bounces of late on the Street's "mechanical" bull, looking for good buys to the upside. Most readers asked me the same question: "I'm tempted by the bargains out there, but this is hurricane season. Should I invest in the energy patch right now?"
Read full article...

Read full article...
---

Tuesday, August 14, 2007
Either today's swoon in Citigroup (NYSE: C) is a retest (so far successful) of the August 6 low at 45.02 or the continuation of a new downleg that started at the establishment of the August 8 rally peak at 49.88. If it turns out to be the former, then C should pivot to the upside with some power in an effort to re-probe resistance at 49-50.
Read full article...

Read full article...
---

Saturday, August 04, 2007
The subprime mortgage/high-yield meltdown continues to dominate the markets and financial media. There's a good reason for that: The world's financial markets are intimately connected in myriad ways, and none of us has a firm grip on all of them.
With luck, this situation won't develop into a full-scale financial meltdown along the lines of 1998. The economy, for example, is clearly healthy despite some weak spots, as this week's employment figures and the recent gross domestic product (GDP) growth and low inflation indicate. But until we see clear signs that it's winding down—and not spreading to other higher risk areas—investors are going to keep reacting, and strongly, to the various straws in the wind that appear.
Read full article...

Read full article...
---

Thursday, August 02, 2007
Despite hefty incentives, light motor vehicle sales in July were down month-to-month for the seventh consecutive time this year. Sales crept along at an annual pace of only 15.54 million units. Excluding Katrina-dampened September 2005, this was the weakest monthly sales rate since June 2004. In the first seven months of 2007, light motor vehicle sales are down an annualized 12.03% -- the weakest July-over-December sales rate since 2003 (see table below).
Read full article...

Read full article...
---

Tuesday, July 31, 2007
Tony Sagami writes: Although the Dow posted its second-biggest one-day loss of the year last Thursday, one U.S. company's stock rose more than 6% by the end of trading.
I'm talking about Apple — a stock that my Elite Stock Trader subscribers have owned for some time, and a company that I've told you about before right here in Money & Markets.
Read full article...

Read full article...
---

Sunday, July 29, 2007
Commenting on Vodafone's Q1 results*, Rob Barnes, head of mobiles at moneysupermarket.com, said: "Vodafone's Q1 results for 2007 show that so far this year the group has achieved a number of its objectives. In particular they have focused heavily on international and emerging markets.
Read full article...

Read full article...
---

Saturday, July 28, 2007
I'm a glass-half-full guy. I always look for the bright side. And when things look their blackest, my every instinct is to buy, buy, buy.
I've also been in the investment business long enough to know that things don't always work out. Many times, where's there's smoke, there's a raging blaze that will scorch anyone who gets too close.
Businesses as cash-rich as investing do attract criminals. And you can't always trust the numbers.
Read full article...

Read full article...
---