Analysis Topic: Companies Analysis
The analysis published under this topic are as follows.

Monday, March 26, 2007
Much has been written lately regarding the woes of the North American Auto Industry and why they seemingly cannot compete.
Reasons proffered as to why the North American auto industry has fallen upon such hard times run the gamut from quality issues to aging work forces to greedy unions.
One of the less talked about or ignored issues that has greatly impacted the plight of the auto industry is the misreporting of inflation - thanks to financial shenanigans by Central Bankers like the Federal Reserve.
Read full article...

Read full article...
---

Thursday, March 22, 2007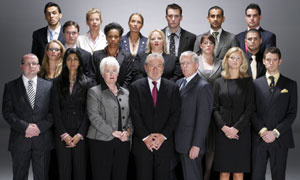 Multi-award-winning series The Apprentice is back for a 12-week run, now on BBC One , from Wednesday 28 March at 9pm.
The critically acclaimed show returns for a third series to challenge a new group of 16 high-fliers to test their skills in this unique business series. The standard of applicants was higher than ever with over 10,000 ambitious hopefuls applying for the coveted, six-figure salaried job in tough talking tycoon Sir Alan Sugar 's business empire.
Read full article...

Read full article...
---

Thursday, March 22, 2007
Larry Edelson : I'm on another whirlwind tour of Asia. I just wrapped up a four-day visit to Kuala Lumpur … before that I spent four days in Hong Kong and Macau … and now I'm resting up for my next stop, Dubai. I can't wait to check out the financial capital of the Middle East, which also happens to be an important source of capital for Asia.
But while I'm taking a breather, I figured now is a good time to update you on the Asian stocks I told you about last June . How are they doing? Great!
Of the 13 stocks I highlighted, 12 are in the winning column with gains of up to 66.6%! There's only one loser, which fell about 11%.
So, as you can see, while a lot of people were busy talking about China slowing down and Asian markets looking shaky, many Asian stocks posted solid gains.
Read full article...

Read full article...
---

Wednesday, March 21, 2007
Sean Brodrick : On my way to check out a mine in Hispaniola! - By the time you read this, I'll be flying to the Dominican Republic on the island of Hispaniola. I'm not going there for rest and relaxation. Instead, I'll be investigating a small mining company. It's exploring a rare spot where gold is literally laying on the ground just waiting to be scooped up!
I'm in a hurry to see this place in person. Especially since gold looks ready to move past $800 an ounce. More on why in a moment.
First, let me tell you about my golden ticket to the Dominican Republic. Let's start with a little background …
Read full article...

Read full article...
---

Thursday, March 15, 2007
Where have all the high yields gone?
With top-quality utilities and real estate investment trusts (REITs) paying out 3 percent or even less, it's certainly become a lot more difficult to earn a decent income return in recent years--particularly if you stick to Wall Street's beaten path.
Of course, real bargains are hard to find, even if you're willing to buy something that's not a mainstream, NYSE-listed stock officially sanctioned by your broker. But your odds improve considerably if you go where others fear to tread, either because of complexity or simple bearishness.
Read full article...

Read full article...
---

Monday, March 12, 2007
When Elisabeth and I lived in Japan many years ago, the tender loving care of our host family, the Kondos, is a memory we will always cherish. So right now, we're delighted to have the chance to reciprocate while we host the next generations of Kondos at our home here in Florida.
In a moment, I'll show you how their story may intersect with yours — and with America's as a whole. But first, I want to tell you about one of the most sweeping megatrends of our time:
Read full article...

Read full article...
---

Tuesday, February 27, 2007
I recently found myself flying to Chandler, Arizona to meet up with a good friend of mine, David Phillips. Not only is David one of my very best friends, he's also a great person to talk to about estate planning. Heck, he wrote a whole book on the subject! Estate Planning Made Easy
I'm certainly not rich, but I will have some things to leave behind when I depart this world. So, I figured my trip would be the perfect way to talk business and catch up with my pal all at the same time.
The timing of my visit was perfect! Not only did I enjoy some very welcome Arizona sunshine, I also managed to catch David's 17-year-old daughter, Kelsey, performing with her church choir.
Read full article...

Read full article...
---

Wednesday, February 21, 2007
The price of uranium is poised for a sprint to $100 per pound this year, and many uranium stocks are already taking wing. So is it too late to buy? Not by a long shot — especially if you can find uranium "ugly ducklings."
You remember the story of the ugly duckling, don't you? As ducklings go, this bird was far from handsome. The other ducks didn't think he'd amount to much — they considered him a freak with a beak! But once he grew up a bit, he spread his wings and revealed he was a beautiful swan.
Read full article...

Read full article...
---

Thursday, February 15, 2007
A Belgium court has ruled that Googles News is breaking Belgium copyright law by syndicating news headlines and brief summaries from Belgium news website's. And ordered to pay Euros 25,000 per day.
The case was originally brought by Copiepresse (which represents many Belgium newspapers) in Sept 06, when a ruling was made to fine google Euros 1 million per day, which has now been reduced.
Read full article...

Read full article...
---

Wednesday, February 07, 2007
Earnings season is a busy time for the stock market. And the January/February season--when most companies report fourth quarter results--is the busiest of them all. That's because companies typically offer a look at the year ahead, shedding some light on new themes to consider.
There's a handful of companies I watch more carefully than others; I see these firms as key "tells" for the energy market. One such firm is oil services giant
Schlumberger
(NYSE: SLB). The reason I watch this stock so carefully and listen to all of management's conference calls and presentations is that Schlumberger has its hands in every region of the world and in every conceivable type of oil project currently underway. If you're looking for the 35,000-foot view of the oil market, Schlumberger is your best bet.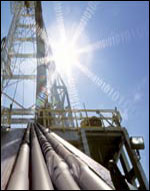 Read full article...

Read full article...
---

Tuesday, February 06, 2007
The HUI Index lost 0.21 cents for the week, closing out at $332.32. During the week it had been as high as $343.56 and as low as $324.38. Another false break out occurred as will be shown on the chart below.
The same caveats apply here as they did to gold. Working off overhead supply takes time. A last correction/consolidation may take place before the new bull market phase begins in earnest. The above $324.38 is our first line of support.
Read full article...

Read full article...
---

Thursday, January 25, 2007
Ford Motor Company, the once mighty car giant announced a slump in sales in the fourth quarter of 2006, resulting an a record loss of $5.8 billion, raising the year to date loss to $12,7 billion, by the far the largest in the companies 100 year history. Nearly doubling the previous record reported during the depths of the 1992 recession of $7 billion. The loss amounts to an estimated $2000 for every vehicle sold.
Read full article...

Read full article...
---

Monday, January 08, 2007
Suddenly and silently, the world's demand for ethanol is about to explode, creating a global business that could make early investors wealthy. It's about time! Ever since I first met Elisabeth and began visiting her family's sugar cane farm in Brazil, we've been talking about a future in which millions of cars would run on ethanol.
Read full article...

Read full article...
---

Saturday, January 06, 2007
2006 was clearly the year of the deal. The Australian mining sector alone saw A$145 billion in deals. According to Friday's Australian, investment banking firms did nearly 3,000 buyouts or mergers in 2006, with the top ten firms doing nearly $166 billion in deals.
So what's next? Has all the low-hanging fruit been picked? You'd think all the obvious deals have been done by now. With the cost of capital low, any under-valued firms with reliable cash flow have already been targeted. There are only so many firms where you can cut costs, find synergies, or operate more efficiently so that you generate a 15-20% return on your investment in a few years. Now that the big fish have been taken, it's time to look for littler fish.
Read full article...

Read full article...
---

Wednesday, January 03, 2007
A British firm, Plastic Logic has announced that it will build the world's first factory to manufacture plastic electronic circuits.
The firm aims to have the factory operational by early 2008. The factory will produce large sheets of flexible plastic upon which circuits will be printed, much as circuits are printed upon silicon wafers today. These can then be used in a whole host of flexible devices focusing on flexible display units already on the market and being produced by the likes of Panasonic and Sony. I.e. flexible plastic books that can literally hold a thousand books.
Read full article...

Read full article...
---

Tuesday, January 02, 2007
Last year was a happy one for domestic stock market investors. All the major U.S. indices were up in 2006. But 2007 might not be a repeat.
Reason: The U.S. economy has been slowing rapidly. In the last week, the stream of discouraging news has just kept coming. Four examples:

The Commerce Department said gross domestic product (GDP) increased at an annual rate of 2% in the third quarter, down from 2.6% in the second quarter.

The Conference Board's index of leading economic indicators rose by just 0.1% in November. Over the past six months, the index is up a meager 0.2%. According to Ken Goldstein, one of the group's economists, 'The slower economy of the second half of 2006 might continue into the first half of 2007.'
Read full article...

Read full article...
---

Tuesday, January 02, 2007
The theme for 2007 is to diversify into high growth economies, which includes both emerging and developed economies. The UK and USA are expected to slow during 2007 and better growth is likely to be found outside these countries, as was the case for much of 2006.
These are our stock picks for 2007 and beyond, the aim being to provide long-term sustainable growth rather than short-term speculative holdings, and as always do your own research before entering into any investment decisions. Also, we intend on focusing more on managed investment trusts rather than individual stocks so as to reduce the risk and this further enhance the long-term aspect of our selections.
Read full article...

Read full article...
---

Tuesday, December 26, 2006
The six Chinese office workers in front of me all ordered the same thing — a Chinese specialty called hot pot, a simmering fondue-like pot of aromatic and spicy stock that contains leafy vegetables, mushrooms, dumplings, meat, and/or seafood. It looked absolutely delicious and smelled even better. 'I want one of those,' I said to the cashier who couldn't speak a lick of English.
My host at the Zhang Jiang Hi-Tech Industrial Park cafeteria on the outskirts of Shanghai gently interrupted me. 'I suggest you make a different selection, Mr. Sagami,' he quietly warned. 'That is dog hot pot.'
'Dog? Dog as in woof woof? ' I asked.
Read full article...

Read full article...
---

Friday, December 22, 2006
Russia's state controlled gas monopoly Gazprom has purchased 50 percent plus one share in
Sakhalin Energy
, the project operator of Sakhalin-2 oil and gas venture in the Far East, for $7.45 billion, in a deal that consolidates Putins control over Russia's energy resources.The agreement was announced at the Kremlin, in a meeting between President Putin, and executives from Gazprom, Royal Dutch Shell as well as top executives from Japanese shareholders, comes after months of mounting pressure from the Russian regulators.
Read full article...

Read full article...
---

Tuesday, December 12, 2006
Russia's Environment agency Rosprirodnadzor, today said it was to file lawsuits against foreign oil companies developing the Sakhalin-2 oil and gas fields during early 2007. The agency estimated initial costs of the damage at $10 billions but could rise as high as $50 billion. Intense pressure from the Russian government is forcing Royal Dutch Shell to give up control of the lucrative $30 billion Sakhalin-2 project to state gas monopoly Gazprom as an attempt to elevate the pressure and get the project moving forward. Shell holds a controlling 55 percent stake in Sakhalin Energy. Japan's Mitsui and Mitsubishi own 25 percent and 20 percent.
Read full article...

Read full article...
---