Bitcoin the Perfect Scam, Price Does Not Reflect True Dangers of Holding Bitcoins
Currencies
/
Bitcoin
Mar 02, 2014 - 05:31 PM GMT


The Bitcoin USD price has recovered strongly by more than doubling from the crash low of $240 of 16th February in the wake of the collapse of the worlds largest Bitcoin exchange MTGox (Magic the Gathering) that declared bankruptcy a couple of days ago, though the current Bitcoin market price of $560 is still half the $1250 high of less than 3 months ago.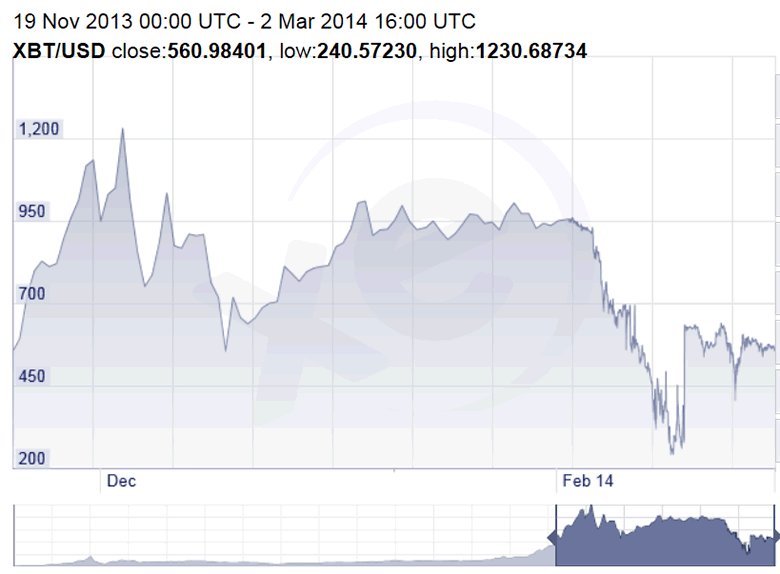 Off course the price for the approx 800,000 bitcoins deposited at MtGox is not $560, instead the last price MTGox stated before the site went blank was $135 and more than likely near zero today, which highlights the real dangers of holding the bitcoin virtual crypto currency in that the only safe way to hold the virtual currency is OFFLINE which defeats the whole point of having a virtual currency.
For as soon bitcoin holders store their bitcoin wallets on an internet connected computer let alone try to actually transact and move bitcoins around then they are at real risk of total loss of their bitcoin holdings no matter what the notional values are said to be as thieves have been busy producing a whole host of bitcoin wallet malware that seeks to steal any wallets that they find on infected computers. Therefore the bitcoin price does not reflect the risk of the loss of bitcoin holdings as evidenced by what took place at MTGox which in effect vaporised approx 8% of the worlds total bitcoin supply so it is no wonder that the price is holding up, especially as most of the earlier mined bitcoins continue to be hoarded only to be slowly offloaded onto unsuspecting fools,
Given the ever expanding complexity of verifying transaction block chains means that the creation of each new bitcoin demands in a process that is termed as mining that now requires expensive dedicated boxes costing upwards of $20,000 to mine the same quantity of bitcoins that could have been achieved by a $1000 desktop PC of barely 3 years ago, ensures an ever greater cost will be incurred in obtaining new supply which is supportive of the bitcoin price. Instead what bitcoin holders are going to be increasingly exposed to is ever more sophisticated malware that are aimed at the theft of their bitcoin holdings at every stage of the processes starting right from their internet connected desktop PC's to the interception of transactions between servers to the wild west bitcoin exchanges that can disappear with all of their customers bitcoin holdings overnight to the highly sophisticated bot net infected mining pools that seek to target all bitcoins in existence by seeking to rewrite who owns what.
Therefore bitcoin investors need to take the statements from highly vocal proponents of bitcoin who point to price recovery as a sign of stability with a mountain of salt as the price recovery just reflects LIMITED supply and NOT the risk of loss of holdings as ALL of the bitcoin exchanges could go bust taking most of the world supply of bitcoins with them which could ironically result in the price of remaining bitcoins RISING, just as the price of any fiat currency such as the U.S. Dollar would rise if a large percentage of its supply suddenly vaporised.
Bitcoin the PERFECT SCAM
Bitcoin is as a SCAM by design as I have voiced many times over several months in that even when a large percentage of people have their holdings stolen the price is stable enough to continue to entice new entrants into exchanging hard earned fiat currency for bitcoins via the ramblings of the clueless mainstream press, investors who will also at some point lose the value of all of their holdings.
As I have pointed out several times before bitcoin ultimately has a destiny with extinction because in order to continue verifying bitcoin transactions then bitcoin miners need exponentially greater processing power to achieve this, where today a bitcoin miner would need to invest in order of $20,000 to have any hopes of breaking even, costs that looks set to double every year where a decade from now break even mining operations would require an investment of more than $40 million which would imply far fewer mining pools that would in effect OWN the bitcoin craptocurrency and through the block verification process even be able to re-write who owns what.
Ultimately this means that the bitcoin mining will become the sole enterprise for criminal enterprises as no legitimate enterprise would be able to cover the costs of verifying bitcoin transactions (blocks) and thus earning new bitcoins, thus leaving bitcoin mining wholly to criminal gangs operating bot nets in control of millions of infected computers that would each mine fragments that would periodically be harvested by the bot nets.
So bitcoin holders don't be surprised when you come to open your wallet.dat file that you find it is empty!
Bitcoin Exchanges are a Ponzi Scam
The bitcoin exchanges have been busy distancing themselves from MTGox as if they are something different, more trustworthy, when the truth is they are the SAME - NO DIFFERENT!
In fact you are all being duped for they are not really exchanges at all! They are NOT akin to the stock exchange or commodities exchange but just websites that some techies set up that may have started out honest but greed will get the better of them just as it did with MTGox because as MTGox illustrated the prices being quoted are meaningless, there is no volume!
Unregulated Bitcoin exchanges are the natural consequence of the crypto currency scams for their primary purpose is to entice new entrants to buy bitcoins that the exchanges say they hold. How do they achieve this ? They do it by producing fancy trading graphs that show the price of bitcoins as rising and being high which encourages the fools to send the exchanges their hard earned money that they will never see again!
This is what the exchanges do, they get fools to send them money for bitcoins that allegedly NEVER existed, this is why when MTGox went bust it stated that some 800,000 bitcoins disappeared when the truth is that they probably never existed!
It is as I warned several months ago a PONZI SCAM! The exchanges pay out those selling / transferring their bitcoins out with money from new investors as long as new investors are greater than those exiting the ponzi scam continues.
The bitcoin exchanges make it very easy to BUY bitcoins with them but make it near impossible to withdraw, transfer out, as their primary purpose is to suck as many investors into their vortex as possible. So watch this space for whether or not the authorities in Japan charge MTGox with being a Ponzi Scam.
The Anatomy of CraptoCurrency Scams
Take this as a concise guide as to how crypto-currency scams tend to work.
1. New crapto-coins craptocurrency is developed allowing the creator and his friends to easily mine approx 1/3rd of the total potential supply before going public.
2. Holders of crapto-coins agree to withhold their supply from the market before it goes public.
3. Start to promote the craptocurrency by handing out free crapto-coins to the media, with likes of Max Keiser at the top of the list to start pumping.
4. Crapto-coins start trading and immediately jump in price due to limited supply.
5. Illiquid crapto-coins have a high market capitalisation due to a high price and number of coins (not) in circulation which encourages more media exposure and interest.
6. Many fools jump on the bandwagon buying expensive hardware to mine crapto-coins given the high price per crapto-coins (over 90% of mined supply with-held from market).
7. Many websites appear that add the tag exchanges to them to give the air of authority that suck in entrants by producing graphs and data that gives the illusion of rising prices and volume of trading when in reality they are nothing more than Ponzi scams as they limit withdrawals.
8. As interest and prices continue to rise, the creator and his friends slowly offload supply onto the fools until the price crashes and the noobs have been bled dry or holdings vaporise MTGox style.
9. The crapto-coins hoarders wait for the dust to settle and noobs to be encouraged once more into buying as the price is stable and then repeat the dump and crash several times more.
That's how Bitcoin and ALL craptocurrency scams work!
A reminder - YOU WERE WARNED!
29 Nov 2013 - Bank of England UK Housing Market Bubble Panic is Mark Carney Playing Game of Thrones
As was the case for the original Tulip Mania, following the bursting of the bubble Bitcoins will soon be forgotten and so will the craze for all peer to peer i-currencies, as the bottom line is that bitcoins never matched the hype for transactions are NOT anonymous and it IS heavily manipulated by a handful of mining pools so is not decentralised as today ordinary people cannot muster the processing power required to mine for bitcoins.
The bottom line is that bitcoins are a pyramid ponzi scheme where those who got in early win, whilst everyone else loses. If you own bitcoins then you should get out IMMEDIATELY!
05 Dec 2013 - Bitcoin Mania Bubble Bursts, China Triggers Price Crash Start, Technical Forecast
What's Next for Bitcoins
A quick technical review of the charts implies that a double top pattern is being formed which is a warning that the bounce from the neckline is not something that bitcoin holders should put much hope into for the price is likely to reverse within days to break the neckline and retrace all the way down to at least 500 (current 1074), which is more than a 50% drop of the last price and a 60% drop from the high.
07 Dec 2013 - Bitcoin Price Crash Towards Zero? The Ponzi Scheme Bubble Plays Out as Designed
The bitcoin stepped crash with much volatility continues to play out not just towards my technical target of 500 but eventually towards virtually zero as represented by my longer-term objective of just 15, that is 1/99th of its trading high. So understand this that the nightmare for those who continue to hold onto bitcoins is only just beginning, yes the price has crashed by 37%, but it is still stands 37% above its technical target of 500 and has the potential for a 96% loss of its current value should the target of 15 be realised, so this is NOT the time to hold on hopes of recovering back towards the highs as the loss of value sustained could literally be TOTAL! A lesson that all market traders have to learn else they will go bankrupt holding on for price recoveries that always become more distant with each stomach churning lurch to the downside.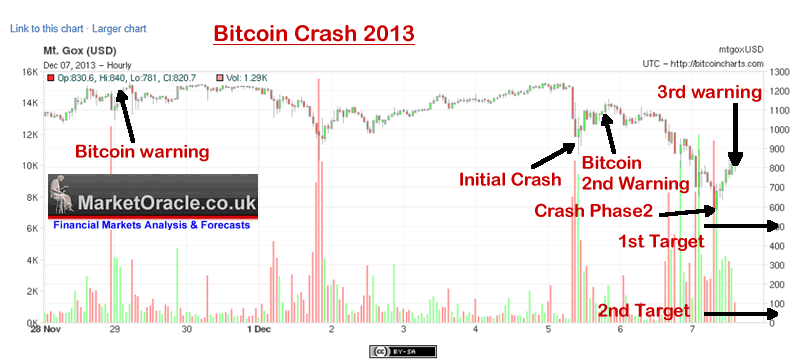 16 Feb 2014 - Bitcoin Craptocurrency Ponzi Crash Grinds Towards ZERO, Where's Max Keiser Hiding?
Bitcoin Craptocurrency has plunged to USD $230, down 81.6% from its USD $1250 high - Unfortunately for bitcoin holders the ponzi scam crash continues to play out as holders of bitcoins find out that as is the case with all scams that when they want to sell their holdings they CAN'T. Instead they are locked into holdings that continue collapse in value all the way towards a pittance of the price that hooked them into buying of just a few months ago.
Slovenia, Bulgaria, Romania, and such like places where the now effectively frozen bitcoin exchanges operate from should have been a big signal for SCAM ALERT! Even the big exchange at Tokyo remains frozen as hackers, crackers, and cyber attackers dictate the real value (if any) of the craptocurrency.
The current 'price' of Bitcoins is USD $230, though off course the price is absolutely meaningless if one cannot actually trade at it ! Which is the case for many bitcoins holders today, as they will only be released form their bitcoin torture when the value of their holdings has been effectively wiped out, stolen by those that constructed and maintained the ponzi scam that hooked many unsuspecting naive investors into its vortex amidst an avalanche of sales propaganda that was liberally regurgitated at length by worthless mainstream media that painted a picture of Bitcoins having come of age when the truth was of the scammers final price spike.
20 Feb 2014 - Bitcoin Craptocurrency Price Crash Accelerates to MTGox $112, Destiny with Extinction
The bottom line is that bitcoin has a destiny with extinction! Yes, they will at some point cease to exist and all of the perceived value will disappear in a puff of smoke!
25 Feb 2014 - Bitcoin Ponzi Scam Crash Update - MTGox Vanishing Act, Who Will be Next ?
Who will be next?
Meanwhile the worlds other major Bitcoin exchanges that are usually located in the wild west of poorly regulated countries have been busy issuing reassuring statements to their own holders of bitcoins just as MtGox had been doing for several weeks before performing its vanishing act.
To be blunt, someone would have to be really dumb and therefore deserve to lose all of their money if they thought that MtGox was an isolated incidence. Have people learned nothing from the financial crisis ? When Northern Rock went bust was it an isolated incidence? That's what the central bankers told us! When Lehman's went bust the politicians and central bankers told us it was an isolated incidence.
What was the truth?
The truth was that ALL of the banks were bankrupt! They were ALL BANKSTERS, all as bad as one another.
So the answer to the question as to who will be next ?
ALL OF THEM! Just as took place during 2008, watch for ALL of the dominoes to tumble!
Source and Comments: http://www.marketoracle.co.uk/Article44647.html
Nadeem Walayat
Copyright © 2005-2014 Marketoracle.co.uk (Market Oracle Ltd). All rights reserved.
Nadeem Walayat has over 25 years experience of trading derivatives, portfolio management and analysing the financial markets, including one of few who both anticipated and Beat the 1987 Crash. Nadeem's forward looking analysis focuses on UK inflation, economy, interest rates and housing market. He is the author of five ebook's in the The Inflation Mega-Trend and Stocks Stealth Bull Market series.that can be downloaded for Free.

Nadeem is the Editor of The Market Oracle, a FREE Daily Financial Markets Analysis & Forecasting online publication that presents in-depth analysis from over 600 experienced analysts on a range of views of the probable direction of the financial markets, thus enabling our readers to arrive at an informed opinion on future market direction. http://www.marketoracle.co.uk
Disclaimer: The above is a matter of opinion provided for general information purposes only and is not intended as investment advice. Information and analysis above are derived from sources and utilising methods believed to be reliable, but we cannot accept responsibility for any trading losses you may incur as a result of this analysis. Individuals should consult with their personal financial advisors before engaging in any trading activities.
© 2005-2022 http://www.MarketOracle.co.uk - The Market Oracle is a FREE Daily Financial Markets Analysis & Forecasting online publication.
Comments
Amnesty2
02 Mar 14, 22:36
Bitcoin Hype


I'm still trying to get my head around the idea of a virtual currency.

If the supply of bitcoins is very limited, to rightly make it a more secure store of value than fiat currencies, then surely this means that it is not so good as a means of exchange? If this is the case, then why not stick with gold which has some intrinsic value?

If it is intended to be used as a means of exchange, then the supply of money will need to be expanded relative to the user base and number of trades carried out. But this cannot be managed and so will be susceptible to erratic inflation / deflation which makes it impractical as a means of exchange.

It just doesn't feel right to me - but then neither did the dot com bubble and there were plenty of fools believing in the "this is different" hype! So its still tempting to play the game and make easy money.



JRG
02 Mar 14, 22:57
Bitcoin Ponzi Scheme


Its a ponzi scheme. I'm. glad im not the only one with the queezy stomach.

kind of smells of bad cest.

The top breeders just got paid.

It was an F'N ponzy scheme.



Furminator
03 Mar 14, 09:38
Bitcoin Clever Ponzi Scheme


Bitcoins become progressively harder to create/mine as more are produced. This of course places the original creators, those at the top of the pyramid, at an enormous advantage, especially as the usual bubble mania takes hold when the masses pile in. It's a very clever pyramid selling/Ponzi scheme IMO.



DannyO
03 Mar 14, 11:45
Bitcoin Bank Robbery


When I worked at a bank in the late 80s, the bank recovered stolen money through insurance it carried. It may have been a regulatory requirement from either the state or the FSLIC (an agency merged into the FDIC when the s&l industry held a dress rehearsal for the liars loans and "risk understatements" of oh-seven.) Now it would be impossible to tie the money taken in a robbery to a specific account: deposit insurance is about bank insolvency which is about malfeasance, incompetence, or a widespread problem in the economy that has caused loan repayments to stop, or the return on funds to be less then the cost of funds.

To the libertarians who applaud the purity of BitCoin, I say bank runs and failures are ugly things. One gets the feeling they applaud such things, though, as tough love and enjoy a modicum of cognitive dissonance in the belief that they'd always be the smart ones who got out in time. Well, I won't convince them otherwise.

I don't want to hammer on the naïveté of BitCoin in general or its repositories and transaction facilitators in particular, but cryptography doesn't solve everything. I quote Willie Sutton and my third grade teacher. Willie robbed banks because "that's where the money is." My teacher liked to say where there's a will, there's a way.



Andrew1957
03 Mar 14, 17:27
Gold v Bitcoin


Nadeem - I totally agree with you regarding bitcoin. In fact the only surprising thing is that the value has not completely collapsed already.

I just wondered what your take is on gold now. It had a torrid 2013 but has started 2014 quite well and would seem a safer haven than bitcoin. What are your current views re gold.




Only logged in users are allowed to post comments.
Register/ Log in