Deconstruction of UK General Election 2015 Result - Why Opinion Pollsters Got it Wrong
ElectionOracle
/
UK General Election
May 14, 2015 - 03:35 PM GMT

This time last week the people of Britain were going to the polls in what was unanimously proclaimed by the mainstream media as a too close to call general election, one where the Labour and Conservative parties were virtually neck and neck and where even if the Conservatives managed to pull a a handful of seats ahead would still lose be default as they would not be able to form a majority even with Lib Dem support and therefore the Labour party appeared to be destined to win the 2015 general election, all of which was based on a year of opinion polls that consistently presented this consensus view right up to the polls closed at 10pm. Instead, the reality proved to be the exact opposite as instead of the Ed Milliband walking into No 10 we had David Cameron texting the removal vans to do an about turn as he raced back to Downing Street before the locks were changed.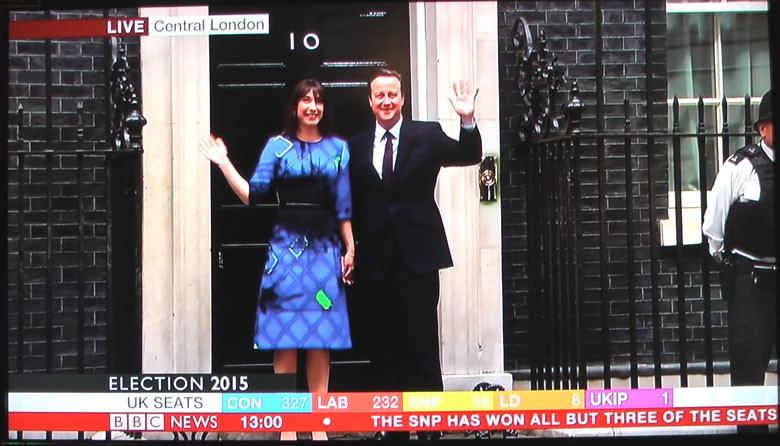 In this the last in my series of some 60 articles and 10 videos on the 2015 election campaign that sought to explain why a Conservative election win (with or without Lib-Dem support) was the most probable outcome. Here I will seek to deconstruct the election result and explain why the opinion pollsters got it so badly wrong, not just a little wrong but wrong to such an extent that they were consistently forecasting the exact opposite in terms of which major party could go on to form the next government as illustrated by the most popular opinion polls to seats forecasting sites expectations:


Opinion pollster's seats forecasts averaged to:
Conservatives : 276
Labour : 271
SNP : 53
Lib Dems : 25
DUP 8
Which were forecasting an extreme hung parliament -
Conservatives + Lib Dems = 301 - FAIL
Add DUP 8 seats = 309 - FAIL
Labour + Lib-Dems = 296 - FAIL
Labour + Lib-Dems + Plaid Cymru + Greens = 303 - FAIL
Thus according to the opinion polls the only workable majority would have been one of a minority Labour government supported by the SNP (53) to total 323.
The following trend graph further illustrates that the opinion pollsters proved to be CONSISTENTLY WRONG for the WHOLE PERIOD I tracked, and that they even on average trended in favour of the Labour party as time went on, so the more they polled the LESS accurate they became.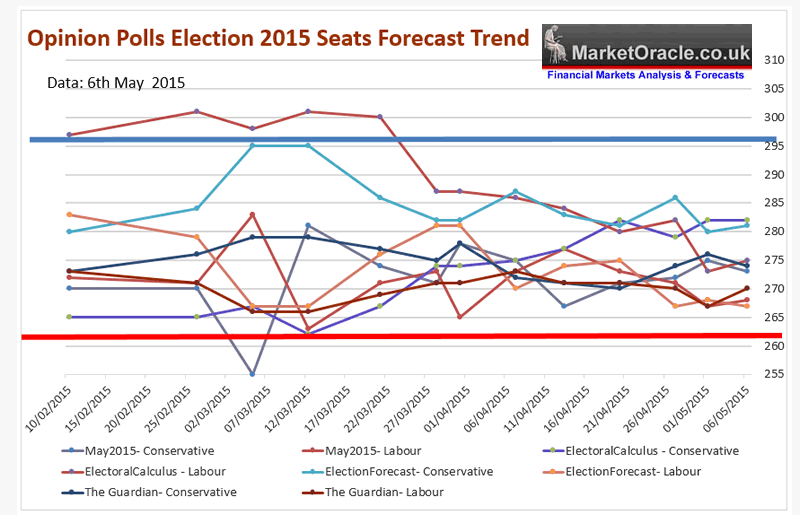 Even the so called accurate BBC Exit Poll failed to imply a Conservative election win was certain as it left the door open for Labour to form the next government with the SNP and the Lib Dems which the Labour politicians immediately jumped upon to state that David Cameron had lost the general election.
Forecasting the 2015 General Election
My forecast as of 28th of February 2015 has consistently stated that the Conservatives would win the general election with at least 296 seats, with or without Lib Dem support AND that the Conservatives could even win an outright majority as implied by my long standing house prices analysis.
Also available a youtube video version of my forecast: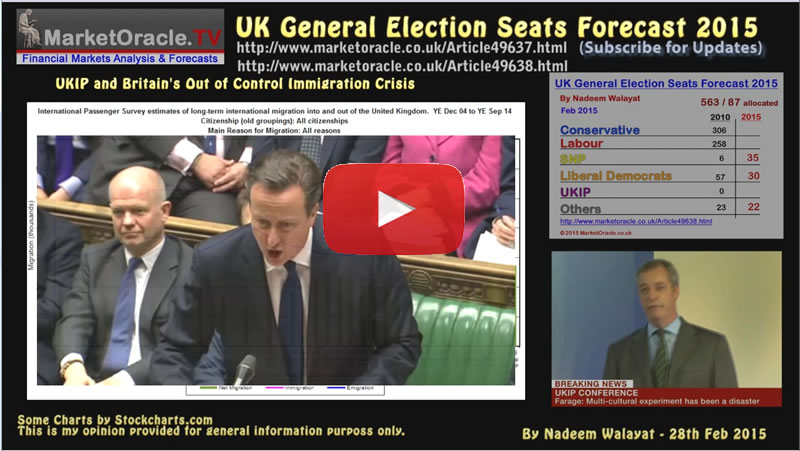 UK House Prices Forecast Conservative Election Win
For what proved virtually spot on in forecasting the outcome of the UK general election 2015 I turn to my analysis of December 2013 that is based on house prices rather than opinion polls, and as featured in the UK Housing Market ebook (FREE DOWNLOAD) that converted the UK house prices forecast trend trajectory into expectations for an outright Conservative election victory where the only thing to track was actual house prices data against the forecast trend trajectory so as to fine tune the expected result on approach to the May 7th election day.
30 Dec 2013 - UK House Prices Forecast 2014 to 2018, Inflation, Trend Trajectory and General Election 2015
UK General Election Forecast 2015
In terms of the 'fixed' May 2015 general election, the implications of 10% per annum house price inflation for another 18 months, that builds on the housing bull market of the previous 12 months and on the embryonic bull market of 2012 are that probability strongly favours an outright Conservative election victory.
The following graph attempts to fine tune the outcome of the next general election by utilising the more conservative current house prices momentum of 8.5% which has many implications for strategies that political parties may be entertaining to skew the election results in their favour.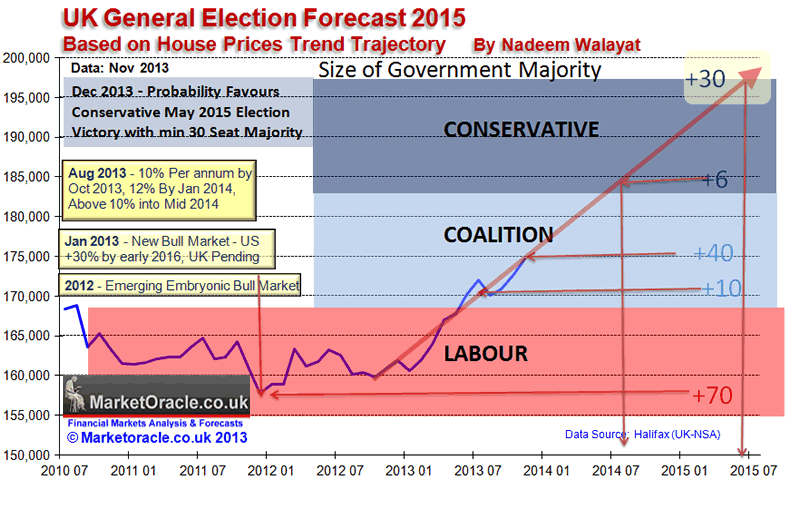 In conclusion a May 2015 general election at an average house price inflation rate of 8.5% would result in a Conservative overall majority of at least 30 seats. Therefore this is my minimum expectation as I expect UK house prices to start to average 10% per annum from early 2014 with my actual forecast converging towards average UK house prices breaking to a new all time high just prior to the May 2015 general election which would be a significant boost for housing market sentiment and thus the Conservative's election prospects.
The following video of 6th January 2014 further illustrated my house prices based UK general election forecast: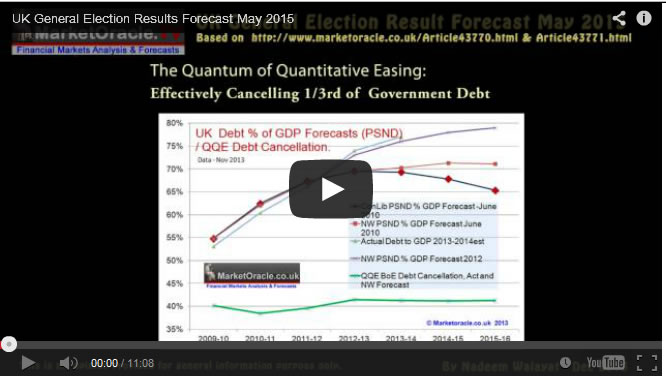 My most recent update of 1st of May confirmed again that UK house prices were forecasting an outright Conservative election victory on a small single digits majority -
01 May 2015 - UK Election Forecast 2015 - Who Will Win?
The updated election seats trend graph suggests that the Conservatives are on target towards achieving a single digits outright majority which is completely contrary to every opinion poll published this year. Which if it materialises then I am sure for Election 2020 everyone will be staring at the house prices indices rather than the opinion polls. Though as is usually the case that when the consensus becomes focused on an particular indicator then it usually stops working.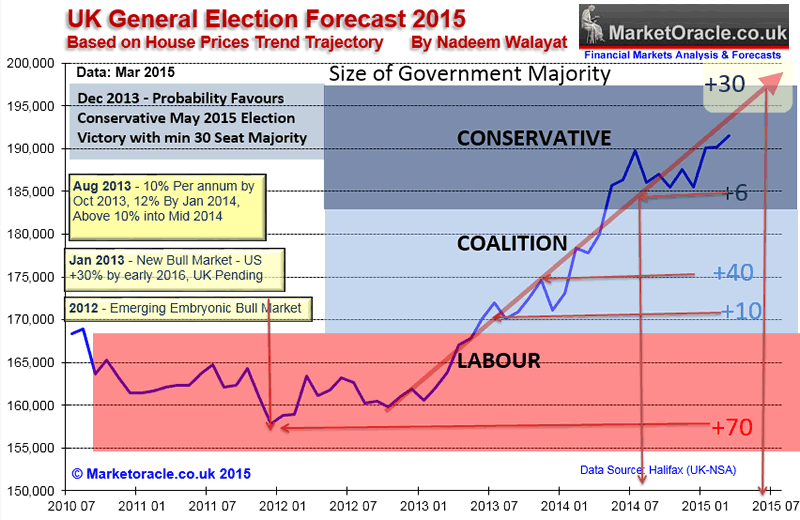 With the accompanying video published on 3rd of May also confirming that UK house prices were forecasting a single digits outright Conservative election victory, which was contrary to every opinion poll and political pundit: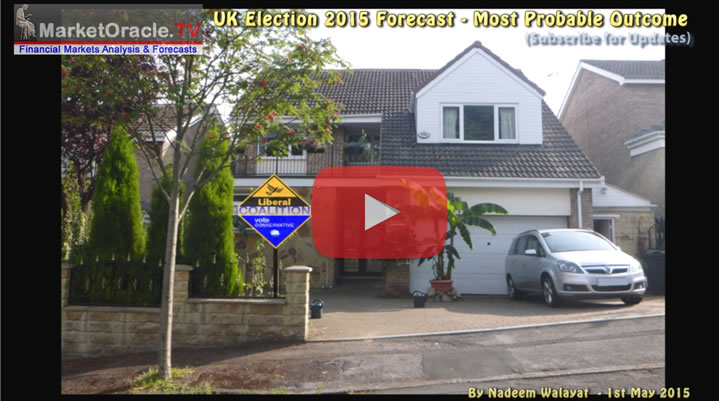 Therefore my analysis of UK house prices converted into seats by far proved to be the most accurate forecaster for the UK general election 2015 outcome, and since I have a good idea of how house prices will perform over the next 5 years I can tell you with some confidence that the Conservatives are also likely to win the 2020 general election! Though, in the interests of accuracy do come back for my detailed analysis to conclude in a seats forecast that I will probably publish a year or so before the next general election.
Continuing with analysis of why the opinion pollsters got it so wrong, the following are more in-depth analysis of each of the most popular opinion polls based seats forecasters that further illustrates the magnitude of the opinion pollsters failure:
May2015.com (New Statesman)
New Statesman's May2015.com produced near daily updates of the seats per party forecasts based on the opinion polls -

May2015.com Seats Forecast Converted into the following possibilities:
Conservatives + Lib Dems = 301 - FAIL
Add DUP 8 seats = 309 - FAIL
Labour + Lib-Dems = 296 - FAIL
Labour + Lib-Dems + Plaid Cymru + Greens = 303 - FAIL
Thus according to May2015.com's seats forecast the only workable majority would have been one of a minority Labour government supported by the SNP (56) to total 324.
May2015.com Trend Analysis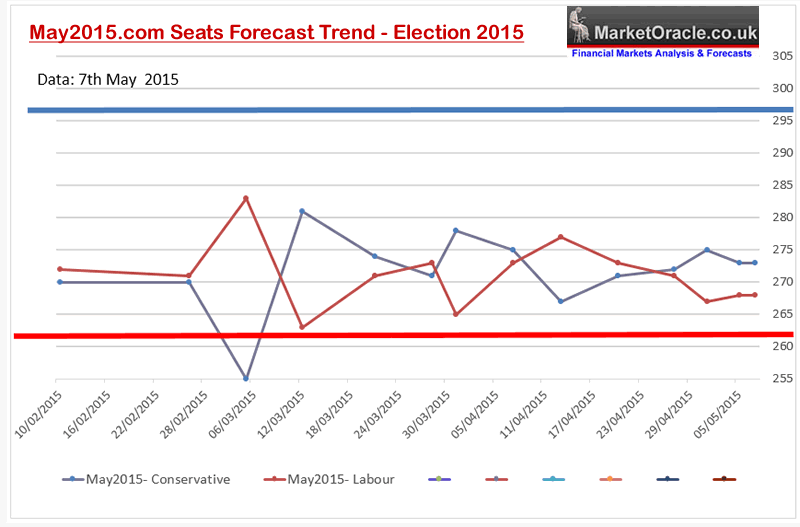 May2015com's seats forecasts literally tended to flip flop between Labour and Conservative from week to week within a tight 10 seat range of one another. The last swing was in favour of the Labour party. In the final analysis May2015.com's seats forecast proved badly wrong for the whole of the 3 month period tracked.
ElectoralCalculus.co.uk

Electoral Calculus Seats Forecast Converted into the following possibilities:
Conservatives + Lib Dems = 301 - FAIL
Add DUP 8 seats = 309 - FAIL
Labour + Lib-Dems = 295 - FAIL
Labour + Lib-Dems + Plaid Cymru + Greens = 299 - FAIL
Thus according to Electoral Calculus's seats forecast the only workable majority would have been one of a minority Labour government supported by the SNP (52) to total 326.
ElectoralCalculus.co.uk Trend Analysis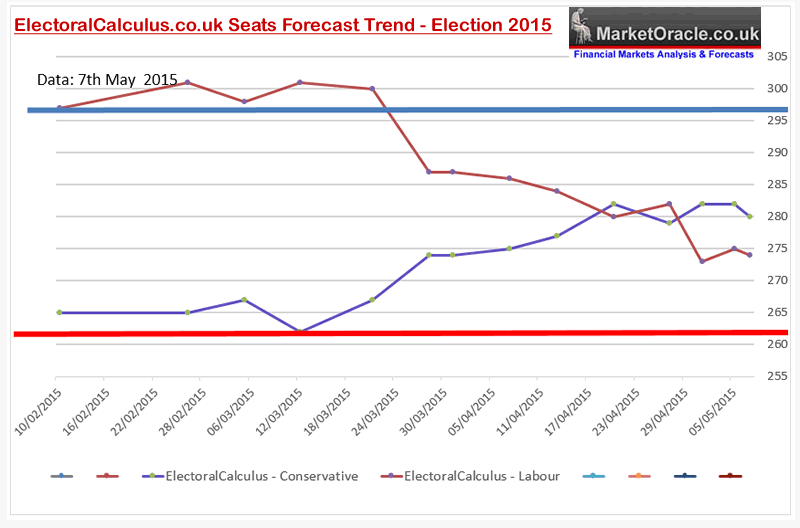 ElectoralCalculus.co.uk consistently exhibited a strong bias towards Labour which slowly eroded during the last 6 weeks, though stalled during the final week by moving marginally in Labours favour. In the final analysis ElectoralCalculus.co.uk's seats forecast proved badly wrong for the whole of the 3 month period tracked.
ElectionForecast.co.uk


ElectionForecast Seats Forecast Converted into the following possibilities:
Conservatives + Lib Dems = 305 - FAIL
Add DUP 8 seats = 313 - FAIL
Labour + Lib-Dems = 294 - FAIL
Labour + Lib-Dems + Plaid Cymru + Greens = 298 - FAIL
Thus according to Election Forecast's seats forecast the only workable majority would have been one of a minority Labour government supported by the SNP (53) to total 320, which could not be out voted by the Tories even with Lib Dem and DUP support.
ElectionForecast.co.uk Trend Analysis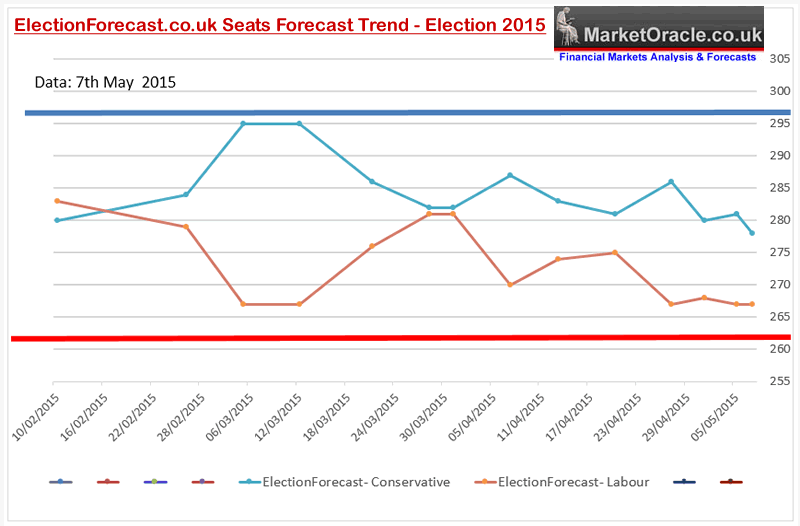 ElectionForecast.co.uk had tended to consistently put the Conservatives in a clear seats lead with little change during the last 6 weeks. In the final analysis ElectionForecast.co.uk's seats forecast proved to be badly wrong as they failed to conclude in any recognisable calculation that would result in a Conservative government.

The Guardian
The Guardian and the rest of the mainstream press have effectively wasted tens of millions of £'s on worthless opinion polls that got it so badly wrong that they were forecasting the opposite of what actually came to pass.

The Guradian seats forecast converted into the following possibilities:
Conservatives + Lib Dems = 300 - FAIL
Add DUP 8 seats = 308 - FAIL
Labour + Lib-Dems = 300 - FAIL
Labour + Lib-Dems + Plaid Cymru + Greens = 304 - FAIL
Thus according to The Guardian's seats forecast the only workable majority would have been one of a minority Labour government supported by the SNP (52) to total 325, which could not be out voted by the Tories even with Lib Dem and DUP support.
The Guardian Trend Analysis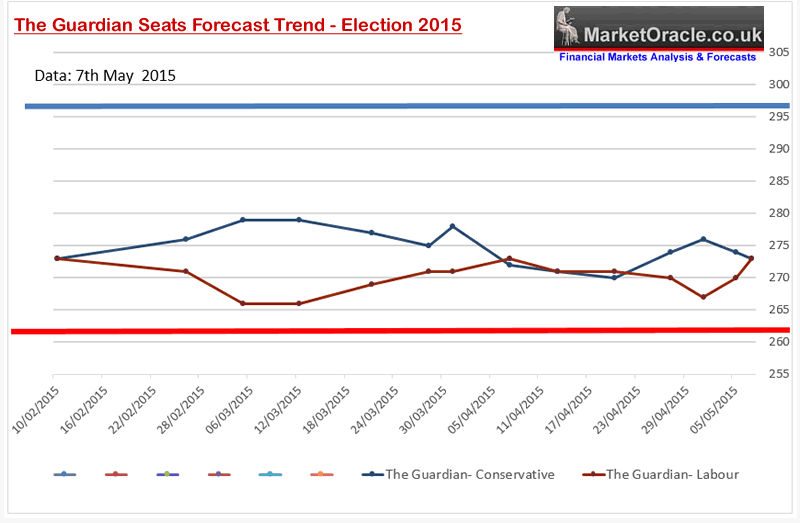 The Guardian had tended to exhibit a marginal advantage to the Conservatives within a tight 10 seat band that converged to tie at 273 by election day. In the final analysis The Guardian's seats forecast proved to be the worst of the lot as they failed to conclude in any recognisable calculation that would result in a Conservative government, which is not so surprising given that Guardian tends to back the Labour party as it did during the 2015 general election.
Nate Silver's Fivethirtyeight
And last but not least is the U.S. election forecasting guru Nate Silver's forecasting firm http://fivethirtyeight.com, that got the 2015 UK general election just as badly wrong as the previous 2010 election.
Nate Silver's original forecast as per BBC Panorama-
Conservatives 283
Labour 270
SNP 48
Lib Dems 24
UKIP 1
Which several days before election day I warned would turn out to be badly wrong.
04 May 2015 - Nate Silver UK General Election Forecast 2015 as Wrong as 2010?
The mainstream press has literally gone bananas on Nate Silvers UK election forecast as if he were Moses himself, who just like Ed Milliband on Sunday has descended from the Election Mountain with a prophetic stone tablet.
This despite the fact that Nate Silver's grand finally forecast is of not much difference to what virtually every other pollster has been forecasting for several months now as illustrated by the below table. Which is not so surprising since the pollsters, including Nate Silver all base their forecasts on virtually the same opinion polls so all that Nate Silver stated was for a mundane middle of the road outcome of what most others have already been stating for several months! Which means if he gets it right then so will virtually every other pollster and that ahead of Nate Silver, which certainly is not worth the amount of coverage that it has induced.
And it gets worse, for if the Nate Silver obsessed mainstream press had bothered to do their research then they would soon discover that Nate Silver got the 2010 UK General Election very badly wrong, not by just a handful of seats but that he literally forecast that the Lib Dems would get DOUBLE the seats they eventually did i.e. 113 forecast against 57 actual, as his expectations for the Lib-Dem surge never materialised and conversely the Labour Collapse to 198 never happened instead Labour won 258 seats and thus denied the Conservatives an outright majority.
Therefore the whole Nate Silver UK election forecast mainstream press diatribe is pure hype over substance for it reveals nothing new to what the public were not already aware of. The key problem for forecasters such as Nat Silver is that it is no good just googling about Britain or hop on to a plane for a few days visit to understand Britain, which is why he does not understand UKIP nor SNP nor what is happening in the constituencies because he does NOT KNOW BRITAIN! This illustrates just how STUPID the broadcast media (BBC) and the mainstream press are. They might as well have flown to China and asked a village farmer what the UK election result would be, who I am sure after googling for a few minutes would come out with a very similar forecast to Nate Silver's near average of pollster forecasts.
However, during election night, completely oblivious to what the exit poll was stating he continued to 'fine tune' his forecast so that it got even worse as the night progressed i.e.
Day Before
Conservative 281
Labour 266
SNP 52
Lib-Dems 26

And a couple of hours AFTER the polls closed, AFTER the BBC exit poll -
Conservative 278
Labour 268
SNP 53
Lib-Dems 27
So as the night progressed http://fivethirtyeight.com's forecasts became even worse than where they started! You can read their blog for the whole fiasco of forecasts getting worse despite the actual results pointing in the opposite direction here.
Why the Opinion Pollsters Got the 2015 Election Badly Wrong
Since my view was consistently contrary to what the opinion polls were stating, therefore I have had the whole year to ponder why the opinion were wrong, some of which I illuminated in the lead up to election day -
01 May 2015 - UK Election Forecast 2015 - Who Will Win?
Therefore come May 8th virtually all pollsters will have egg on their faces as the mainstream media will have flushed untold millions down the drain on commissioning opinion polls that turned out to be WRONG just as the polls were wrong in the run up to the Scottish referendum that was never a 50/50 proposition which at the time I concluded was mainly so as to allow pollsters to sell opinion polls and the mainstream press to sell copy and so it is the case with today's election campaign.
UK Saved From I.S. Threat But Scottish Independence Nightmare is Not Over!
There is another reason as well for why the polls were so close and that is one of SALES, the polling industry SELLING a tight election so that the gullible mainstream press would buy their polling services. Therefore painting a picture of a tight race by manipulating the data will have turned out to be a huge money spinner for the polling agencies.
My article concluded in the most probable forecast for the outcome of the result would be for at least show a 10% gap between NO and YES, and definitely not reflective of the mass hysteria.
Therefore the most probable outcome is inline with the polling ranges of before the YES campaigns intimidation and fear phase began to play a prominent role in the frenzy of campaigning of September that rather than a 50/50 tight race is more probably going to result in at least a 55% NO vote victory, and I would not be surprised if the NO vote even breaks above 60%!
Therefore here is my list of 7 key reasons why the Opinion Pollsters got it wrong, most of which the pollsters will never ever be able to arrive at as reasons for being wrong.
1. Back Fitting Data - Lack of Mechanism to Say the Methodology is Wrong
Virtually every experienced 'successful' market analyst / trader understands that 'Trading Systems' just do not work going forward i.e. all that trading systems do is back fit data onto what has already happened and thus WILL FAIL going forward. Which is the precise mistake that opinion pollsters tend to make as they weight, adjust and fine tune to take account of this, that and other which just as is would be the case for systems that trade the markets and so is the case for public opinion polls that fitting data to mast past election outcomes just does not work!
And worse for pollsters is that they do not have any daily mechanism to demonstrate that they are wrong for general elections only come along every 5 years or so, which means that there is no data to test the opinion polls against in real time and hence why opinion polls can be wrong for years as was the case for the 2015 general election.
2. Opinion Polls Sales Industry - Fear Sells!
As I covered earlier that the primary objective of opinion pollsters is to SELL their daily polling services. Where it is to the benefit of the pollsters and the mainstream media that commission the polls for the election race to be very tight, exciting or frightening rather than a dull certainty. Hence the picture painted did not reflect probability even if the pollsters methodologies actually worked, for reality does not sell daily opinion polling services or mainstream media copy. Just as market realities of a dull 6 year relentless stocks bull market will not sell much media copy hence the constant obsession with stories that always warn of an imminent stock market crash, collapse, meltdown, bear market etc that has failed to materialise for 6 years as I have covered at length in articles and my stocks stealth bull market series of ebook's (FREE DOWNLOAD).
03 Oct 2013 - Stocks Bull Market, Bears Will be Crucified Again
I keep being reminded of the movie SPARTICUS where the slaves are lined up at the end just like market commentators line up at the depths of market corrections to once more proclaim that they too are ALL Sparticus! Calling THE Top! However, we all know what happens at the end of the movie, as they all end up getting crucified, and we don't have to look far to see what happened following EACH end of the bull market final top call of just this year! Let alone a bull market that is now well into its fifth year.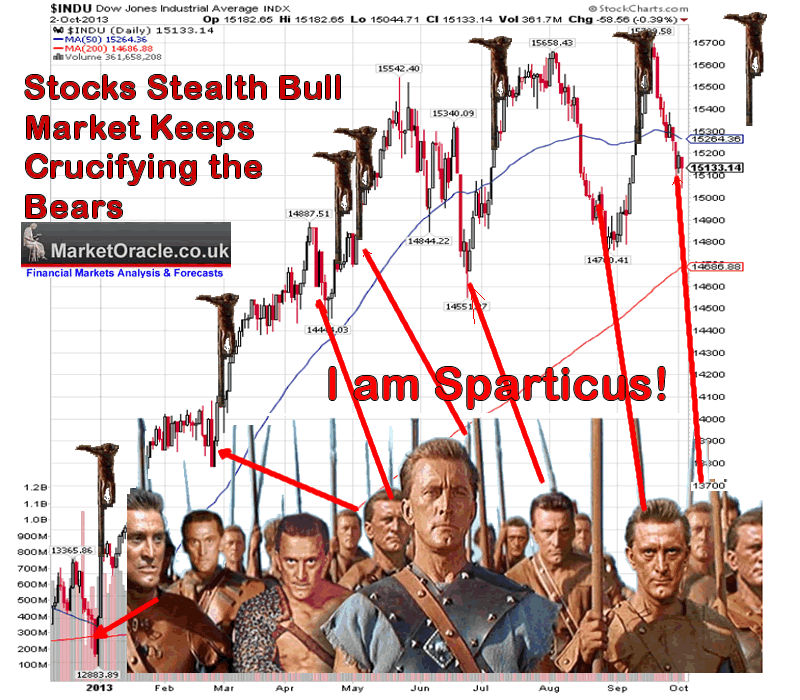 The bottom line is this the US government shutdown is GREAT NEWS! because for bull markets to persist and continue they NEED BAD NEWS every few months, THEY NEED MOST PEOPLE TO BE SKEPTICAL, TOO AFRAID TO INVEST! And so it continues to be the case for the DURATION OF THIS BULL MARKET, where over 90%, NINTEY PERCENT OF Market commentators have been WRONG and continue to be WRONG, Everyone who has just proclaimed its END IS WRONG and Will BE CRUCIFIED, just as they have been crucified at every market turn for the past FIVE YEARS !
YOU WANT TO LOVE MARKETS THAT ARE HATED!
YOU WANT TO BE AFRAID OF MARKETS THAT ARE LOVED!
UNDERSTAND THIS - THIS stocks stealth bull market is one of the GREATEST bull markets in HISTORY!
Off course a real life crucifixion would mean the fools would would ceased and desisted in their demented ramblings, but that is one of the negatives of the passing of the Pagan Roman Empire. Instead the so called market commentators march on as if nothing happened despite spouting more garbage because clearly they NEVER put their own money on the line, which is the real secret for arriving at the most probable outcome. This is why virtually every time I write an article on the stocks bull market I get so many comments and reasons to explain why I this time I am wrong and it has ended.
Instead I have to reiterate what I have voiced for the duration of the stocks stealth bull market in over 200 articles (Stealth Bull Market Follows Stocks Bear Market Bottom at Dow 6,470 ), my strategy has been very, very simple, no black box voodoo to sell garbage to the unsuspecting masses but simply this - " The Greater the deviation from the stock market high then the Greater the Buying Opportunity Presented". And, you can't get any simpler than that !
FEAR SELLS
The following video illustrates how most mainstream news stories are created.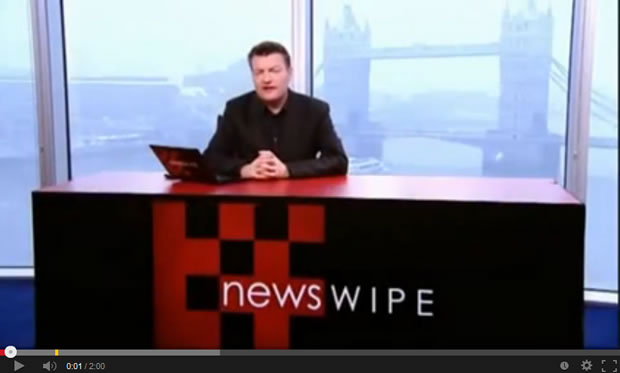 3. Pollsters are Left Leaning
The pollsters apparently tend to be pseudo-academics i.e. linked to research institutions, universities etc where the tendency is to lean to the left of centre which not just for 2015 but for countless elections before hand that tended to exhibit a bias towards Labour where whatever subsequent excuses the pollsters made of ensuring that they would get it right next time, in reality never do because the polling institutions fundamentally remain leaning LEFT of centre.
4. Opinion Polls are Political Propaganda
Just as economics is mainly economic propaganda to massage the general populations future expectations, for instance the Bank of England's persistent propaganda of the danger of always imminent deflation when the reality is one of the UK being immersed in an exponential inflation mega-trend.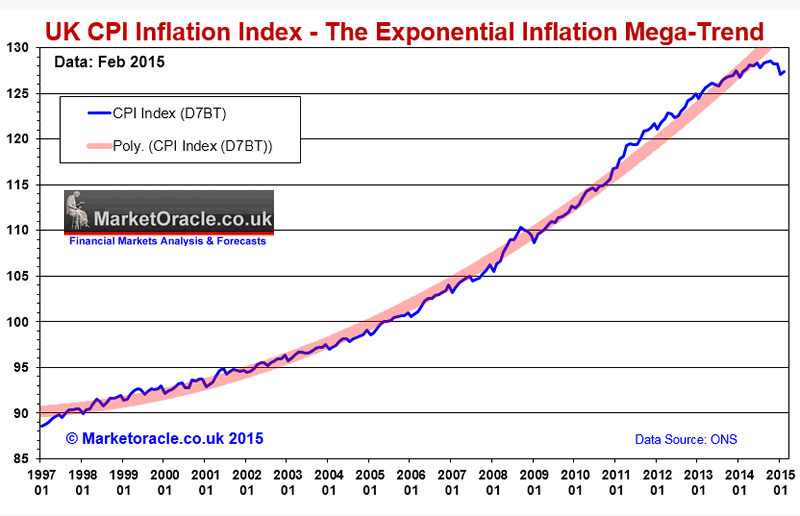 The bottom line is that the Inflation mega-trend is exponential and the politicians, central banks and their vested interest academics deflation fears amount to nothing more than economic propaganda so as to allow governments to print debt (money) to buy votes with during an election year which ultimately means that a couple of years from now CPI Inflation will back above 2% as the Bank of England will use the cover of deflation to print more money to monetize government debt.
Then so are opinion polls propaganda to massage the general populations election expectations, as clearly the opinions polls propagandised expectations for a Labour election win as being probable.
5. Clueless Academics
Its not just that academics are left leaning but just as is the case with their economics counterparts who nearly always get it wrong because academics tend to live in ivory towers who are heavily invested in theories and methodologies that are only rarely tested by reality whereas one who trades the markets has to get it right more often then wrong else they will go bust as I have written several times over the years -
20 Oct 2012 - Stock Market Crash Investing Lessons and the Real Secrets of Successful Trading
Why 90% of Traders Lose
The failure rate for financial market and commodity traders has remained at a consistently high 90% for many decades, this despite all of the advances in information technology and the flood of new learning materials that is churned out annually, therefore why is it that 90% of traders still lose ?
In my opinion, a high 90% of traders are destined to lose because they are in fact learning from / listening to the 90% of losing traders that preceded them, who following wipe out in the markets have gone on to focus on writing about market price action and methodology with an even greater concentration observed to occur in the mainstream press as account busted traders / investors turn failure to trade into full time media careers and thus perpetuate a continuous cycle of failing traders guiding new traders towards similar failure.
This explains why those in the mainstream financial press can literally miss WHOLE Bull and Bear markets despite trends that end up spanning many, many years. They can be recognised by their rhetoric such as the perpetual the end of the trend is coming mantra that is based on fundamentally flawed understanding of what actually moves markets, which is why they failed to succeed in trading in the first place.
Given that 90% of trader fail, it can be assumed that that at least 90% of those that provide financial commentary are failed traders that spend their time writing about the act of trading rather than ever engaging in actual trading which culminates in the big name media whores that we see prancing around between make up rooms and TV Studio's, usually regurgitating what other failed traders have already commentated upon or make such weak statements that can be easily applied to virtually any outcome i.e. that the market will definitely fall, but then again it may definitely rise. The media whores are well practiced in applying such phraseology that ensures that they can always claim victory for publicity purposes whatever the actual outcome is, as the viewers are left to perceive whatever they want to in the media whore sales men's commentary, based on their own pre-existing market bias. The mainstream financial media is more than eager to push the selectively edited past commentary that results in nothing more than blatant misleading advertisements masquerading as financial market commentary. Stop for a moment and dissect what the latest utterance of a media whore actually is and you will soon realise the game of deception that is being played in an attempt to hook you in towards ultimately purchasing a product or service.
In actual fact perhaps as little as 1% of the material floating out there is produced by successful traders because successful traders are primarily going to be focused on trading rather than writing about trading or marketing trading services, with probably only enough spare time to write a couple of books over their whole lifetime which compares against the book factories that can churn out as many as several titles per year that virtually ensures that at least 95% of your trading book shelf is packed full of garbage, totally useless, and you know it!
Still it could be worse, academic economists inhabit a zone that is based purely on mumbo jumbo that is guaranteed to result in unforeseen outcomes, for academic economists tend to be the second greatest media whores just a step down from politicians, who exist purely to give off the air of authority and certainty as though economics is a science when in reality it is pseudo science more akin to the art of psychologically managing the general populations expectations aka economic propaganda than in determining any sense of economic reality. Economic theories are just that theories that have been modeled on selective editing of past economic data for political purposes which every trader should know (failing or successful) is just over optimised back fitting onto selective past trends that proves totally worthless going forward.
Therefore the problem once more is one of lack of a mechanism to demonstrate that the methodology works or not. And even then, there is a tendency for academics to ignore reality and continue with stick with theories and methodologies over reality, which is just the case with the opinion pollsters who are busy putting up a smoke screen of excuses that put the blame for being wrong elsewhere i.e. onto shy tories.
6. Corruption
As mentioned earlier a number of pollsters are now starting to make ridiculous statements (Labour pollsters) that they secretly knew Labour would lose the election but waited to publish their findings until several days AFTER the election result. How stupid do the pollsters think people are?
There is no evidence for this whatsoever as is apparent by the election campaigns fought by both Labour and Conservative that implied a tight election race and resulting shock and surprise at the result which was CONTRARY to their opinion polling! This illustrates that opinion pollsters are nothing more than bullshit artists whose primary objective is to SELL their services to the gullible mainstream media who actually want a tight election race so as they can also maximise sales. So today we are seeing an opinion polls sales industry trying to reinvent history so that they can continue selling their services in the future.
7. Telephone Polling Facing a Crisis of User Engagement
Last but not least, calling people for their opinion illustrates a public sector mentality, that of pollsters going through the motions of providing a service because its accuracy is only tested once every 5 years so that for most of the time they can get away with selling garbage as illustrated through the practice of telephone polling.
It does not take a genius to work out that most of the people who are going to pick up the phone at home are people who are likely to be sat on their lard asses on benefits. Hence the the bias towards labour voters for phone polling at least, as the same is likely to happen for high street and shopping malls polling as the people who tend to vote Conservative will be busy working.
Furthermore what the pollsters failed to realise is that the people of Britain over the past 10 years have become increasingly sick to death of junk phone calls, such as PPI insurance claims, accident claims, change your broadband that prompts many to offer mis-information to whomever is calling as an practiced automatic response to unsolicited phone calls. Therefore pollsters making unsolicited calls were far more likely to be on the receiving end of deliberate misinformation this year than in years past, not just in answering who will you vote for questions but all of the other leading questions that pollsters tend to ask so as to focus the voters mind before they get to the punch line who will you vote for question. Why? not just because of irritation at being on the receiving end of a continuous stream of unsolicited phone calls but also because it is none of anyone else's business how the person will vote, so a little bit of mischief making tends to come into play to teach the pollsters a lesson which clearly could have had a major effect on the opinion polls conducted in the marginal seats. This also means that as time goes on the opinion polls will only get ever more worse as the people polled can only become ever more irritated at the ongoing flood of unsolicited calls.
Apparently he pollsters have announced an independent inquiry to investigate why their polls were completely wrong, which in my opinion will prove to a be a total white wash as illustrated by the subsequent behaviour of many pollsters who are coming out with a string of excuses so as to lay the blame for being WRONG elsewhere -
a. That there was a late swing towards the Conservatives.
b. That they secretly really expected that the Conservatives would win but for whatever reason did not think about publishing until well AFTER the election results were out.
c. Blaming the shy tories for a late swing.
d. Blaming lazy Labour voters for not voting.
Therefore expect the pollsters independent inquiry to be just as much BS as their opinion polls turned out to be.
Why Labour Lost the Election
Labour suffered its worst defeat in over 30 years, putting the party back to where it stood under the disastrous leadership of Michael Foot, and even worse when considering the blood bath in Scotland where the Labour party was born, which saw the Scottish Nationalists take every Labour seat bar 1.
Whilst the mainstream press will be obsessed with the SNP Labour blood bath in Scotland, Labours poor economic record in government, all of which I covered at length before the election for instance that the Conservatives would win because it was the ECONOMY STUPID! Something that a collectively clueless mainstream press had virtually completely missed the implications of as my video of early April illustrates: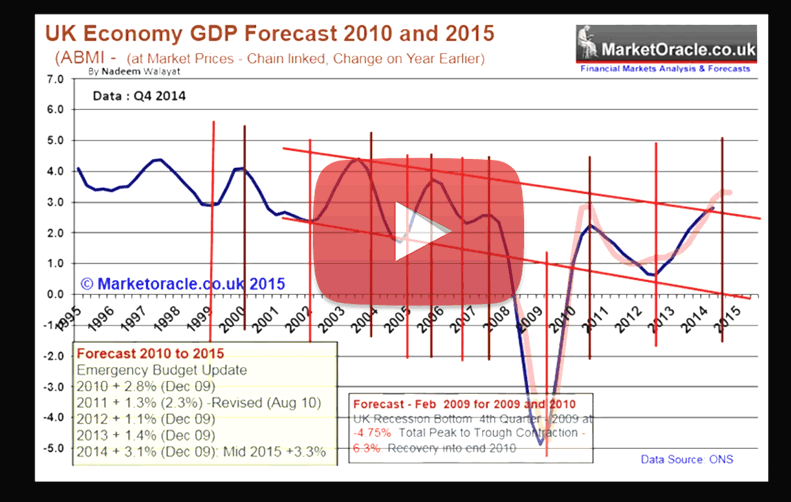 And earlier still here - 11 Mar 2015 - General Election Forecast 2015 Stealth Economic Boom - Why Opinion Polls are WRONG!
However, leaving aside the above which ensured that Labour stood a poor chance of winning the 2015 general election regardless of what the opinion polls were stating, in my opinion the real reasons why Labour lost the election are -
1. Choosing the WRONG Leader
Labour had effectively lost the 2015 election back in 2010 when the Unions anointed Ed Miliband to wave the red flag!
16 Mar 2015 - Election Forecast 2015: The Day Labour Lost the General Election
Following abandoning government in 2010, Labour then had an golden opportunity to plan for their next government in 2015, all they had to do was to take their time to choose a new leader who would appeal to the voters and then sit back and profit from the Coalitions painful attempts at fixing a near bankrupted economy, where 5 years of economic austerity virtually guaranteed that Labour would win in 2015.
However, as I mentioned at the start, Labour is good at choosing the WRONG leader and the following video shows exactly what happened in 2010 -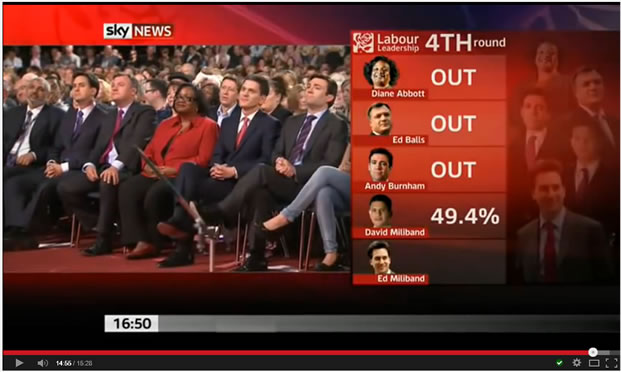 The the highly charismatic clear and present danger to the Tories, David Milliband was beaten by his 'can't even eat a hamburger properly' younger brother, Ed Milliband to audible gasps from the audience. How could David Milliband lose when the majority of party members and MP's voted for him, the answer is the back room deals union block votes, which means those that the likes of the GMB and Unite favour (candidates suck up to the most) get elected as leader.
The most recent party leader popularity polls illustrate the problem Labour has, as an Ipsos Mori poll states only 30% of voters like the labour leader compared to 39% for David Cameron.
Therefore, Labour lost the next election in September 2010 which sowed the seeds for the slow evaporation of any certainty of Labour winning the next general election, as each passing year has seen Labours lead in the polls melt away to now stand approximately where they were on election day 2010!
The problem is the unions, for until Labour makes the change to one member one vote then Labour will nearly always select unelectable unionites who tend to be weak leaders who are subservient to the unions and not priministerial material.
In terms of the election probabilities, Ed Milliband has always worked in the Tories favour, as the more he is seen the more voters are put off from voting Labour to the point today where as my earlier analysis concluded there is now an increasing chance for an outright Conservative election victory, especially as voters have several more weeks of Ed Milliband to look forward to.
2. Labour a Party for Public Sector Workers, Immigrants and Benefits Scroungers
Labour dancing to the SNP's tune was only the tip of the socialist ice-berg for the red flag flying Ed Miliband painted a picture of a class struggle between the 99% and the 1%, when in reality it was Labour that demonstrated itself as being the party of vested interest public sector workers, immigrants and benefits scroungers and not the mass of Britain's hard working tax payers, i.e. approx 30% vs the hard working 70% which is the real reason why Labour lost the election as Labour made it clear it would go on a debt fuelled spending binge to reward the most laziest in society to the cost of Britain's hardest workers, and that the voters could clearly see through Labours BS promises to control immigration which the party for immigration never would do. Therefore the SNP was just an extra dozen or so nails in Labours coffin.
08 Mar 2015 - Vote Labour Get SNP Catastrophe - General Election 2015 Forecast - Grand Coalition Possible
Therefore to imagine a Labour - SNP supported government is going to be able to stick to its debt promises is delusional because the often hyped of economic austerity Con-Dem Coalition are themselves looking set to borrow an extra £130 billion over that which they promised they would. Which means the £180 billion of extra SNP led borrowing could easily double to £360 billion of EXRA borrowing which implies that the current debt total of £1.5 trillion could easily soar to £2.5 trillion by the end of the next parliament, double the £500 billion of Coalition debt added to Britain's debt mountain that makes a mockery of politicians when they make claims that the deficit will be cut and debt repaid.
The only answer / solution that all governments have remains one of stealth default by means of high real inflation hence the Inflation Mega-trend. Inflation is a REQUIREMENT for the Debt Based Economy, this is how governments keep putting off the day of reckoning by attempting to inflate the debt away with printed money and then borrowing more money to service the debt interest which is why virtually all money in an economy is debt money that will NEVER be repaid.
When George Osbourne and David Cameron are stating that they are paying down Britain's debt, they are LYING! The same goes for Ed Milliband if he states that he will cut Britain's debt. NO GOVERNMENT DEBT IS BEING REPAID OR WILL EVER BE REPAID! Instead the truth is that the WHOLE of the economic growth (in real terms) since the May 2010 General Election and continuing into the May 2015 General Election will be wholly as a consequence of some £550 billion of additional DEBT. Again this is a very important point to note that ALL of the economic growth of this parliament is DEBT based, ALL of it, including the current election boom, the debt accrued over the 5 year term will equate to total real terms increase in GDP - virtually pound for pound which is why there is a cost of living crisis because printing money (debt) does not increase productivity, all it does is inflate the money supply.
You should realise by now that the constant drivel about the threats and risks of debt deflation are nothing more than propaganda so as to allow policies such as quantitative easing (money printing) to be more palatable to the general population so as to ensure that the Inflation Mega-trend continues, and all that an Labour-SNP pseudo coalition promises is an even greater magnitude to the cost of living crisis for Britains (England's) hard working tax payers as their productive capacity is funneled as election bribes towards Labour - SNP voting regions and the 8 million or so vested interests sat on their lard asses on benefits for life.
And those are the two primary reasons why Labour lost the 2015 general election. They chose the WRONG leader and then focused on Britain's SLOTHS. Whilst ignoring most of Britain's hard working families who want to better themselves through hard work, where the message from Labour was that they would do their best to keep people sedated on benefits for life so that they would become vested interest Labour voters.
People want jobs, REAL JOBS! and not the worthless paper pushing public sector pseudo-jobs.
People want education, REAL education and not the 80% of worthless -ologie degrees that socialist Universities tend to churn out which results in most graduates finding themselves working in Burger King for that is the value of their degrees.
People want a welfare state, a REAL welfare state that supports people when they actually need help, and not the lazy lard asses parked on benefits for life culture that the Labour party promotes.
People want the borders to be controlled, REAL BORDER CONTROL - What's the point of Labour promising to build 200,000 homes per year when it would have ended up letting in over 1/2 million of new migrants per year thus the crisis on housing and services would become exponentially worse.
Therefore the Labour party was fighting the WRONG election, instead of 2015 the party was stuck in a time warp by fighting a 1970's election.
And that's what Labour needs to realise and fix, else it will lose the NEXT election as well!
Labours Next / New Leader
Therefore for Labour to even stand a chance of winning the 2020 General Election then they need to elect an centralist leader, a fresh face and not the likes of Yvette Cooper who shortly after the BBC exit poll was released after 10pm on 7th May angered many of the electorate by stating that if the exit polls were correct then David Cameron had lost the election and so Labour would go on to form the next government.
A disgraceful display that that revealed to the public Labours true undemocratic colours.
Labour needs a FRESH FACE, someone who was not part of the last Labour government.
This is my opinion on Labour politicians who are likely to stand for leader:
Yvette Cooper - Disastrous choice, old Labour
Andy Burnham - Disastrous choice, old Labour
Chuka Umunnna - Disastrous choice, london elite.
Rachel Reeves - Disastrous choice, london elite, would wind up the electorate to no end with her constant whining for benefits scroungers.
Stella Creasy - A hint of a young Margaret Thatcher, could surprise.
Tristram Hunt - Unsure, could surprise as did Blair.
David Lammy - Disastrous choice, london elite.
David Miliband - Ed's older brother, too late, the country could not stomach another Miliband for 5 years.
Liz Kendall - Blairite, Unsure.
So out of the current list of possible's, so far only Tristram Hunt, Stella Creasy and Liz Kendall stand out as standing any chance of reversing Labours fortunes. Whilst the favourites - Chuka, Andy and Yvette as Labour leader would virtually guarantee another Conservative 2020 election victory. Therefore it is highly probable that Labour could make another huge blunder by electing the wrong Leader again just as they did in September 2010.
UKIP Threat to Labour
Whilst UKUP only won 1 seat at the general election, however that masks a political earthquake as UKIP are now second to Labour in 50 seats and in 70 Conservatives seats. Which means at the next general election, depending on the direction of swing i.e. to Labour or Conservative, then Labour could potentially suffer an election catastrophe even worse than that to the SNP in Scotland that took 40 Labour seats, as Labour could lose as many as 50 MP's to UKIP which would effectively kill off the Labour party if not permanently then for several decades.
Therefore it is upto Labour to actually listen to what the electorate is saying to them about IMMIGRATION in Labour heartland seats in the North and urban areas that should not be taken for granted by the Labour party and a case of business as usual will NOT work by deluding themselves as many Labour politicians are doing to think that they were not left wing enough when instead it was Labours obsession with importing millions of new Labour voters.
NEW - New Labour
Ed Milliband took Tony Blair's wining formulae and yanked Labour even further to the left than where Gordon Brown had left it in 2010. Therefore Labour needs to ditch the red flag and instead over the next 5 years create a NEW - New Labour party that is actually serious about controlling immigration and rewards HARD WORK and NOT SLOTH, for in the 2015 general election Labour presented itself as the party of Immigration and SLOTH.
Remember Gordon Brown and Mrs Duffy in April 2010 -
During an election walkabout Gordon Brown happens onto a complaining Mrs Duffy - 'You can't say anything about the immigrants….all these Eastern Europeans what are coming in — where are they flocking from?'
Gordon Brown commenting on the encounter with the media mike still left on - 'Everything. She is just a sort of bigoted woman, she said she used to be Labour.'
If Labour had actually taken note of what that encounter was saying then they may have won the 2015 election, and that is the message Labour needs to learn, to STFU and actually LISTEN to what the electorate is saying!
My next in-depth analysis will either be on stocks or the housing market, so ensure you are subscribed to my always free newsletter for in-depth analysis and detailed trend forecasts.
Source and Comments: http://www.marketoracle.co.uk/Article50679.html
By Nadeem Walayat
Copyright © 2005-2015 Marketoracle.co.uk (Market Oracle Ltd). All rights reserved.
Nadeem Walayat has over 25 years experience of trading derivatives, portfolio management and analysing the financial markets, including one of few who both anticipated and Beat the 1987 Crash. Nadeem's forward looking analysis focuses on UK inflation, economy, interest rates and housing market. He is the author of five ebook's in the The Inflation Mega-Trend and Stocks Stealth Bull Market series that can be downloaded for Free.

Nadeem is the Editor of The Market Oracle, a FREE Daily Financial Markets Analysis & Forecasting online publication that presents in-depth analysis from over 1000 experienced analysts on a range of views of the probable direction of the financial markets, thus enabling our readers to arrive at an informed opinion on future market direction. http://www.marketoracle.co.uk
Disclaimer: The above is a matter of opinion provided for general information purposes only and is not intended as investment advice. Information and analysis above are derived from sources and utilising methods believed to be reliable, but we cannot accept responsibility for any trading losses you may incur as a result of this analysis. Individuals should consult with their personal financial advisors before engaging in any trading activities.
© 2005-2022 http://www.MarketOracle.co.uk - The Market Oracle is a FREE Daily Financial Markets Analysis & Forecasting online publication.

Only logged in users are allowed to post comments.
Register/ Log in