Analysis Topic: Politics & Social Trends
The analysis published under this topic are as follows.

Monday, April 30, 2007
Peter Taylor , reporting for BBC One 's Panorama programme, has uncovered evidence that questions the Security Service's claim that under the circumstances, it did all it could to prevent the 7/7 bombings.
In Panorama: Real Spooks , to be broadcast at the end of the Operation Crevice trial, he reveals that MI5 failed to pass on relevant details about the individuals who turned out to be Mohammed Siddeque Khan and his accomplice, Shezad Tanweer , to West Yorkshire Police Special Branch when it followed the pair in 2004. At the time, MI5 did not know their identities.
Read full article...

Read full article...
---

Monday, April 30, 2007
In a break from the stock market wraps.
Talking to the Iranians
America after nearly 30 years is being forced into direct talks with Iran. As Condoleza Rice mentioned on Sunday whilst referring to Iranian foreign minister Manouchehr Mottaki. "I will not rule out that we may encounter one another, This isn't an opportunity to talk about US-Iran issues. This is really an opportunity for all of Iraq's neighbours to talk about how to stablise Iraq"
Read full article...

Read full article...
---

Friday, April 27, 2007
We published an analysis on " Dollar Myths " in which we criticized spending habits in Washington:
"Interestingly, nobody seemed to focus on the fact that there is an unconventional solution to foreigners holding too much of our debt: live within your means and do not issue debt. Such an old fashioned concept would indeed strengthen the dollar. Unfortunately, none of the presidential candidates at either side of the aisle seem to have heard of this notion."
Read full article...

Read full article...
---

Thursday, April 19, 2007
The Pentagon recently reported that it now spends roughly $8.4 billion per month waging the war in Iraq, while the additional cost of our engagement in Afghanistan brings the monthly total to a staggering $10 billion. Since 2001, Congress has spent more than $500 billion on specific appropriations for Iraq. This sum is not reflected in official budget and deficit figures. Congress has funded the war by passing a series of so-called "supplemental" spending bills, which are passed outside of the normal appropriations process and thus deemed off-budget.
This is fundamentally dishonest: if we're going to have a war, let's face the costs-- both human and economic-- squarely. Congress has no business hiding the costs of war through accounting tricks.
Read full article...

Read full article...
---

Monday, April 16, 2007
"...Two billion here...two billion there. Pretty soon you're just funding a war in the desert or paying one-in-four of the working population to stay at home on sick leave..."
SHOCKING NEWS from the Sunday Times in London . Gordon Brown is an idiot.
More shocking still, his boss Tony Blair – the prime minister who led Britain to war in Iraq on spurious evidence of WMDs – doesn't always speak the truth. Their political party, New Labour, likes to bury bad news. And expert knowledge counts for nothing at Westminster .
Hence the biggest financial story in the United Kingdom right now – bigger by far according to the column inches than its record-breaking credit bubble – is that Gordon Brown "ignored advice" before selling half the nation's gold at rock-bottom prices in 1999.
Read full article...

Read full article...
---

Tuesday, April 10, 2007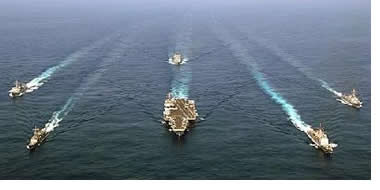 As the US military build up continues to gain momentum in the Persian Gulf, which includes some 50 warships comprising of 2 aircraft carrier battle groups. These military assets are reinforced by well established military bases in neighbouring countries, with hundreds of war planes to enable around the clock bombing capability.
Any attack against Iran would firstly be targeted at Iranian air bases and command and control structures as well as naval ports so as to limit the immediate retaliatory response, before around the clock bombing of the well dug in Iranian Nuclear facilities would take place.
We ask the question should the US attack Iran's nuclear & military infrastructure ?
Read full article...

Read full article...
---

Monday, April 09, 2007
In a swift turn of events, the Ministry of Defence has reversed its decision to allow the released British soldiers / personnel from selling further stories, after mounting negative response to the TV and press stories sold for six figure sums. Des Browne (Defence Secretary) announced - "No further service personnel will be allowed to talk to the media about their experiences in return for payment." and stated that a 'review of regulations' would now take place following outrage from all sections of the public.
This follows the Market Oracle Opinion Poll conducted between 7th and 9h April 2007, which resulted in 62% of respondents voting that the released Navy Military personnel should NOT be allowed to sell their stories to the media. Click here for the background to the capture and opinion poll
Read full article...

Read full article...
---

Saturday, April 07, 2007
The 15 British Navy personnel that were released by Iran on Thursday have been given the green light to sell their stories to the media. It is likely that some stories could sell for more than ten times their annual salaries. Especially from the only woman captive, Faye Turney, who is expected to earn the most.
Read full article...

Read full article...
---

Thursday, April 05, 2007
Larry Edelson writes:Yesterday, Iranian President Mahmoud Ahmadinejad announced he will free the 15 British sailors and marines captured on March 23. That's welcome news.
However, I don't think this political maneuver changes the underlying situation one iota. And gold's price is confirming that. Instead of falling on the news of the pending release of the hostages, the yellow metal soared nearly $10 to its highest level since last May!
My view on the Iran crisis hasn't changed one bit: Despite the potential release of the British hostages, a military strike on Iran's nuclear facilities is coming, sooner rather than later.
Read full article...

Read full article...
---

Wednesday, April 04, 2007
The British and American public appear to being hyped up towards a possible attack against Iran . Despite recent rhetoric. the actual consequences of an attack need to be fully investigated before another 'Mission Accomplished' photo opportunity turns into something far worse than the quagmire in Iraq, which so far is on target to cost over $1 trillion, with estimates being revised higher every quarter.
Read full article...

Read full article...
---

Wednesday, April 04, 2007
The ongoing situation with Iran is hugely gold and oil bullish right now, and will be for the coming months. The recent statement by Iran that they will free the British naval hostages is just one detail. It solves nothing fundamental.
First of all, before I discuss why, I want to comment on several emails I got about my views that Iran is going to be attacked. The comments went along the line: 'the US is too tied down in Iraq, won't even think of another war..' etc.
I disagree. So let's get into the reasons why there is likely an attack on Iran….
Read full article...

Read full article...
---

Wednesday, March 28, 2007
Tre Azam
Age: 27
Qualifications: 2 A-Levels
Career: Marketing and Design Consultant
Home town: Loughton, Essex
Profile: Forthright, opinionated and a bit of a maverick, Tre is a tough hard worker who knows what he wants and is determined to get it. He started work aged 10, building PCs in his father's factory. By the age of 16 he was teaching clients how to build computers and training them in electronics and software. At 17 he was working in his family's software and hardware business in Europe and Asia before moving to America where he ran the company for more than two years. In his teens he spent over a year in hospital recovering from a serious car accident which left him in a wheelchair, however he is now fully recovered. His hobbies include weights, boxing, martial arts and philosophy.
Read full article...

Read full article...
---

Wednesday, March 28, 2007
Jadine Johnson
Age: 27
Qualifications: Banking Exams
Career: Financial Adviser
Home town: Harrow, Middlesex
Profile: A street smart, strong woman with ambition and attitude, Jadine knows that she will be tested but she is ready for the challenge. Her first taste for business came as a seven-year-old, when she shrunk crisp packets in the oven and sold them on as key rings for 20 pence each to her friends. Her first job was at McDonalds; she was employed on the spot and then worked a 13-hour shift. A passionate single mother, after winning a place at university, Jadine decided to quit to support her daughter. She later moved into banking and was promoted three times in her first year. As well as running an invitation-only club night, her passions include fashion, music, singing and cars.
Read full article...

Read full article...
---

Tuesday, March 27, 2007
Most people believe Israel and Iran have a mainly negative influence in the world with almost as many saying the same about North Korea and the United States, according to a BBC World Service poll of 28,000 people in 27 countries.
People were asked to rate 12 countries – Britain, Canada, China, France, India, Iran, Israel, Japan, North Korea, Russia, the United States and Venezuela – as having a positive or negative influence.
Read full article...

Read full article...
---

Tuesday, March 27, 2007
Following a Freedom of Information request, BBC World Service Newshour has learnt that a senior British Government official advised ministers to show "caution" about publicly criticising a report published last October in the Lancet, which estimated that 655,000 Iraqis have died as a result of the war in Iraq.
If the Lancet survey is correct, two-and-a-half per cent of the Iraqi population - an average of more than 500 people a day - have been killed since the start of the war.
Read full article...

Read full article...
---

Tuesday, March 27, 2007
BBC findings suggest best and worst locations to live and people's attitudes to climate change.
The city of Birmingham could be the worst place to live in Britain if you want to avoid climate change, according to one of Britain's leading climatologists in an interview for BBC One 's Inside Out programme Climate Change Now (Friday 30 March at 7.30pm).
Dr David Viner , a senior scientist at the world renowned Climatic Research Unit, favours Somerset, South West Devon and inland North Norfolk as among the best places to live with climate change in the future (see Notes to Editors for full list).
Read full article...

Read full article...
---

Monday, March 26, 2007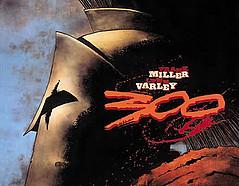 The new movie
"300"
is based on a graphic novel from Dark Horse Comics that retells the battle of Thermopylae in 480 B.C. between the Persian Empire and the Greek city-states.
King Xerxes of the Persian Empire continues the work of his father, King Darius, in trying to expand his empire into Europe and crush the Greeks. King Leonidas, the ruler of Sparta, is forced to muster 300 Spartans to fight off the Persian army that numbers in the hundreds of thousands.
Read full article...

Read full article...
---

Monday, March 26, 2007
Martin Weiss here with an urgent update on the breaking Iran crisis and its potential impact on your money.
On Friday, precisely when the United Nations was preparing to slap new, tougher sanctions on Iran, President Ahmadinejad's gunships captured 15 British sailors and marines on a routine patrol off the waters of southern Iraq.
And just in the past 24 hours, Iran's leaders have unleashed the most venomous diatribes against the West since their capture of U.S. embassy hostages nearly 28 years ago:
Read full article...

Read full article...
---

Sunday, March 25, 2007
Watchdog urges NHS to learn from "raw feelings of patients" in report on 16,000 complaints.
Commission to inspect local complaints handling in first national audit
The Healthcare Commission is urging NHS trusts to do more to learn from patients' complaints and to handle the issues raised "quickly, efficiently and locally".
Read full article...

Read full article...
---

Friday, March 23, 2007
FAT TONGUE placed firmly in cheek, the British chancellor – Gordon Brown – pulled off his greatest feat of magic in 10 years of trickery at Westminster on Wednesday.
"Abracadabra," he shouted for 54 minutes...and poof!
Nothing had changed except the detail – and the press coverage. He got the headlines alright. Even the press knows to watch his sleight of hand these days.

Now that's magic!
Read full article...

Read full article...
---