Analysis Topic: Economic Trends Analysis
The analysis published under this topic are as follows.

Thursday, November 30, 2006
The Nigerian economy is expected to grow by 7.5% during 2006. With prospects of growth exceeding 7.5% for 2007 and 2008, as Nigeria continues to enjoy dividends from the high oil price and inward investment into the oil and support industries. The Nigerian government also makes strides towards ensuring power generation to feed the growing economic activity.
Read full article...

Read full article...
---

Tuesday, November 21, 2006
Economists and many market participants continue to mistakenly point to lagging indicators in support of economic growth during 2007 i.e. a panel of 50 economists in a survey released by the National Association for Business Economics predicted that the overall economy, as measured by the GDP, would expand by 2.5 percent in 2007. Unfortunately many of the indicators such as US unemployment hitting a low of 4.7% are lagging indicators. Virtually every recession during the past 50 years was preceded by a low jobless reading.
Read full article...

Read full article...
---

Wednesday, November 15, 2006
Globalisation is a capitalist process that has taken off as a concept in the wake of the collapse of communism as a viable alternate form of economic organisation as we are increasingly been seen as living in the era of globalisation. Globalisation describes the increased mobility of goods, services, labour, technology and finance & capital throughout the world. Although globalisation is not a new development, its pace has increased with the advent of new technologies, especially in the area of telecommunications.
Examples of how globalisation effects Britain is in the current trend of UK business employing indian call centres for support & sales services, or for a clothing manufacturers to design its products in the UK, and make them in south-east Asia and then to sell them in north America.
Read full article...

Read full article...
---

Thursday, November 09, 2006
Although Bird flu is off the prime time news of late. Unfortunately the virus has not gone away and is gradually working its way around the world with ever wider outbreaks and human cases of infections continue to increase, with the ever present danger of a global pandemic.
Bird Flu Statistics - Jan 2004 to Sept 2006
| | | |
| --- | --- | --- |
| Country | Human Cases | Deaths |
| China | 21 | 14 |
| Vietnam | 93 | 43 |
| Indonesia | 67 | 51 |
| Cambodia | 6 | 6 |
| Thailand | 24 | 16 |
| Djibouti | 1 | 0 |
| Azerbaijan | 8 | 5 |
| Iraq | 3 | 2 |
| Egypt | 14 | 6 |
| Turkey | 12 | 4 |
Read full article...

Read full article...
---

Wednesday, November 08, 2006
China's currency reserves pass a record $1 trillion, and continue to grow at a rate of $20 billions per month. China's reserves have grown from 100billion in 1996 to $1 trillions today and are expected to double to $2 trillions by 2010. Now China accounts for almost 20% of the world's foreign exchange reserves, Japan being second with some $900 billions of reserves, also mostly in US dollars.
The reason for the growth in reserves is primarily due to the under valuation of the Yuan which in turn is contributing to the large trade deficit that the US is running.
Read full article...

Read full article...
---

Sunday, November 05, 2006
Last week, Government figures showed that a record 27,644 people went insolvent during the summer - more than 55% up on the same period last year and leaving the UK on target to hit 100,000 insolvencies in 2006 for the first time.
The figures sparked fears of dark times for retailers as debt ridden consumers are expected to tighten their belts in the run-up to Christmas. The seasonally adjusted personal insolvency increased 55.4 per cent on a year ago and 5.7 per on the previous quarter. Bankruptcies at 15,416, up 26.6 per cent compared with a year ago, but Individual Voluntary Arrangements soared to 12,228, up 117.9 per cent on last year and 9.8 per cent on the previous quarter. House repossessions are likely to exceed 12,000 this year and that 38 per cent of all bankrupts were now unemployed.
Read full article...

Read full article...
---

Sunday, October 22, 2006
Interest are set to to rise to 5% in November 2006, some market commentators are already seeing this as a potential peak despite REAL UK interest rates being at historic lows.
The spread between the base rate (4.75%) and RPI (3.6%), is currently at 1.3%, or marginally higher than the low set in 2003 of 1.1%, which preceded a rise in interest rates from 3.5% to 4.75%. This took the spread to 2%, since that time, RPI has risen and interest rates fell to 4.5%. This puts the UK under similar interest rate hike pressures as during the start of the rate hikes in 2003.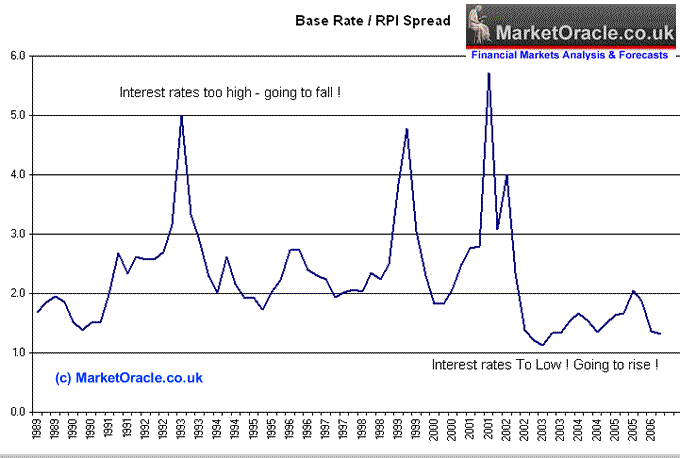 Read full article...

Read full article...
---

Tuesday, October 17, 2006
US Wholesale inflation fell by the largest amount in more than three years in September 06, as a record drop in the cost of gasoline offset rising prices in a number of other areas. The U.S. Labour Department reported that wholesale prices overall fell 1.3 per cent last month, nearly double the decline that analysts had been expecting. Gasoline prices plummeted 22.2 per cent, the biggest one-month decrease on record. But at the same time core inflation rose strongly by 0.6%.
Read full article...

Read full article...
---

Sunday, October 15, 2006
UK economic growth picks up during 2006, after the slowdown during 2005, and is expected to rise to 2.25% this year (1.9% 2005) and 2.5% in 2007 though the Treasury is forecasting higher growth at 2.5% for 2006 and 3% for 2007.
The risks are that inflation rises to 3%, which would trigger a serious of sharp rate rises. This is a possibility given that domestic inflation far exceeds imported inflation, and thus inflation is less likely to be impacted by declining oil prices.
Read full article...

Read full article...
---

Sunday, October 15, 2006
The US in the financial year ending 2006, paid over $400 billion in interest on debt ! Following the 14 consecutive Fed rate what will happen when the debt needs to be reissued at these higher interest rates ? I.e. average debt maturity is less than 60 months with total US debt stands at $8 trillions. Thus interest payments are likely rise substantially in the coming years whilst at the same time the US is running an record annual budget deficit of over $500 billion.
So what can the Federal Reserve do to extricate the US from this developing crisis ?
Read full article...

Read full article...
---

Tuesday, September 19, 2006
The violent demonstrations continue on the streets, in response to the recording of the Prime Minister Ferenc Gyurcsany admitting to lieing to the public in the run up to the last election on the dire condition of the hungarian economy.
In the 1990s Hungary was shown as a textbook example of a transition economy.
Read full article...

Read full article...
---

Sunday, September 17, 2006
The International Monetary Fund warned that the U.S. economy is headed for a slowdown caused by a cooling housing market, and that could drag on global growth.
The IMF revised downward its forecast for U.S. economic growth to 2.9 percent for 2007 from an estimate of 3.3 percent in April. This year, the U.S. is seen expanding 3.4 percent, the fund projected in its semiannual World Economic Outlook.
Read full article...

Read full article...
---

Wednesday, June 21, 2006
By Gary Dorsch :Editor, Global Money Trends magazine
For the past four years, the big-3 central banks were the world's "serial bubble blowers," flooding the world with cheap money via historically low interest rates, in order to pump up stock markets and real estate values. However, with global economic growth running at 5% in the first half of 2006, the most robust multi-year expansion since the 1970's, there were serious side effects of surging energy and commodity prices, that are now feeding into consumer inflation.
Bank of England chief Mervyn King admitted on June 12 th , "During the fastest 3-year period of world economic growth for a generation, monetary policy around the world may simply have been too accommodative." However, in order to correct the imbalance, a tighter global liquidity environment is required. "After a period of robust world economic growth, we approach a bumpier stretch of the road. A rebalancing of global demand is desirable, but the way ahead may not be smooth," King said.
Read full article...

Read full article...
---

Saturday, January 28, 2006
NEW STUDY SUGGESTS ECONOMIC COST OF IRAQ WAR MUCH LARGER THAN PREVIOUSLY RECOGNIZED
A new study by two leading academic experts suggests that the costs of the Iraq war will be substantially higher than previously reckoned. In a paper presented to this week's Allied Social Sciences Association annual meeting in Boston MA., Harvard budget expert Linda Bilmes and Columbia University Professor and Nobel Laureate Joseph E. Stiglitz calculate that the war is likely to cost the United States a minimum of nearly one trillion dollars and potentially over $2 trillion.
Read full article...

Read full article...
---

Saturday, January 01, 2005
Sometimes you have to pay the piper, and we're going to have to pay the piper for a while. That's the way it is." ~ Frank Hamblen
The jig is up, my friends. The elephant that is asset deflation has slowly crashed through the big bay window straight onto our living room carpet and the no-fun part of speculative excess and leveraging (not to mention reckless borrowing and spending) has more than begun.
If you refuse to heed our advice, you will pay for it. Dearly.
Read full article...

Read full article...
---